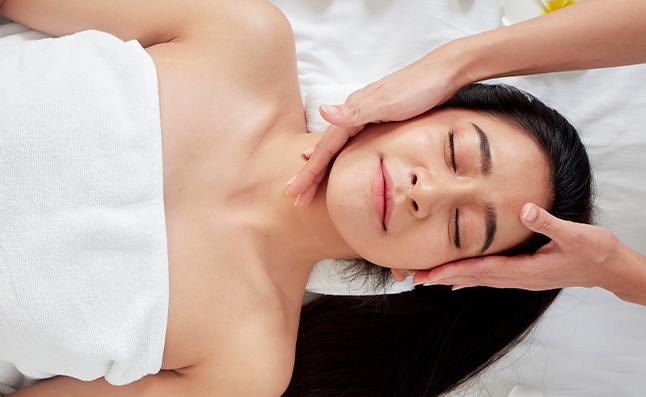 Remember the time when you played treasure hunt with your friends, looking for hidden things in the house? You had to follow the clues and if you found the treasure, it was yours. What fun it was! What if we tell you that you can still play a small hunt, and get a treasure chest for your flawless skin? Would you like to play?
Okay, so here are the hints. It is found in every kitchen and household, its light yellow or ivory white in colour and it can be used for medicine, cooking, gorgeous hair and flawless skin.
Yes, you guessed it right. Its virgin coconut oil. The underrated secret of centuries-old Ayurveda, virgin coconut oil is a wonderful ingredient not only for your health but also for your face and hair.
Now when the loot is yours, we tell you how it is beneficial and why you should use it.
What is virgin coconut oil?
Virgin coconut oil is the purified and unprocessed version of your regular coconut oil. As it is not bleached, deodorized, processed or refined, its moisture content is more than regular coconut oil which in turn increases its nutritional value. Due to its many beauty and health benefits, virgin coconut oil for face is highly recommended by the dermats. Also if you can get hold of its purest form, the uses of virgin coconut oil are inumerable.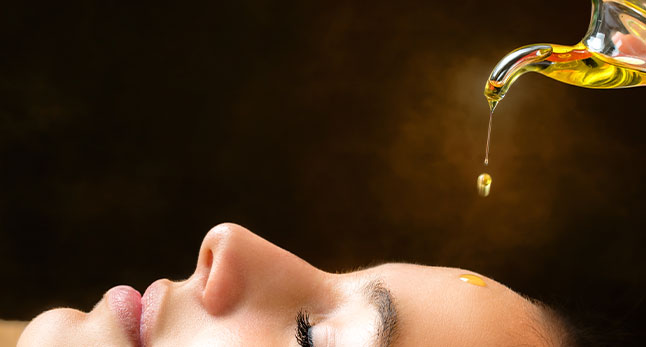 Benefits of virgin coconut oil for face
Lightens the skin - Virgin coconut oil contains lauric acids, which reduces inflammation on the skin and removes pigmentation and dark circles. With regular usage, it also reduces dark spots on your face and soothes irritation and itch.
Nourishes your skin - Virgin coconut oil is rich in fatty acids and antioxidants that deeply hydrates your skin from within. It is also known to penetrate 10 layers deep into your skin and provide adequate nourishment while restoring lost moisture. This is why it is an excellent moisturizer for softening your dry skin and making it smooth and supple.
Has anti-ageing properties - One of the lesser-known virgin coconut oil benefits for face is its anti-ageing properties. It is rich in vitamin E and A that reduces the damage caused by free radicals of the sun and slows down the ageing process.
Protection against UV rays - Virgin coconut oil has also been known to protect you against the harmful rays of the sun. It forms a protective barrier on your skin that keeps away harmful radiation and thus prevents skin tan or sunburn. Now that you know about the benefits of virgin coconut oil for face, check out our blog on the benefits of virgin coconut oil for cooking.
You can use virgin coconut oil in the form of moisturizer, face scrub, lip gloss or makeup remover. But we understand that it might not be feasible for you to use it in your skincare routine daily as it can get messy and greasy. Worry not, because we have the perfect solution! You can instead use skincare products infused with pure virgin coconut oil to utilise its benefit for your face. Many skincare brands offer virgin coconut oil-based products that are infused with pure ingredients and are safe on the skin. For example, Coco Soul. Made with the belief that mother nature has the solution to all your skincare needs, the products of Coco Soul are made with the choicest ayurvedic herbs and pure organic virgin coconut oil in its core. You can try -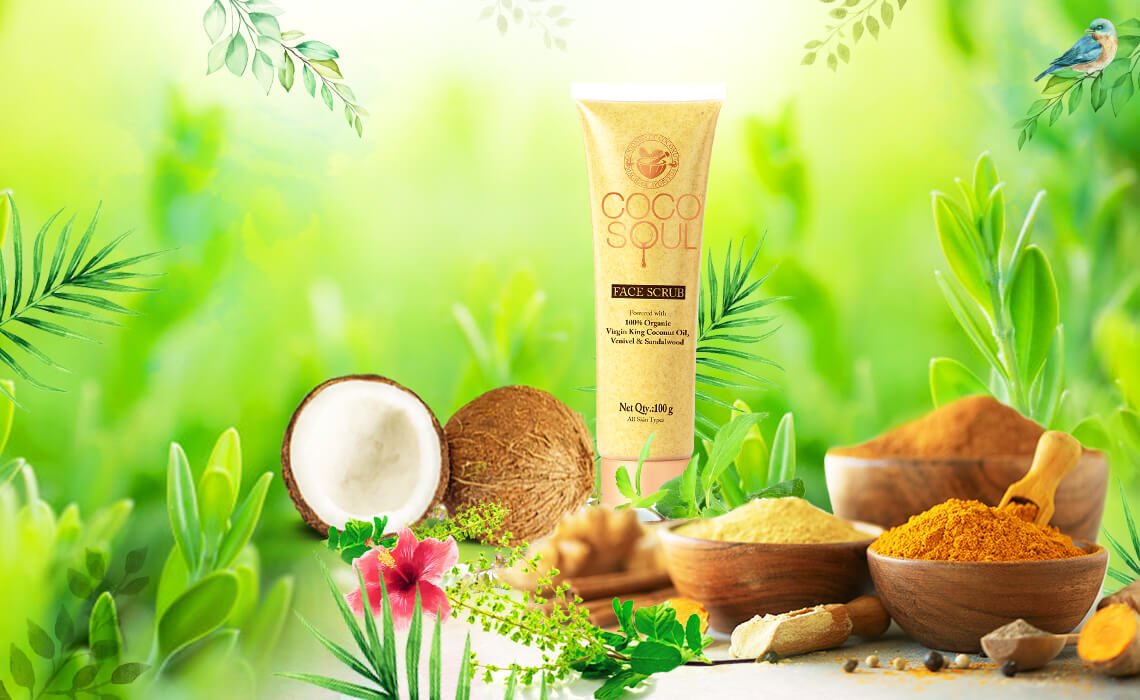 Coco Soul Face Scrub
Virgin coconut oil being its primary ingredient, this natural face scrub is enriched with Ayurvedic herbs that gently exfoliates your skin, unclogs pores and leaves you with radiant, healthy and beautiful skin. While it cleans your skin of all dead skin, it also moisturizes your skin from within to give you a healthy glow without any lingering dryness or irritation.
Virgin coconut oil: Contains fatty acids and antioxidants that moisturise your skin cells and promote cellular repair.
Venivel: Removes excess oil and exfoliates dead skin to give you a blemish-free complexion.
Sandalwood: Used in eastern cultures for centuries, sandalwood reverses sun damage, and also minimises age spots to give you a flawless skin tone.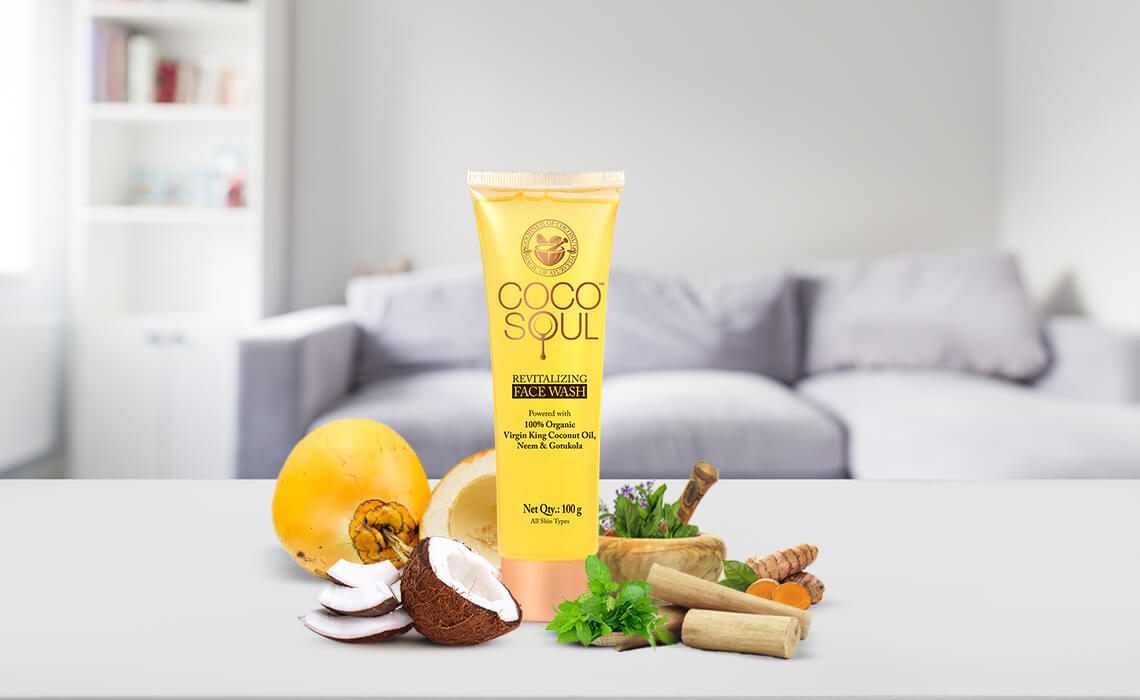 Coco Soul Revitalizing Face Wash
With the enriching qualities of virgin coconut oil and Ayurvedic herbs, this au natural face wash gently cleanses oil and dirt from your face to reveal glowing and radiant skin. This luxurious cleansing fluid rejuvenates and revitalises your skin without any dryness. It contains -
Virgin coconut oil: Penetrates deep in the skin layers, to moisturize and nourish your skin.
Gotukola: A rare organic herb, it promotes collagen to fight skin sagging and helps you get younger-looking skin.
Neem: known for its antibacterial properties, it removes pigmentation, fights signs of ageing, and gives you clear and acne-free skin.
Though virgin coconut oil has been a permanent member of your grandmother's closet, it is only now that the beauty industry has identified the true potential of this miracle ingredient for skincare. Identifying its moisturizing and emollient properties, a large number of brands have started endorsing it for skincare through coconut oil based products. If you are looking for a natural beauty ingredient for your face, we bet virgin coconut oil won't fail you. So what are you waiting for? Grab hold of this wonderful oil and head over to Coco Soul website to shop for more virgin coconut oil-based skincare products here. You must also check out our blog on the health benefits of virgin coconut oil to learn more about it.
Frequently Asked Questions on Virgin Coconut Oil for Face
1. Is it OK to rub coconut oil on your skin?
It would be beneficial to rub coconut oil on your skin in moderate quantities. It would deeply nourish your skin, slow down ageing and prevent bacterial growth on the skin.
2. What are the benefits of coconut oil on the skin?
Coconut oil forms a protective layer on your skin that keeps the harmful sun rays away. It also removes pigmentations, nourishes your skin deeply and makes it soft and supple.
3. Is virgin coconut oil good for the face?
Yes, virgin coconut oil is good for the face, it reduces dark circles and pigmentation and gives you an even-toned, soft and clear skin.
4. Can you use coconut oil on your skin every day?
Yes, you can use coconut oil on your skin every day in a moderate quantity. However, if you have acne-prone skin, it is better to avoid using it on your skin directly as coconut oil is comedogenic and can clog pores.