What do you visualize when you hear the word peppermint? The refreshing mint gums you popped in the classroom, the pudina tea your mom made for you, or the peppermint balm that provided you relief during a bad headache? Whatever it is, we are sure, it is enough to pull you into the nostalgia lane. But do you know that peppermint is a miracle herb for your skin too? Apart from its cooling freshness, peppermint is a treasure chest of benefits that make it a top herb in Ayurveda for a healthy body and glowing skin.
What is peppermint?
Peppermint popularly called pudina and a prime constituent of your cooling gums and toffees is a perennial and aromatic herb from the mint family. Scientifically called Mentha piperita, it is a cross between watermint and spearmint, the many varieties of the mint family. In ayurvedic science, it is known to decrease the Pitta and Kapha dosha that cools the body system and prevents skin issues.
While you might be aware of its many benefits for the body, (flushing out toxins, easing digestion, and curing a headache) we tell you why it is a must-have ingredient for your beauty regimen too.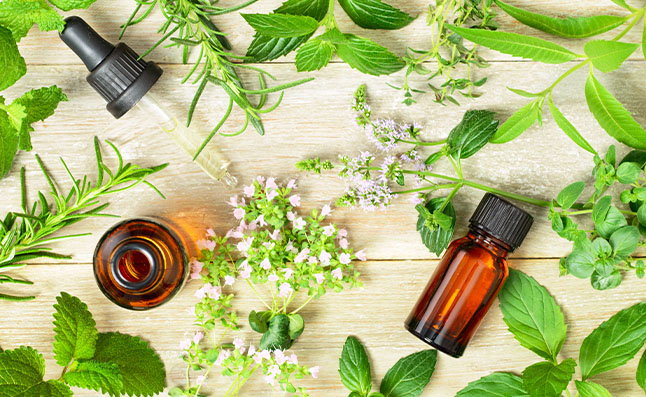 Benefits of peppermint for skin
Peppermint is an important ingredient in ayurvedic skincare for its soothing and calming properties. However, there are many other benefits of peppermint for skin that you should know about. Read on.
Home remedy for acne
If you have been racking your brains onhow to treat acne', we might have the perfect answer for you. Peppermint is rich in antiseptic and antibacterial properties that cleanse the skin from within. It also has cooling effects that cure inflammation and acne on the skin. Moreover, due to its antimicrobial properties, it prevents the growth of acne causing bacteria and gives you clear and blemish free skin. Peppermint is also a natural astringent that diminishes the effects of boils, rashes, and redness of the skin. For irritation and acne, take a few peppermint leaves in a mortar and pestle and make its fine paste. Add in one tablespoon of honey. Apply this mixture on your skin and let it stay for a few minutes. Wash it off and pat dry.
Home remedy for sunburn
One of the most popular uses of peppermints is curing sunburn. Peppermint is known to be rich in Vitamin A and Vitamin C and is also loaded with folates and omega 3 fatty acids. This rich nutritional value of the herb helps fight skin diseases caused by the sun like suntan and sunburn. Also, it has methanol, which has a cooling effect on your skin. If you have been wondering how to treat sunburn, and other skin issues, apply a paste of peppermint leaves on the affected area or use the peppermint oil with almond or olive oil.
Remedy for oily skin
Peppermint is an effective remedy for oily and greasy skin. Methanol found in peppermint controls the oil secretion from the sebaceous glands, giving you oil-free skin naturally.
Usage of peppermint for skin
To get the benefits of peppermint for skin, you can make a face mask or scrub.
Face scrub
For a refreshing face scrub, you need a few leaves of peppermint and a spoon of sugar and coconut oil each.
To make this face scrub, squeeze out mint leaves and take out its juice. Add in sugar, and coconut oil. Apply and massage this mixture on your face in a circular motion for a few minutes. Wash with lukewarm water and pat dry. You can also check out Coco Soul's exfoliating face scrub. It deeply cleanses your skin to reveal a radiant, even-toned complexion.
Face mask
If you have itchy or irritated skin or want to get rid of acne, this pack can be extremely helpful. You need 10-15 leaves of mint, a ripe banana, 1-2 tbsp of lemon juice, and 1 tbsp of honey. Blend these ingredients to make a smooth paste. Apply it on your skin for around 30 min. Wash your face with warm water. Finish off with a natural moisturizer.
Using peppermint oil for skin is highly beneficial too. You can use it to cure breakouts, patchy skin, and also sunburns. You can add peppermint oil to your lotion and moisturizer. Or you can also add 2 drops of peppermint oil to your face wash. Cleansing your face with this peppermint infused face wash will help cure acne and give you clear skin.
Benefits of peppermint for skin are many. But one should know how to use it effectively. While it works like magic for acne and sunburn, it also helps to treat athlete's feet by healing the skin of the feet and repairing cracks and dryness. However, applying peppermint paste on feet might not be feasible for everyday use. Instead, you can use a peppermint infused cream for your dry feet, just like Coco Soul Foot Cream. Infused with the secrets of ayurvedic skincare, this natural foot cream is a miracle in a tube. The natural ingredients and pure virgin coconut oil penetrate deep in the skin layers, soothe and repair the dryness and cracks. It also removes calluses, rejuvenates the skin, and leaves your feet with a soothing feel and fragrance.
Peppermint - This natural coolant, calms and soothes your skin and emits out invigorating fragrance.
Neem - A miracle plant rich in vitamin E, it helps in removing pigmentations, blemishes, and giving you clear and younger-looking skin.
Virgin coconut oil - Loaded with antioxidants and fatty acids, it hydrates the skin, fights dryness, and promotes cellular repair.
Because of the enormous benefits of virgin coconut oil for face and skin, it is also known as a wonder ingredient. You must also check out our blog on the benefits of gotu kola for skin as it is the best anti-ageing ingredient.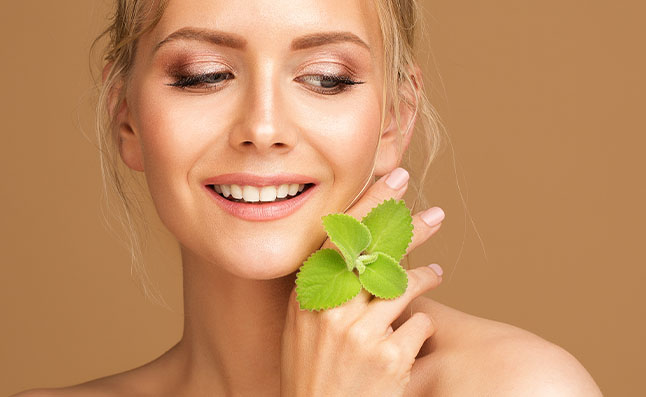 Frequently Asked Questions On Peppermint (Pudina) For Skin
1. Can you apply peppermint oil directly to the skin?
Yes, peppermint oil can be applied directly to the skin. However, as it is highly concentrated, it should be diluted with an ounce of carrier oil like almond oil or olive oil.
2. Which essential oils help clear skin?
For clear skin, you can use tree tea oil, rosemary oil, peppermint oil, jojoba oil, or grapeseed oil. You can also use olive oil or coconut oil for clear blemish-free skin.
3. What are the benefits of using peppermint oil?
Peppermint oil has both health and beauty benefits. It is known to be an excellent treatment for digestive issues like irritable bowel syndrome, and nausea. It is also used for cold and headache. On the beauty front, peppermint oil can be used to treat inflammation of the skin and cure acne and breakouts.
4. Which essential oil is best for the face?
Many essential oils work magic on your skin. Essential oils like Tea tree oil, lavender oil, sandalwood oil, peppermint oil, chamomile, essential oil, etc., are known to give your many skin benefits, besides aromatherapy.