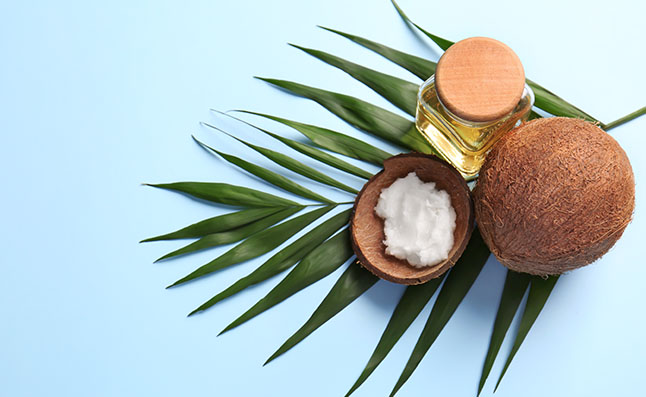 If you're someone who enjoys heading to the supermarket to cart the monthly groceries, then you must have observed people buying virgin coconut oil in batches. Yes, it's true that it's a beauty elixir when it comes to your skin and hair woes, but how good is it as a healthy cooking oil? The truth about virgin coconut oil is that it is touted to be a superfood when it comes to aiding your overall health and wellness. Besides, it is also recommended by doctors for its umpteen nutritional and medicinal properties.
A humble yet powerful ingredient of Ayurveda, extra virgin coconut oil is a powerhouse of antioxidants, vitamins and minerals that cater to improving your blood sugar, cholesterol as well as immunity levels. This nutritious ingredient teems with many health benefits and helps in amplifying your skin health too. With the best of both worlds at your hands, doesn't this healthy cooking oil make a safe bet to take in? Continue reading to know more.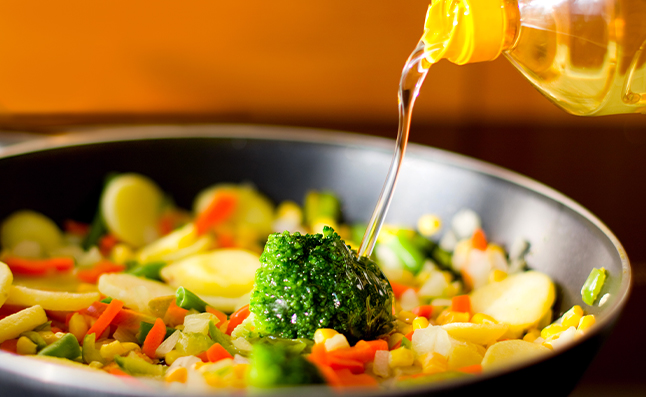 Benefits of using virgin coconut oil for cooking
Good energy booster
The fat present in this healthy cooking oil is swiftly converted into an active source of energy. This prevents any fat build-up in your arteries or heart. Furthermore, it provides endurance, helps boost energy and improves the overall function of your body.
Great for digestion
One of the striking virgin coconut oil benefits is that it helps in relieving gastrointestinal stress. It contains a powerhouse of potent antioxidants, coupled with antibacterial and antifungal properties that help in pacifying your inflamed tissues in the digestive tract.
Prevents cell damage
Teeming with vitamins, minerals and iron, virgin coconut oil is one of the best allies you can rely upon to promote your health. The iron content pumps oxygen to the cells in your body, while the small amount of vitamin K aids in blood clotting and the antioxidant properties of vitamin E prevents free radical damage of the cells.
Helps in reducing weight
Scientific studies have shown that extra virgin coconut oil for cooking is extremely beneficial for burning unhealthy fat from the body. Its energy-boosting abilities are exceptional which helps in cutting off the abdominal fat and reducing your appetite. What's more? It converts the fatty acids into energies. So, when you balance your diet with healthy food, instead of storing it as fats, it breaks down and leads to a reduction of weight.
Improves dental health
If you're underestimating how powerful the virgin coconut oil uses for dental health are, then it's time for a reality check. Many types of research have proved that using virgin coconut oil helps in lowering the formation of plaque caused due to gingivitis. Head over to our blog on why coconut cooking oil is good for health to learn more about its health benefits.
Sure, knowing these many virgin coconut oil benefits will help you make a better and healthier choice, but it is vital that you pick pure virgin coconut oil only. You can identify its purity through its smell, as it is made with fresh and raw coconut pulp that leaves an everlasting aroma of fresh coconuts. Therefore, to help you simplify your pick, we recommend you to try Coco Soul.
Why choose Coco Soul?
Coco Soul's Virgin Coconut Oil is 100% natural, cold-pressed, unrefined and pure. It is extracted from the coconut farms and is manufactured through a no-heat process.
The vital nutrients and fine aroma of real coconuts make it a brilliant alternative to your regular, refined coconut oil.
Since it is rich in MCTs (medium chain triglycerides), it can be easily digested, making it an ideal cooking oil good for health.
Moreover, it gives an instant boost of energy without accumulating in your system as fats. The best part is that it can be consumed directly, making it a healthy oil good for cooking.
It also contains lauric acids and vitamin E which aids in improving the body's immunity. Thus, rightly termed as a superfood teeming with its numerous benefits.
All these qualities present in Coco Soul's Virgin Coconut Oil draw a direct semblance with what many experts preach when it comes to using natural ingredients in its purest form. Besides, you can also use this oil for marinating, baking and frying or even use it in your smoothies and shakes to enhance their taste. So, if you are yet to replace your unrefined oils, then it's time you took this article seriously and switched to virgin coconut oil for cooking. Hurry, and grab the purest virgin coconut oil for you and your family from the website of Coco Soul Beauty! You must also check out our blog on the health benefits of virgin coconut oil.
Frequently Asked Questions on Virgin Coconut Oil for Cooking
1. Is extra virgin coconut oil better than regular oil?
Since virgin coconut oil is derived from coconut milk, it has better taste and aroma as compared to regular coconut oil. Additionally, it has a luscious, tropical coconut flavour and scent, unlike the ones with artificial scent.
2. What are the ways in which you can use virgin coconut oil for cooking?
You can use virgin coconut oil for cooking in a few ways:
Directly use it as a cooking oil good for health
Use it to make baked food items like cakes, brownies, and cookies
Add a teaspoon or two to your favourite beverages like smoothies, tea and coffee.
3. What happens when you consume virgin coconut oil directly?
When consumed directly, the fatty acids in virgin coconut oil help your body burn fats and provide instant energy to your brain and body.