What if we told you that the secret to healthy and nourished skin might be hiding in your own kitchen? Well, it is none other than the exotic virgin coconut oil, an indispensable Ayurvedic staple in every Indian kitchen shelf. Centuries-old Ayurvedic wisdom considers virgin coconut oil as an elixir for flawless skin, which is why it has been an integral part of natural skincare routines for ages. So why not add this exotic oil to your daily skincare routine? It is a powerhouse of magical properties that can sweep away all your skin issues, and nourish your skin from within. Read on to explore the wonders of using virgin coconut oil everyday, for your face and your skin.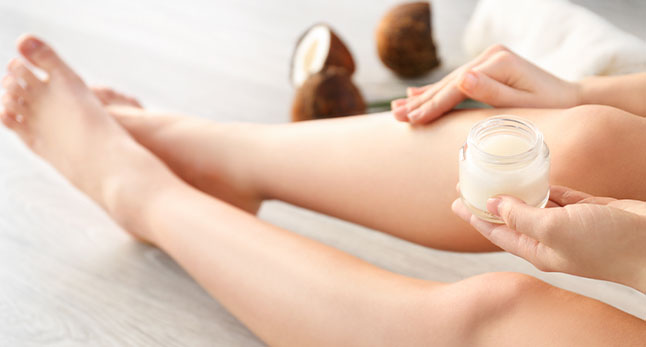 Virgin coconut oil: Benefits for face and body
Lathering up your skin with virgin coconut oil can offer you numerous benefits. In its purest form, the rich nutrients in this tropical oil have healing powers that hydrate your skin cells and give you smooth and soft skin, which increases the usefulness of virgin coconut oil manifold.
Following are some benefits of coconut oil that we can vouch for:
Reduce inflammation
Virgin coconut oil has anti-inflammatory properties, which makes it an effective treatment for sunburnt, itchy and irritated skin. It gently penetrates the skin cells to neutralise inflammation and discomfort. It is also used to treat minor skin allergies and infections.
Treat acne and eczema
One of the lesser-known benefits of coconut oil is that it contains lauric acid, the reason behind its antibacterial and antimicrobial properties. For centuries, virgin coconut oil for skin has been used to fight bacterial, fungal, and viral pathogens that cause skin issues. This magical elixir also alleviates symptoms like redness, itchiness, and flakiness caused by eczema. Moreover, applying coconut oil to your face prevents breakouts and pimples on your skin.
Moisturizes dry skin
Applying coconut oil on dry skin is a great way to naturally moisturize the skin deeply and make it softer and smoother. It locks moisture in the layers of your skin and heals it from within.
Collagen production
The lauric acid in this exotic oil accelerates collagen production. Collagen is responsible for keeping your skin firm, reducing fine lines and wrinkles, and maintaining its elasticity.
Removes pigmentation
One of the benefits of applying coconut oil to your face is that it can reduce the puffiness around the eyes, thereby eliminating dark circles and dark patches. It also lightens dark spots caused by hyperpigmentation. Moreover, applying coconut oil as a moisturizer can also aid in reducing stretch marks from the body.
Ayurveda, integral to the centuries-old Indian heritage, has a solution to all your skin issues. We, at Coco Soul, are determined to bring you the magic of Ayurveda and its hidden benefits in bottles and tubes.
Products that contain the potent wisdom of Ayurveda along with virgin coconut oil can do wonders for your skin and hair health. Coco Soul believes that Mother Nature has the answer to all your skin and hair concerns, so it brings to you a natural, i.e. chemical-free, range of skincare and haircare products.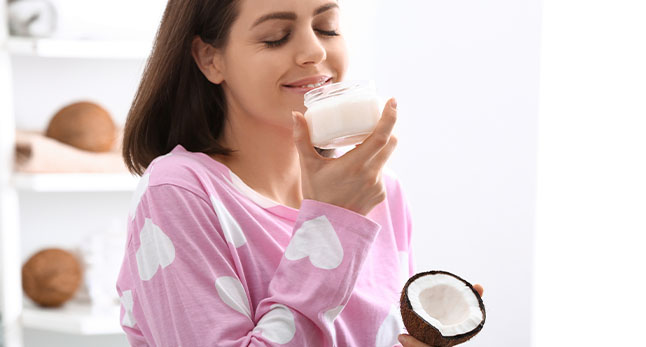 Uses of coconut oil
To include virgin coconut oil in your daily skincare and haircare routine, you can use the following Coco Soul products. Be assured that you would be pampering your skin with nature's best secrets for flawless and radiant skin.
Coco Soul Face Scrub
With virgin coconut oil in its core, this exfoliating face scrub gently exfoliates your skin and unclogs pores to reveal radiant and healthy skin. The infusion of natural ingredients and Ayurvedic herbs gives you a healthy glow minus any lingering dryness or irritation.
Virgin coconut oil: Moisturises your skin cells while promoting cellular repair for a nourishing and radiant glow.
Venivel: Removes excess oil and exfoliates dead skin to give you a blemish-free complexion.
Sandalwood: Used in eastern cultures for centuries, sandalwood reverses sun damage, and also minimises age spots to give you a flawless skin tone.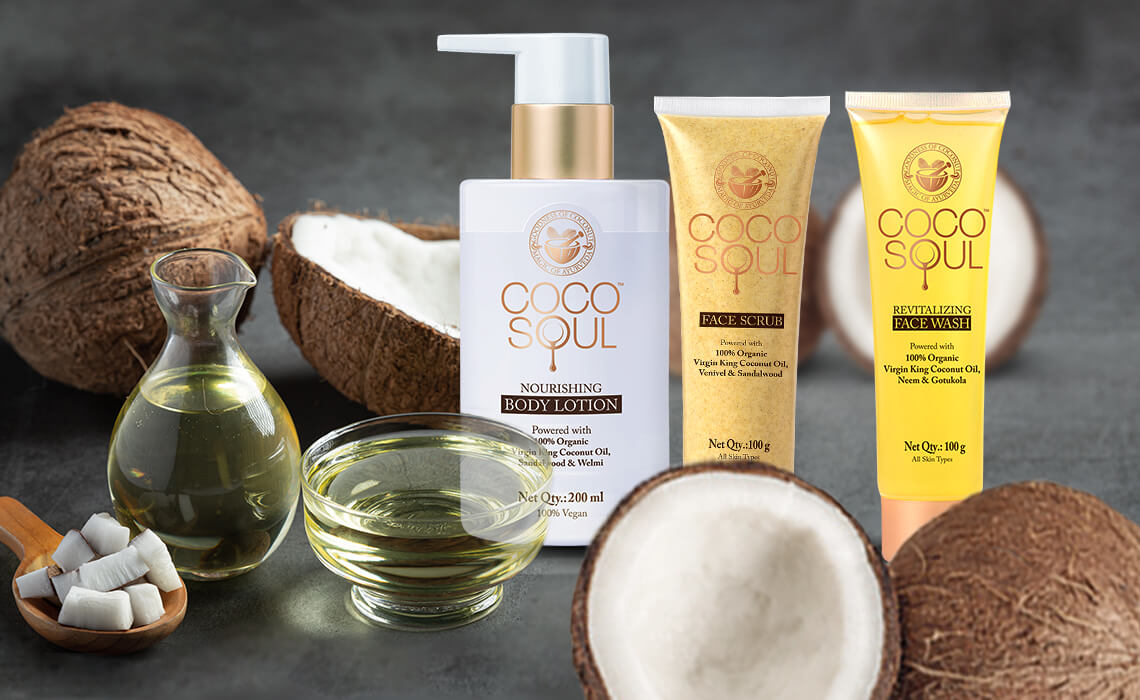 Coco Soul Revitalizing Face wash
With the goodness of nature and the magic of Ayurveda, this au natural face wash gently cleanses oil and dirt from your face to reveal glowing and radiant skin. The essence of Ayurvedic herbs and the moisturising properties of virgin coconut oil make it a luxurious cleansing fluid that rejuvenates and revitalises your skin.
Virgin coconut oil: Contains nurturing compounds that hydrate the skin and help cell formation and growth.
Gotukola: Known as an organic hero, this Ayurvedic herb promotes collagen to fight skin sagging and helps you get younger-looking skin.
Neem: Lauded for its antibacterial properties, neem is known to remove pigmentation, fight signs of ageing, and give you clear and acne-free skin.
Coco Soul Nourishing Body Lotion
Enriched with virgin coconut oil, this natural body lotion penetrates deep into your skin like a gentle kiss to keep dryness at bay. This lightweight, aromatic body lotion visibly moisturises your skin to give you a nourishing glow.
Virgin coconut oil: Provides deep hydration to repair and soften dry, flaky, and irritated skin.
Welmi: A rich source of vitamin C, welmi brightens your face, fights dullness, and gives you radiant and glowing skin.
Sandalwood: An Ayurvedic powerhouse known to give bright and glowing skin, sandalwood can reduce oxidative stress and deeply moisturize your skin cells.
Coco Soul's products are derived directly from nature, and hence, are free from all harmful chemicals such as sulphates, silicones, parabens, mineral oils, DEA, etc. Moreover, nature-friendly as they are, they have not been tested on animals and are MadeSafeâ"¢ certified.
While there are multiple uses of virgin coconut oil, use it wisely if you have oily and acne-prone skin. We recommend against using virgin coconut oil directly on the face if you have an oily complexion as its thick consistency and greasy nature can lead to breakouts.
Conclusion
A moisturiser, cleanser, body scrub, lip balm, massage oil, make-up remover, and soothing ointment - the advantages of coconut oil are innumerable as it provides perfect head-to-toe nourishment. Combined with the Ayurvedic goodness of Coco Soul, it can repair damaged skin, heal marks and blemishes, and enhance your internal glow in no time.
Now that you know the benefits of virgin coconut oil for face and skin, check out our blog on the natural ingredients for skin, this blog will help you to choose the right ingredients to incude in your skin care routine.
To explore more virgin coconut oil-infused skincare and haircare products from the house of Coco Soul, click here