Ayurveda is a treasure chest of beauty secrets which contains several such ingredients that can promise you clear and glowing skin. However, not many people know about it. One such magical Ayurvedic ingredient is lodhra. It is an ancient Ayurvedic herb which when applied can help you get glowing skin naturally. Continue reading to know more about the advantages of using lodhra.
What is lodhra?
Lodhra is often called the divine herb due to its medicinal and beauty benefits. Scientifically called Symplocos racemosa, its bark contains various vitamins and nutrients that make it ideal for solving female health issues and getting glowing skin naturally. Lodhra is rich in many nutritious compounds. It contains glycosides and alkaloids like-
Loturine" 0.25%,
Colloturine" 0.02%,
Loturidine" 0.06%
A few types of glycosides are proven to protect your skin from ageing, UV radiation and burning which makes lodhra an effective anti ageing Ayurvedic herb.
Beauty benefits of lodhra
1. Anti-ageing properties
Lodhra is loaded with antioxidants due to which it is known to protect the skin against free radicals that cause ageing. It prevents wrinkles, tightens the skin and slows down the ageing process.
2. Heals wounds
Lodhra is known to balance the PH level in your body that helps heal wounds faster. It also has a cooling effect on the wound that decreases the swelling and brings backs the normal texture of the skin.
3. Controls acne
Lodhra is rich in anti-inflammatory properties that fights acne-causing bacteria and soothes the skin. Due to its astringent and detoxifying properties, it also solves skin issues like pimples, blackheads, breakouts, and marks on the skin.
4. Improves skin's health
Lodhra contains detoxifying and blood purifying properties that purify and nourish the skin and enhance the glow of the face.
How to use lodhra as a home remedy for glowing skin?
Following are DIY home remedies for dull skin prepared with lodhra herbs -
To get glowing skin, take 1-2 teaspoons of lodhra powder and 2 tablespoons of rose water. Take a bowl and mix these two in a fine paste. Wash your face of all the dirt and oil and apply this paste on your skin. Leave it till it dries. Wash it off with lukewarm water and pat dry. Repeat this daily to get glowing skin naturally.
Lodhra is a predominately an ayurvedic herb that when mixed with other ayurvedic herbs and ingredients can give you clear, and glowing skin. To make this ayurvedic face pack for acne-free skin, you need Lodhra powder, Vacha, Dhaniya, Neem Leaves, Spatika Bhasma, Bheemseni Kapoor. Blend these ingredients and mix them to make a fine powder. When you want to use this face pack, take one tablespoon rosewater and mix it well to make a fine paste. Clear your skin of all the dirt and apply this paste and leave until dry. Wash off with lukewarm water. This ayurvedic face pack would detox and tighten your skin, and clear acne and pimples from your face.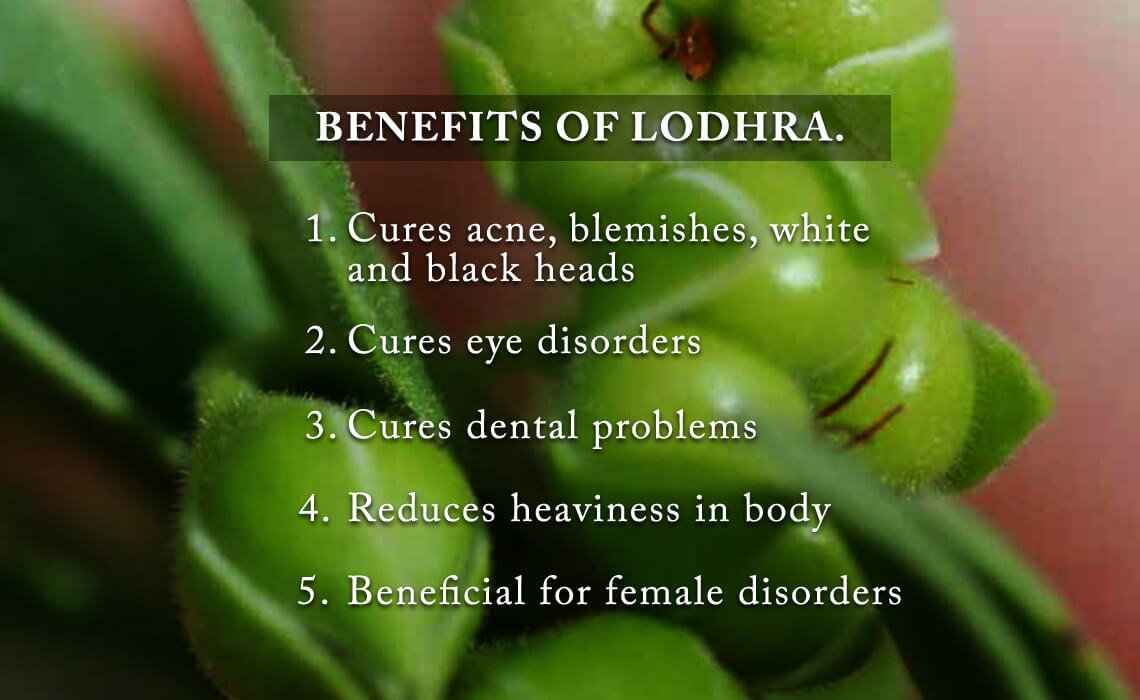 Being a rare herb as it is, you may or may not find lodhra in its purest form. And dermats believe that unless you use natural ingredients in their pure form, they might not give you the results that you expect. Also, making the perfect concoction of natural ingredients in their accurate measurements could be tricky as well as messy. Instead, you can utilise the benefits of lodhra for skin by using products infused with it. And for that, you need brands that have products made with natural ingredients. One such brand is Coco Soul. Coco Soul believes that mother nature has the solution for all your skin woes and the remedies of the yesteryears are much more effective in solving your skin problems than today. Which is why Coco Soul creates its products with the expertise of centuries-old Ayurveda and goodness of natural ingredients that are safe for skin.
The products of Coco Soul are prepared with cold-pressed, food-grade organic virgin King Coconut oil from the tropical paradise of Sri Lanka known to have nourishing and healing properties and natural ingredients which have medicinal and skincare benefits.
To use lodhra to get glowing skin naturally, you can try: Coco Soul Nourishing Body Butter Cream Just like skin's superfood, this buttercream is exactly what you need for glowing skin naturally. It not only smells like heaven but works like magic too. Its ultra-luxurious and lightweight texture melts in your skin and softens the driest skin. While its natural ingredients give you a natural glow, its fragrance invigorates your senses and soothes your skin. Use it daily if you are looking for ayurvedic medicine for glowing skin. This body buttercream infused with lodhra benefits contains natural ingredients like -
Lodhra - Derived from ancient Ayurveda, this miraculous herb nourishes, tones and purifies the skin and also slows down the sign of ageing.
Shea butter - It is known for its therapeutic properties and is loaded with Vitamin E. It helps reverse the sign of ageing and tightens the saggy skin. It also contains vitamin A, natural SPF and oleic and stearic acid and retains skin moisture.
Virgin coconut oil - Called elixir in Ayurveda, it contains good fats and antioxidants that deeply hydrate and moisturize the skin and give it a glow.
Virgin coconut oil is also useful for hair, check out our blog on the benefits of virgin coconut oil for hair, skin and face to learn everything about this magical ingredient.
Extremely nourishing and ultra-hydrating, this body butter cream will not only moisturize your skin this winter but also help you glow and look younger. The ingredients soften dry skin, slow down signs of ageing and give an even-tone. The best part about this lodhra herb-infused body butter is, it is free from any chemical compounds. Coco Soul products are devoid of parabens, sulphates, silicones, sodium chloride, DEA, mineral oils, petroleum and any other chemicals. Moreover, it has not been tested on animals, is 100% vegan and guess what, it has been certified by MadeSafe. i.e. completely safe to be used on skin and hair.
Lodhra, the miracle ayurvedic herb is not only a perfect home remedy for fair skin and glowing skin, but is also well known for its medicinal properties. While it is derived from ancient Ayurveda, it contains several nutritional properties that makes it worth a try for skincare issues. Use it as an ingredient in your face pack or just look for skincare products infused with it.
There are many other natural ingredients that can help you to get a flawless skin, check out our blog on choosing the right natural ingredients for skin to learn more about them.
Head over to Coco Soul website to shop for more skincare products here.
Frequently Asked Questions on Lodhra For Skin
1. How can I make my face glow naturally?
You can make your face glow naturally by following a good and natural skincare ritual. Cleanse and moisturize your face, exfoliate the dead skin at least once a week. Apply sunscreen whenever you step out. Also, intake a balanced diet and drink lots of water.
2. How can I make my skin glow?
Follow the cleaning and moisturizing ritual every day without fail. Do not sleep with makeup on, and make sure to drink adequate water. Also, include exfoliating, a necessary step, in your skincare ritual once in a while.
3. What is the best homemade face pack for glowing skin?
For the best homemade face pack, take a teaspoon of sandalwood powder, a few drops of rose water, a teaspoon of gram flour, a tablespoon of milk and a bit of honey. Mix them all and apply the paste on your skin. When it dries, wash it off with lukewarm water for glowing skin.
4. How do I make my face glow overnight?
Applying natural ingredients like milk, aloe vera, coconut oil, rose water, etc when applied consistently on your skin can make your face glow. However, it must be applied every day and in the right manner.
5. Which ingredient makes the skin glow?
There are many ingredients that you can use to get glowing skin, some of the kitchen ingredients are lemon, tomato, cucumber, sandalwood, turmeric etc. Apart from these, vitamin C and vitamin E also help reduce pigmentation and blemishes to give you glowing skin.