If you have been planning to substitute your chemical-based skincare products with natural ingredients, congratulations! You are on the easiest path to glowing skin. With the Go Green slogan ruling every sphere of our lifestyle, it is no wonder that people are moving towards natural remedies, not only for health but also for beauty. While nature has the solution to all our problems, it is unfortunate that it has still not been integrated in our lifestyle effectively. So, if you are choosing natural ingredients for skincare, pat your back because you are about to witness magical results.
There is no doubt that natural ingredients are potent enough to solve your skincare issues without any harmful effects. But there are many other benefits of ayurvedic skincare which you might not be aware of. Following are some of the benefits of natural skincare -
Safe and not made in laboratories
Natural skincare is organic and mild which is not harsh on your skin like the chemical-based skincare products.
They work better
Natural skincare might take a bit longer to show results, but you can see its effects on your skin for a longer period. Your favourite chemical cream might fail, but natural skincare would never
Safe for the environment too
When you use skincare with natural ingredients, you do not wash off chemicals down the drain, saving the soil and water from further pollution. Moreover, ayurvedic skincare is usually not tested on animals.
Have no side effects
Natural skincare has no side effect on your skin or health. They have no negative impact even if they enter your bloodstream through the skin.
Ideal for every skin type
If you accidentally use a chemical-based product not meant for your skin type, you can suffer from irritation or redness on the skin. But it does not happen in natural skincare products. They are gentle on the skin and can be used on sensitive skin too.
What are the natural ingredients you can use on skin?
Though the list of natural ingredients for skin is endless, here are some ingredients that can give you a healthier and glowing skin -
Turmeric - A common household kitchen ingredient, turmeric is probably the best ingredient for glowing skin. It is widely used in face packs, bathing soaps and face washes due to its antiseptic and brightening properties. Turmeric also contains anti-inflammatory and antioxidants that revives dull skin and reveals the inner glow.
Aloe vera - The magic ingredient of Ayurveda, it is comparable when it comes to skincare. Aloe vera is known to have healing properties which give a soothing effect on your sunburns and allergies while making the skin clear and glowing. It is also used for treatment against scars, minor cuts, stretch marks and pigmentation. Loaded with vitamins, and antioxidants it is suitable for all skin types.
Coconut oil - Coconut oil is rich in antioxidants, vitamins and fatty acids that deeply hydrates and moisturizes dry skin. It is also known to have antimicrobial properties that help treat acne and protect the skin from harmful bacteria.
Sandalwood - Popularly called as Chandan, sandalwood is a rare yet potent herb for glowing skin used since the time of your grandmothers. It contains antibacterial properties that fight bacteria causing acne. It also exfoliates the skin, reverses sun damage and suntan. It is also known to slow down the signs of ageing by reducing wrinkles and fine lines.
Neem - Antiseptic and antibacterial in nature, neem is unmatchable when it comes to fighting acne and breakouts. It is good for skin dryness, pimples, itchiness and redness and also promotes wound healing.
Try Coco Soul
Natural ingredients for skincare can do wonders for your skin. While they can solve your skincare issues, they can also improve the overall health of your skin. However, often procuring pure ingredients and making the accurate paste or concoction from them is difficult and messy. For that, you need a brand that understands the power of nature and uses natural ingredients for their products. Just like Coco Soul.
Coco Soul believes that nature has the solution to all your skincare needs and its remedies of yesteryears are much better and effective than that of today. Coco Soul products are created with the centuries-old ayurvedic expertise along with the infusion of virgin coconut oil and natural herbs. It is completely safe on the skin across all skin types and age groups.
Coco Soul is against the use of chemicals in their composition. Which is why Coco Soul products are free from parabens, sulphates, silicones, sodium chloride, DEA, mineral oils, petroleum and any other chemicals. It is also 100% vegan, Madesafe certified and has not been tested on animals.
With this, you can try the following natural skincare products made with the secrets of Ayurveda from Coco Soul.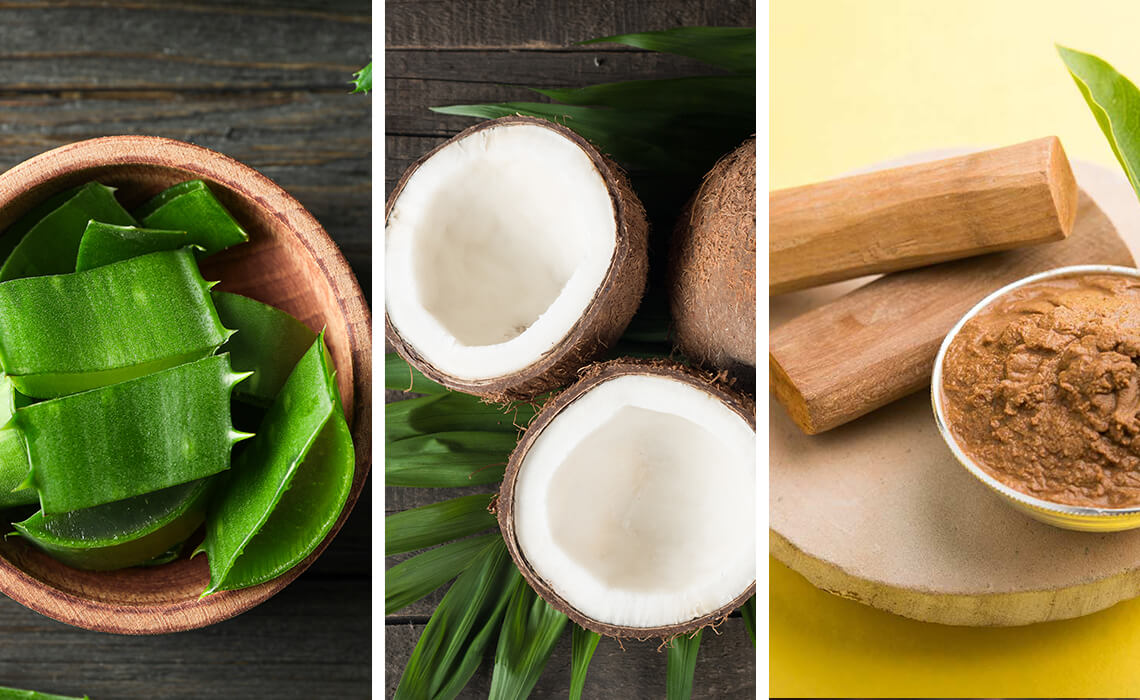 Revitalizing Face Wash
With a composition that feels like a splash of purest ingredients on the face, this natural face wash is nature's goodness packed in a tube. Derived from Ayurvedic expertise, it gently cleanses your skin and its potent herb removes dirt and impurities without any lingering dryness. It contains -
Virgin coconut oil - Called as an elixir in Ayurveda, it penetrates deep into the skin layers, repairs damage and restores lost moisture.
Gotukala - A potent herb, it fights skin sagging by promoting collagen production and gives younger looking and glowing skin.
Neem - Loaded with Vitamin E, this miracle herb helps in removing pigmentation and slows down ageing.
Coco Soul Nourishing Body Lotion
Dermats believe that you should moisturize your skin every day, irrespective of your skin type or seasons. However, not many people know that moisturizers get absorbed into the skin and often enter into the bloodstream. If you use a moisturizer that is chemical-based, it is most likely that you are consuming chemicals that might not only irritate your skin but also affect your health. The best solution is to use a natural moisturiser that is safe and nourishing. The Coco Soul Nourishing Body Lotion is exactly that. Its lightweight texture melts easily into the skin penetrating the skin layers to give you a moisturised glow. The best part is, it's made with pure natural ingredients that do not harm you in any way. This organic skin product contains.
Virgin coconut oil - It is loaded with fatty acids and antioxidants that nourish and nurture your skin.
Sandalwood - Revered in eastern culture, it minimises age spots and reverses sun damage.
Welmi - Rich in vitamin C, it reduces skin dullness and gives you a dewy and radiant glow.
Shower gel
Turn your bath time into luxuriousme time' with this all-natural shower gel. This revitalizing shower gel cleanses, purifies, and rejuvenates damaged skin and gives you a glowing complexion. Its natural ingredients lather up into a luxurious foam and it emits a refreshing fragrance. You can use this natural shower gel every day to get fresh and clean skin without any lingering dryness. It contains
Turmeric - Loaded with multiple medicinal properties, it diminishes visible scars and repairs the skin.
Gotukala - A lesser-known herb, it fights skin sagging and promotes collagen production. It gives you firmer and glowing skin.
Virgin coconut oil - Rich in fatty acids, it deeply hydrates and moisturizes your skin.
As we can see here, virgin coconut oil is a very useful skin care ingredient. Head over to our blog on the wonders of coconut oil to learn more about the benefits of virgin coconut oil for face and skin.
Whenever you face a skin woe and wish to fix it, the first instinct is always to try something from your kitchen, and that is the best way too. Not only is skincare at home with natural products safe and effective, it is also devoid of synthetic ingredients. So next time you plan to pick a chemical based skin care product, think twice, you might be risking your skin and health. Instead, head over to the skincare section on the Coco Soul website today and shop for natural ingredients for skincare today.
Frequently Asked Questions on Ayurvedic Skin Care With Natural Ingredients
1. Which natural ingredients are good for your face?
There are many natural kitchen ingredients which are good for your face. For example, you can apply milk, turmeric, rose water, tomato, neem, sandalwood, venivel etc., as they give you a glowing skin without any side effects.
2. What is the best natural skincare?
The best natural skincare is the one that is derived from 100% natural ingredients and recipes. In natural skincare, you rely on nature's power to help you get a flawless skin.
3. Which ingredients are best for your skin?
Ingredients that soothe the skin surface, purge skin impurities and reveal the inner glow are best for your skin. For ages, ingredients such as turmeric, aloe vera, milk, neem, sandalwood, welmi, gram flour, honey, etc are being used for skin.
4. How can I make my skin glow naturally?
You can make your skin glow naturally by opting for ayurvedic skincare. Stay away from chemical-based products, keep your face clean and moisturized at all times and drink adequate amounts of water.