Ayurveda is a science that has been trusted and relied upon for ages. And why shouldn't it be, for it has numerous secrets that can not only give you a healthy life but also flawless skin. There are many rare herbs in Ayurveda that when utilized effectively can heal your skin and boost skin renewal. However, not many know about their magical properties, and it remains a secret. Vetiver is one such a potent herb that can treat your dull and inflamed skin naturally. Here, we unveil the amazing properties of vetiver so that you have no doubts about including this ayurvedic skincare ingredient in your routine.
What is a vetiver?
Vetiver is a perennial grass that is predominantly grown in southern India. Scientifically called Vetiveria zizanioides, it is popularly known as khus in Ayurveda and has a citrusy, earthy, and cooling smell that has a cooling effect. It is most widely used as vetiver water or oil for various skin disorders. The roots of vetiver are processed and used for beauty products.
Due to its ability to withstand heat and for its refreshing and cooling properties it has been revered divine for centuries. Also, it is found in every household especially during summers. It is because during summers, your body heat is amplified leading to acne, breakouts, irritation, and burns. With its soothing property, the vetiver relieves the stress and calms the skin.
Benefits of vetiver
Being a natural coolant, vetiver has various beneficial qualities that can help you solve your skin issues. Following are the benefits of vetiver -
1. Highly nourishing for the skin
Vetiver has a water retention capacity that keeps the skin nourished and moisturized for a longer time. Its hydrating qualities help prevent dryness and flakiness in your skin and make it plump and soft. Vetiver is also known to modulate sebum production that balances the oil content in your skin without causing any greasiness or stickiness.
2. Treat acne
It contains anti-inflammatory and anti-bacterial properties that reduce the inflammation on your skin and prevent acne and breakouts. As it is a natural coolant, when taken internally, vetiver can also balance the body heat and prevent the occurrences of pimples or boils on the skin. Being soothing and gentle, vetiver is an ideal ingredient to cure acne and treat blisters, and rashes. It can also be used to cure sunburns and inflammation of the skin.
3. Slows down ageing
Vetiver is filled with antioxidants that helps tighten the pores and prevents early signs of aging. It also cleans the system of toxins and free radicals that are responsible for premature aging thus, preventing the occurrence of wrinkles, fine lines, and pigmentation. It is also known to protect the skin against environmental factors like heat, dust and pollution and helps you get youthful and glowing skin.
4. Maintains pH balance
Vetiver restores the ph balance of the skin that often gets disturbed due to dust and pollution. It protects the acid mantle of the skin and fights unwanted influences like bacteria, fungus, and any other infection.
5. Gives even tone
Vetiver can help you get even-toned skin and remove pigmentation and roughness from the skin. It boosts the growth of new cells, hydrates your skin, promotes the skin regeneration process, and gives you clear spotless skin naturally.
6. Diminishes scars
Due to its properties of speeding up cell regeneration and promoting the growth of new cell tissues in the skin, vetiver can be used to diminish the stretch marks on your skin. It can also eliminate scars of acne, burns, and other wounds.
Now that you know about the benefits of vetiver, learn the following ways to use vetiver for skincare.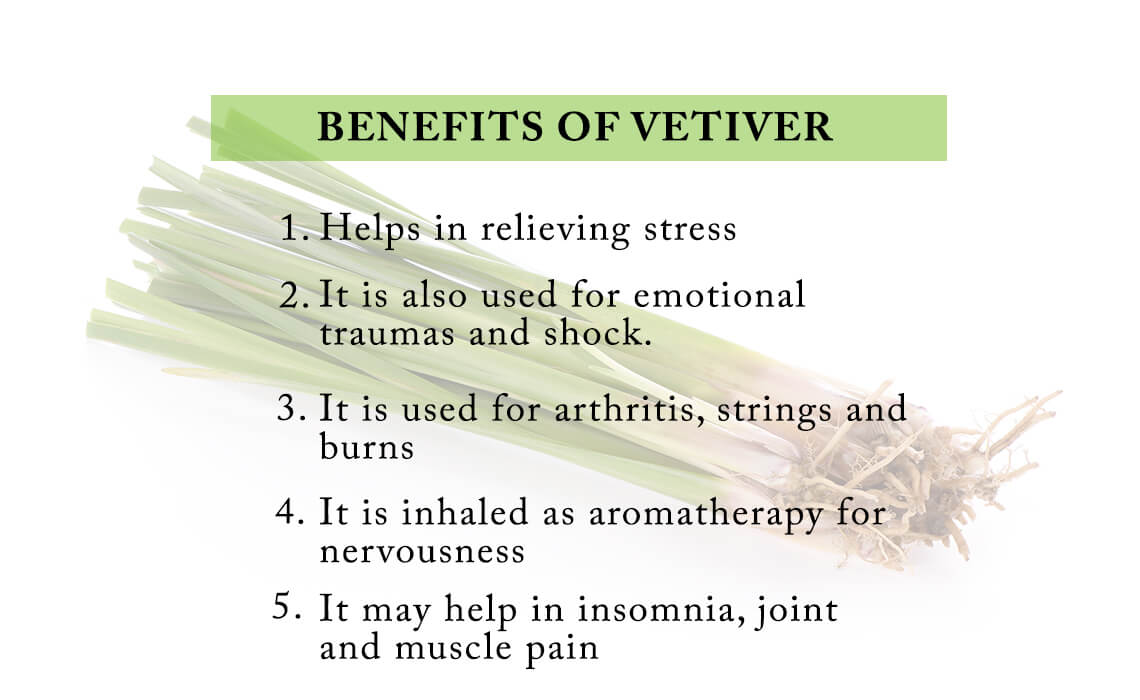 How to use vetiver
If you are wondering how to treat dull skin, vetiver can be a great help. Being a gentle and soothing natural ingredient, there are many uses of vetiver for skin. Vetiver water can be used as a body mist, toner and aftershave, or used to make soap. Making a vetiver soap or oil could be tricky, but you can easily make vetiver toner at home.
Toner from vetiver
To make toner from vetiver, you need a few cups of water, lemon slices and vetiver roots
Heat two cups of water in a pan and bring it to a boil and add some cold water to it. Now add in lemon slices and vetiver roots and stir once. Let it cool for a few hours and do not stir. Strain the water and pour it into a spray bottle. It can be used as a toner and as a body mist too. A body mist can be an easy answer tohow to treat inflamed skin
Vetiver oil
You can also use vetiver oil for skin. It has nourishing and cooling properties and can be used with a carrier oil like coconut or olive oil for soft and smooth skin.
Vetiver water
The benefits of vetiver water make it a must-have product for your skincare routine. Vetiver water is made by soaking the roots of the vetiver in water in a clay pot and then distilling it to extract the fragrant water. It can be used as a mist or toner for a cooling and refreshing feel on the skin. It can also be used in a face mask for clear and glowing skin.
Creams
Due to its cooling benefit, it would help if you can use creams infused with vetiver. It would promote cell generation and hydrate your skin cells for a refreshing feel.
Vetiver is easily available in India, which is why it should be an indispensable ingredient of your skincare routine. But the process of extracting vetiver essence from its roots can be complex and tricky. Instead, it would be better if you can find products that have vetiver in its pure form. You should look for brands that are known to use pure natural ingredients in their products without any chemicals and adulterations. One such brand is Coco Soul. Coco Soul believes that mother nature has the solution to all your skin woes and you should seek the remedies of yesteryears as they are more effective than that of today. With this vision and belief, it has created products that are free of chemicals and are infused with Ayurvedic and natural ingredients in its core.
We recommend using Coco Soul Hand Cream infused with pure virgin coconut oil and ayurvedic herbs like vetiver and Indian chest rose nut. This hand cream has a lightweight and soothing texture that melts in your skin and makes your hand soft and smooth in no time. It keeps your hands hydrated, eliminates scars and marks, reduces dryness, and keeps them soft, and moisturized. This natural hand cream contains -
Vetiver - A natural coolant, it reduces dark spots and gives you balanced skin tone. It is also rich in antioxidants that slow down signs of ageing.
Indian rose chestnut - An ayurvedic herb, it reverses sun tanning and improves skin's brightness.
Virgin coconut oil - Known as an elixir in Ayurveda, it penetrates deep in skin layers and promotes cellular repair, and restores lost moisture.
Because of the enormous benefits of virgin coconut oil for face and skin, it is also known as a wonder ingredient.
This cream, like all other Coco Soul products is free from sulphates, silicones, parabens. Sodium chloride, DEA, mineral oils, and any other chemicals. It is 100% vegan, has not been tested on animals, and is Made Safe certified.
Widely used as a drink in summers in Indian households, not many know that vetiver can help you get clear and even-toned skin too. Its cooling properties balance the pitta dosha of the body and reduce skin irritation, inflammation, and heat. You can make vetiver water and oil at your home or shop for vetiver infused products from brands like Coco Soul.
Peppermint is another great ingredeint for skin. Check out our blog on the benefits of peppermint for skin to learn how this power ingredient helps to fight acne and sunburns.
For more skincare products infused with natural and ayurvedic herbs, head over to the Coco Soul website and shop for them now.
Frequently Asked Questions On Vetiver (Khus) For Skin
1. How do you use a vetiver on your face?
Vetiver is applied to your face in the form of toner, mist, aftershave or cream. A few drops of vetiver oil soothes your skin and prevents rashes.
2. Can Vetiver be applied directly to the skin?
No, vetiver cannot be applied directly on the skin. For its effectiveness, it would help if you can use a vetiver infused oil or a nourishing cream.
3. How do you use a vetiver root?
Vetiver roots are processed through various processes to extract its oil. The vetiver root is also used to make medicines.
4. What does Vetiver mean?
Vetiver is a tall perennial grass grown in south Asian regions. Its oil is extracted for medicinal purposes and aromatherapy.
5. How long does Vetiver last?
When in its natural habitat, a vetiver plant can survive up to two months. However, unless preserved, you might not be able to store it for a long time.