What do you return with from a vacation to a beach resort? Seashells as souvenirs, pictures for memory, and Instagram-ready snaps from under a picturesque palm tree? Well, that's wonderful; but what about the soothing benefits that this palm tree's fruit offers? Did you know that coconut, a southeast Asian staple that gives your piña colada its yummy taste and magnificent texture, holds significant benefits for your health? While the pulp and the water are a delicacy in themselves, its oil is a powerhouse of nutritional benefits that make it an ideal ingredient in your skincare and haircare routines.
Virgin coconut oil, a purer form of conventional coconut oil, is known for its nutritional richness and has been mentioned numerous times in ancient Ayurvedic scriptures. Continue reading to know more about this miracle oil and why should you include it in your vanity case.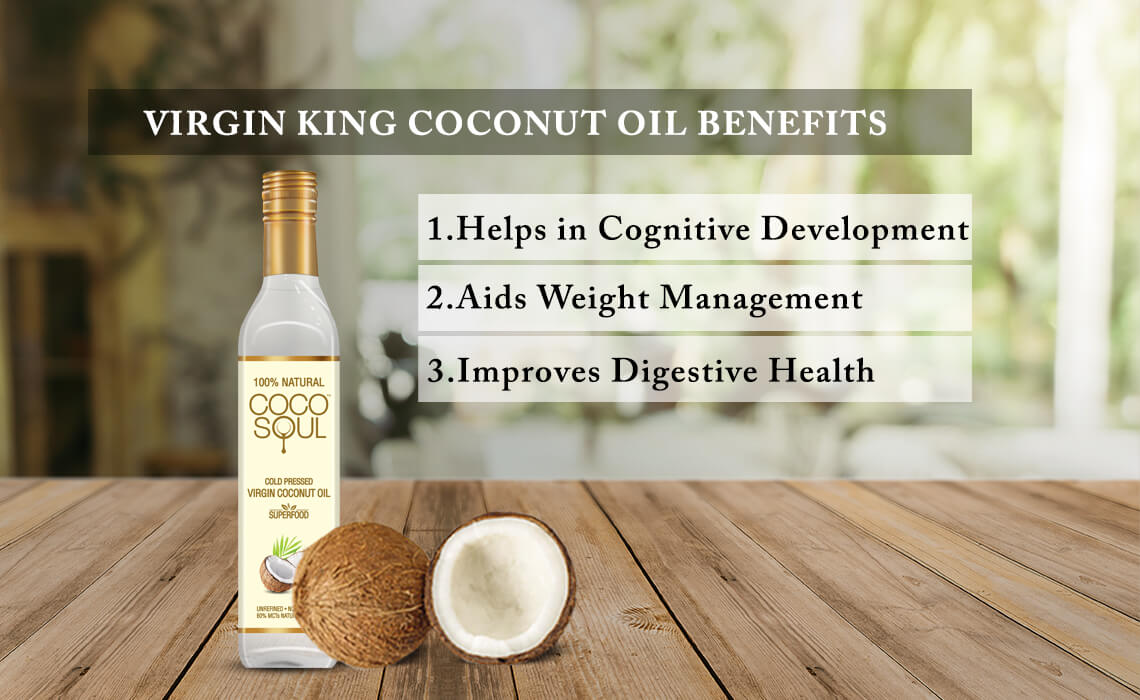 What is virgin coconut oil?
Virgin coconut oil is derived from fresh coconut pulp that has been dried and heated at a temperature below 40-degree Celsius. The low temperature, coupled with the single-press technique to extract the oil, increases the moisture content in virgin coconut oil, enhancing its purity and nutritional value. An unprocessed variant of coconut oil, virgin coconut oil is not refined, deodorised, or bleached, which makes it the best natural oil to pamper your skin and hair with.
Benefits of virgin coconut oil Virgin coconut oil for the skin
Ayurvedic wisdom refers to virgin coconut oil as an elixir for skin nourishment, which is why it is a widely used component in natural skincare products. One of the best benefits of virgin coconut oil for the skin is its ability to seal the moisture and provide internal nourishment. It forms a protective layer over your skin that keeps itching, dryness, and allergies away. You can simply use it as a moisturiser or as a make-up remover and say goodbye to itchy skin and dryness. Virgin coconut oil is also inherently relaxing and cool, which makes it ideal for massages and rejuvenation. While you can use virgin coconut oil directly on your skin, it is recommended that you use products infused with virgin coconut oil along with other natural herbs to enhance its benefits and treat your skin woes effectively.
Coco Soul is a brand that understands the value of Ayurveda for skin and haircare and, therefore, envisions to harness its secrets for your personal benefit. We, at Coco Soul, use virgin king coconut oil, a Sri Lankan native, in all our skincare products so that you can feel the goodness of Mother Nature whenever you pamper your skin. The best part? All Coco Soul products are free from harmful chemicals such as parabens, silicones, sulphates, DEA, mineral oils, etc., are 100% vegan, as well as MadeSafeâ"¢-certified.
With this, we present to you the Coco Soul Nourishing Body Lotion.
Extremely lightweight and non-greasy, this genie of a lotion is enriched with virgin king coconut oil along with potent Ayurvedic herbs for a moisturised glow and flawless complexion. It contains:
Virgin coconut oil: It deeply moisturises and nourishes the skin while promoting cellular repair.
Welmi: Rich in Vitamin C, it fights and removes skin dullness to give you radiant skin.
Sandalwood: Revered in eastern cultures, it minimises age spots and reverses sun damage.
This au naturel body lotion's luxurious and silky consistency melts on your skin to start a whole new affair with the body.
That's not all; virgin coconut oil also works as a scar removal cream to reduce dark spots and patches, while its antimicrobial properties prevent breakouts and acne formation. In a nutshell, regular application of virgin coconut oil can fulfil your dreams of clear, soft, and supple skin in no time.
Virgin coconut oil can also be used alongside aloe vera since the useage of aloe vera and coconut oil for skin has been been proved to be beneficial for flawless skin
Virgin coconut oil for the hair
The benefits of Virgin coconut oil for the hair are vouched for not only by dermats and skincare professionals, but by beauty influencers too lately. This organic coconut oil is rich in several minerals and vitamins that strengthen the hair follicles and make the strands shiny and strong. Its rich fatty acids' content nourishes the scalp and prevents dryness and dandruff, and its antibacterial properties make it ideal for preventing scalp irritation. Moreover, the healing powers of virgin coconut oil rejuvenate the damage caused due to styling products and treatments, and boost hair growth by preventing split ends and breakage.
While getting virgin coconut oil massages on the hair strengthens the roots, a virgin coconut oil-infused shampoo can give you soft, lustrous, and beautiful locks with much less effort. Coco Soul's Ayurveda-inspired hair cleanser brings the benefits of virgin coconut oil for your hair in a bottle.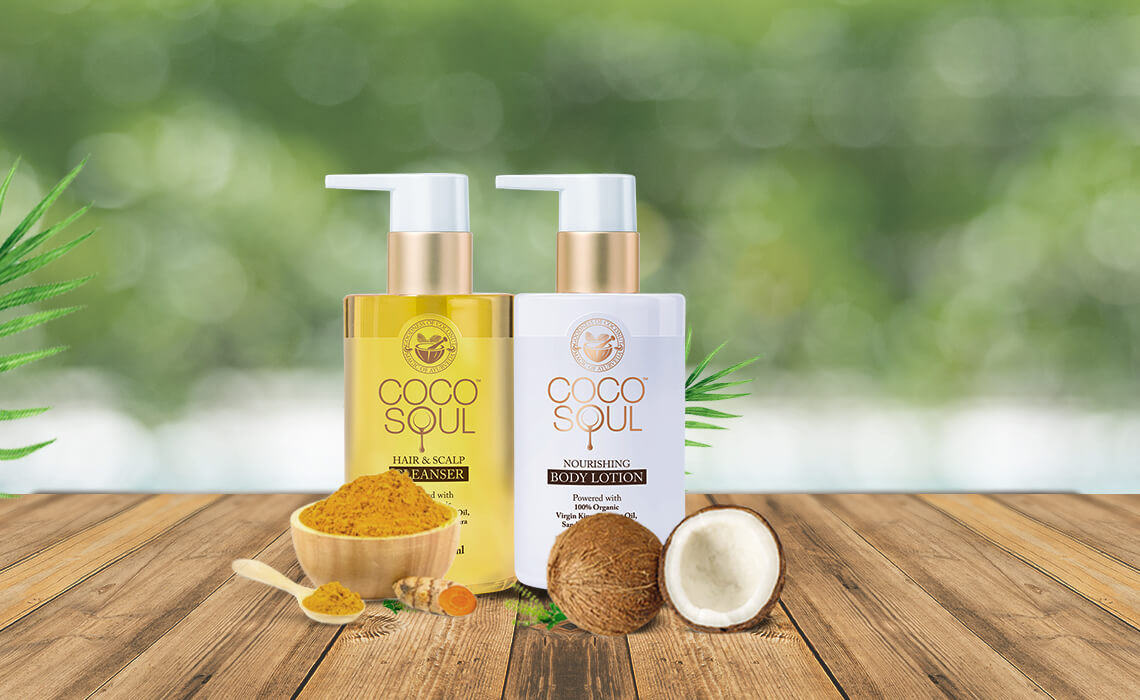 The Coco Soul Hair & Scalp Cleanser is crafted with pure virgin coconut oil in its core along with the choicest Ayurvedic herbs for beautiful and lustrous hair. Created with the purest of ingredients, this hair shampoo gently cleanses your hair and scalp while also balancing scalp oils, unclogging hair follicles, and strengthening the roots. It contains:
Virgin coconut oil: Has skin-nurturing compounds that moisturise and nourish the hair and scalp.
Kikirindiya: Treats dandruff and hairfall and boosts blood circulation to the scalp to promote hair growth.
Godapara: Soothes itchy and flaky scalps while imparting strength to the hair.
An organic, chemical-free product, this hair cleanser can make your hair soft, bouncy, and manageable in no time.
Virgin coconut oil for the body
Apart from transforming your skin and hair, virgin coconut oil also holds various health benefits for your body. The following are other evidence-based benefits of using virgin coconut oil:
It is known to boost brain function, which can help patients with Alzheimer's.
Its antimicrobial properties make it the ideal product for warding off infections, rashes, or skin allergies.
It is rich in antioxidants that boost the body's immunity.
The presence of vitamins C and E is known to slow down the ageing process and, thus, prevent wrinkles and fine lines.
It is known to enhance calcium formation, leading to healthier teeth and bones. Additionally, using it in your oil pulling routine can help prevent plaque and keep your teeth healthy.
Conclusion
To harness the maximum benefits of virgin coconut oil, you must use it in its purest form. When you purchase virgin coconut oil, make sure that you read its label. If it says refined, it is not virgin coconut oil; similarly, virgin coconut oil smells exactly like fresh coconut, so if your oil does not give off that aroma, you know not to buy it. Also, heating virgin coconut oil directly on a flame reduces its nutritional value. Instead, pour it in a bowl and then place the bowl in heated water to warm the oil before use.
Now that we know about the benefits of virgin coconut oil for skin, hair and face, lets have a look ate some other natural ingredients for skin that must be included in your skin care routine.
To know more about Ayurveda-based skincare and haircare products rich in virgin coconut oil, visit the Coco Soul store here.