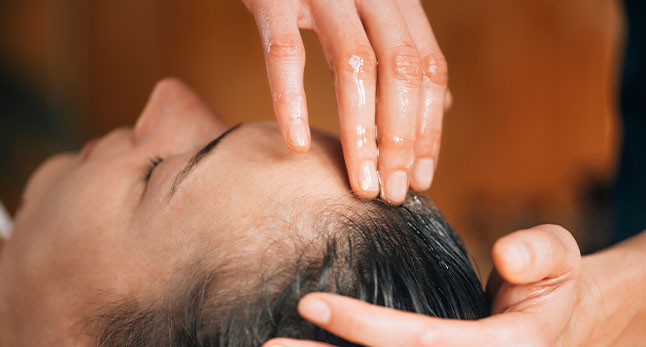 You must have seen the popular hair care television ads performed by Bollywood's most-loved actor, Anushka Sharma. The envy-inducing silky, shiny and bouncy hair showcased on those ads are something even you must have dreamed of at some time or the other in your life. But, what if we told you that the recipe to healthy and silky hair is waiting right there on your kitchen counter? Well, it is none other than your natural hair care ingredients. Centuries-old Ayurvedic wisdom says that regular hair massage with a good hair oil is the chief cause of thick, silky, and healthy hair. So, instead of opting for expensive hair treatments, why not consider switching to an Ayurvedic regimen for hair growth? Read on to learn the ideal Ayurvedic hair care routine for healthy and shiny hair.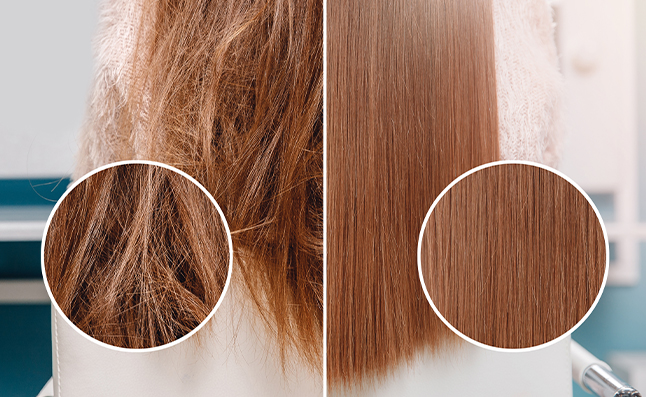 Ayurvedic routine for healthy hair
1. Start by knowing your hair type
According to Ayurveda, three vital energies such as Vata, Pitta and Kapha regulate your bodily activities. Each of these energies helps determine your hair type and health, be it dry, frizzy or thin, straight or thick lustrous and curly hair. It is important that you choose organic hair care products based on your hair type containing Ayurvedic herbs that help towards redeeming your aggravated hair conditions.
2. Massage your hair regularly
Another essential step in your Ayurvedic hair care routine is religious scalp and hair massaging. Your scalp comprises various energy-relieving points known asMarmas.' Oiling your hair and scalp acts as a rejuvenation tool to remove excess doshas accumulated in your scalp through marmas. Additionally, regular oil massaging at least two or three times in a week promotes healthy, strong and shiny hair.
One of the best hair care tips for maximum results is to massage your scalp in a circular motion starting from the hair roots to your tips.
3. Wash your hair moderately
Usually, your scalp follicles tend to get clogged with unwanted build-up from dirt, grime and excess oils, which you need to wash out through generous hair cleansing. Using Ayurvedic hair shampoos containing herbs specific to your hair conditions will not only improve your dosha imbalances, but also improve your hair health by leaps and bounds.
4. Use hair masks
In Ayurvedic terms, hair masks meanShiro Lepa,' which is one of the extremely useful Ayurvedic hair therapies for completely nourished and deeply conditioned hair and scalp. One of Ayurveda's hair care tips suggests applying these hair masks every fortnight to keep your scalp and tresses in good health. Few of the ingredients that you can use are eggs, bananas, honey, olive oil, and aloe vera. Moreover, these ingredients also help fight internal hair loss factors such as anxiety and stress.
5. Avoid chemical products
Sticking to your Ayurvedic hair care routine means saying goodbye to toxic chemical products for good. The reason is that harsh chemicals such as silicones, phthalates, sulphates, parabens and SLS used in regular hair products can alter your scalp's pH and strip off the natural oils as well as protein layers from your hair. Using Ayurvedic products with natural ingredients will help you attain holistic hair health.
6. Comb your hair properly
Combing is one of the best ways to boost blood circulation on your scalp. Not only does it help in detangling your hair, but it also helps in scattering your scalp's natural oils evenly on your hair strands. One of Ayurveda's effective natural hair care tips is to gently comb the hair once or twice using a blunt-toothed wooden comb. Also, wash the comb regularly to prevent the accumulation of dirt.
All in all, Ayurveda houses a solution for all your hair issues. On using products that contain the wisdom of Ayurveda along with other natural powerful ingredients will do wonders for your hair health. One such brand that propagates the brilliance of mother nature is Coco Soul. It harnesses the power of natural ingredients to give you a range of chemical-free hair care products in its bottles and tubes. So now, bid farewell to chemical-based products and switch to Coco Soul, for the love of your hair and nature.
Here are some products made using Ayurvedic herbs that you can easily add to your daily hair care routine for healthy and lustrous hair.
Try Coco Soul
Hair & Scalp Cleanser
This hair and scalp cleanser contains the perfect blend of Ayurvedic herbs and the good old virgin king coconut oil.
Virgin coconut oil: Usually referred to as an elixir, it is a great natural cleanser for your hair.
Kikirindiya: Often called as a wonder herb, it reduces dandruff, hair fall and improves blood circulation on the scalp.
Godapara: It is a powerful herb that soothes itchy and flaky scalp and also strengthens your hair.
Using this hair cleanser twice a week will give you lustrous strands while avoiding the harsh effects of chemicals, such as silicones, DEA, sulphates, mineral oil, etc.
Hair & Scalp Conditioner
Reviving dull and frizzy tresses is now just a pump away. This Ayurveda-inspired hair conditioner contains a blend of natural herbs and virgin coconut oil to give you silky, beautiful hair of your dreams.
Virgin coconut oil: This exotic oil moisturizes and hydrates your hair and scalp from within.
Hibiscus: It strengthens your hair and encourages growth to make your tresses look more bouncy and voluminous.
Lunuwila: It prevents scraggy split ends, premature ageing and encourages healthy growth.
Now that you know about the benefits of this hair conditioner, head over to our blog on how to use hair conditioner for better results.
The best part is that these nature-friendly products are MadeSafeâ"¢ certified and have not been tested on animals. To learn more benefits of using Ayurvedic products, head over to Coco Soul now!
Frequently Asked Questions on Ayurvedic Hair Care Routine
1. Which Ayurvedic herb is good for hair growth?
Apart from hibiscus, aloe vera and lavender are also good for hair growth.
2. What is the best way to care for the scalp according to Ayurveda?
According to Ayurveda, a good scalp massage the night before you plan to wash your hair will give your scalp and mane a good conditioning effect.
3. What is the best way to grow thicker hair?
The best way to grow thicker hair is to eat the right foods, using chemical-free shampoos, ditching heat styling, avoiding excessive hair brushing and pampering your scalp.