Your hair is bound to protest when you turn your bathroom shelf into a science lab with all the chemical-infused products at hand. There's a wide range of shampoos, conditioners, masks, sprays, and whatnot you can choose from based on your hair type. But if you are not careful with the ingredients you treat your hair with, it could all just end up being a huge waste of your time.
Not every ingredient present in your product is safe to be used. While some are essential, there are also a few of them that help you get shiny hair but can be detrimental for your hair and overall health in the long run.
One such common ingredient is sulphate, and we are here to tell you why you should kick products with this ingredient.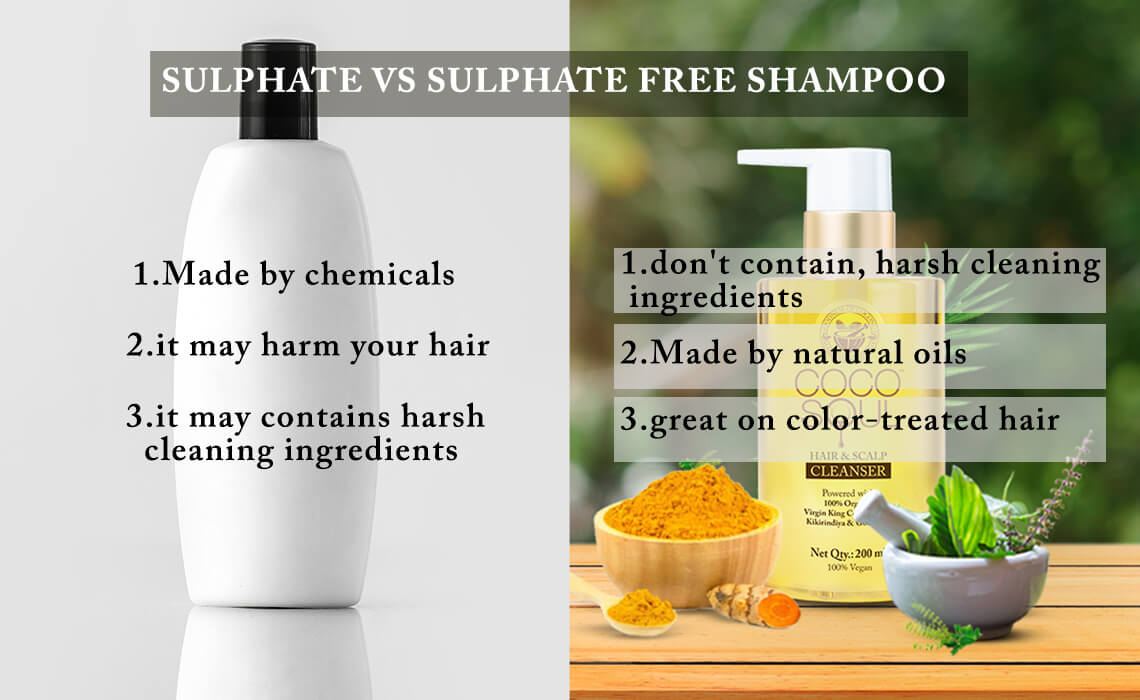 What are sulphates?
Sulphates have always been in the bad books of dermats for their harmful effects on the skin, but do you know what are they? Sulphates are chemical salts that are used in household detergents, shampoos, and cleaners as an agent to create lather. This lathering effect helps the product remove oil and dirt from your hair effectively. While they are used in various different combinations and forms, the most common sulphates used in shampoos are sodium lauryl sulphate (SLS) and sodium Laureth sulphate (SLES).
How sulphates affect your hair?
While sulphate shampoos do no good to anyone, they are even more detrimental to those with sensitive scalps as they are known to flare-up allergic reactions and other skin-related issues. Over the years, dermats have discovered the following side-effects of sulphate-induced shampoos.
They strip off the natural oils from your scalp and hair, leading to hair loss.
They harm the hair protein, weakening the roots.
Many people have complained of dryness and itchiness in the scalp from using sulphate shampoos.
You might notice issues like redness, rashes, or swelling on the scalp if you are sensitive to chemicals.
While it has not been proven scientifically, sulphate shampoos have been rumoured to contain carcinogenic elements.
Head over to our blog on the side effects of sulphate on hair to learn more about how sulphate affects your hair. These are surely a lot of reasons to protect and look after your scalp health. So why not just switch to shampoos without sulphate and get the desired results in a safer way?
What is a sulphate-free shampoo?
As the name suggests, sulphate-free shampoos are those that do not contain any sulphates or its derivative combinations. As such, they are devoid of sulphate compounds and are safe to be used on skin and hair.
However, even if you use a sulphate-free shampoo, what if it still contains other harmful chemicals that you might know about? Don't be surprised. Apart from sulphates, there are many ingredients in regular shampoos that can be equally harmful and unsafe.
The best way to identify if your shampoo contains sulphate is to check its ingredient label. If your shampoo label lists either Sodium Lauryl Sulphate (SLS) or Sodium Laureth Sulphate (SLES), we recommend you throw it in the bin. Additionally, steer clear of products with parabens, phthalates, mineral oil, triethanolamine (TEA), etc.
That is why we recommend ditching chemicals altogether and switching to an all-natural Ayurvedic haircare routine. The centuries-old, Indian Ayurveda holds various secrets to getting flawless skin and beautiful hair. While Ayurvedic herbs can be difficult to procure, there are brands that envision bringing their magic in tubes and bottles, just like Coco Soul.
Coco Soul's products are created with the belief that Mother Nature has the solution to all your skin and hair woes. Its skin and haircare products are not only free from sulphates, but are also devoid of other harmful chemicals such as parabens, silicones, formaldehydes, phthalates, mineral oil, propylene glycol, sodium chloride, DEA, and petroleum.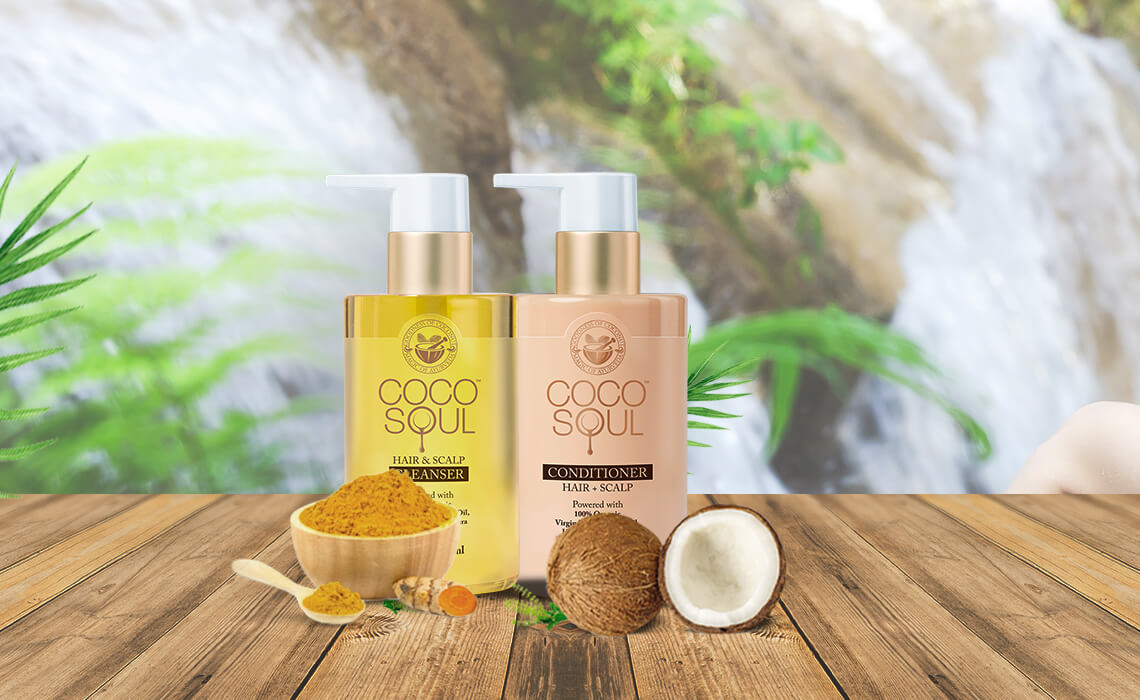 To that effect, we present to you:

Coco Soul Hair & Scalp Cleanser
Imagine washing your hair with the purest, natural ingredients. Well, this shampoo is exactly that. The Coco Soul Hair & Scalp Cleanser gently cleans the scalp while unclogging the hair follicles and strengthening the roots. This natural hair cleanser contains 100% organic virgin coconut oil that is known to moisturise and hydrate your scalp. It also contains exotic Ayurvedic herbs like Godapara, which soothes itchy and flaky scalps, and Kikirindiya, which boosts blood circulation in the scalp, treats dandruff, and promotes healthy hair growth. Washing your hair with this sulphate-free shampoo will transform your bathing experience and give you bouncy, manageable, and beautiful hair in no time.
Coco Soul Hair & Scalp Conditioner
This magical hair conditioner is inspired from the healing benefits of 100% organic virgin coconut oil and Ayurvedic herbs that are sure to take you closer to envy-inducing hair. This stunning hair formula contains virgin king coconut oil, which has skin-nurturing properties that promote cellular repair and hydrate your skin. It is also infused with plant-based herbs like Hibiscus, which strengthens the roots and encourages hair growth, and Lunuwila, which is known to prevent premature greying, reduce split ends, and promote healthy hair growth.
With every wash, this potent blend of Ayurvedic herbs will make your hair stronger, softer, and more manageable.
What are the benefits of using Coco Soul's sulphate-free shampoo?
1. Retains moisture
Sulphates steal the natural oils from the scalp, making it dry and itchy. On the other hand, sulphate- and paraben-free shampoos are gentle on your scalp and help maintain your hair's natural shine.
2. Can be used for all hair types
It does not matter if your hair is straight, curly, coloured or wavy, Coco Soul's sulphate-free shampoos are suitable for all Indian hair types.
3. Sulphate-free shampoos are environment-friendly
Sulphate shampoos are not only harmful to your scalp and skin but also for the environment. The chemicals that get washed off into the drain can cause water pollution. Instead, shampoos without sulphate are made of plant-based ingredients and are safe for you as well as the environment.
There are several other chemicals other than sulphates that can damage your hair. Head over to our blog on the 5 most harmful chemicals in shampoo to learn about them.
Conclusion
Often, it is the small changes that you make in life that have the maximum impact. Switching to a sulphate-free shampoo will not only protect your scalp health, but will also make your hair healthier and beautiful.So, what are you waiting for? Head over to the Coco Soul website and grab our 100% natural, sulphate- free hair products today.