A soothing time in a beach resort always does a great job at uplifting the spirits. Aside from the relaxing me-time or family time, it also helps you return with a ton of memories in the form of pictures, souvenirs and what not. So, it's quite natural to feel the urge to shoot out a picture on your Gram of your best candid, only to realise that you couldn't post one without a filter. But, here's the good news! Achieving a glowing, flawless and diva-like aura doesn't require you to break the bank. The secret lies in the palm trees' fruits, under which you've lovingly shot many of your memorable snaps. Yes! It's the good old coconut, a Southeast Asian staple that boasts magnificent benefits for your skin, hair and overall health. Its pulp and the water are a delicacy, while its oil contains a powerhouse of nutritional benefits, apt for your skincare and haircare regimes.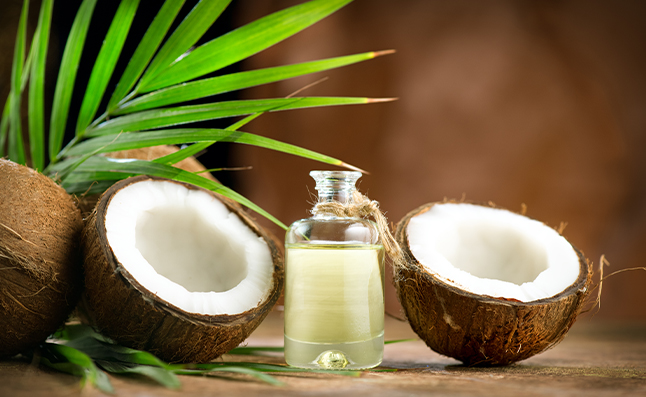 A rather purer form of conventional coconut oil, virgin coconut oil uses have been called out for centuries and are also mentioned in many Ayurvedic scriptures. In this article, we will take you through all the virgin coconut oil benefits for your skin, hair and health.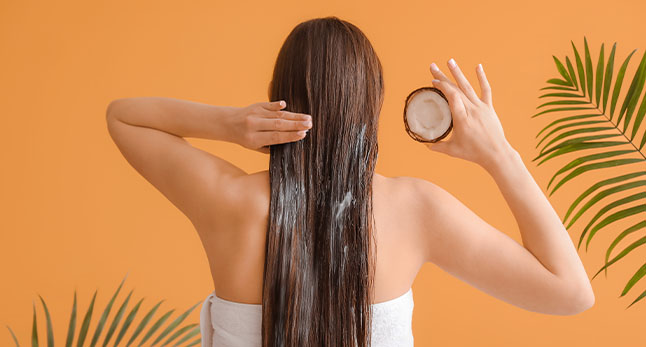 The benefits of virgin coconut oil for your hair
Replacing your regular oil with virgin coconut oil for hair will boost your hair health in many ways. Its benefits are vouched by not just beauty experts, but also by many international celebs.
One of the many benefits of virgin coconut oil on hair is that it strengthens your hair follicles through its highly rich mineral and vitamin content.
Additionally, it makes your hair strands strong and shiny.
Packed with rich fatty acids, it nourishes your scalp, while its antibacterial properties reduce dryness and dandruff, thereby preventing scalp irritation.
Moreover, the healing powers of this elixir rejuvenate damaged hair caused due to heat styling products, making virgin coconut oil good for hair.
Using it regularly will promote healthy hair growth and prevent split ends and breakage.
Therefore, there's no doubt about how beneficial a hair massage with this multifaceted oil will deliver. Now, what if we told you that your shampoo too contains this all-powerful ingredient raved by everyone all over the world? Coco Soul's Ayurveda-inspired, natural hair and scalp cleanser brings the virgin coconut oil benefits for your hair in a bottle. Infused with virgin coconut oil and many Ayurvedic herbs, this natural shampoo will give you strong, soft, lustrous and beautiful locks. You must also check out our blog on the benefits of virgin coconut oil for hair growth.
Coco Soul's Hair & Scalp Cleanser is created with the purest of ingredients and promises to cleanse your hair and scalp without drying out your hair shafts. Additionally, it helps balance the scalp oils, unclogs hair follicles and strengthens the roots. This organic, chemical-free hair cleanser will make your hair smooth, bouncy and manageable in no time. It contains:
Virgin coconut oil: Contains hair-nurturing compounds that help nourish and moisturise your hair and scalp.
Kikirindiya: Fights dandruff, hair fall and encourages blood circulation in the scalp to promote natural hair growth.
Godapara: This Ayurvedic herb soothes itchy and flaky scalp and imparts strength to your hair.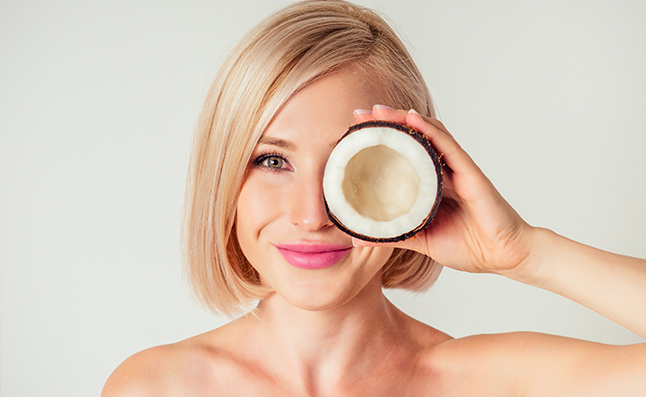 The benefits of virgin coconut oil for your skin
According to Ayurveda, using virgin coconut oil for face is a great way to nourish the skin.
One of the finest benefits of virgin coconut oil on skin is its ability to preserve the moisture and provide core nourishment.
It protects your skin by keeping dryness, itching and allergies away.
You can also use it as a make-up remover as it won't make your skin parched or disturb its pH balance.
One of the lesser-known benefits of virgin coconut oil on face is its ability to treat scars, reduce dark circles, spots and patches.
Its antimicrobial properties prevent acne breakouts. Put simply, regularly using virgin coconut oil for skin will give you soft, flawless and radiant skin. Now that you know about the benefits of virgin coconut oil for health, learn how to include virgin coconut oil in hair care regimen.
However, to harness the true potential of virgin coconut oil, use the natural skincare products from Coco Soul such as -
Coco Soul's Nourishing Body Lotion is made using a luxurious formula that contains virgin king coconut oil and other natural herbs. It's lightweight and non-greasy, and thus melts deeply within your skin to give flawless, radiant skin. It contains:
Virgin coconut oil: It deeply nourishes your skin while improving cellular repair.
Welmi: It is rich in vitamin C and helps lessen skin dullness to give you radiant skin.
Sandalwood: It minimises age spots and reverses sun damage.
This natural body lotion is free from harsh chemicals like sulphates, parabens, silicones, DEA, mineral oils, etc., are 100% vegan and MadeSafe certified.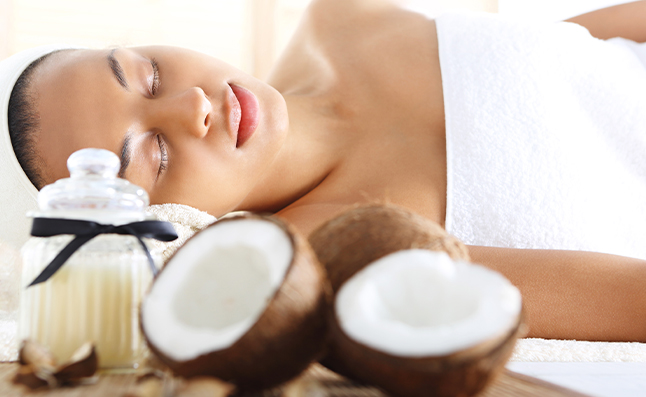 The benefits of virgin coconut oil for your health
Besides the many virgin coconut oil uses for your hair and skin, it also exhibits numerous health benefits. Here are some evidence-based benefits of virgin coconut oil for your health:
It boosts the brain function that helps in treating Alzheimer's patients.
It is loaded with good antioxidants that strengthen your body's immunity.
It doesn't get stored as fats in your system, but breaks down as energy, thus boosting your metabolism and reducing weight.
It enhances calcium formation that makes your teeth and bones healthier. Additionally, its oil pulling nature prevents the formation of plaque in your teeth.
Its potent antioxidants help in relieving gastrointestinal stress. Since it is easy to digest, it pacifies the inflamed tissues in your digestive tract.
Now that you have the 101 on the many benefits and uses of VCO for your health, hair and skin, head over to the Coco Soul website to shop for more organic, pure and natural products.
Frequently Asked Question on the Benefits of Virgin Coconut Oil
1. What is the effect of using coconut oil on different skin types?
When it comes to dry skin, coconut oil helps bolster the skin's protective barrier by trapping moisture within and keeping your skin supple and hydrated. It aids in reducing inflammation for sensitive skin, while its anti-inflammatory properties soothe irritated, chafed skin. Further, it increases the production of collagen for ageing skin.
2. How is virgin coconut oil good for your health?
Since virgin coconut oil contains fatty acids, it helps your body burn the fats and in turn, provide quick energy to your brain and overall health.