One reason why winters are a cause of worry for a lot of people is the different hair problems it brings. As soon as the cold winds start blowing, your hair starts acting crazy, turning your days into bad hair days. One day your hair is all static, the other day the scalp starts showering dandruff and if you plan to stay cozy indoors, the dry indoor heating gives you a dry, itchy scalp. Ugh!
Sure, winters have some good things too, but considering these, we won't blame you if you hate the season. But what if we help you fix the annoying winter hair problems? Sounds good? Read on.
Reason for winter hair problems.
Dry and itchy scalp, static hair, frizz, brittle and dry strands and rough hair. Depending upon what your hair type is, you might face different hair problems in winter. But believe us when we say, the cause is one- undernourishment. As soon as the temperature dips and the winds start getting cold and dry, your scalp loses moisture leading to a host of hair problems. Indoor heating and friction with woollens further drys your hair making it frizzy, dull and lifeless. Therefore, including adequate nourishments in your winter hair care routine can help wipe out all your winter hair issues easily. Here are some winter hair tips to do so: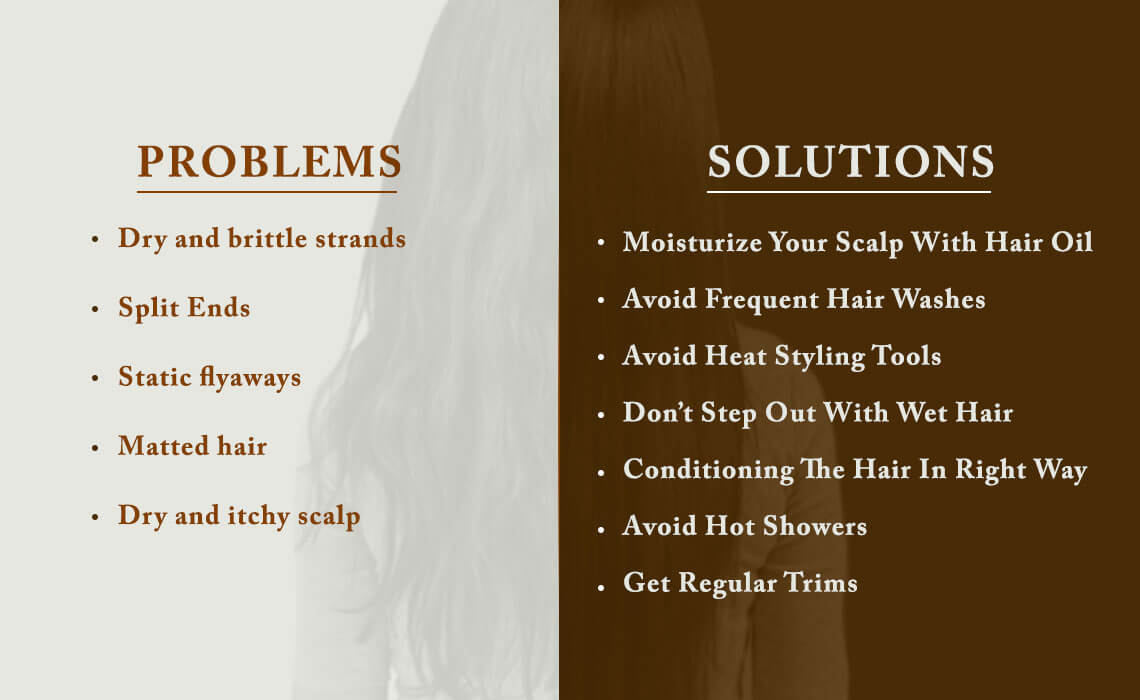 1. Use a moisturizing cleanser
During winters, when your scalp is already dry from the cold winds, using a cleanser that moisturizes your scalp and does not dry it more is very important. You should always use a mild shampoo that gently cleans off dirt and oil and maintains the moisture level of your scalp. However, most chemical-based shampoos are infused with harsh compounds that strip off the natural oils, a major cause of hair issues like flaky scalp and dandruff in winters. Therefore, use a hair cleanser that is infused with natural ingredients that can keep the scalp healthy and boost hair growth naturally. You can look for brands that believe in the nutritional power of nature and help you benefit from nature's goodness. Coco Soul believes that nature has the answers to all your hair woes and brings to you the centuries-old secrets of Ayurveda in convenient tubes and bottles.
You can try the Coco Soul Hair & Scalp Cleanser. This hair cleanser gently washes your hair, unclogs hair follicles, strengthens hair roots and prevents dry scalp in winters. It contains virgin coconut oil and Ayurvedic ingredients that leave your hair soft, bouncy and manageable. It has -
Virgin coconut oil - Calledelixir' in Ayurveda, it contains good fats that hydrates the scalp and nurtures the roots.
Godapara - It soothes the itchy and flaky scalp and helps your hair grow naturally
Kikirindiya - A wonder herb, it boosts blood circulation in the scalp and promotes natural hair growth.
2. Condition your hair well
To prevent winter hair problems, using a hair conditioner is a must. A hair conditioner seals the hair cuticle with a protective coating preventing split ends, breakage and frizz. After you shampoo your hair, use a hydrating conditioner that softens your hair strands and make them smooth, untangled and manageable. Using a conditioner which contains ingredients with deep nourishing properties is beneficial during winters, like virgin coconut oil. You can use Coco Soul Hair & Scalp Conditioner that is enriched with pure virgin coconut oil and ayurvedic herbs. This hair conditioner strengthens your hair shafts and makes your hair grow healthier and manageable. It contains -
Virgin coconut oil - Loaded with antioxidants and good fats, virgin coconut oil penetrates deep into hair strands and repairs hair damage.
Lunuwila - It prevents split ends and promotes healthy hair growth.
Hibiscus - A well-known remedy for hair woes, it encourages natural growth and adds volume to the hair.
This moisturizing conditioner will nourish your hair strands and prevent it from getting frizzy and static.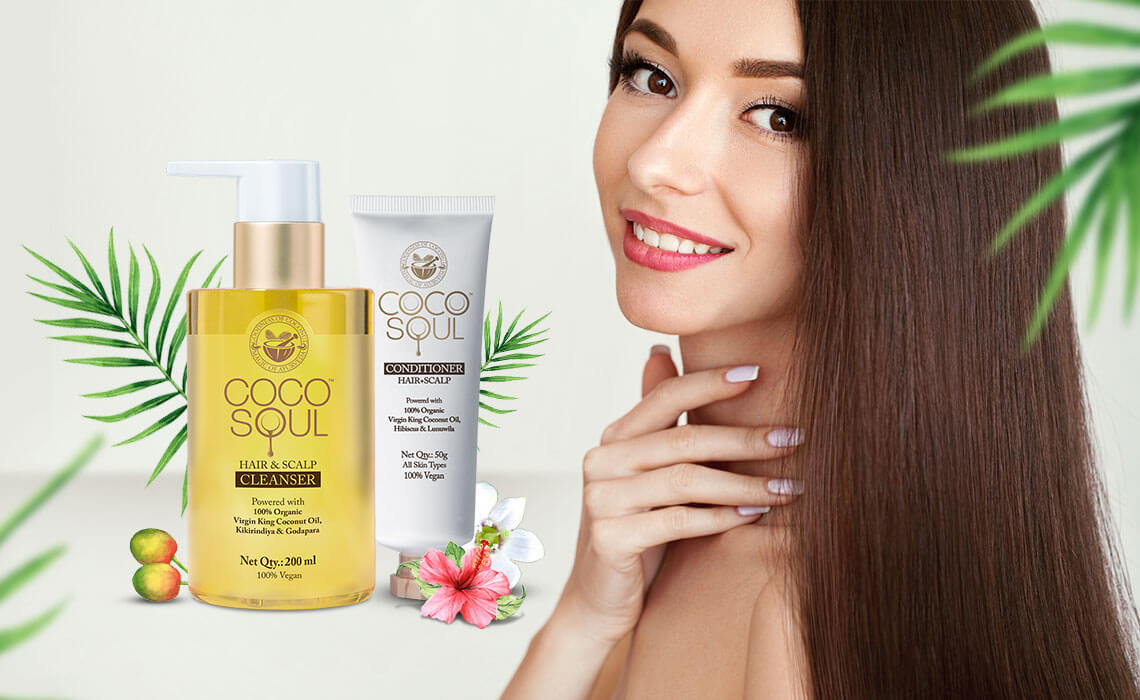 3. Say no-no to heat tools
Heat styling products draw moisture from your hair just like the cold winds outside. If you are wondering how to treat dry scalp, keep all your styling products inside the closet now. Allow your hair to dry naturally and include towel dry method in your winter hair care routine. Moreover, one of the best winter hair care tips is to turn the faucet to the colder side. To avoid dry scalp in winter, avoid hot showers, however tempting they might be. Similarly, forget tight updos or straightening or curling your hair in winters and switch to natural hair care in winter with hot oil massage, balanced diet and hydration.
4. Get a nourishing oil massage
A hot oil massage is probably the oldest trick to beautiful hair and one of the best winter hair care home remedies. A hot oil massage in winters nourishes the hair strands, soothes the scalp and prevents dandruff and flakiness. For a hot oil massage, take a cup of virgin coconut oil and heat it slightly. When it is warm enough, massage it in a circular motion in your scalp with your fingertips gently. You can let it stay overnight or wash it after an hour. Also, if you're suffering from hair loss then head over to our blog on the solution for hair loss to get rid rid of hair loss naturally.
Winters can be a difficult time for your hair due to harsh winds, ready to devour all the moisture from your scalp. But the right amount of hydration and these winter hair care tips would help you keep your hair healthy and look beautiful. For the best winter hair care, head over to the Coco Soul website to shop for chemical-free hair products today.
Frequently Asked Questions on Hair Problems in Winter
1. What does winter do to your hair?
Winter winds make your hair dry, frizzy and static.
2. How do I fix my winter hair?
Moisturise your scalp and hair well, avoid chemical-based products and heat styling products and save your hair from harsh winds.
3. Does hair get thinner in winter?
Yes, absence of moisture, volume and bounce along with frizz and dryness can make your hair thinner in winter.
4. Does hair get drier in winter?
Yes, the dryness in the winds and indoor heating strips off moisture from your scalp and hair making your hair dry and frizzy.
5. How can I hydrate my scalp in the winter?
Use hydrating shampoo and conditioner, avoid heat styling products and switch to shower with lukewarm or cold water.