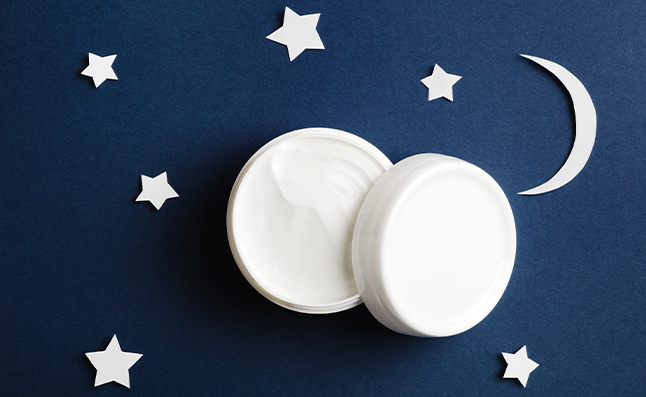 Getting flawless skin is not as easy as a pie. You need to make constructive efforts to keep your skin healthy and glowing, for example; adopting an effective skincare routine. And we are not talking only about the morning routine; adopting a suitable night skincare routine is equally important. Dermatologists believe that when you sleep, your skin goes through a self-repair phase. Away from dust, pollution and sun, during the night, your skin rejuvenates itself and regenerates new skin cells faster.
During the night, when you rest, there is an increased blood flow in your skin. This helps your beauty products to work better on your skin. Which is why, following a suitable and good night skincare routine is a must to wake up to fresh, glowing, supple and radiant skin.
Here are night skincare routine steps -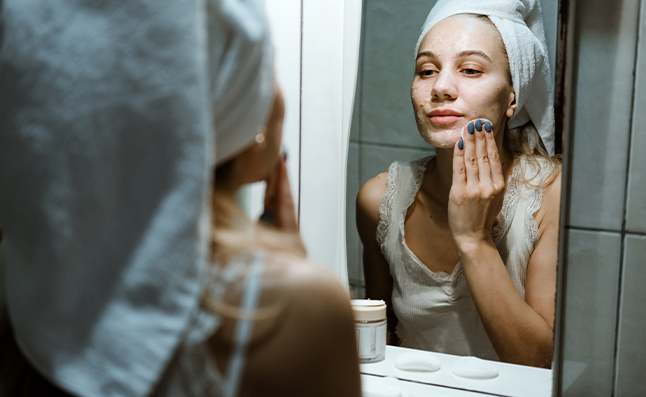 1. Clear off your makeup
Sleeping with makeup on can clog your pores and cause skin damage. Therefore, the first step in the night skincare routine should be to remove your makeup. Before you go to bed, clear off all the makeup from the skin. Only washing your face with water might not be sufficient, considering the waterproof nature of most makeup products today. It would be best if you use a mild makeup remover.
Pro-tip: If you have oily or sensitive skin, then it is best to steer clear of harsh face cleansers. They will worsen your skin condition and result in a host of other skincare woes. To stay on the safer side of the shore, massage a few drops of coconut oil on your skin and wipe off the makeup with a cotton ball. Then rinse off with lukewarm water.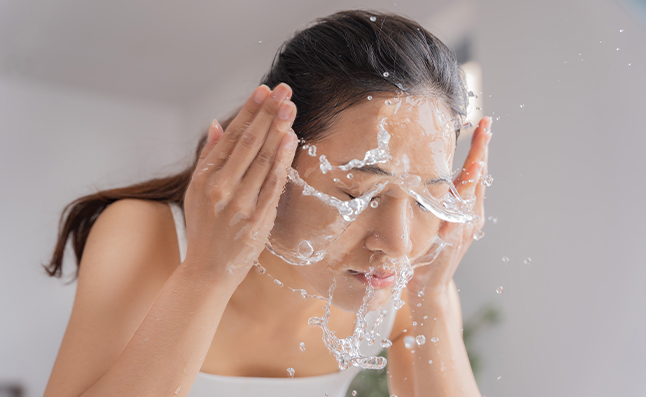 2. Cleanse your skin
The next step in the night routine for face is cleansing your skin. Use a mild cleanser to wash off the dirt, impurities, oil and leftover makeup residues. Ensure that your cleanser is suitable for your skin type and gentle on your skin. It would be best to use a cleanser that is natural and devoid of any chemicals. Chemicals can irritate the skin and aggravate your skin issues. Look for a brand that harnesses the goodness of nature for your skin. Coco Soul is a natural brand that believes that mother nature has the solution for all your skin woes. The products of Coco Soul are infused with virgin coconut oil and ayurvedic herbs in its core. For a natural and mild cleansing, you can try Coco Soul Natural Face Wash.
Like a splash of natural ingredients in a tube, this face wash is infused with virgin coconut oil and natural Ayurvedic herbs. It gently washes off dirt, excess oil and impurities from your skin without any lingering dryness. It contains -
Virgin coconut oil: Known as an elixir in Ayurvedic wisdom, virgin coconut oil hydrates your skin and promotes cellular repair.
Gotukola: An organic herb, it fights cellulite and sagging skin by promoting collagen production.
Neem: Loaded with antibacterial properties and vitamin E, it gives you blemish-free and younger-looking skin.
Pro-tip: If you have acne-prone or oily skin, then here's another quick fix for you. Try the honey and milk homemade cleanser. These ingredients are easily available in your pantry and won't cost your skin's health in any way. Besides, they have moisture-enhancing properties to revive the natural oils of the skin.You will simply need:
One teaspoon of honey
Two teaspoons of raw milk
Smoothly mix the two ingredients in a glass jar. Now, massage your skin with the solution using small, circular strokes. After 5 minutes, wash off with cold water.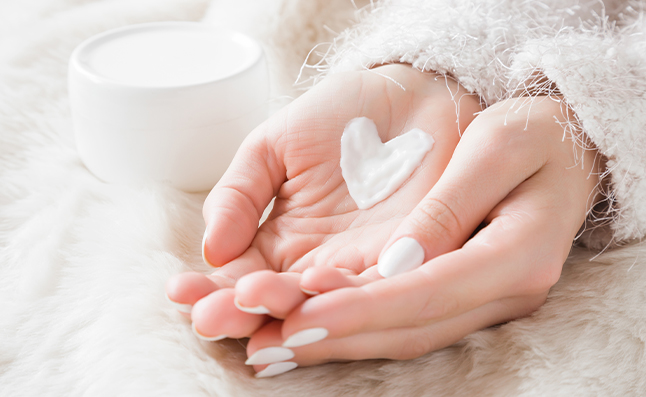 3. Moisturize your skin
Your skin can get dry after the first two-steps of night skincare regimen. So, the next step in night care routine is to restore the lost moisture. Moisturization is one of the most important steps of your skincare routine, be it morning or night. It nourishes your skin cells and helps it repair and regenerate overnight. You should use a moisturiser that is ideal for your skin type. It is best if you use a natural moisturizer that is free from chemicals. Also, your moisturiser or cream should be lightweight and nourishing.
Coco Soul Nourishing Body Lotion is infused with king virgin coconut oil of Sri Lanka along with choicest ayurvedic herbs. It melts in your skin and penetrates deep in the skin to give you moisturized glow from the first application. This moisturizer will soften your skin and smoothen rough patches to give you a supple and soft skin naturally. It contains -
Sandalwood - This natural herb encourages the reduction of oxidative stress in the skin, minimises age spots and reverses sun damage.
Welmi - Loaded with Vitamin C, welmi reduces skin dullness and gives radiant and glowing skin.
Virgin coconut oil - Enriched with skin nurturing compounds and fatty acids, it deeply nourishes the skin and restores lost moisture.
Make sure you do not forget about your feet. You can add foot cream to your skincare routine to take care of your feet. Check out our blog on foot cream benefits to learn more about it.
Pro-tip: If you have dry skin, then staying hydrated is a must. Drink at least 8 glasses of water in a day to flush out the toxins. When your inner system is clean and clear of toxins, it will automatically reflect on your skin.
4. Spot treatment
Before you sleep, use a spot treatment to treat your zits, spots and marks. Use a nourishing eye cream that reduces the puffiness and dark circles. Also, you can use night creams and acne treatment to cure your acne, dark spots and blemishes. Use a lip balm to nourish your lips too.
Pro-tip: If you're torn down with your acne or oily skin, then here's one super easy trick to take care of your woes. Besides, it's also one of the cheapest ways. Reach out for ice cubes! Ice cubes have the ability to treat a swollen zit on your face, reduce under-eye bags and treat blemishes on your lips. Just wrap it in a thin cloth and dab it on the offending spot for five minutes.
5. Pay attention to your arms
Your hands and feet are the most susceptible to dryness and dehydration during the day. The last step of your natural skincare routine of night should be to nourish your arms and legs. Massage a hand and nail cream on your arms, on the cuticles, elbows and wrist. Similarly, apply foot cream on your heels to nourish them and reduce cracked and peeled skin. For best results use a moisturizing cream on your arms after a shower on the damp skin.
Pro-tip: Applying coconut oil on your arms and legs helps them stay nourished and hydrated. It also aids in soothing skin irritation for sensitive skin folks and lessons blemishes and dark patches.
Now that you know everything about night skincare essentials, head over to our blog on ayurvedic skincare routine to learn about the ideal routine for flawless skin.
Your night skincare routine is an important step for your skin's health. It helps your skin repair and replenishes the lost moisture while treating your various skin issues. However, ensure that you use only the best quality products that are free from chemicals and harmful ingredients for your night routine. Coco Soul products are free from sulphates, silicones, parabens, sodium chloride, DEA, mineral oils, phthalates and other chemicals. Also, they are 100% vegan, cruelty free and MadeSafe certified. So, head over to the Coco Soul website and shop for your skincare routine here.
Frequently Asked Question on Night Skincare Routine
1. How do I create a night care routine?
Determine your skin type and your skin requirement. For example, if you have dry skin, your night care routine should focus on nourishing your skin. Identify the skin issues you are facing and accordingly create a customized night care routine for yourself.
2. Should you do your skincare routine right before bed?
Yes, skin repairs itself in the night, which is why you should always follow a skincare routine before going to bed with natural and high-quality products.
3. What should you use on your skin at night?
You should use a natural makeup remover, face wash, toner, serum, eye cream and moisturizer on your skin at night.
4. Can you sleep with a moisturizer on?
Yes, you can sleep with a moisturizer on. It will nourish your skin and repair skin damage.