Have you wondered what is that beauty ingredient that was used centuries ago by attractive women, like queen Cleopatra for their exceptional beauty? No, it's not some secret concoction excavated from the pyramids, but the simple and easily accessible shea butter that has become quite popular for skincare lately. One of the most beautiful women of the world, the queen of Egypt was known to carry a caravan of clay jars filled with shea butter for her skincare which itself explains how valuable this ingredient is for flawless skin even today. Continue reading to know more.
Shea butter is an ivory-coloured fat obtained from the nuts of a shea tree. Predominantly grown and used by Africans countries, it is now an important ingredient of many moisturizing lotions and creams used across the world. It is obtained by crushing and boiling the ripe nut of the tree and is a storehouse of essential vitamins and nutrients.
Shea butter benefits
Following are some of the reasons why you should use shea butter for skin.
1. Highly emollient
Uses of shea butter are mostly in the form of nourishing moisturizer and lotion due to its emollient property. Shea butter is highly hydrating and is a skin conditioning agent. It forms a protective layer over the skin that keeps it moisturized and supple.
2. Smoothens dry skin in winters
You can substitute your winter creams and lotions with shea butter for skin due to its nourishing and softening properties. Shea butter easily absorbs in the skin layers to soften the skin, cure dehydration and dryness.
3. Removes skin rashes
Due to the nourishing and healing properties of shea butter, you can use it for sunburn, dry patches, abrasions, diaper rash, etc. It contains vitamin E and A that heals minor cuts, stretch marks and also removes scars and marks.
4. Acts as a sunscreen
Shea butter can be easily applied as a sunscreen for sun protection. Dermats believe that shea butter contains natural SPF that can save you from sunburns and renew tanned skin. However, it is not a substitute for a sunscreen cream.
5. Is excellent for hair too
Not only for the skin, but the uses of shea butter for hair are innumerable too. If you have a dry scalp, or suffering from dandruff and rough hair, you can use shea butter to moisturise the scalp and condition the hair. It can also be used to smoothen the hair strands and make it soft and manageable.
6. Contains anti-ageing properties
Shea butter is an excellent anti-ageing ingredient. Its hydrating qualities and the presence of plant-based nutrients like fatty acids, oleic acid, stearic acid, etc in it boosts collagen production which slows down ageing. Moreover, its cell-renewing properties prevent wrinkles and fine lines on the skin and help you look younger.
Word of caution:
If you have allergy from nuts or products made from it, using shea butter might not be a great idea. Derived from a nut, it could cause breakouts or allergic reactions to your skin. Moreover, though there is no concrete evidence about it, some dermats believe that shea butter, when applied on acne- prone skin, could clog pores. It would be best if you take a patch test on your elbow to see if shea butter suits your skin.
Shea butter when used in its purest form can do wonders for your skin and make it soft and smooth even in winters. However, using it can be messy and tricky as it solidifies and is thicker in room temperature. Therefore, you can try utilizing the benefits of shea butter for your skin by preparing a shea butter balm or thick cream for dry areas.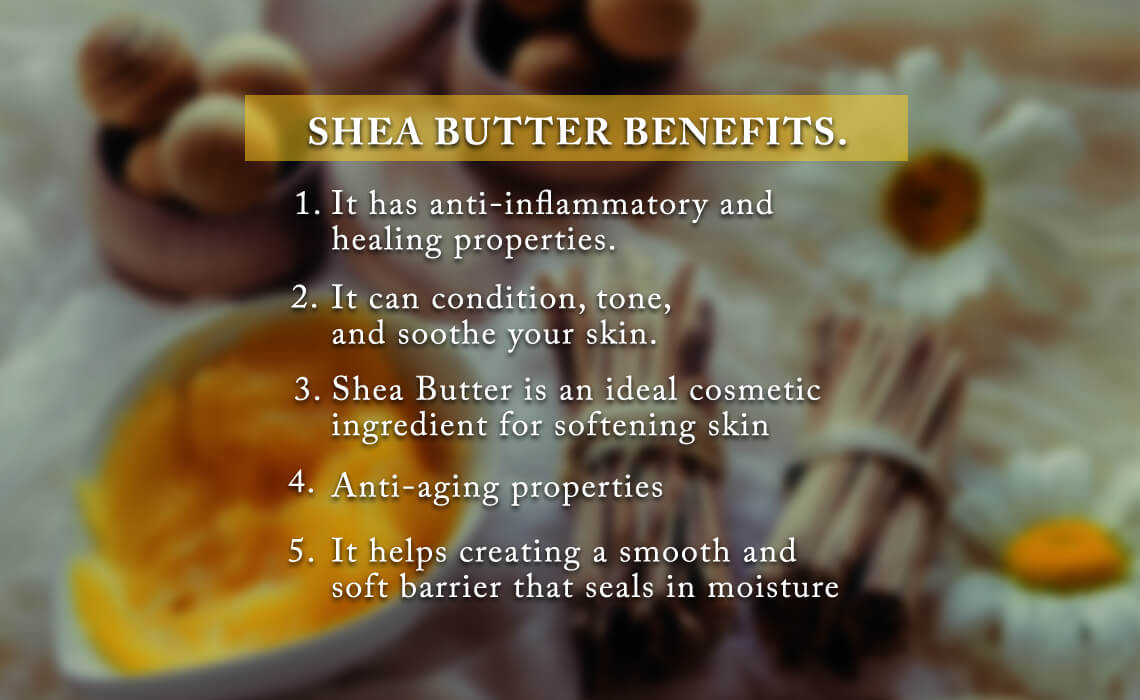 Shea butter balm for skin
To make this ultra-moisturizing skin balm, you need:
2 tablespoon sesame oil
¼ cup grated shea butter
1 tablespoon almond oil
1 tablespoon grated beeswax
Pour all the ingredients in a bowl and heat it through the double boiler method or in a microwave. Once all the ingredients melt and mix together, pour it in a glass jar and let it cool. Stir once. You can use this ultra-nourishing skin balm for dryness in your skin and apply it on knees, elbows, and all other dry and rough areas.
Shea butter for chapped lips
If you are wondering how to use shea butter on the face, here is the answer. Shea butter can be used as a natural lip balm or lip tint that would nourish your lips and smoothen chapped lips. To make this shea butter lip balm, you need -
1 tablespoon shea butter
1 tablespoon beeswax
1 tablespoon coconut oil
1 teaspoon honey
4-5 drops of essential oil
Add in shea butter, beeswax and coconut oil in a glass bowl. Heat it in a microwave or on a stove through the double boiler method. Stir it well. Add shavings of your favourite lipstick if you need some tint. Add in honey and essential oils and mix again. Store in a tube or a jar and let it cool. Apply it on chapped lips to get smooth and plump lips even in winters.
Though you can also use shea butter for skin with a moisturizer or cream so that it blends effectively, most dermats suggest that the best way to utilise the shea butter benefits is to use products infused with it. Using shea butter infused products would help you use it for everyday use and make your skin soft and smooth, come rain or shine.
Many brands offer products infused with shea butter. But your product should be pure and free of chemicals. You can try Coco Soul. Coco Soul believes that nature has the solution to all your skincare needs and remedies of yesteryears are much better and effective than that of today. Coco Soul products are created with the centuries-old ayurvedic expertise along with the infusion of virgin coconut oil and natural herbs. While it is made from pure ingredients, it is also devoid from all chemicals making it safe across all age groups.
Try Coco Soul
Coco Soul Nourishing Body Butter Cream: Just like a superfood for your skin, this body butter cream can keep your dryness at bay naturally without any greasy or oily feel. Infused with shea butter and virgin coconut oil, which are rich in emollient properties, this body butter smoothens your skin and makes it soft and supple all year long. Its ultra-luxurious and lightweight properties work like magic on your skin and its heavenly fragrance invigorates your senses. This body butter cream rich in antioxidants contains-
Lodhra - A rare ayurvedic herb, it nourishes and purifies skin and gives you a natural glow. To learn more about lodhra, head over to our blog on the benefits of lodhra for skin.
Shea butter - Known for its therapeutic properties, it is loaded with vitamin E that deeply moisturizes the skin and prevents signs of ageing.
Virgin coconut oil - Called an elixir in Ayurveda, virgin coconut oil penetrates 10 layers deep into the skin that nurtures the skin, fights dryness and promotes cellular repair.
Like all the other Coco Soul products, this nourishing body butter cream is chemical-free. It does not contain parabens, sulphates, silicones, formaldehyde, phthalates, mineral oil, propylene glycol, sodium chloride, DEA, petroleum, or any other harmful chemicals. It is also certified by MadeSafe, that means it is made with all the safe ingredients and does not cause harm to human health or the environment. Moreover, it is 100% vegan and has not been tested on animals. A perfect cream for all age groups!
A legacy of West Africa, shea butter is mostly used for moisturising. However many dermats recommend shea butter for skin lightening due to its rich nutrient properties. It can not only be used to protect your skin against winter winds but in summers too as it forms a protective layer on the skin against both dryness and sunburn.
So, instead of looking for any chemical-based creams or lotions, utilise the benefits of natural shea butter and get smooth and glowing skin naturally. Head over to the skincare section of Coco Soul to purchase more chemical-free skincare products here. Now that you know about the benefits of shea butter, check out our blog on the natural ingredients for skin, this blog will help you to choose the right ingredients to incude in your skin care routine.
Frequently Asked Questions on Shea Butter
1. Does Shea Butter remove dark spots?
Yes. If used regularly, shea butter can reduce dark spots, blemishes, wrinkles and fine lines and make your skin soft and supple.
2. How long does it take for shea butter to work?
It depends on how you use it. If you use shea butter in its purest form or through chemical-free products, shea butter can help smoothen skin and act as an anti-ageing component within a few days of the application itself.
3. Does Shea Butter give clear skin?
Shea butter is known to remove marks, cure scars, prevent wrinkles, remove acne and nourish it deeply to give you clean and clear skin.
4. Is shea butter good for your hair?
Shea butter is rich in fatty acids, vitamin A and E which is great for your hair. It reduces frizz, protects hair from hair damage and cures dandruff