Let's face it, 2020 has been a tough year. So, with the new year, we all could use a pick me up. And nothing is better than showering your loved ones with self-care gifts, no? While any gift wrapped in love and warmth is priceless, giving a gift that enriches their beauty game is surely above all. Just like skincare gifts of Ayurveda. Don't worry, we are not suggesting you to gift packages of messy and smelly Ayurvedic herbs or concoctions. We are talking about natural beauty gift hampers enriched with Ayurvedic secrets.
The joy of gifting is precious and more so when you are sure that your skincare gifts are helping them look gorgeous. Finding best skincare gift ideas that are pure, safe and enriching can be a tough job. But not, when you have Coco Soul ready-made gift hampers. Created with pure ingredients and centuries-old secrets of Ayurveda, gifting these beauty gift hampers from Coco Soul to your loved ones, can make you their favourite and brighten your festive season.
Nourishing skin combo
Winters can be very harsh on your skin, making it dry, rough and even cracked. While there are several products out there that claim to nourish your skin, they are usually made with chemicals that can be harmful to your skin and even health. You would never want to risk your loved ones' skin and health by gifting any of those. Would you? Instead, a moisturizing combo that provides them head-to-toe nourishment is safe on the skin and is made with the goodness of nature would be the best skincare gifts for her. Just like the Coco Soul Nourishing Body Combo, which contains Coco Soul Nourishing Body Butter, Coco Soul Hand Cream and Coco Soul Foot Cream. Enriched with pure virgin coconut oil, this nourishing skin combo contains potent Ayurvedic herbs to make your skin winter and dryness proof, soft and supple. It contains herbs like -
Virgin coconut oil - Called as the elixir in Ayurveda, virgin coconut oil is loaded with good fats that nurture and hydrate the skin and fights dryness.
Shea butter - Known for its therapeutic properties, shea butter is known to retain the moisture level of the skin. It is loaded with Vitamin E which repairs the skin and makes it soft.
Lodhra - An ancient ayurvedic ingredient, lodhra is known to deeply nourish and purify your skin. While these ingredients are a sure shot secret for ultimate nourishment, this Coco Soul nourishing combo also contains the following organic herbs which have anti-ageing and antioxidants properties to make your skin brighter, clearer and younger.
Neem - Loaded with Vitamin E, it is a miracle plant that removes blemishes and pigmentation and gives you younger, clearer and smoother skin.
Peppermint - It's cooling properties calms and soothes the skin.
Vetiver - It is a powerhouse of antioxidants that reduces dark spots and gives you a balanced skin tone.
Indian Rose Chestnut - A rare ayurvedic ingredient, it reverses skin tanning and improves skin brightness to give you healthy and beautiful skin.
This nourishing combo gift hamper will not only help your loved ones stay glowing and nourished in the winter winds but also make them look younger and beautiful.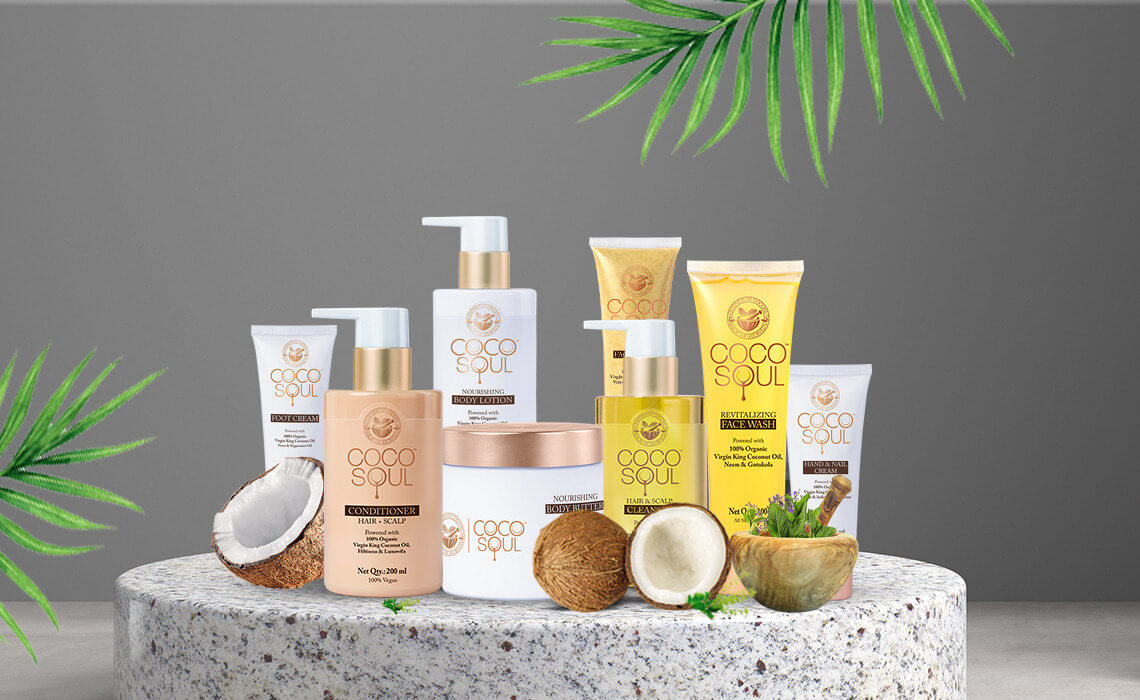 Luxurious bath combo
Gifting a bath combo which helps her get a luxurious, relaxing and refreshing bath will certainly add bonus points to your good deeds list! A bath combo is probably one of the easiest beauty gifts for her due to its universal usage. The Coco Soul Bath Combo is packed with a Coco Soul Refreshing Shower Gel, Coco Soul Hair & Scalp Cleanser and Coco Soul Hair & Scalp Conditioner. These bath products are made with purest natural ingredients along with magical Ayurvedic herbs that make your hair strong and healthy and your skin refreshed, glowing and soft. This bath combo can be the perfect beauty gifts for her, irrespective of her age or preference. It is because, while it is natural and safe, it also has an invigorating smell to make her bath luxurious. So, whether it is your sister, friend, mother or a relative who is going to be at the receiving end, rest assured that they are going to thank you later for this luxurious gift.
This bath combo contains natural ayurvedic herbs like -
Organic virgin coconut oil - Loaded with antioxidants and fatty acids, virgin coconut oil nourishes and hydrates your skin.
Hibiscus - An Ayurvedic secret to combat hair fall woes, hibiscus strengthens your roots and adds volume to your hair.
Godapara - A potent herb, Godapara cures itchy scalp and helps your hair to grow naturally.
Lunuwila - Known for repairing hair damage, lunuwila prevents premature hair greying and reduces split ends.
Turmeric - A well known natural herb, turmeric diminishes visible scars and calms and repairs skin.
Gotukala - Gotukala fights skin sagging and gives you younger and firmer skin.
Kikirindiya - A rare Ayurvedic herb, kikirindiya, boosts the blood circulation of the scalp and promotes healthy hair growth.
This bath combo will refresh and enrich the bathing process and brighten her day. Also, to get your self ready for this party season, check out our blog on skin care tips for party season.
Ditch chemicals, and gift the magic of Ayurveda with these beauty gifts to your loved ones. These skincare gifts are made with natural ingredients and are devoid of chemicals like parabens, silicones, sulphates, DEA, mineral oils, sodium chloride, etc. They are also 100% vegan, MadeSafe certified and not tested on animals. Head over to the Coco Soul website and pick the best skincare gifts for her here.
You must also check out our blog on valentine's day skin care tips to get a glowing skin on the special day.