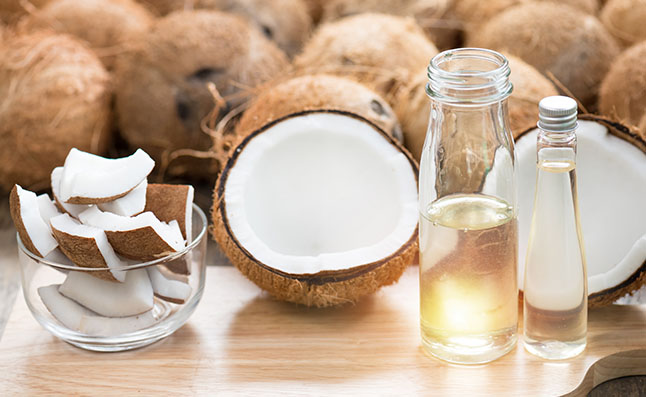 What would you say if we tell you about an ingredient that works like a magic potion for your internal and external organs? This magic potion is a secret gift of Ayurveda for flawless skin and gorgeous hair. But at the same time, when you add it in your diet, it keeps you away from multiple health issues. We are talking about virgin coconut oil.
Time and again extra virgin coconut oil has been recommended by doctors and dermatologists for its medicinal and nutritional properties. While beauty influencers vouch for its beauty benefits, experts emphasize its nutritional benefits for your body. A humble ingredient of Ayurveda, extra virgin coconut oil or virgin coconut oil as it is popularly called, is a must-have ingredient for your daily routine. So, if you have limited the jar of virgin coconut oil only to your dressing table till now, it's the time to add it to your plate. Continue reading to know more.
What is Virgin coconut oil?
Virgin coconut oil is a purified version of your regular coconut oil, made without any processing or preservatives. It is extracted out of raw coconut meat that is grated and dried at low temperature through a single cold pressed method. Unlike coconut oil, virgin coconut oil is not bleached, deodorised, refined or bleached, that increases its nutritional value and benefits.
Here are 5 proven benefits of extra virgin coconut oil for health -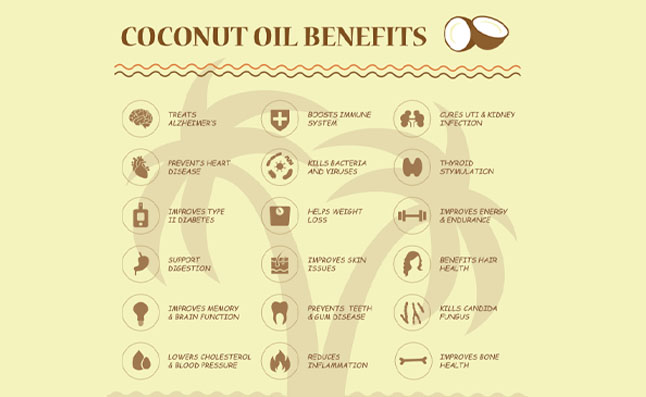 1. It reduces cholesterol levels
Virgin coconut oil is rich in fatty acids that reduces the rise of total cholesterol levels. While maintaining the blood levels, it is known to boost the growth of good cholesterol and keep your heart healthy.
2. It aids in weight loss
Research studies indicate that virgin coconut oil aids in burning excess fat from your body and helps in weight loss. It is easy to digest which helps in the release of instant energy. Virgin coconut oil is also known to boost metabolism and stimulate the proper functioning of the thyroid and endocrine system. 
3. It prevents yeast infection
One of the advantages of virgin coconut oil is its power to reduce skin inflammation. Virgin coconut oil contains anti-inflammatory properties that reduce yeast and bacterial infection of the gut. It prevents and treats problems like Candida Albicans which is a serious medical condition caused by excess yeast growth in your stomach.
4. Helps in cognitive development
Virgin coconut oil is a rich source of Medium Chain Triglycerides (MCTs), that turns into ketones and supports memory functions and cognitive development. It is also known to improve brain functions and prevent dementia.
5. It is helpful in diabetes
Virgin coconut oil helps in the secretion of insulin and controls blood sugar spikes. It reduces the strain on pancreases and helps in keeping diabetes in check. Along with health, virgin coconut oil is also very beneficial for face. Headover to our blog on the benefits of coconut oil for face to learn more about it.
How to take virgin coconut oil
Looking for healthy cooking oil? Try virgin coconut oil. Due to the various health benefits of virgin coconut oil, experts recommend using it for cooking and frying. You can add virgin coconut oil in your daily diet by adding it in tea, coffee or warm water, or in smoothies and shakes. It can also be used as a dressing on salads and as a taste enhancer. You can also have a spoonful of virgin coconut oil directly for good health and immunity.
Try Coco Soul
Experts opine that it is very essential to use natural ingredients in its purest form for maximum benefits. Which is why, it is utmost necessary that you use only pure virgin coconut oil. One of the best ways to identify the purity of virgin coconut oil is through its smell. Made with raw and fresh coconut pulp, virgin coconut oil has an aroma of fresh coconuts. If your oil does not have a fresh coconut flavour, it is probably not pure virgin coconut oil.
We recommend Coco Soul Virgin Coconut Oil, that is cold-pressed, 100% natural, unrefined and pure. Extracted from the freshly harvested coconut farms, this virgin coconut oil is manufactured through no heat process. Its vital nutrients and rich aroma of real coconut make it the best alternative to your refined coconut oil. Rich in MCTs, it is easily digestible for instant energy and so can be consumed directly. It also contains lauric acids and Vitamin E which helps improve body immunity and is rightly termed as a superfood with its multiple benefits. Now that you know about the benefits of extra virgin coconut oil, check out our blog on the health benefits of virgin coconut oil.
The many uses of extra virgin coconut oil makes it indispensable for not only your vanity, but for your kitchen too. Pure and unrefined, it is enriched with fatty acids and antioxidants that can help you have good health and flawless beauty. So, replace your unrefined oils with virgin coconut oil and head over to Coco Soul website to grab hold of the purest virgin coconut oil for you and your family.
Frequently Asked Questions on Health Benefits of Extra Virgin Coconut Oil
1. Is virgin coconut oil good for health?
Yes, coconut oil is highly nutritious and beneficial for health. It balances the level of cholesterol and keeps your heart healthy. It also aids in weight loss and prevents bacterial and yeast infection in the body.
2. What is the benefit of virgin coconut oil for skin?
Virgin coconut oil is rich in fatty acids and antioxidants. It deeply moisturizes your skin, promotes skin renewal and restores lost moisture. Virgin coconut also prevents the growth of bacteria reducing acne breakouts.
3. How do you take virgin coconut oil?
You can use virgin coconut oil for cooking, in salads and also in smoothies and shakes. Many ayurvedic experts also recommend eating raw virgin coconut oil for medicinal purposes.
4. How do you use virgin coconut oil for weight loss?
You can use virgin coconut oil for weight loss in many ways. You can either eat one spoonful of oil daily or add it in hot water or tea and coffee. Substituting cooking oil with virgin coconut oil is also a good way to use it for weight loss.