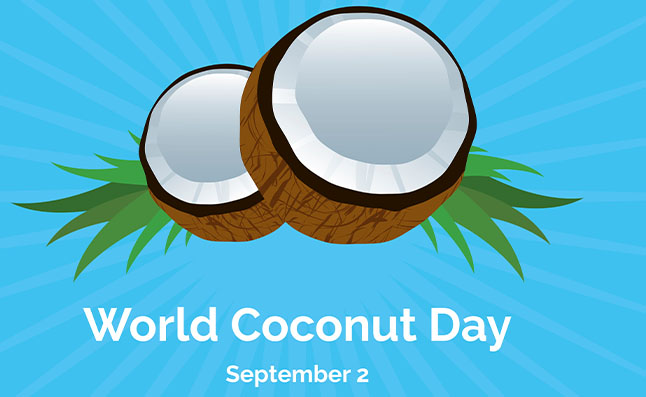 Coconut is a superfood that can help you get beautiful skin, long and strong hair, and even boost immunity. Given its goodness and multiple benefits, September 2 is celebrated world over as 'World Coconut day'. Let's find out more about this miraculous ingredient.
From the celebrity beauty cabinet to your grandmom's daily wellness routine, coconut is a most-wanted ingredient in every household. Everyone from Hollywood to Bollywood" the Kardashians to Priyanka Chopra, Mindy Kaling to Padma Lakshmi, and even Gwyneth Paltrow now, swear by the wonders of this traditional Ayurvedic ingredient.
While the West has just started to unearth the wonders of coconut, it has been an Indian beauty staple from time immemorial. If you have ever wondered about the secret to your grandmom's flawless skin and black-looking hair, she would probably credit it to the goodness of coconut in her skincare and haircare regimen. Not just that, coconut has many curative properties as well making it an essential part of most Ayurvedic treatments.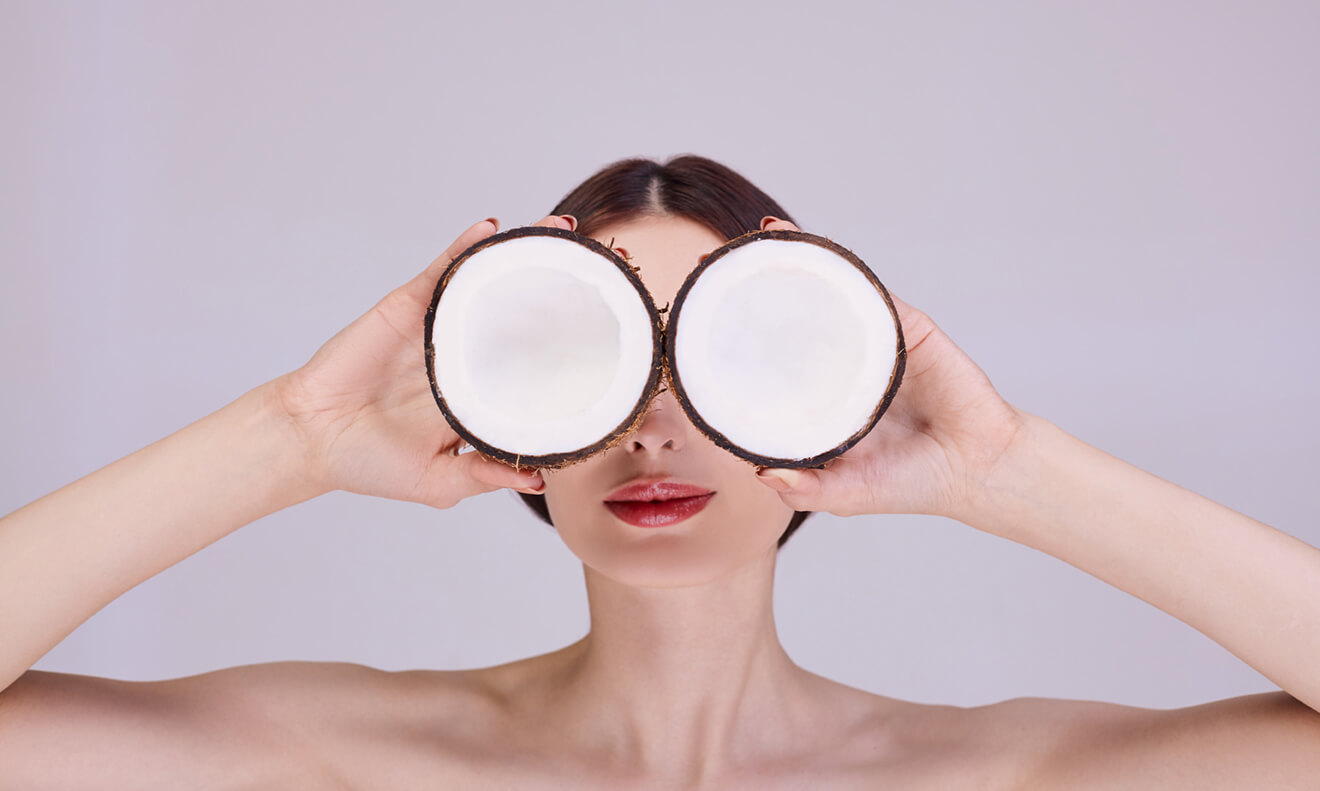 Here are some of its star qualities:
Coconut is a wholesome food, which is why it is known as a 'Superfood'. It is highly rich in mineral and vitamins, making it a great fat burner and skin hydrator
Coconut oil helps restore your skin's natural pH levels and keeps skin soft and smooth
Coconut milk is high in proteins, which helps greatly in strengthening your hair. You can either drink it or apply it topically
Coconut water, which is rich in antioxidants, helps repair hair damage and prevents further hair breakage
Coconut milk has anti-inflammatory effects and alleviates scalp conditions like dandruff
Coconut Oil is an excellent make-up remover. Not only does it remove your facial make-up or mascara, it also deeply nourishes your skin in the process
By the way, did you realize how sustainable coconut is? Almost every part of coconut exudes goodness. Its pulp, water and oil are all consumable as well as extensively used in daily wellness routines. The husk is a natural fertilizer and can be upcycled in many ways
Types of coconut oil
On that note, have you caught up on the latest 'Virgin King Coconut' oil trend? The difference between regular coconut oil and virgin coconut oil is in the way they are extracted. Virgin coconut oil is taken from the fresh milk of the coconut and it does not undergo any refining process, unlike regular coconut oil. Virgin Coconut oil is the purest form of coconut oil; it contains lauric acid that helps to maintain the immune system and heart health.
Additionally, it serves as a natural moisturizer for dry skin and frizzy hair. From the treasures of Ayurveda, just a spoonful of virgin coconut oil in your daily diet and wellness routines, is all you need to keep your skin looking fresh, healthy and glowing. Its powerful antioxidant properties slow down the process of ageing. So, does it make you nostalgic? Your grandmom was right all along when she recommended it! Now that you know the types of coconut oil, you must also take a look at how to use coconut oil for face, skin and hair.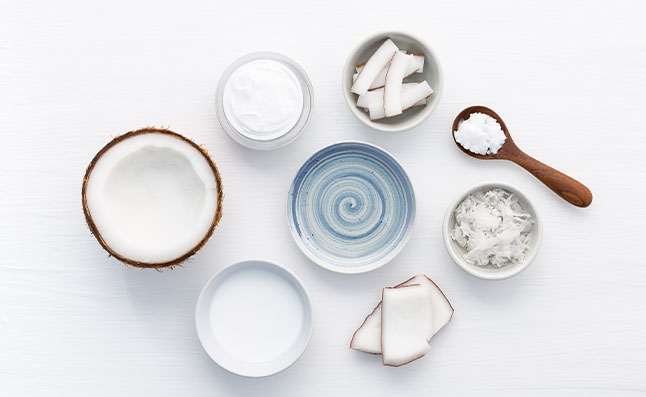 Why is Virgin coconut oil so good for beautiful looking skin and hair?
It hydrates and moisturizes skin, giving it a radiant and naturally bright glow
It soothes skin against any itching, reduces redness and patchiness
Regular massaging of virgin coconut oil helps moisturize the scalp, preventing the formation of dandruff
It acts as an anti-greying agent if massaged regularly, by improving blood circulation and making hair look more healthy and shiny
Regular use of virgin coconut oil acts as a protective shield for hair. It prevents hair breakage, split ends, sun damage and heat of styling products
The list of benefits of coconut is endless. Did you also know that virgin coconut oil when mixed with other Ayurvedic super ingredients and herbs can do wonders on your skin and hair? Yes, it is no less than a magic ingredient.
1. Virgin Coconut oil with Sandalwood and Welmi
Sandalwood and Welmi multiply the moisturizing effects of virgin coconut oil and firm up your skin. Sandalwood reduces oxidative stress (environmental stress caused due to pollution, dirt) and deeply moisturizes skin to reduce age spots. Welmi, an Ayurvedic plant rich in Vitamin C, helps in combating dullness to unveil radiant and beautiful-looking natural skin.
2. Virgin Coconut oil with Godapara and Kikirindriya
Mix of Ayurvedic herbs like Godapara and Kikirindiya act as hair cleansers that help to balance scalp oil secretion, strengthen roots and unclog hair follicles. Godapara, a potent herb, soothes flaky and itchy scalp, while Kikirindiya, a magical herb, boosts blood circulation in the scalp to promote hair growth. So, in case you are worried about hitting the beach and returning with dull-looking strands, you know what to pick to bounce your hair back to its glory.
3. Virgin Coconut Oil with Turmeric and Gotukala
Ayurvedic herbs and spices such as Turmeric and Gotukala give your skin the much-needed boost to look younger, firmer and radiant. Turmeric, loaded with excellent antiseptic qualities help to treat scars and heal wounds, while Gotukala, an organic hero, promotes collagen build-up by fighting sagging skin.
4. Virgin Coconut Oil with Neem and Gotukala
Herbs like Neem and Gotukala when combined with Virgin coconut oil form a luxurious cleansing fluid to give sweet relief for your face from daily irritants. Neem, a miracle plant, is loaded with Vitamin E that helps in reducing blemishes and pigmentation. Gotukala combats sagging skin to unveil firmer and younger-looking skin.
5. Virgin Coconut Oil with Hibiscus and Lunuwila
Get prepared to flaunt those enviable locks as this magical combination of Ayurvedic herbs when mixed with virgin coconut oil will draw you closer to your dream of healthy, lustrous tresses. The magical herbs such as Hibiscus act as a great remedy to prevent hair fall, while Lunuwila prevents split ends, premature greying, and thereby promoting healthy hair growth.
So are you craving for healthy-looking skin and beautiful long and strong hair, but worried about how to get all these super ingredients in one place? Well worry not! We, at Coco Soul beauty, did all the hard work and combined these super ingredients in a range of products, which give you good looking, natural and healthy skin and hair. We hope you found these tips useful, and with that in mind, let's celebrate World Coconut day together. Grab your 'Soulsome care with Cocosoul Beauty'.
Just like coconut oil there are many other natural ingredients that are good for your hair health, to kearn more about them, check out our blog on natural ingredients for hair.