Apart from confining us to our homes, this pandemic also disrupted our self-care routines. One of those being the bliss of getting a nice pedicure in a salon after a tiring day. While the daily wear and tear is enough to make your feet tired and dry, the winter season brings with it other problems too, viz. callus, dry feet and cracked heels. And admit it, we never care for our feet unless they scream for attention.
But worry not, while your favourite salon might not be accessible for a soothing pedicure right now, you can still pamper your feet at home and cure cracked feet with these home remedies for cracked heels. Here's a DIY pedicure to pamper your feet.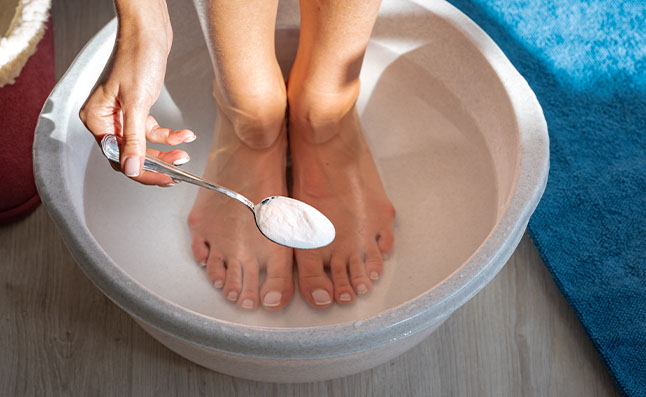 Exfoliate the dirt away
Step one is to remove all that dead skin stuck to your sole and heels. Exfoliate your feet with a natural scrub at least once a week. Exfoliating your feet will remove the dead skin cells and make your feet soft and smooth. Take a large tub and add warm soapy water, throw in some rose petals, a few drops of essential oils and lemon juice in it. Now dip your feet in the water and soak in for a few minutes. Once the skin of your feet feels soft, apply a coarse scrub and exfoliate the skin gently. Follow the exfoliation process with a pumice stone and rub off all the remaining dead skin residues. However, be careful if you have fissures or deep cuts on your feet. The granules in the scrub can irritate the skin. It would be best if you consult a doctor to cure the cuts and then proceed with the exfoliation.
Moisturize with a foot cream
The best way to cure dry and cracked feet is to nourish them well. You can use natural moisturizing ingredients like virgin coconut oil or honey and apply in on your feet. But it might not always be a feasible option, considering the greasy mess it can create. Which is why you need a foot cream that has the goodness of nature in a non-sticky formula.
Presenting Coco Soul Foot Cream. Coco Soul believes that mother nature has the solution to all your skin woes and its centuries-old ayurvedic skincare secrets are effective enough to give you radiant and beautiful skin naturally. The Coco Soul Foot Cream is infused with pure virgin coconut oil and choicest ayurvedic herbs that penetrate deep into your skin to heal cracked feet and make your feet silky soft. This cracked heel cream restores lost moisture and nourishes your dry feet to give you younger-looking, smooth and beautiful feet. It is created with -
Virgin coconut oil - Loaded in antioxidants and fatty acids, virgin coconut oil deeply nourishes the skin, fights dryness and promotes cellular repair
Peppermint - Its cooling properties calms and soothes the feet and emits out refreshing fragrance.
Neem - A wonder herb, neem prevents infections and odour and gives your blemish-free younger soft and glowing feet.
Apply this nourishing foot cream every night before going to bed to wake up to a soft, smooth, nourished and younger looking feet. This foot cream is devoid of mineral oils, DEA, sulphate, parabens, silicones or any other chemicals. Moreover, it is Made Safe certified and 100% vegan. Along with feet, it is also important to moisturize the skin on your body in winter. Check out our blog on why to use body lotion in winter to learn more about it.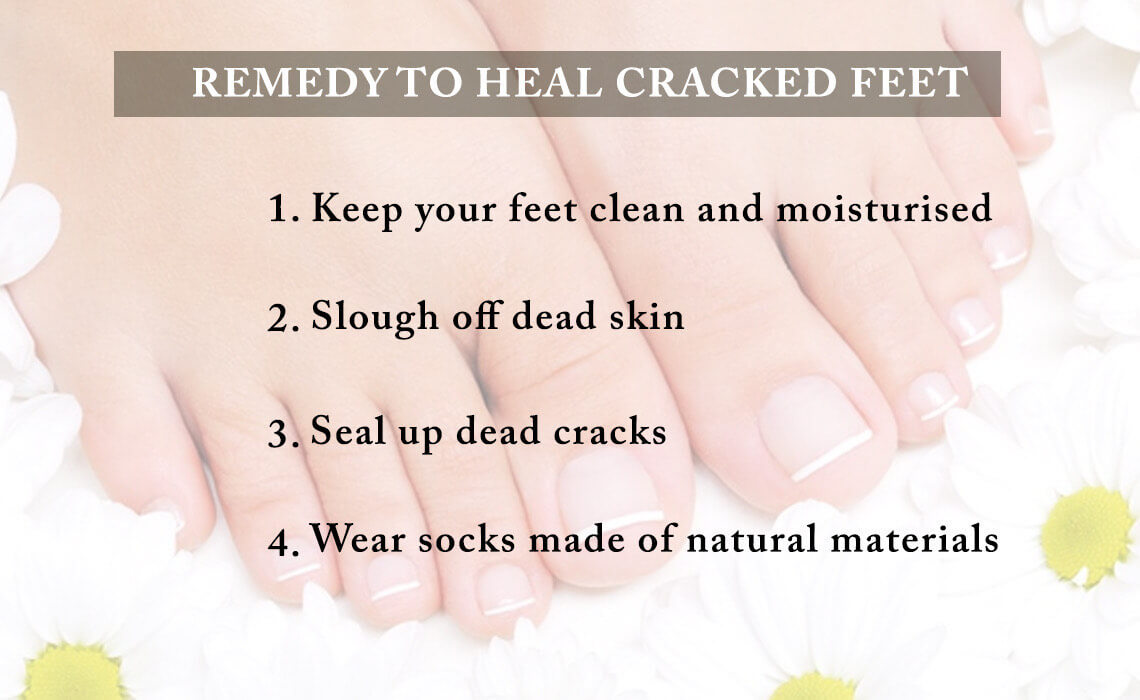 Foot massage
There is nothing a good foot massage cannot cure! Seriously, pampering yourself with a foot massage is a magical way to cure dry feet and relax. Once in a while treat your feet with a soothing oil massage. Soak your feet in warm water to remove all the dirt and pat dry with a towel. Take a few drops of warm oil in your palms and massage it on your feet. Press all the pressure points and let the feet absorb the oil. The increased blood circulation in the feet would relax your tense muscles and heal cracked feet.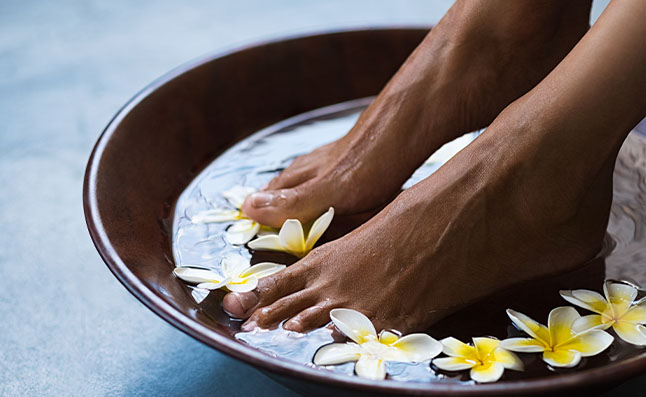 Foot mask
A foot mask is one of the best cracked heels treatments as it replenishes the moisture on your feet and softens dry skin. You can easily make a nourishing foot mask with the ingredients found in your kitchen. Take a handful of oatmeal, and a tablespoon of brown sugar, honey, lemon and olive oil each. Mix the ingredients together and transfer this mixture in a ziplock bag. Now put your feet in the bag, play your favourite music and relax. In a few minutes, wash your feet with a mild cleanser for soft and healed feet.
Pro tip: Always wear a pair of cotton socks after you have pampered your feet with an oil massage, foot cream or a foot mask. It would help seal the moisture on your feet and heel dry feet and cracked heels faster.
Protect your feet
To cure dry cracked feet with cuts and to keep them soft and supple, avoid exposing them to harsh winter winds. Do not walk barefoot, wear open sandals or tight-fitting boots. Say no to woollen socks too. Woollen socks might be tempting in the cold, but the friction in them can cause more dryness. Moreover, do not wear woollen boots all day as it can cause infection and always keep your feet warm and dry.
Caring for your foot is as crucial as looking after your face and hair. Not only can dry and cracked feet in winters spoil your well curated look, but if left untreated, cracked feet can lead to wounds, infection and even blood. Ouch! Therefore, in this winter season pamper your feet with these tips and cure dry feet and cracked heels naturally. Head over to Coco Soul skincare section to shop for more winter-friendly products today. You must also check out our blog on winter beauty tips to keep you skin and hair healthy and beautiful in winter.
Frequently Asked Questions on Home Remedies for Cracked Heels

1. What causes dry cracked feet?
There are many reasons for dry cracked feet like using harsh cleansers, exposure to cold harsh winds, skin disorders, excess exposure to the sun, skin dryness, walking barefoot, undernourishment, etc.
2. How do you fix dry cracked feet?
Scrub your feet of all the dirt and dead skin, and apply a moisturising cracked heel cream to fix dry cracked feet. Wear a cotton sock and let the moisture cure dryness on your feet.
3. What is a natural remedy for dry feet?
Dry feet can be cured by adequate nourishment. There are many home remedies for cracked heels. For natural remedy, use a homemade scrub to remove all the dead skin, follow it with a natural foot mask and nourish your feet with oil or moisturizing cream.
4. How can I permanently fix my cracked heels?
You can cure your cracked feet by keeping your feet moisturised and avoiding tight-fitting shoes. Do not let your feet stay dry or dehydrated. Nourish your feet with a foot cream every night before bed and wear cotton socks to fix your cracked feet overnight.
5. Is coconut oil good for dry feet?
Coconut oil is a very nourishing and hydrating natural ingredient for dry feet. It softens dry skin, smoothens cracked heels and makes your feet soft and moisturised.