Acne can be annoying. They pop at any time, anywhere they want, and then never leave you alone. If by chance one goes away, another one is ready to replace it and continue your nightmare.
The worst is, they know the perfect time to appear. They synchronize their entry just before your big day; and you are left with a big fat pimple on your otherwise beautiful skin all through your date, presentation or party. Ugh!
We bet you might have tried many solutions to get rid of your pesky acne. But if you are still struggling with it, we can help you.
Scroll down to learn more.
What is the cause of acne?
Acne is a skin condition that is caused when the oil glands, dead skin and dirt on your skin clog the pores and hair follicles. While acne is the umbrella skin problem, pimple and blackheads are different forms of acne.
Acne can be caused due to clogged pores, excess sebum production, inflammation or bacterial infection on the skin. However, acne can also occur due to certain medications, an allergy, during menstruation, and hormonal changes. Apart from this, you can also get acne due to improper lifestyle, stress, usage of poor quality of skincare products and genetics.
How to get rid of acne
Treatment of pimples can vary as per its severity. If you have pimples that are painful or are spreading faster than usual, you should consult a dermat to know the real cause of acne. For normal acne and pimples, you can opt for home remedies for pimples. The best one is following a skincare routine that suits your skin.
1. Cleanse your skin
Dust and pollutants in your skin can block your pores and cause acne. Which is why you must cleanse your face thoroughly every day. Cleaning your skin with a mild cleanser helps remove the build-up of excess oil, dirt and dust that prevents pores from clogging and thus reduces the occurrence of acne. However, the cleanser that you choose should be suitable for your skin type and cater to your specific skin needs. You must also consider the ingredients of your face wash. Harsh chemicals can further worsen the condition of acne on your skin. So, you should always opt for a natural, chemical-free cleanser that is devoid of any chemicals.
You can try the Coco Soul Revitalizing Face Wash. This natural face cleanser is created with the secrets of ancient Ayurveda by infusing pure Ayurvedic ingredients in its core. With the elements of nature in a tube, this face wash cleanses off dirt, excess oil and other impurities from your skin and makes it fresh and revitalizing. Be it any skin type, it gently cleanses the accumulated dirt without any lingering dryness and gives you glowing and radiant skin naturally. For best results, use this face wash at least twice a day to reduce acne. It contains-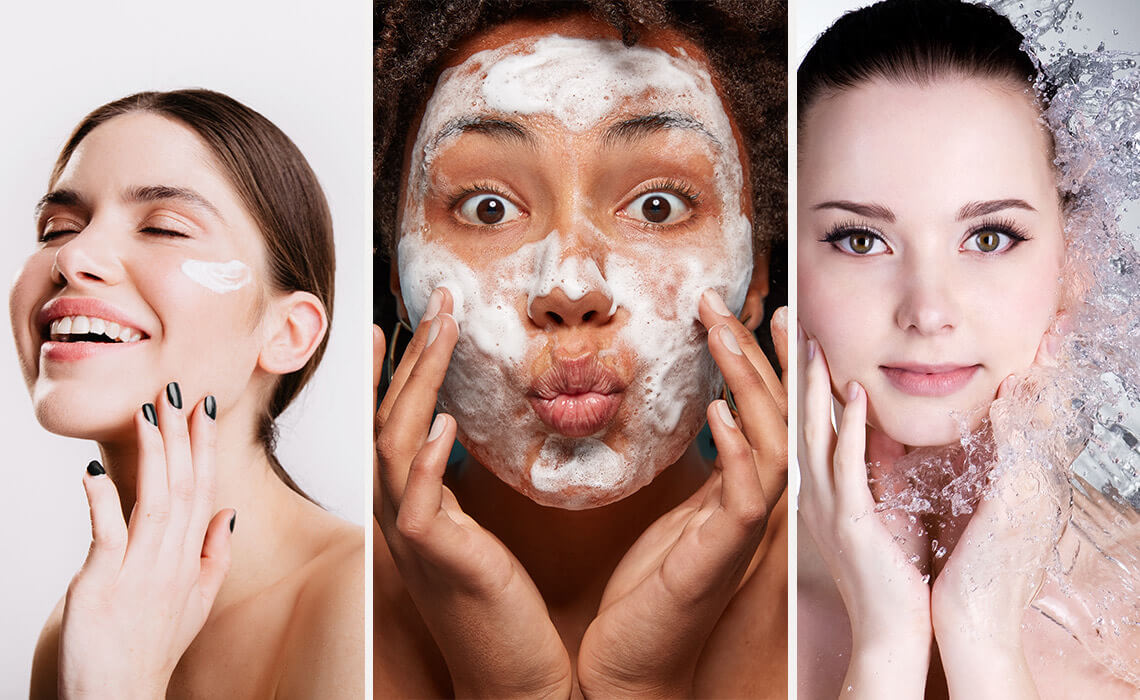 Virgin coconut oil - Known as an elixir in Ayurveda, it penetrates deep into the skin layers, repairs damage and restores lost moisture.
Gotukala - A potent herb, it fights skin sagging by promoting collagen production and gives younger looking and glowing skin.
Neem - A miracle herb, it is loaded with Vitamin E which helps in removing pigmentation and slowing down ageing.
2. Exfoliate your skin
Want to know how to reduce pimples? Exfoliate your skin regularly. Layers of dead skin and impurities can clog your pores and give way to different forms of acne. Exfoliating the skin is an effective treatment of pimples as it removes dead skin, opens pores, and softens your skin. However, it is important that you exfoliate gently and with products that are mild and suitable for your skin. Exfoliation can sometimes irritate your skin, which is why your exfoliator or facial scrub should be chemical-free and natural. You can use natural ingredients like sugar, oatmeal and walnut as a face scrub, but they can get messy for regular use. Instead, you can use products that are infused with these natural ingredients and are gentle on your skin; for example, the Coco Soul Face Scrub.
Coco Soul believes that nature has the solution to all your skin problems and the ayurvedic skincare solutions of the yesteryears are much more effective than that of today. With that, they create products that are infused with natural ingredients and Ayurvedic herbs.
This face scrub contains natural herbs and virgin coconut oil in its core. It gently unclogs pores and purges skin impurities without causing any dryness on the skin. This natural face scrub cleans your skin of all the dirt, dead skin and sebum and leaves your skin soft, clear and radiant. It contains -
Sandalwood - Revered in eastern culture, sandalwood reduces the oxidative stress in the skin, minimises age spots and reverses sun damage
Virgin coconut oil - Penetrating deep into the skin, it hydrates and nurtures the skin
Venivel - It gently exfoliates your dead skin, removes excess oil and renews your skin.
3. Apply face pack
If you are looking for acne home remedy, face packs made with kitchen ingredients can be the best bet. Ingredients like honey, tree tea oil, apple cider vinegar, lemon etc are effective home remedies for pimples. Following are some homemade face packs -
Turmeric and honey
Take one tablespoon of honey and one teaspoon of turmeric powder. Mix these two and apply on wet skin. Leave for 15 min. Wash off with warm water and pat dry. Honey soothes the inflammation and turmeric is antibacterial that controls and reduces the zits.
Multani mitti - (fuller's earth)
Multani mitti is very effective in treating acne. It controls sebum accumulation and makes the skin soft and clear. Take a tablespoon of Multani mitti and add in an equal amount of rose water. Mix them well and apply on your face for 20 min. Wash off and pat dry. You must also check out our blog on winter beauty tips to learn about some amazing beauty tips to follow in winter.
Frequently Asked Questions On Foot Crack Cream For Dry Feet
1. How do I get rid of acne fast?
Keep your skin clean and use home remedies to cure acne.
2. Does acne go away naturally?
If your acne is not very severe, it can go away naturally.
3. What causes acne?
Acne is caused when the pores and hair follicles in your skin are clogged by oil and dirt.
4. How can I clear acne at home?
You can clear acne at home by using natural skincare products, exfoliating and using homemade face packs.
5. Should you pop pimples?
You should never pop pimples. Popping pimples can leave scars behind and also cause further infection and thus acne on other parts of the skin.