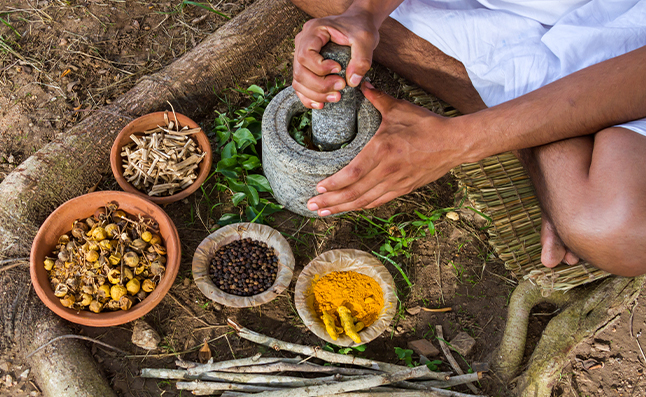 Let's face it. Everybody has had that one bad hair day; days when nothing you do makes your hair look great. But, those of you who have more good hair days and sport healthy hair understand the worth of sustainable hair care and the use of natural hair care products. The secret behind thick, voluminous and lustrous hair does not lie in chemically treating your hair. Rather, it is in the use of Ayurvedic hair care products. Centuries-old, trusted Ayurvedic remedies and herbs gently treat your hair from within, leaving it strong, soft and healthy.
Ayurvedic hair care products, hence harness the power of mother nature. Their ingredients boast a myriad of medicinal benefits and act as a superfood for your hair's nutritional needs, so that you are left with long and healthy hair. Moreover, the best part about using Ayurvedic hair care products is that you're doing the planet, animals and yourself a huge favour, since all products used are ecological and don't generate waste.
Here are some Ayurvedic hair care tips for long, strong and healthy hair.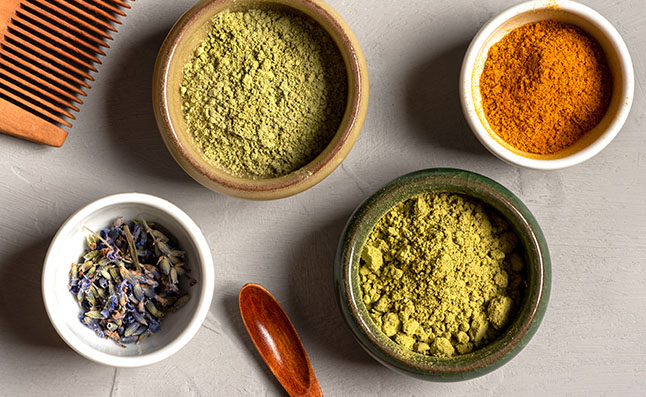 Ayurvedic hair care tips
Apply oil at least once or twice a week: Massaging your scalp and hair with natural oils is an Ayurvedic practise that's been carried out for centuries to maintain strong, thick and healthy hair. This practice delivers deep conditioning to your tresses. Additionally, it also calms your mind and boosts sleep.
Wash your hair moderately: Hair type differs from person to person. Be it oily, dry or normal hair, all these types vary in degrees and do not require frequent washing as often as you may think. This is one of the vital tips for healthy hair. Frequently washing your hair generates more oil production, therefore requiring you to wash it more often. It's a vicious cycle! Thus, limit to two or three washes a week only.
Learn to balance your stress levels: Often, anxiety, fatigue and stress lead to uncontrollable hair loss and premature greying. Continued emotional or physical stress causes Pitta or Vata imbalances in the body. This increases your hair fall because stress impacts the regular functioning of your immune system, thus causing inflammation in the hair follicles and preventing hair growth.
Make your bones stronger: If you are banking on Ayurveda for long hair, then know that hair is a product of your bone tissue. When you feed the bone tissue, your hair is nourished. Some vital foods to nurture your bones and thus your hair include almonds, leafy greens, sesame seeds, lentils, whole grains, broccoli and organic dairy.
Avoid chemical-based hair products: Just like your skin, your scalp too absorbs anything you apply to it. Thus, make sure you stay clear of chemicals like sulphates, phthalates, propylene glycol and mineral oil among many others to prevent them from entering your bloodstream. Choose natural products only or create your own at home.
Braid long hair before hitting the bed: For those of you who have long hair, securing it into a loose braid before hitting the bed will prevent it from breakage or knots.
Now that you are well-aware of these Ayurvedic hair care tips, embrace the charm of Indian Ayurveda abetted with several exotic ingredients to thoroughly nourish your tender tresses. The centuries-old knowledge of Ayurveda hides many secrets for healthy and lustrous hair. So, bid farewell to chemical-based products and switch to natural products, like those from the house of Coco Soul.
You must also check out our blog on ayurvedic hair care routine to learn about the ideal routine for healthy hair.
Coco Soul creates all its products with virgin coconut oil and potent Ayurvedic herbs that will help you enjoy healthy and envy-inducing tresses. Here are some products you can try from Coco Soul"
Hair & Scalp Cleanser
Combining the gift of nature in a bottle, this natural hair cleanser gives you the perfect blend of Ayurvedic herbs and virgin king coconut oil. Using this hair cleanser will grant you lustrous tresses, while preventing the harmful effects of chemicals like parabens, sulphates, DEA, mineral oil, silicones, etc. It contains:
Virgin coconut oil: Often termed as an elixir, it acts as an excellent natural cleanser for the hair.
Kikirindiya: This wonder herb treats dandruff, hair fall and boosts blood circulation in your scalp.
Godapara: This potent herb soothes flaky and itchy scalp and strengthens your hair.
Hair & Scalp Conditioner
This Ayurveda-herb infused natural hair conditioner will provide you smooth, soft and bouncy locks. It contains virgin coconut oil that nurtures your scalp and gives you the beautiful hair you deserve.
Virgin coconut oil: This exotic tropical oil hydrates and strengthens the hair shafts to keep your hair nourished from within.
Hibiscus: It strengthens your hair and boosts growth to add the required bounce and volume.
Lunuwila: Helps prevent premature greying, split ends and promotes healthy hair growth.
Now that you know about the benefits of this hair conditioner, head over to our blog on how to use hair conditioner for better results.
Following these natural hair care tips will surely give you healthy, long and lustrous hair of your dreams. What's more? These products from Coco Soul are all MadeSafe-certified, 100% vegan and have not been tested on animals. For more tips on long hair, head over to the Beauty Blogs section on Coco Soul Beauty now!
Frequently Asked Questions on Ayurvedic Tips for Long Hair
1. What are the best ways to grow long and healthy hair?
Some of the best ways to grow long and healthy hair are:
Boost your diet with protein-rich foods
Cut off the intake of caffeine-infused products
Avoid heat-styling products
2. Which fruit helps your hair grow faster?
Apricot is one such fruit that is highly recommended by nutritionists because it contains essential fatty acids and is high in vitamin content, which helps prevent hair loss and stimulate hair growth.