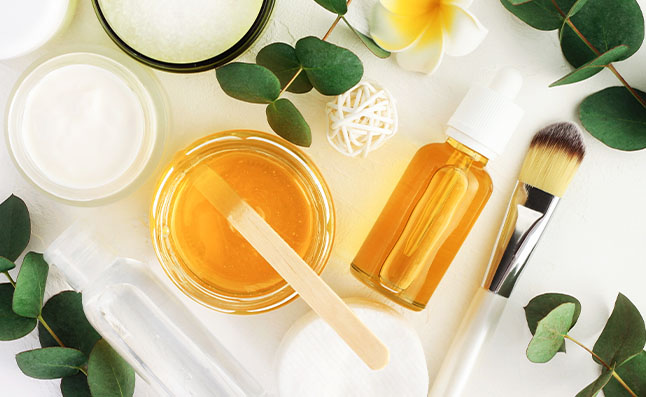 A healthy lifestyle and hygienic skincare habit equal to clear, radiant and glowing skin. And, we all know how important it is to follow a healthy skincare routine. However, it isn't quite complete in itself. What you need is an overhaul, both internal and external that will directly help impact the health of your skin. This is where we count on the goodness of an Ayurvedic skincare regime. The ancient science of Ayurveda emphasizes a similar mantra and that is"True beauty comes from within'.
This is why Ayurvedic skincare routine focuses on balancing your entire body and eliminating the doshas from within for beautiful, glowing skin. The key is to approach your skincare in a holistic manner by creating an Ayurvedic skincare regime to achieve and preserve your healthy skin. So, if you are yet to kick start a full-fledged natural skincare routine, then this beginner's guide will cover you well on all the aspects of Ayurveda and skincare.
What's the true secret of an Ayurvedic skincare routine?
The reality of Ayurveda is that it is a heritage filled with all the hidden treasures from the ancient Vedic civilisation of India. Opting for a natural approach will offer you the ultimate benefits of an Ayurvedic skincare regime that specifically focuses on your individual natural skincare needs. An Ayurvedic skincare routine not only provides wholesome support to the entire body, but also works from deep within to treat all your skincare woes.
In this section, we've curated an Ayurvedic skincare routine that'll help you get healthy, glowing skin in no time. The skin treatment in Ayurveda is purely based on three simple beliefs that are super easy to follow: Cleanse, Exfoliate and Moisturise.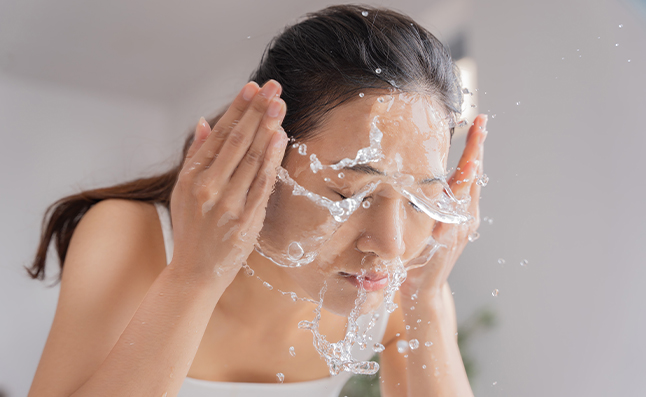 Step 1: Cleanse your skin thoroughly
The basic step in your daily skincare routine is to start with cleansing and for that choose a mild, Ayurvedic face cleanser. Face care through Ayurvedic products is safe because it won't risk drying your skin or cause breakouts. Besides, according to Ayurveda, your pitta is responsible for the texture, colour, glow and temperature of your skin. It is governed by everything that you eat or drink. Therefore, make sure to follow a simple diet without much oil or spices to keep acne or other skin issues at bay. Additionally, cleanse your skin once in the morning after you wake up and once at night before hitting the bed. A thorough cleansing will remove the residues of dirt, oil or make-up and keep your pores clean.
For optimum results, use the Revitalizing Face Wash from Coco Soul. It is created using the ancient science of Ayurveda with 100% organic virgin king coconut oil. It also contains potent Ayurvedic herbs like neem and gotukala that revitalise and rejuvenate your skin to give you a fresh, glowing look.
Organic virgin coconut oil: Packed with essential fatty acidsš natural antioxidants and vitamins, it moisturises your skin.
Neem: This vitamin E rich herb has anti-bacterial as well as anti-ageing properties.
Gotukola: It fights fine lines, wrinkles and sagging skin and also tightens and tones the skin.
This Ayurvedic face wash is free from sulphatesš parabensš silicones, mineral oils and any other chemicals you wouldn't want in your skincare products.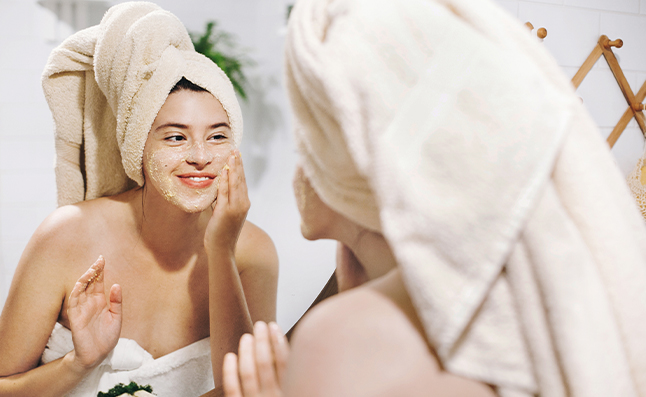 Step 2: Exfoliate with caution
Exfoliation is the next essential step in your Ayurvedic skincare routine. Ayurveda says that scrubbing stimulates your lymphatic system lying underneath the multiple layers of your skin, thus ridding the body of toxin build-up. It is also a great way to stimulate various senses. Body scrubbing significantly improves your mood as the body internally recognises this self-ritual being performed, and therefore eases your mind and awakens your senses. On a physical level, exfoliation removes the dead skin cells from the topmost layer of your skin and prevents dullness. By incorporating this step regularly in your skincare routine, you won't have to fear acne or wrinkle-prone skin. However, you need to bear caution with this step. Do not exfoliate regularly, as it can damage your skin and trigger a number of other skin issues.
Limit yourself to exfoliating twice in a week with an Ayurvedic scrub, such as the Natural Face Scrub from Coco Soul made with pure virgin coconut oil. This nature-inspired face scrub works like a charm with its powerful ingredients that include Ayurvedic herbs and spices and virgin coconut oil.
Sandalwood: Revered in eastern cultures for centuries, it reduces oxidative stress in the skin, while intensely moisturizing it to lessen age spots and also reverse sun damage.
Venivel: This exotic Ayurvedic ingredient exfoliates dead skin, dissolves excess oil and renews the skin to reveal a clearer and blemish-free complexion.
Virgin coconut oil: Known as the elixir, virgin coconut oil is suffused with fatty acids and antioxidants that hydrate your skin and keep it soft, smooth and supple.
This natural face scrub gently cleanses your skin to unclog pores and purge the impurities from its surface, leaving it smooth, soft and moisturized.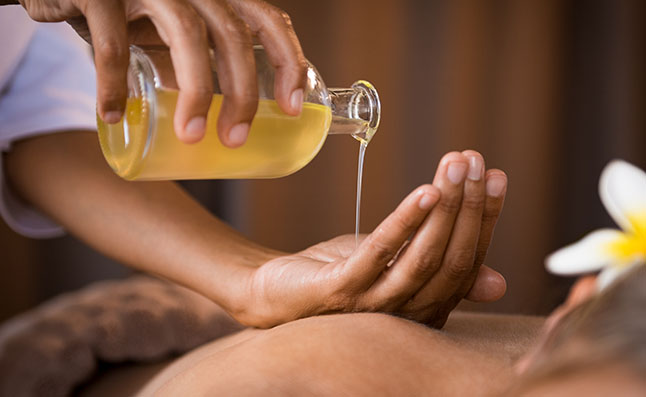 Step 3: Moisturize without fail
A good moisturizer will not only hydrate your skin, but also prevent dryness and keep it smooth, supple and plump. But, to achieve a holistic benefit for your skin, a simple moisturization won't do. You need to practice abhyanga or the old Ayurvedic tradition of self-massage. Warm a bottle of oil and gently massage your skin in circular motions. It helps detoxify your skin as well as your body's deeper tissues. Additionally, abhyanga nourishes and soothes the skin and maintains your nervous system, thus hydrating and replenishing all the tissues and encouraging good blood circulation. Furthermore, it decreases fatigue and emotional disorders that minimizes the ill effects of stress on your skin. So, irrespective of what your skin type is, oily, dry or sensitive, moisturisation or self-massage will keep its pH levels in check and avert the chances of excess oil secretion. Therefore, to maintain the lit-from-within glow of your skin, go for a chemical-free, Ayurvedic lotion such as the Nourishing Body Lotion from Coco Soul.
With virgin king coconut oil at its core, this aromatic and luxurious lotion will pamper your skin like never before. It is lightweight and so it'll melt deep into your skin to deliver intense nourishment and a dewy look. Its plant-based actives work hard to visibly moisturize and tighten your skin, while also reversing sun damage and signs of premature ageing. Since it is non-greasy, you can apply it daily on your body and skin.
Organic virgin king coconut: It encourages cellular repair and moisturizes your skin to make it soft and smooth.
Sandalwood: It fights premature skin ageing and has excellent skin emollient properties.
Welmi: It reduces dullness and makes your skin radiant.
Make sure you do not forget about your feet. You can add foot cream to your skincare routine to take care of your feet. Check out our blog on foot cream benefits to learn more about it.
All these natural skincare products from Coco Soul are ideal for all skin types, as they do not contain parabens, silicones, petroleum, formaldehydes, sulphates, phthalates, propylene glycol, sodium chloride, mineral oil, DEA or any other harmful chemicals. Besides, they are all MadeSafe certified. It means that these products are literally made with natural, safe ingredients from mother nature that are not known to cause harm to your skin, overall health or the environment. They're non-toxic and are not tested on animals, making them your best ally for daily skincare chores.
Now that you are aware of the significance of an Ayurvedic skincare regime, follow these simple steps using these naturally curated, toxin-free products to flourish your skin health and keep it looking radiant and beautiful. To know more about the best skin treatment in Ayurveda, head over to the website of Coco Soul Beauty now!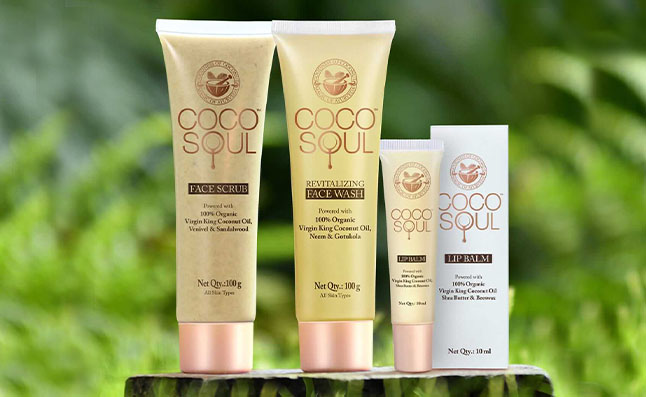 Frequently Asked Questions on Ayurvedic Skincare Routine
1. What steps should you follow in your daily skincare routine?
Your daily skincare steps should include:
Cleansing
Moisturizing
Exfoliating (twice in a week)
2. What is a good age to start a basic skincare routine?
Depending on your skin type, 24 to 28 is usually when you should start with your basic skincare routine.