While you might be tempted to try all the shiny, trending skincare products you come across, they may not always work and give you the desired results. Worse, they may end up having adverse side-effects on your skin. The reason is simple: many of these beauty products are loaded with harmful chemicals that are not always beneficial for your unique skincare needs.
Instead, why not opt for a time-tested, age-old Ayurvedic skincare technique that even your grandmother swears by. The use of virgin coconut oil as a beauty and lifestyle ingredient is one such method.
Packed with antioxidants and fatty acids, virgin coconut oil is an elixir for your hair and skin. The amazing benefits of virgin coconut oil make it a trusted and must-have ingredient in your skincare and haircare regime. Read on to know the amazing benefits of virgin coconut oil, and how you can incorporate it in your daily skin and hair routines.
What is virgin king coconut oil?
Often confused with cold-pressed coconut oil, virgin coconut oil is produced from the coconut fruit through the single-press process. The fruit is dried and grated for a few hours at low temperatures, which retains the coconut's moisture content and purity. Moreover, unlike regular coconut oil, virgin coconut oil is not subjected to refining or other chemical processes, making it au naturel and, thus, significantly beneficial for your hair, skin, and overall health.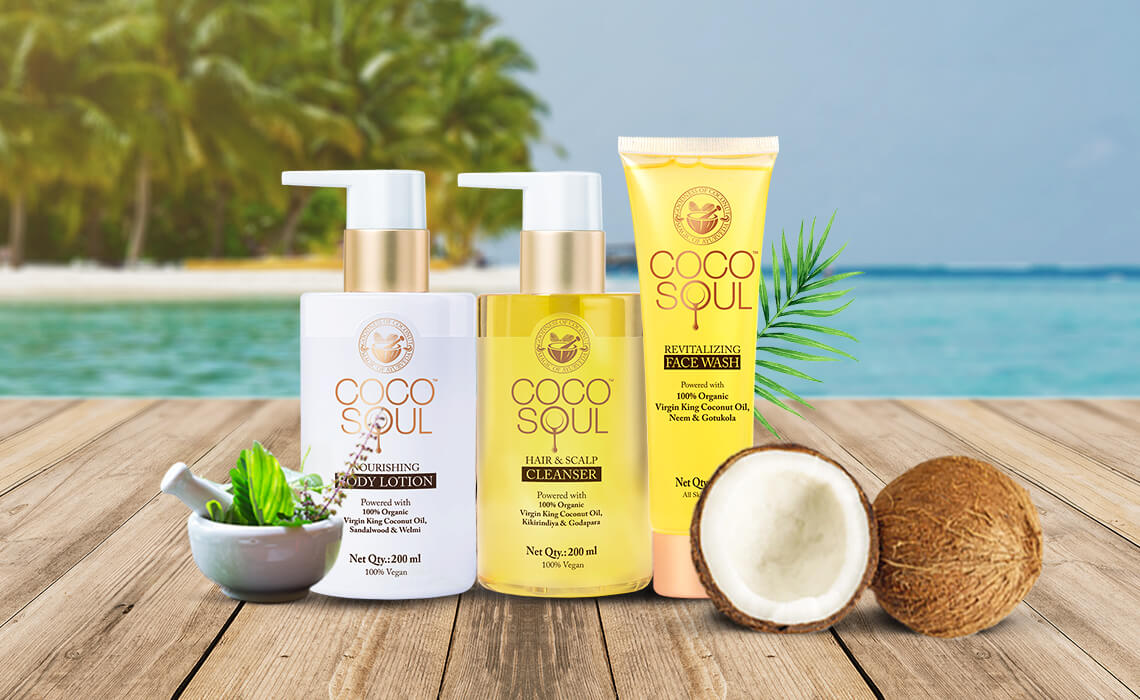 Virgin coconut oil benefits for the face
Your facial skin needs extra love and care. The humble coconut seed/fruit/nut (call it what you like), is loaded with omega-3 fatty acids, making it capable of removing make-up residue from your face. Unlike the chemical-based make-up removal creams, it does not cause irritation or redness, rather it gently cleanses your face of all residue and make-up stub. But the top benefit of applying virgin coconut oil on your face is that it provides a long-lasting shot of hydration to your skin, leaving it forever supple and glowing. What's more? This lauric acid-rich oil has anti-microbial properties that will help in treating acne.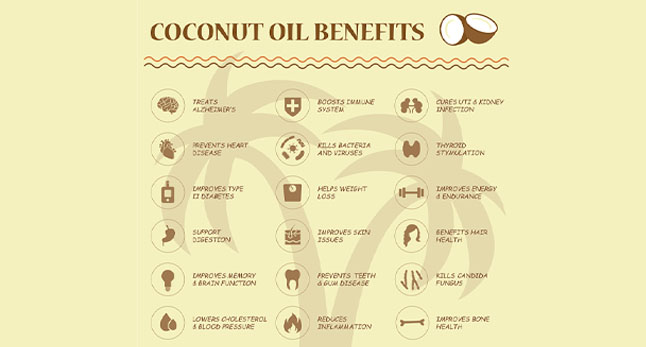 Virgin coconut oil benefits for the skin
The skin-beautifying benefits of virgin coconut oil come from the fruit's healing and nourishing properties. You must have heard the buzz around the miraculous benefits of virgin coconut oil on your skin. There's truth to that since the virgin coconut oil is a powerhouse of Vitamin E and Omega-3 fatty acids, which makes it a brilliant moisturizer for all skin types.
While the benefits of virgin coconut oil are amazing as is, the results only magnify when it is combined with the power of Ayurveda.
Products that contain the potent wisdom of Ayurveda along with virgin coconut oil can do wonders for your skin and hair health. Coco Soul believes that Mother Nature has the answer to all your skin and hair concerns and brings to you its natural range of skincare and haircare products.
Backed by the magical power of Indian herbs and spices and the miraculous virgin King coconut oil, Coco Soul's skincare and haircare range is suited for all your beauty woes. Free from chemicals like sulphates, silicones, DEA, mineral oils, etc, these are upto 100% vegan and natural to give you the maximum results.
Let us recommend some essential daily use skincare products from Coco Soul that are enriched with virgin coconut oil to give you that flawless, radiant and glowing skin you have always wanted.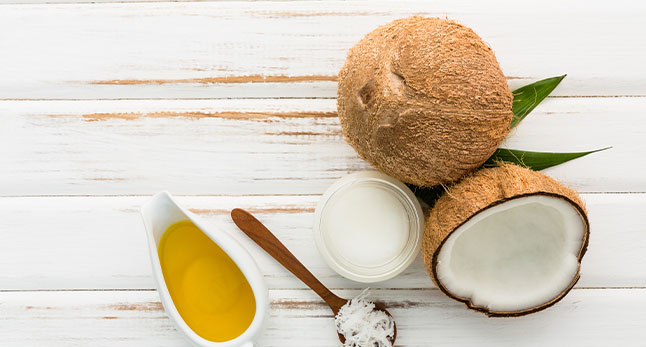 Revitalizing Face Wash: This face cleanser is the gift of nature in a tube and contains the goodness of virgin king coconut oil and Ayurvedic herbs that gently clean the skin without making it dry or flaky. While the presence of virgin king coconut oil hydrates and moisturizes the skin, herbs like neem and gotukola fight pigmentation and prevent sagging skin to give you healthy, glowing, and blemish-free skin.
Nourishing Body Lotion: This Ayurvedic body lotion contains the goodness of virgin coconut oil and exotic spices and plants like sandalwood and welmi. Sandalwood combats the ill-effects of oxidative stressors such as oil, dirt, and pollution, and also protects your skin from sun damage, while welmi helps fight off skin dullness. This delicious-smelling body lotion is lightweight and non-greasy, and penetrates quickly into the skin to give you smooth, beautiful, and naturally glowing skin.
Virgin coconut oil benefits for the hair
Not just for your skin, virgin coconut oil nourishes your hair from root to tip, making your crowning glory truly worth the gorgeous hair crown. When it comes to the benefits of virgin coconut oil for hair, its miraculous properties set it apart from various other botanical extracts, making it a saviour for parched hair.
Being lightweight in nature, this oil deeply penetrates into your hair shafts and provides your locks with a boost of hydration. It nourishes the scalp while also strengthening the hair follicles, reducing protein loss, and damage caused due to colouring, perming, and styling.
If you're a fitness enthusiast, then here's a pro-tip for you: massage the oil into your hair before you hit the gym. The extra heat generated during the workout will help the oil penetrate deep into the scalp, giving you lustrous, smooth, and frizz-free locks as you work on yourself.
You can try the Hair & Scalp Cleanser from Coco Soul to harness the amazing benefits of virgin coconut oil for your hair.
Hair & Scalp Cleanser: Crafted and created with virgin King coconut oil along with Ayurvedic herbs like godapara and kikirindiya, this is exactly what you need to get the bouncy, shiny, and soft hair you have been dreaming about. This hair cleanser is a wonderful blend of nature's goodness that can help you say goodbye to all your hair woes. While virgin coconut oil nourishes the scalp and promotes hair growth, kikirindiya treats dandruff, hair fall, and also boosts blood circulation, and godapara strengthens your hair to help it grow beautifully and naturally.
Best ways to use virgin coconut oil
Here are some tips for storing, buying, and using virgin coconut oil:
If you're looking for a place to store virgin coconut oil, choose a cool, dark place. This could ideally be your kitchen pantry.
Check the aroma of the oil before buying it. Unless the fragrance is exactly like that of fresh coconut, it's not virgin coconut oil.
If you do not plan to use virgin coconut oil daily, it would be best to keep it in the refrigerator to increase its shelf life.
If you want to warm the oil, take it in a small bowl and place it on hot water. It is advised not to heat the oil directly on a flame.
Check out our blog on the ways to use coconut oil in skincare to learn about some more ways and uses of coconut oil in detail
Now that you know the very many benefits of virgin coconut oil, put them to good use. And just in case, if you're looking to spruce up your skincare routine with virgin coconut oil-infused products, then you can also check out our virgin coconut oil body butter, virgin coconut oil conditioner, and many more in our Shop section.