We bet your dressing table is always brimming with different products. A cream for the day, a cream for night, a serum, a makeup remover, a conditioner, a body lotion and so on. The list is endless. It would be no wonder if your dresser looks like a supermarket shelf instead.
What if we tell you about an ingredient that can suffice for all the products in your beauty arsenal? You would be surprised to know that it's not some revolutionary beauty product made by experts, as they say in TV commercials, but a humble ingredient found in your kitchen! We are talking about coconut oil.
The various benefits of coconut oil make it a must have ingredient in your beauty kit. Continue reading to know more.
Coconut oil for hair
The benefits of coconut oil for hair are innumerable.
Coconut oil is rich in anti-inflammatory and anti-bacterial properties that soothes the itchy and flaky scalp. It also prevents the growth of fungus on your scalp and thus treats dandruff and scalp infection.
Coconut oil smoothens dry hair and repairs hair damage. Coating your hair with coconut oil, controls frizz, and makes your hair strands shiny and glossy while preventing split ends.
Rich in lauric acids, coconut oil penetrates deep in the roots, promoting hair growth and reducing problems like hair loss, hair fall and breakage.
Coconut oil is an excellent conditioner for your hair. It nourishes hair roots and can be used for deep conditioning. Warm a cup of coconut oil and massage it generously on your scalp and hair. Leave it overnight and wash with a gentle cleanser for soft and healthy hair.
Coconut oil for face
There are many coconut oil uses for the face too due to its highly nutritious value. The following are the uses and benefits of coconut oil for face.
You can use coconut oil as a natural face scrub and cleanser. Add a few granules of sugar to a spoonful of coconut oil, and rub it on your face and neck in a circular motion for a few minutes. While this natural scrub would clean off dead skin and dirt, it will also moisturize your skin.
Due to its greasy nature, coconut oil is an excellent makeup remover. It is free from any chemicals and so, does not cause any irritation or itching. Take a little bit of coconut oil on a cotton ball and gently apply it all over your face to remove makeup residues and dirt from your skin. Wash off with a cleanser thereafter.
Use it as an eye cream. To get rid of dark under-eye, or dryness under the eye, you can dab a few drops of coconut oil to rejuvenate the skin under your eyes and hydrate it from within. For best results, use it before bed.
Coconut oil for skin
There are many benefits of coconut oil for skin as it is highly nourishing and nutritional. Rich in antioxidants and fatty acids, it makes your skin moisturized, smooth and soft.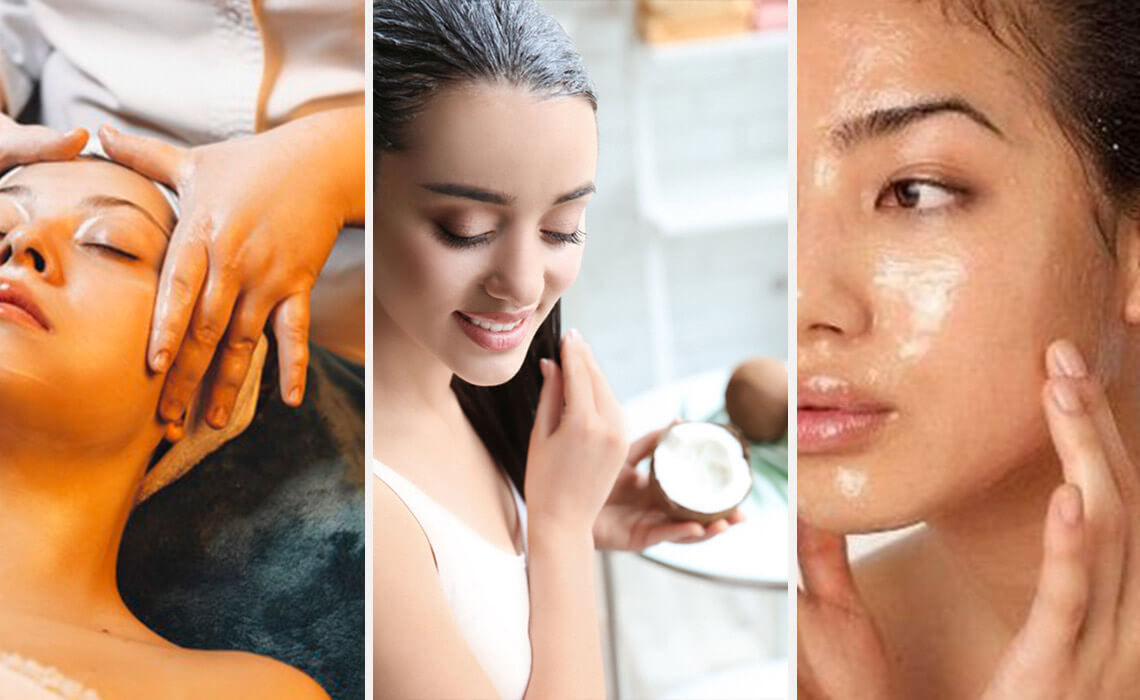 Coconut oil hydrates your skin and makes it soft and supple. Lather a thin coat of coconut oil on your hands and legs after a shower to moisturize dry and dehydrated skin.
It can also be used to treat skin issues like eczema, psoriasis and athlete's foot. Just apply a light layer of coconut oil on the affected area to soothe your skin.
Have you run out of shaving cream? Use coconut oil instead. Its hydrating properties prevent cuts or irritation during shaving. It can also be used as a body lotion and for massage for nourishment and moisturization.
Did you know there are different types of coconut oil? To learn about them, check out our blog on types and benefits of coconut oil.
To get the maximum benefit of coconut oil, you can either use it in its raw form for your hair and skin, or you can use products infused with it. Coco Soul is a brand that harnesses nature's goodness for skincare. Its products are enriched with the unrefined version of coconut oil - virgin coconut oil. Coco Soul products are made with Ayurvedic herbs and virgin coconut oil that gives you radiant skin and gorgeous hair naturally.
Try Coco Soul
You can try the following Coco Soul products. Coco Soul Revitalizing Face Wash This natural face cleanser cleanses off dirt, excess oil and other impurities from your skin and makes it fresh and soft without any lingering dryness. It contains -
Virgin coconut oil - Known as an elixir in Ayurveda, it penetrates deep into the skin layers, hydrates the skin and restores lost moisture.
Gotukala - A potent herb, it fights skin sagging by promoting collagen production.
Neem - A miracle herb, it is loaded with Vitamin E which removes pigmentation and gives you younger-looking skin.
Coco Soul Hair & Scalp Cleanser Enriched with pure virgin coconut oil and natural herbs in its core, this hair shampoo gently washes off the dirt and pollution, balances scalp oil, unclogs hair follicles, and strengthens hair roots. Free from chemicals, this natural shampoo nourishes your scalp and washes off dirt gently without causing dryness. It contains -
Virgin coconut oil - Loaded with fatty acids and antioxidants, it nourishes the scalp and nurtures the roots.
Godapara - An organic herb, it soothes the itchy and flaky scalp and strengthens the hair.
Kikirindiya - A rare herb, it boosts blood circulation in the scalp, treats dandruff and promotes hair growth.
A wonderful ingredient in the beauty sphere, coconut oil can do wonders for your skin, hair and even overall health. So, why go anywhere else when you can use this magic ingredient to get flawless skin and gorgeous hair? Grab hold of a jar of coconut oil or head over to Coco Soul website to shop for natural beauty products infused with coconut oil here. Just like coconut oil there are many other natural ingredients that are good for your hair health, to kearn more about them, check out our blog on natural ingredients for hair.
Frequently Asked Questions on Coconut Oil For Hair, Skin & Face
1. How do you apply coconut oil to your skin?
Take a dollop of coconut oil in your palms and rub it together to warm it. Now massage it gently on your skin with your fingers and let it absorb to get the benefits of coconut oil. Else, you can use coconut oil-infused products to utilise its benefits.
2. Is coconut oil good for face?
Yes, coconut oil is highly moisturizing and nourishing and so good for your skin.
3. Can you use coconut oil on your face every night?
Unless you have oily skin or acne-prone skin, you can use coconut oil for face every night to soften and moisturize it.
4. How long should you leave coconut oil in your hair?
If you have an oily scalp, leaving coconut oil on your hair for an hour or two before shampoo should suffice. However, if your hair is damaged or dry, or you suffer from dry scalp and hair fall, you could instead leave coconut oil in your hair overnight.
5. Is coconut oil good for dry hair?
Yes, coconut oil nourishes your scalp and nurtures your hair shafts. It can make your dry hair smooth and soft.