Have you ever wondered why a large number of beauty products are neem-based? We will tell you why. In the arsenal of beneficial, natural ingredients, neem is one rare Ayurvedic herb that is not only a superfood, but it also has miraculous benefits for the hair and skin. Suffering from acne? Apply neem paste. Rashes or irritation? Use neem leaves. Got lice in your hair? Use a neem-infused shampoo. All in all, neem can be a one-stop solution to all your beauty woes.
Neem, referred to as a wonder herb in Ayurveda, is nature's multi-purpose pharmacy due to its high nutritional value. It is a rich source of vitamins, minerals, fatty acids, and antioxidants. Scientifically known as Azadirachta indica, every part of the neem tree has medicinal and beauty benefits to offer.
Here, we have put together some benefits of neem to tell you why it should be a compulsory constituent in your beauty routine.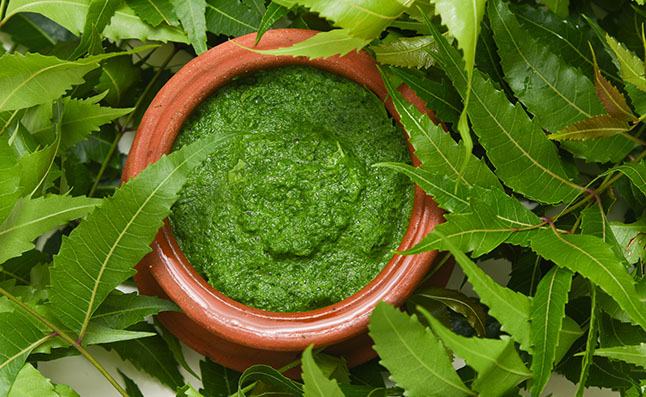 Neem benefits for the skin
Once you read about the following benefits of neem leaves for the skin, you will no longer be asking:œIs neem good for the skin?
1. Acne treatment
Among the various uses of neem for the skin is its efficacy in fighting pimples and breakouts. Neem has anti-bacterial and anti-microbial properties that keep bacteria and fungal infections away. Fighting acne is among the many benefits of neem oil for the skin. A non-comedogenic, it zaps excess oil from the skin, preventing acne and blackheads. Neem oil diluted in water or a carrier oil can be applied to the face to treat pimples and acne breakouts.
2. Anti-ageing treatment
One of the best benefits of neem oil for the skin is its anti-ageing properties. The presence of vitamin E and fatty acids in neem facilitates collagen production, which helps maintain the elasticity of your skin while reducing fine lines and wrinkles. Neem oil and neem-infused face packs can slow down the ageing process and give you rejuvenated, younger-looking skin.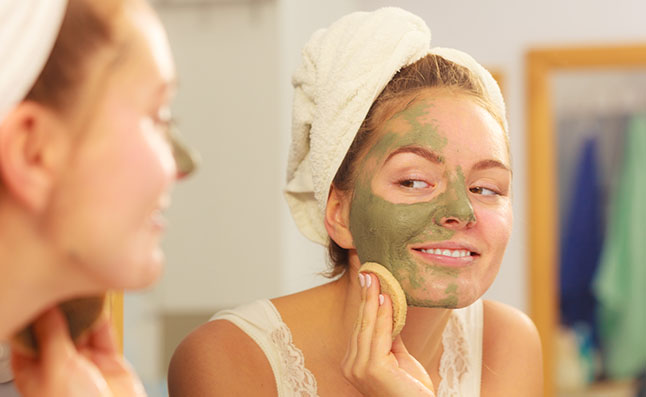 3. Offers skin protection
Neem contains antioxidants that protect your skin from environmental stressors, harmful UV rays, and pollution. Neem face packs and neem oil, thus, are an effective remedy for sunburn.
4. Provides blemish-free skin
Neem is known to lighten pigmentation and blemishes, thanks to its antifungal properties. It is also used to treat scars and marks caused by surgery or diseases like chickenpox. Moreover, neem leaves are an excellent remedy for itchiness and skin irritation.
5. An effective skin toner
Neem is an astringent, which makes it a natural skin toner. Using neem as a toner can reduce pores and dry out pimples and acne on your skin. To make a toner by harnessing the benefits of neem leaves for the skin, you can boil some neem leaves in water and apply the strained water on your skin with a cotton ball.
Neem is a widely known Ayurvedic secret, but its strong fragrance can deter you from using it directly. Moreover, while it is easy to procure, preparing its concoction to use on your hair and skin can be kind of messy. Hence, it is preferable that you look for reliable brands that prepare products infused with pure neem without adding any preservatives or chemicals.
Enter, Coco Soul. We, at Coco Soul, believe that Mother Nature has the solution to all your skin and hair issues, and bring to you the secrets of Ayurveda in easy tubes and bottles. All Coco Soul products are created with 100% virgin coconut oil along with the choicest Ayurvedic herbs, including neem, so that you can enjoy the miraculous benefits of nature's goodness from your home. To harness the magic of neem, you can try the following Coco Soul products:
Coco Soul Revitalizing Face Wash: Made with pure natural ingredients, this natural face wash gently cleans the dirt and oil from your face without any lingering dryness. It contains:
Virgin coconut oil: Called as an elixir in Ayurveda, it deeply moisturizes the skin, fights dryness, and promotes cellular repair.
Neem: Rich in Vitamin E, antioxidants, and anti-bacterial properties, it purifies your skin to give you a clear, blemish-free look.
Gotukola: An organic powerhouse, it fights sagging skin by promoting collagen production.
This face wash can be your skin's best friend by giving it a naturally fresh and radiant look. Moreover, it is free from parabens, sulphates, silicones, DEA, minerals oils, among other harmful chemicals, is 100% vegan, and is also MadeSafeâ"¢-certified.
Neem and virgin coconut oil in this face wash makes this an ideal face wash to keep your skin hydrated for longer hours. Virgin coconut oil is also known as a superfood for skin as the benefits of virgin coconut oil for skin and face are enormous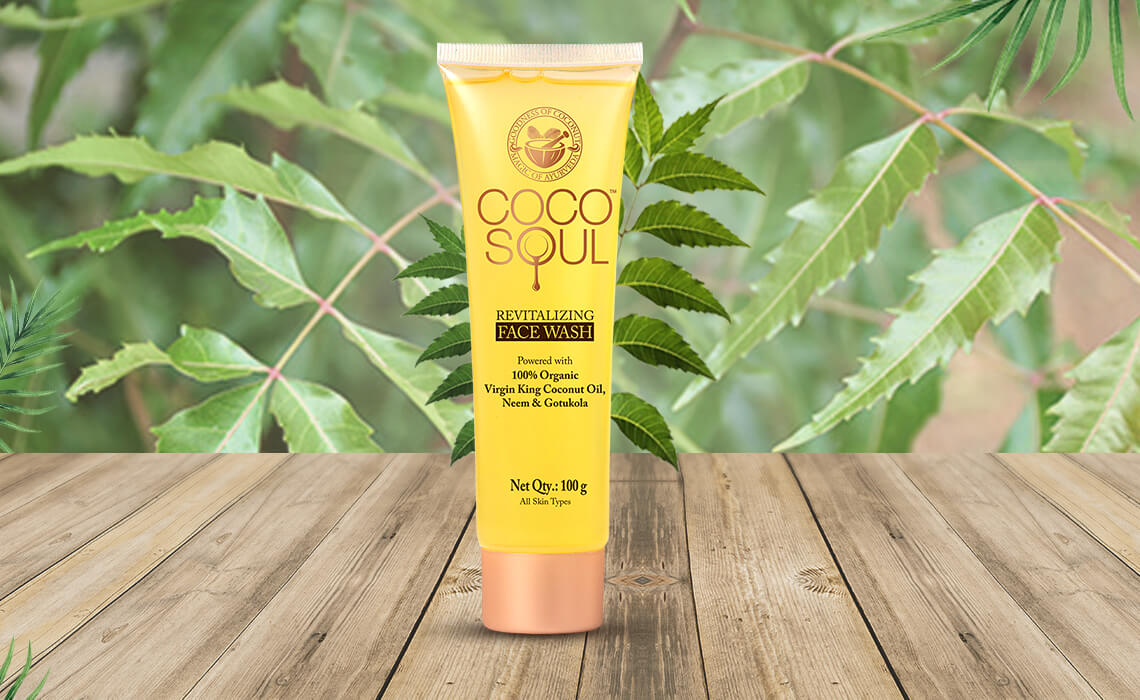 Additionally, you can try the Coco Soul Foot Care Cream, which is also infused with the magical properties of neem. Inspired by ancient Ayurveda and infused with organic virgin king coconut oil and other herbs, this foot care cream is like a boon for cracked feet. It contains:
This miracle in a tube will penetrate deep into your skin to moisturize and heal dried, cracked feet.
Neem benefits for the hair
1. Cures scalp infection
Due to its antifungal and antibacterial properties, the leaves of neem, as well as its oil, are very effective when it comes to treating scalp infections. Applying a neem leaf paste or neem oil on your scalp will not only soothe it, but will also cure irritation and dryness, making your hair healthy and strong.
2. Gets rid of dandruff and promotes growth
As neem is known to treat scalp dryness, it can consequently help you get rid of dandruff and hair fall. Moreover, neem is known to reduce thinning and breakage of hair strands, thereby boosting hair growth, while its antioxidative properties treat premature greying of hair. In fact, including sweet neem leaves, or curry leaves, in your diet can make your hair strong, lustrous, and shiny. Due to all these benefits, neem is widely used in many hair conditioners.
Additionally, you can also use neem-infused water as a post-hair wash rinse. Take a few neem leaves and boil them in water. Use the water (once cooled down) to rinse your hair after conditioning it.
Neem benefits for health
Apart from the benefits it provides to our skin and hair, neem is called a superfood due to its various health benefits. Let us look at some of the benefits of neem for our health.
When chewed, neem's twigs are known to fight germs and maintain the alkaline levels in your saliva, simultaneously treating gum-related woes and preventing bad breath.
Neem flowers are often used in south Indian cuisine as an ingredient and as a garnishing. It is known to relieve you of nausea, belching, anorexia, and intestinal worms.
Neem leaves are known to boost immunity. A glass of warm water with some crushed neem leaves can enhance your immunity.
Neem leaves are scientifically proven to purify the blood, fight free radical damage, treat insect bites and wounds, flush out toxins from the body, and cure ulcers.
Neem has been used to treat intestinal disorders, assist the digestive process, and reduce stomach inflammations.
Due to its anti-inflammatory properties, it is often used to alleviate symptoms of arthritis.
Neem is probably the most affordable and accessible secret to luxurious hair, beautiful skin, and a healthy lifestyle. While consuming neem can help cure many painful ailments, using it on your skin and hair can promise you good looks and natural, flowing tresses. One of the most versatile medicinal herbs, neem can also be grown in pots inside your home. So, what are you waiting for? Experience the magic of neem today.
Now that you know about the benefits of neem, head over to our blog on the benefits of lodhra for skin to learn how to use lodhra to get a glowing skin.
To know more about skincare and haircare products infused with such exotic, Ayurvedic herbs, head over to Coco Soul's store now.