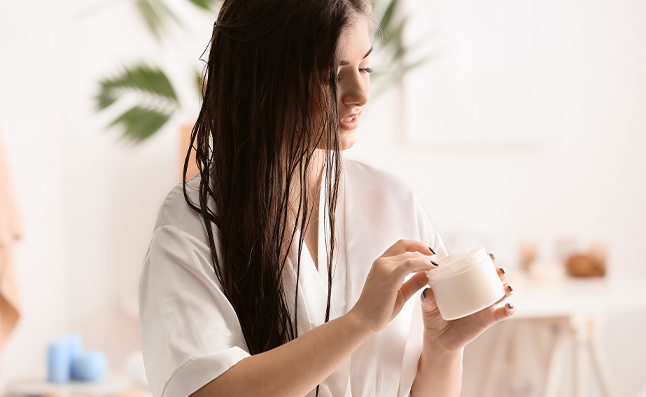 It is safe to say that a good hair day is a perfect day. This means your hair would be healthy, shiny and strong irrespective of the weather and season. Sadly, effortless hair is passé and is in fact a pure fantasy. But, fret not! Enter virgin coconut oil, a permanent solution in your hair care routine. It's a Southeast Asian staple, boasting a number of nutritional benefits for smooth, gorgeous and lustrous hair. Many even consider it as the holy grail of hair care routine because it contains fatty acids that boost hair growth and moisturize the dry spots in your scalp. The reason is that virgin coconut oil isn't deodorized and refined which makes it the most effective natural oil for your hair.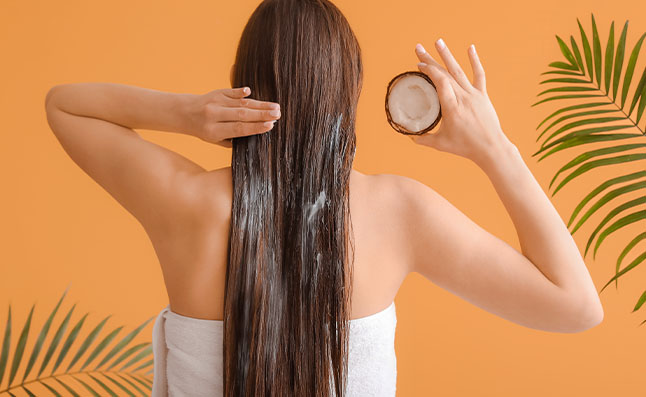 Here are some of the coconut oil benefits for hair:
Hair fall, in general, is an unavoidable problem. To overcome this issue, a warm hair massage using virgin coconut oil for hair will activate your hair follicles and allow the antioxidants and nutrients, such as vitamin E, iron, and vitamin K to nourish your scalp and protect it from hair loss.
Regular use of virgin coconut oil for hair reduces damage caused by pollution and poor nutrition, sun rays, smoke as well as dry winds. The exquisite antioxidants and nutrients in it will turn your Pocahontas fantasies into reality.
Frizzy and craggy ends are often caused due to the deficiencies of vitamins and nutrients in your hair. Besides, multiple rounds to the salon for a basic trimming can lead to a hole in your wallet. Using virgin coconut oil for hair will help smooth out your wild mane and also remove dirt from your scalp.
Nobody likes the sight of dandruff spotting your favourite little black dress. While a good head massage can get rid of the dry flakes, the anti-fungal properties of VCNO can reduce the fungus causing dandruff.
If your hair care regime lacks sun protection, then it's time to switch to virgin coconut oil. It can be your best pick as it contains a natural sun protection factor that safeguards your tresses from dryness and UV rays. Its vitamins and moisturizing properties aid in preserving the natural state of your hair.

While these virgin coconut oil benefits for hair will give you a nourished scalp and smooth hair shafts, the ideal way in which you can harness its true potential is through incorporating it in your daily hair care regime. One quick way to do this is by opting for an easy-to-whip DIY recipe.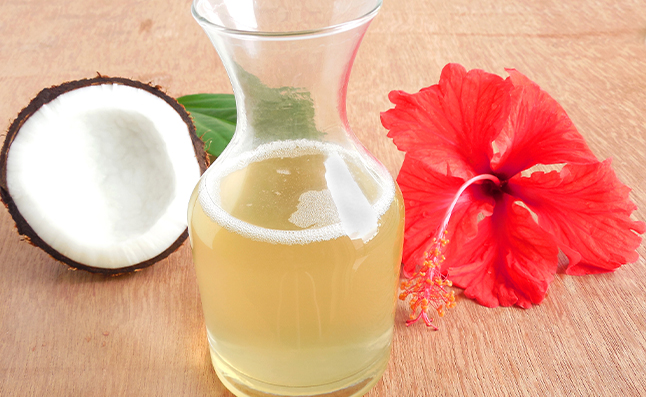 Coconut oil and Hibiscus DIY recipe
Go with a good hot oil massage with virgin king coconut oil. For a thick and lustrous experience, warm three teaspoons of virgin coconut oil with hibiscus petals and then gently massage it into your scalp with your fingertips. It is one of the best home remedies for hair growth and thickness besides dealing with your hair fall woes. Once done, use a blunt, wide-toothed comb to evenly distribute the oil in your hair strands. Repeat this home remedy twice in a week for healthy, shiny hair.
In case you are looking for virgin coconut oil-infused hair care products for your daily hair care routine, then here's what we suggest, try Coco Soul. Since virgin coconut oil is purer and can be a tad difficult to procure, barring the higher chances of adulteration, it is better to use hair care products that come infused with king coconut oil. With Coco Soul, you are sure to enjoy this luxurious ingredient in addition to a few herbs from mother nature. With the belief that nature has the solution to all hair woes, Coco Soul aims to bestow the goodness of nature to your doorsteps. Its products are fortified with virgin coconut oil and Ayurvedic ingredients to help you get lustrous, thick and manageable hair.
Hair & Scalp Cleanser
The use of virgin coconut oil in this hair cleanser along with some exotic herbs like godapara and kikirindiya will unclog hair follicles and gently wash dirt from your hair. It will strengthen the roots and give you bouncy and manageable hair. It is enriched with:
Virgin coconut oil: It moisturizes your scalp and makes hair shafts smoother, while also promoting cellular growth.
Kikirindiya: It enhances blood circulation in your scalp, reduces dandruff and boosts hair growth.
Godapara: It relaxes itchy and flaky scalp and aids in natural hair regrowth.

This exotic hair cleanser will transform your regular bath into a soothing experience and help your tender tresses become soft and smooth.
Hair & Scalp Conditioner
Enriched with king coconut oil and other Ayurvedic herbs, this natural hair conditioner will make your hair more bouncy, manageable and strong. Besides the nutritious properties of virgin coconut oil, it also contains:
Hibiscus: This magic herb is an ancient remedy for your hair fall woes. It strengthens the roots and encourages hair growth.
Lunuwila: This Ayurvedic herb acts as a preventative measure against split ends and premature greying.
These are some of the natural ways to grow hair using pure Ayurvedic products that are MadeSafe certified. The addition of these wonder herbs and virgin coconut oil will help you tame your tresses more effectively. So, without any further ado, add this versatile and potent king coconut oil to your hair care routine and say hello to gorgeous, beautiful hair. If you wish to explore more such exotic products, head over to the house of Coco Soul here! Virgin coconut oil based products has various health benefits too, to learn about them, head over to our blog on the health benefits of virgin coconut oil.
Frequently Asked Questions on Coconut oil for Hair Care
1. Is coconut oil good for hair growth?
Yes! coconut oil is a natural ingredient that helps your hair grow faster, thicker and stronger. The essential vitamins and fatty acids naturally found in this oil nourish your scalp and help remove excess oil build-up from the hair follicles.
2. Can you use coconut oil on your hair every day?
Yes! Also, according to hair care experts, the use of king coconut oil helps decrease protein loss in every hair type. Since this oil is high in lauric acid, it easily penetrates in your hair shafts and acts as a great daily conditioner.
3. How long should you leave coconut oil in your hair?
You can leave coconut oil in your hair for 30 minutes or even an entire night before you plan to wash your hair.