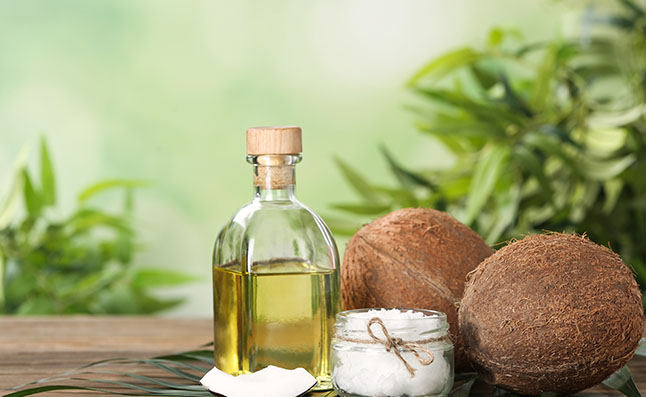 In our childhood, our grandmothers and mothers used to massage our hair with coconut oil. After all, coconut oil has various beneficial properties that work like magic on your tresses and stimulate healthy hair growth. But gradually, those coconut oil massages took a back seat, and a hectic lifestyle, improper diet, the ever-increasing pollution, and dust in the environment took a toll on our hair's health.
If dandruff and split ends weren't enough, hair loss became another major problem. What's worse? It felt like an endless cycle. You keep surfing the internet for hair care tips and keep changing and trying countless customized hair products. But the result remains the same - hair fall and slow hair growth.
Well, you are not alone! And we have one sure-shot ingredient that can help you fight your hair woes - virgin coconut oil. Scroll down to know more.
What is virgin coconut oil?
Virgin coconut oil is the unprocessed form of your regular coconut oil. Made from fresh coconut pulp, it is unbleached, unrefined, and cold-pressed. Due to its high moisture content, virgin coconut oil has a natural aroma of fresh coconuts and is highly nutritious.
Benefits of virgin coconut oil for hair
Looking for natural tips for hair growth? Add virgin coconut oil to your vanity.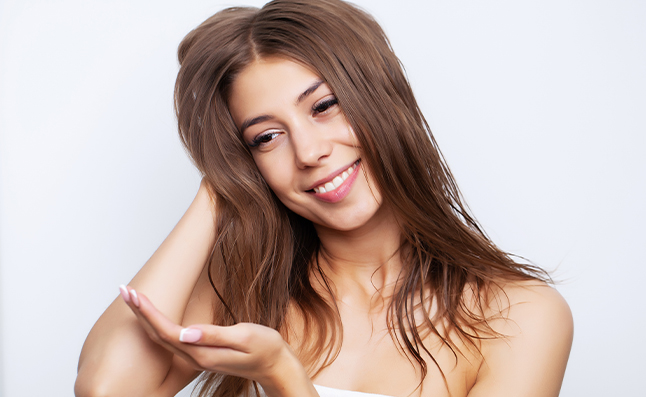 Nourishes the hair
Dryness, undernourishment and damage are the major causes of hair fall. Virgin coconut oil penetrates deep into the hair follicles, fights all these woes and nourishes your scalp. Result: there is a reduction in hair loss, rise in growth of new hair from the roots and an improvement in hair health.
Boosts hair growth
Coconut oil contains fatty acids and antioxidants that strengthen the follicles and facilitate hair growth. It forms a protective layer over your scalp, preventing environmental aggressors like heat and pollution from weakening your roots. Regular application of virgin coconut oil induces hair growth, gives you long hair, and makes your scalp healthier. Plus, one of the best home remedies for hair growth and thickness is to apply a hair mask made with virgin coconut oil.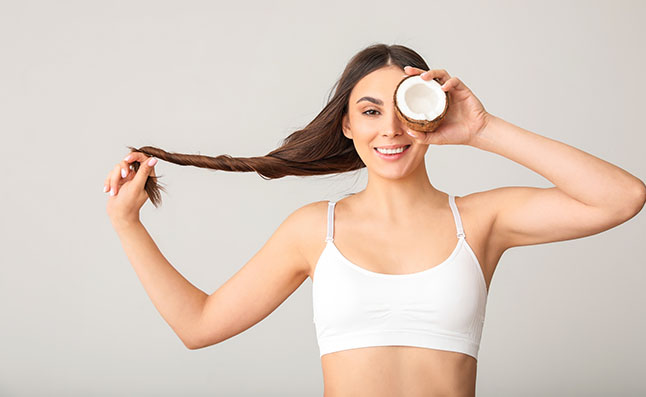 Strengthen the roots
Looking for a natural remedy for hair growth? Massage your scalp with coconut oil regularly. Coconut oil penetrates 10 layers deep into the scalp and restores the lost moisture. It is also rich in nutrients and vitamins E, A, and D that strengthen your roots and keep your scalp healthy. A nourished scalp helps prevent hair loss, hair fall and stimulates new hair growth. Now that you know about the benefits of virgin coconut oil, learn how to include virgin coconut oil in hair care regimen.
Including virgin coconut oil in your hair care routine can do wonders for your hair. You can use it for scalp massage, shampooing, or as a nourishing hair mask to boost hair growth. However, using virgin coconut oil for hair masks and shampoos requires effort and can get messy at times. An easy solution is to use products infused with pure organic virgin coconut oil. Try Coco Soul hair products. Created with Sri Lanka's Virgin King Coconut Oil and choicest Ayurvedic herbs, the hair care products from Coco Soul are like magic elixirs for your tresses and suitable for people across all age groups. We recommend the following products:
Coco Soul Hair & Scalp Cleanser
This natural hair shampoo gently removes dirt and pollution, balances scalp oil, unclogs hair follicles, and strengthens the roots. Its natural properties make your scalp healthy, reduce hair fall and stimulate rapid hair growth. It contains:
Virgin coconut oil - Loaded with fatty acids and antioxidants, it nourishes the scalp and nurtures the roots.
Godapara - An organic herb, it soothes the itchy, flaky scalp and strengthens the hair.
Kikirindiya - It boosts blood circulation in the scalp, promotes hair growth and treats dandruff and hair fall.
Coco Soul Hair & Scalp Conditioner
Created with virgin coconut oil and other pure Ayurvedic ingredients, this natural hair conditioner strengthens, nourishes, and softens your hair shafts, and makes it silky and smooth. It also seals moisture in your hair strands that prevents frizz, breakage and split ends; leaving you with bouncy, soft, and manageable hair. It contains:
Virgin coconut oil - Known as elixir' in Ayurveda, it nurtures the hair strands and repairs damage.
Hibiscus - A remedy for hair fall, it strengthens the roots, and encourages natural hair growth.
Lunuwila - A rare herb, it repairs hair damage, prevents premature greying, and reduces split ends.
This pair of natural hair cleanser and conditioner is free from sulphates, silicones, sodium chloride, petroleum, DEA, mineral oils, phthalates, propylene glycol, parabens, or any other chemical compounds. It is also 100% vegan, has not been tested on animals, and is certified by Madesafe.
A centuries-old secret for gorgeous hair, virgin coconut oil is known to nourish your scalp and strengthen your hair strands. It is an inexpensive, easily accessible, and highly nutritious solution for all your hair woes. So, try hair growth home remedy with virgin coconut oil and add its products to your vanity today. For more virgin coconut oil-infused natural products, head over to the skincare section of Coco Soul here. Along with hair, virgin coconut oil is beneficial for skin and health too. Check out our blog on the benefits of virgin coconut oil for hair, skin and health to learn more about them.
Frequently Asked Questions on Coconut Oil for Hair Growth
1. Which oils make your hair grow faster?
Coconut oil, castor oil, and almond oil help in faster hair growth.
2. What happens if I leave coconut oil in my hair overnight?
If you have damaged or frizzy hair, leaving coconut oil on your scalp overnight will help restore the lost moisture and provide nourishment. However, keeping it overnight on an oily scalp can clog pores.
3. Why is coconut oil popular now?
The uses of coconut oil are many. It is used for a healthy body, flawless skin, and gorgeous hair. Moreover, it is also easily available and inexpensive.
4. Which types of oils do celebrities use?
A lot of celebrities are known to use oils like grapeseed, coconut, almond, and other natural oils.
5. What are the beauty benefits of coconut oil?
It keeps your skin and scalp moisturised and nourished, prevents infections and allergies, and gives you glowing skin.