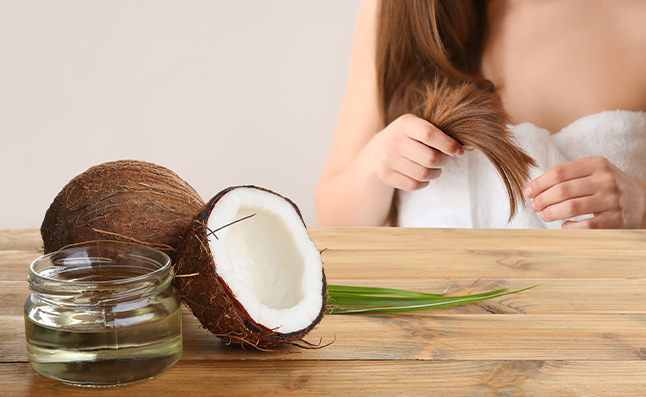 How badly do you long for a hot oil champi when you see a hair oil ad flash on your television? This practise of massaging your scalp with the good old coconut oil has been carried out for centuries right from the traditional times. The reason is because coconut oil for hair has stood the test of times and has proved to be an effective remedy for your hair loss-cum-hair growth treatment. This age-old Ayurvedic hair fall solution is a favourite of your mom's and grandmom's and has gained immense traction within the millennials as well as many international trends today.
Stemming from the 5000-year-old Indian science of Ayurveda, coconut oil for hair is also revered by several beauty experts and B-town celebs. Thus, it is safe to say that the trend of using coconut oil for your hair fall solution or natural hair regrowth is not dying down anytime soon.
Benefits of coconut oil for hair
Here are some of the top benefits of coconut oil for hair:
Coconut oil contains a powerhouse of rich vitamins and minerals that helps strengthen your hair follicles from within and makes your hair soft, strong and shiny.
Since coconut oil contains rich lauric acids, it penetrates deep into your scalp to control hair fall and prevent dryness and hair breakage.
Its antibacterial and anti-inflammatory properties soothe itchy scalp by preventing irritation or growth of fungus, thus treating dandruff.
Coconut oil is lightweight in texture and therefore acts as a great moisture retainer by seeping deep within the roots and preventing your hair from getting dehydrated.
One of the vital coconut oil uses is that it acts as a brilliant conditioner for the hair shafts. This natural hair oil nourishes parched hair strands by boosting its protein that often gets lost due to artificial or heat styling products.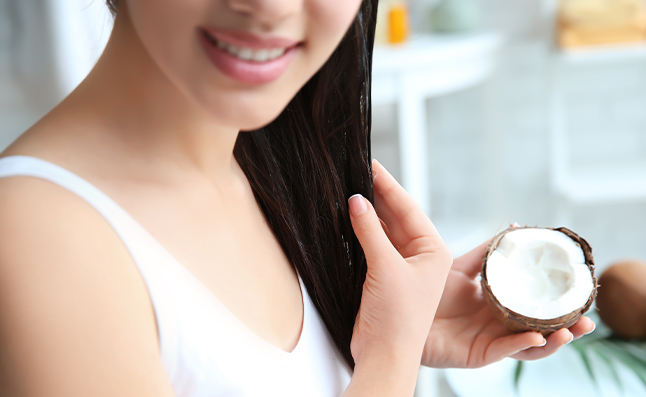 Ways to include coconut oil for hair growth
Oil massage: Regularly massaging coconut oil not only smoothes dry or frizzy hair, but also improves blood circulation in the scalp. This allows the nutrients in your blood to reach and nourish your hair follicles, which then promotes healthy hair growth.
DIY hair mask: Using coconut oil as a hair mask is pretty easy. You need:
1 tablespoon of honey
1 tablespoon of coconut oil
Step 1: Heat the two ingredients on a pan on low heat and then stir well to form a smooth paste.
Step 2: Pour the mixture in a spray bottle first and then wet your hair. Start applying it generously on your wet tresses.
Step 3: Leave the hair mask for 40 minutes and then rinse your hair with lukewarm water. You must also check out our blog on hair care routine with coconut oil to learn more about how to include coconut oil for hair growth.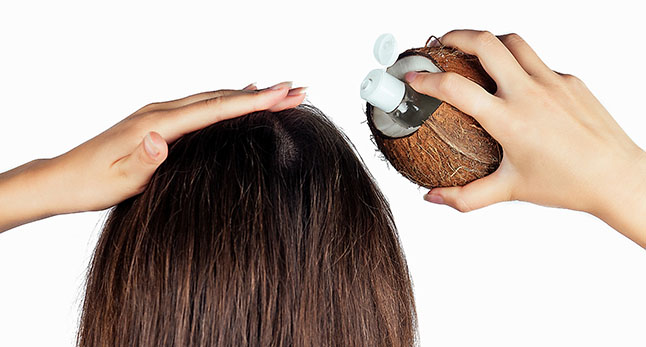 Use this hair mask twice a week for healthy hair growth.
It is no more a surprise or even a doubt why coconut oil is a staple and trusty ingredient in many Indian households. Besides, by following the many above-stated coconut oil uses, you will harness the true potential of maintaining thick, lustrous and healthy hair. Therefore, to reap the maximum benefits of coconut oil for hair fall, it is best suggested to use it in its raw, unrefined form. But, where do you find such purity? Don't get caught up in a dilemma, for we have just the right solution for you.
Try Coco Soul!
Coco Soul is a natural beauty brand that harnesses mother nature's goodness for all its hair care products. They are aided with naturally-occurring exotic herbs and the unrefined version of coconut oil a.k.a. virgin coconut oil that promises to prevent hair fall and act as a hair growth home remedy. They are free from harmful chemicals like sulphates, silicones, mineral oils, DEA, propylene glycol, phthalates, petroleum, etc. What's more? They are 100% vegan and MadeSafe certified. So now, embrace the magic of Indian Ayurveda and switch to the au-natural products from the house of Coco Soul.
Coco Soul Hair & Scalp Cleanser
Created with the purest of ingredients, this hair and scalp shampoo is created using Ayurvedic herbs and virgin coconut oil. It gently cleanses dirt and pollution, preserves scalp oil, unclogs the hair follicles and strengthens the hair roots. The natural ingredients in this hair cleanser will not only clean your scalp, but also make your hair smooth, soft and manageable. It contains natural ingredients like:
Virgin coconut oil: Containing good fats and antioxidants, it nurtures your scalp and roots and conditions your hair strands.
Godapara: This organic herb soothes flaky and itchy scalp and strengthens your hair.
Kikirindiya: It encourages blood circulation in the scalp, reduces dandruff and helps to control hair fall and promote healthy hair growth.
Coco Soul Hair & Scalp Conditioner
This hair conditioner strengthens and nourishes your hair and makes it super soft and smooth. It also prevents frizz and smoothes your rough hair. With a nourishing texture and lingering formula, this natural hair conditioner will give you bouncy, soft and smooth hair. It contains natural ingredients like:
Virgin coconut oil: This Ayurvedic hair elixir penetrates deep into your hair strands to nurture and repair hair damage.
Hibiscus: This Ayurvedic herb helps reduce hair fall, thereby strengthening your hair roots and encouraging hair growth naturally.
Lunuwila: An exotic herb, it repairs hair damage, prevents hair greying and reduces split ends.
Infused with the goodness of nature, this Ayurvedic hair shampoo and conditioner is the ideal cure for both your hair fall and hair growth solution. Its regular usage will provide you with the best hair fall treatment at home. To shop for more Ayurveda-based hair care products, visit the Coco Soul store here. Now that you know about the benefits of coconut oil for hair, head over to our blog on natural ingredients for hair to learn about other natural ingredients that are beneficial for hair.
Frequently Asked Question on Coconut Oil for Hair Regrowth
1. Is coconut oil effective in reducing hair fall?
Certainly. Since it is rich in lauric acids, it is the most effective when it comes to reducing hair fall.
2. How often should you use coconut oil for hair growth?
Many experts suggest that using coconut oil at least two to three times a week is best for boosting hair growth.