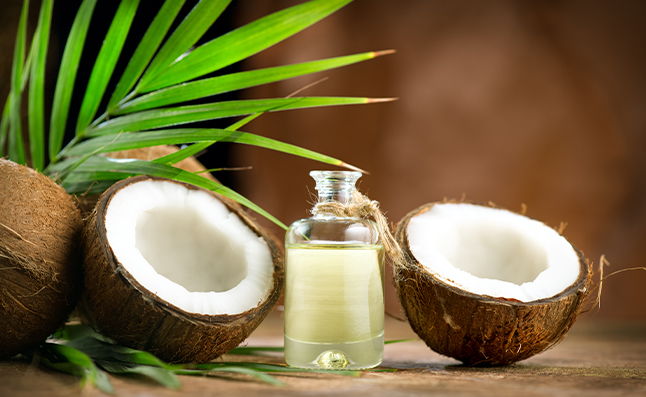 What if we told you that the secret to strong, soft and glossy hair is hiding somewhere in your kitchen cabinet? No, we are not talking about those loaded jars of chemical-rich hair care products with umpteen ingredients (half of which you haven't even heard of) in them. It's the simple and humble ingredient you've lovingly known from your childhood days as coconut oil. People apply it to their faces, often rub it on their bellies and even swish it around their mouths. But, this famous oil that exudes a vibe of beach-side vacay literally shines when used in a hair care routine. It helps soften your tresses, adds sheen and also helps repair frizzy, dry hair.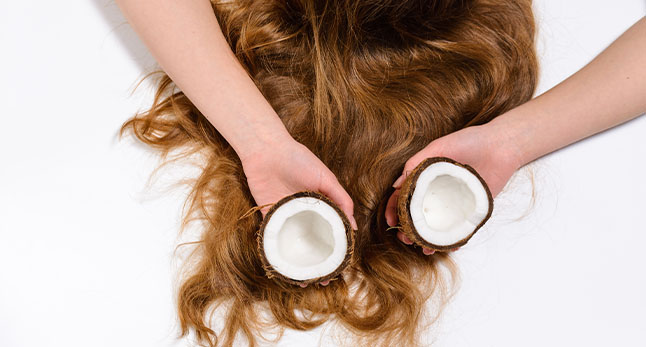 Here's how you can complete your hair care routine with this mighty old coconut oil.
Use it as a hair mask: For intense-nourishing hair treatment, coconut oil for hair will make the best pick. Take a teaspoon or two of coconut oil and massage it through your hair. Leave it for two to three hours to let it work its hair-smoothening magic. You can either wash out the oil on the same day or leave it overnight if you have dry or damaged hair.
Use it pre-shampoo: Applying coconut oil for hair pre-shampoo will prevent your mane from absorbing excess water and, in turn, reduce damage or dryness. Further, the use of coconut oil for hair safeguards the strands from drying out every time you shampoo.
Use it to tame your frizzes: To get your natural hair care routine on point, taming flyaways and frizzes is a must. Take a coin-sized amount of coconut oil and rub it between your fingers. Then, run your fingers gently through the hair to even out the rogue strands or detangle your knots.
Use it as a conditioner: Like any conditioner, the use of coconut oil for hair will strengthen your hair shafts and prevent dryness or breakage. You can complete your coconut oil hair care routine by using it as an alternative to standard conditioners or adding a few drops of it to your regular conditioner to improve its smoothing power.‹
To reap the maximum benefits of coconut oil for hair, you can either use it in its raw form or use hair care products infused with it. Coco Soul is one such brand that harnesses mother nature's goodness for natural hair care. All its products are fortified with pure, unrefined virgin coconut oil and Ayurvedic herbs, which makes a better alternative to your standard chemical-based hair products. What's more is that its products are chemical-free, non-toxic and safe for all hair types and across all age groups.
Here are some products you can try from Coco Soul to give your coconut oil hair routine a healthy, natural boost.
Coco Soul Hair & Scalp Cleanser
Made with a mix of nature's purest ingredients, this hair cleanser contains virgin coconut oil and potent Ayurvedic herbs. It gently cleanses dirt, oil and pollution by balancing your scalp oil, unclogging your hair follicles and strengthening your hair roots. With one wash from this natural hair cleanser, you'll enjoy clean, bouncy, soft and manageable hair. It contains natural ingredients such as:
Virgin coconut oil: Consisting of good fats and antioxidants, it nourishes the scalp and moisturizes your hair.
Kikirindiya: It improves blood circulation in the scalp by promoting hair growth and also treating dandruff and hair fall.
Godapara: This organic herb soothes itchy scalp and strengthens your hair.
Coco Soul Hair & Scalp Conditioner
This au natural hair conditioner improves and nourishes your hair shafts and makes them smooth and soft. To reap the best benefits of coconut oil hair treatment, use this hair conditioner after shampoo. Since it contains virgin coconut oil in its core, it will help seal the moisture and prevent split ends or frizz. It contains natural ingredients like:
Virgin coconut oil: Since it is occlusive in nature, it penetrates deep in your hair strands to nurture and repair hair damage
Hibiscus: It reinforces hair roots, reduces hair fall and promotes natural hair growth.
Lunuwila: It repairs hair damage, prevents premature greying and lessens split ends. To learn more about the benefits of ayurvedic ingredients for hair, head over to our blog on the natural ingredients for hair.
Both these hair care products of Coco Soul are free from sulphates, propylene glycol, parabens, sodium chloride, DEA, silicones, mineral oils, phthalates, petroleum or other artificial compounds. Moreover, they are 100% vegan and MadeSafe certified.
As the saying goes, make hay while the sun shines, so should you start using these virgin coconut oil-infused hair products to pamper your tresses like never before. Add this versatile oil to your hair care routine today and say hello to gorgeous, bouncy and shiny hair! To explore more such natural products, check out our website of Coco Soul here! Now that you know about how to include coconut oil in your hair care routine, check out our blog on the benefits of coconut oil for hair regrowth.
Frequently Asked Question on Haircare Routine with Coconut Oil
1. How long should you leave coconut oil in your hair?
For deep and thorough hair conditioning, you should apply coconut oil at least 30 minutes before washing your hair. You can also leave it overnight a day before shampooing.
2. Can you use coconut oil on your hair every day?
Yes! You can use coconut oil on your hair every day to feed your mane with necessary proteins and strengthen the hair roots.
3. Should you put coconut oil on wet or dry hair?
You should apply coconut oil on wet hair as a finishing and nourishing treatment. Moreover, it gives your hair extra moisture and leaves it smooth, soft and shiny all day long.