A typical day of a working woman is just like an obstacle race; the challenges are innumerable. You have to handle the work meetings, fulfil the personal commitments and then if time permits, look after yourself too. While the results of your efforts may or may not come out as you expect, one thing is constant, and that is stress. Stress is the biggest enemy of beauty and health. While it is responsible for various chronic diseases, it plays havoc with your hair, causing considerable hair loss. So, if you often find yourself askingdoes stress cause hair loss', the answer is yes. But fret not, though living stress-free is a luxury, we have some tips to help you with hair loss caused by stress.
Here we have put together some home remedies for hair fall so that you can cross at least one item on your stress triggers list.
1. Stress management
If you are suffering from hair loss due to stress, the first step to cure it should be stress management. While amidst the busy life, it is difficult to live stress-free, you can take steps to reduce and manage it. Include yoga and meditation in your life. As stress and hair loss are connected, the breathing exercises practised in yoga are excellent ways to reduce stress and also control hair loss caused by it. Also, practise mindfulness for a few minutes every day, that would teach you not to fret over the things you have no control over. Along with these, take adequate sleep and spend some time in nature. Listening to good music can also help in alleviating stress and tensions.
2. Oil massage
Wondering how to stop hair fall? Try the ages-old remedy - oil champi. A hot oil massage strengthens the roots and makes your hair silky and soft. The best part is, massaging your hair will also help alleviate the stress and relax your nerves. Heat a cup of natural oil like almond oil, coconut oil or olive oil. Pour some in your palms and massage it gently in your scalp in a circular motion. After the massage, fold a towel around your hair for better absorption. You can also try a nourishing hair mask made from natural ingredients that can be easily made in your kitchen.
3. Use the best products
Stress can be very harsh on your hair, often resulting in significant hair loss. Which is why when you choose hair products you need to be extra careful. Not only should they suit your scalp, but they also should not make your hair dry or prone to breakage. To control hair fall, nourishing your scalp and hair is a must. You can either do it with a natural nourishing cleanser or with a nourishing hair mask. Natural ingredients found in your home like hibiscus, coconut oil, aloe vera, amla, etc are excellent sources of nourishment for hair that make them stronger, softer and longer.
But if you find it difficult to procure these natural ingredients or do not want to get into the mess these concoctions can be, you can switch your chemical hair products to natural ones. Using natural hair products is the easiest way of receiving the goodness of nature while you bathe. You can look for brands that prepare their products from natural ingredients and have no chemicals in its preparation, just like Coco Soul.
Coco Soul products are created with a belief that mother nature has the cure for all your hair woes and the remedies of yesteryears are much more effective than today. With this vision, they create chemical-free products that are infused with secrets of ancient Ayurveda and natural ingredients in them. The hair care products from Coco Soul are free from parabens, sulphates, silicones, sodium chloride, DEA, mineral oils, petroleum, and any other chemicals. They are MadeSafe certified, 100% vegan and have not been tested on animals.
With that, we present to you,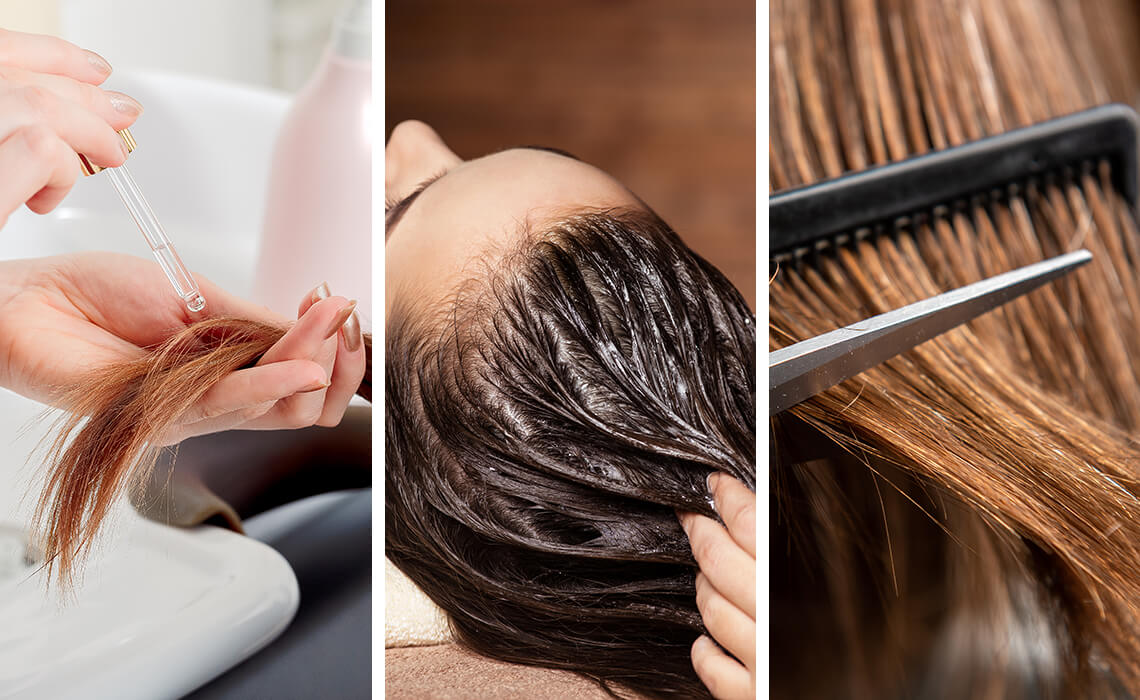 Coco Soul Hair & Scalp Cleanser
Made with the purest of ingredients, this hair cleanser is exactly what you need to stop hair loss and regrow hair naturally. This hair cleanser effectively washes your hair, unclogs hair follicles, balances scalp oils and strengthens the roots. Infused with natural ingredients, it will leave your hair feeling soft and smooth and reduce hair fall. It contains -
Virgin coconut oil - Called as the elixir in Ayurveda, it nourishes the scalp and nurtures the roots
Godapara - It soothes the itchy and flaky scalp and strengthens the hair
Kikirindiya - It boosts blood circulation in the scalp and promotes hair growth
Coco Soul Hair & Scalp Conditioner
To prevent breakage and split ends, it is important to follow your cleanser with a conditioner. However, the conditioner should be natural and devoid of harmful chemicals like silicones. This Coco Soul hair conditioner is like magic in a bottle that strengthens the hair shaft and makes it smooth and manageable. Created with virgin coconut oil and Ayurvedic ingredients, it fights dryness of the hair and makes your hair bouncy and soft. It contains -
Lunuwila - It repairs hair damage, reduces split ends, and promotes healthy hair growth
Virgin coconut oil - Called theelixir' in Ayurveda, it contains good fats and antioxidants that nurture the roots and scalp
Hibiscus - Remedy for all hair fall woes, it strengthens the roots and promotes natural hair growth
A good hair wash routine with pure and natural products may not eliminate stress or other causes of hair fall, but it can surely help you prevent hair loss due to stress.
4. Healthy diet intake
Along with using natural products and pampering your hair to oil massage, you must have an intake of a balanced diet. Include fresh fruits and vegetables in your diet and keep away from excessive greasy food and alcohol. You should drink ample amounts of water too and save your hair from direct sun.
Hair loss due to stress can be a vicious cycle. Stress can cause hair loss, which can further make you worried. However, getting rid of stress-induced hair fall is not that difficult. Ensure that you use good quality hair products, take good care of your health and practise stress management activities. You must also take a look at our blog on natural hair products for pregnancy to keep your hair healthy during and after pregnancy. Meanwhile, you can shop for all-natural hair products through the Coco Soul website here. Have a look at our blog on the solution for hair loss, it'll help you to get rid of all types of hair loss.
Frequently Asked Questions on Hair Loss Due to Stress
1. Can stress cause hair loss and will it grow back?
Yes, stress is a major cause of hair loss in people. Stress modifies the hormonal balance of the body that in turn makes the roots of your hair weak resulting in hair loss. Yes, as soon as you start reducing your stress and pay attention to your hair health, it will grow back.
2. How long does hair loss from stress last?
When you are overstressed, you might suffer from hair loss within one-two months of the event that triggered the stress. It can last up to 6 months or till the time you are not mentally relaxed.
3. How do you know if you're losing hair from stress?
If there have been no specific changes in your hair products, diet or lifestyle, or you have not resorted to any such new activities like hair treatments or colouring that can cause hair fall, it means you are losing hair from the stress.
4. Does stress cause hair breakage?
There can be multiple hair issues caused by stress. You can witness your hair falling from the roots, breakage or even balding. Sometimes stress also causes premature greying of hair.
5. How do I know if I'm losing too much hair?
If you find more than 100 hair strands, in your shower, on your pillow or while combing your hair, it means you are losing too much hair. It also holds true for the case when you see a significant thinning on the top of your hair or balding patches.