If you are experiencing a sudden flare of itchiness and intensified flakes at the crown of your head, these might be the signs of a dry scalp. Usually, it seems like a seasonal problem, but dry scalp does prolong over seasons and attract problems like dandruff too. If you are someone who uses heat-styling tools frequently, you are most likely to also deal with inflamed and irritated scalp. Everyone experiences mild dryness in the scalp but it can turn chronic when the temperature dips. Because winters come with dry air, which often zaps moisture out of our scalp, causing more dryness. If you want to know how to treat dry scalp, we are here to help.
If you want to learn about dandruff in winter home remedies as well, you can also see our tried and tested list of solutions in our blog on home remedies for dandruff in winter.
What are the causes of dry scalp:
Dryness caused by environmental factors:
When the natural pH of your scalp or the acid mantle is compromised, your scalp becomes unable to retain any moisture. This loss of moisture in your scalp is known as dry scalp. Seasonal changes or improper hair washing habits usually lead to this dryness and cause an imbalance. If you face any skin conditions such as scalp eczema, psoriasis, or seborrhoeic dermatitis, it can also lead to itchiness, dryness, and redness on the scalp. Besides this, if you have an improper diet, it may eventually show effects on the scalp too.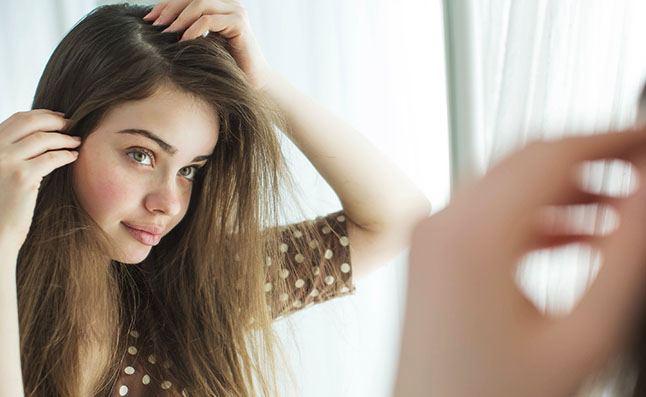 Dryness caused by beauty habits:
Most of us rely on hairstyling products and heat styling tools to style our hair. But we don't realise that these are making our scalp and hair drier. If your hairstyling products contain parabens, formaldehyde, or sulphates, they can strip the natural oil from your scalp, making it drier. Also, daily straightening, curling and applying strong heat to the hair can remove moisture from the scalp gradually.
How to treat dry scalp in winter
Hair care regimen:
Your hair care begins in the shower and you want to get it right every time .Wash your hair at least twice or thrice a week to get rid off flaky scalp in winter.
Switch to shampoos that are free from sulphates, silicones, alcohols, and fragrances too. These chemicals are harsh towards our scalp and hair, and aggravate the dryness.
If you want to introduce new hair care products into your regimen, try them after longer intervals as they can cause disruption in the pH levels and cause itchy scalp in winter. Know how to treat dry scalp in winter easily by checking up on your products.
Use lukewarm water to wash your hair instead of hot water and comb your hair with a wide toothed comb once your hair is air-dried.
Hair habits to avoid to prevent flaky scalp in winter:
When you are looking for ways on how to cure itchy scalp, these remedies could help you out.
Avoid styling your hair with heating tools such as curling rods, straighteners, and blow-dryers, unless absolutely necessary. If blow drying is unavoidable, use a hair protecting serum before you begin styling your tresses.
Avoid excessively bleaching and colouring your hair as the chemicals in them can disrupt the natural structural bonds of the hair shaft and cuticles. If you need to colour your hair, avoid box dyes or henna and opt for ammonia-free hair colours.
Pre wash care for dry scalp
The best way to make your hair care regimen and shampoo work well is to prep your scalp efficiently. Before you begin with your shampoo routine, massage your scalp with a soft bristle brush to get rid of all the buildup of hair products. This will not only remove the dirt but also distribute the natural oil evenly.
Using a moisturising oil will deeply nourish and hydrate your scalp. When you lose out on natural moisture from the scalp, adding oil can help deeply nourish your scalp and lock-in the moisture. We recommend using virgin coconut oil directly to the scalp and leaving it overnight or at least 45 minutes prior to the shower. We recommend using Coco Soul's virgin coconut hair oil with Vitamin E which is manufactured specifically through a meticulous no-heat process. This cold pressed oil has a rich aroma and flavour of real coconuts without any compromise on its natural nutrient value.
Types of shampoos for dry scalp:
1.Detoxing shampoos:
Apart from your everyday shampoos, detoxifying shampoos are professionally curated to get rid of the gunk on the scalp and deeply moisturise your hair. The ingredients used in these shampoos are highly moisturising and hydrating, and free from sulphates or parabens. Look for detox shampoos with the goodness of Moroccan or coconut oil.
2.Medicated shampoos:
While you may be doing everything to avoid dry scalp, seeking professional help may be necessary to tackle dry scalp much efficiently. Use shampoos recommended by dermatologists only.
3.Natural shampoo:
Using Ayurvedic and natural ingredients-based shampoos are your best bet against dry scalp and other hair woes. These shampoos are curated using natural ingredients that tackle your hair problems without being harsh on the hair or scalp. For more generalised winter hair care tips, you can go on to our blog on hair care tips for winter. If you are looking for a natural shampoo and conditioner, we recommend using the Coco Soul's organic shampoo and conditioner combo infused with the goodness of ayurvedic herbs and virgin coconut oil.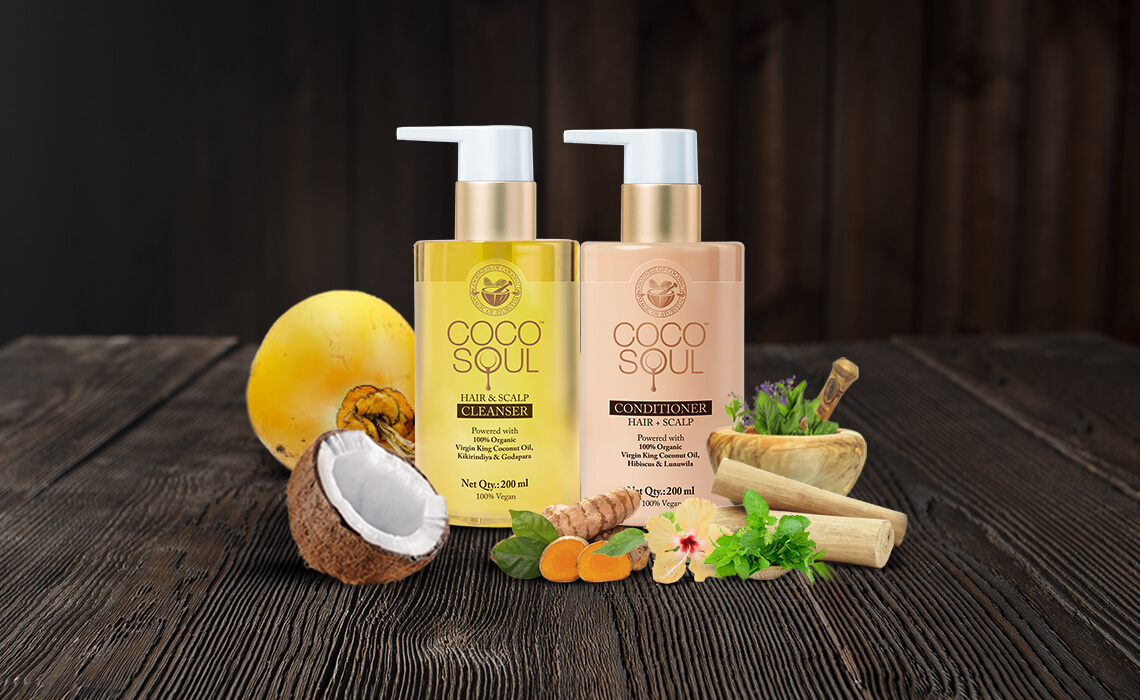 The key ingredients of Coco Soul hair care combo:
Godapara: A herbal plant used widely to treat dandruff and itchy scalp, godapara is highly potent in strengthening and boosting hair growth.
Keekirindiya: It is a wonder herb that boosts blood circulation on the scalp. Keekirindiya works miraculously to solve hair problems such as hair fall, premature greying, dryness and dandruff.
Virgin King Coconut Oil: Ancient Ayurvedic wisdom calls it theelixir' that hydrates our scalp. It is loaded with natural antioxidants and good fats that nurture the roots and moisturise your scalp.
Frequently asked questions on dry scalp
How can I moisturise my scalp in the winter?


Using oil in dry weather can keep your scalp nourished and moisturised at all times and keep it from getting dry. 



What causes dry scalp in winter?


The dry weather removes moisture from our scalp, leaving the hair dry and frizzy. Hence, it becomes imperative to give your hair some extra care in winter. 



How do you get rid of dry scalp in winter?

To avoid dry scalp in winters, stay hydrated and keep your scalp moisturised at all times. 
Drink plenty of water and include vegetables that are a great source of vitamins and proteins.
Avoid styling tools on your hair and use a heat protectant if you want to style your hair. 
Use hair care products that are hydrating and moisturising in nature to keep your hair naturally protected.