Whether your wedding is planned as an extravagant, destination affair or a simple family gathering with your closest friends and family, the real star of your wedding will be you - the glowing, beautiful bride.The months leading up to your wedding day can zip by in a flash with you busy in all the prep, which is why it is important that you set a good, easy-to-follow skincare routine for yourself in advance and ensure that you look your very best on D-day. Sure, make-up can elevate your look and hide flaws, but a good skincare routine will help you look youthful, fresh, and naturally radiant. So, as you might be busy running to designer stores and booking appointments, ensure that you take out ample time for your skin too.
Getting flawless skin, the natural way
Today, you can find multiple treatments and pre-bridal packages to help you prep for your wedding. However, the centuries-old Ayurvedic wisdom not only gives you a flawless look externally, but also alleviates stress to give you an inner glow that surpasses all fancy salon treatments. Not to forget, Ayurvedic herbs have been a consistent part of Indian weddings for as long as we can remember. For example,haldi', a ceremony of applying turmeric on brides and grooms, is an important ritual in Indian weddings. So it goes without saying that to sport a flawless, natural glow on your special day, Ayurveda is the way to go. We, at Coco Soul, bring to you the magic and wisdom of Indian Ayurveda in tubes and bottles. Coco Soul's products are infused with the exotic nutritional powerhouse virgin coconut oil and the choicest Ayurvedic herbs and spices to help you get radiant skin naturally. So here is a daily skincare routine along with some Ayurvedic tips for glowing skin to prep you for your D-day.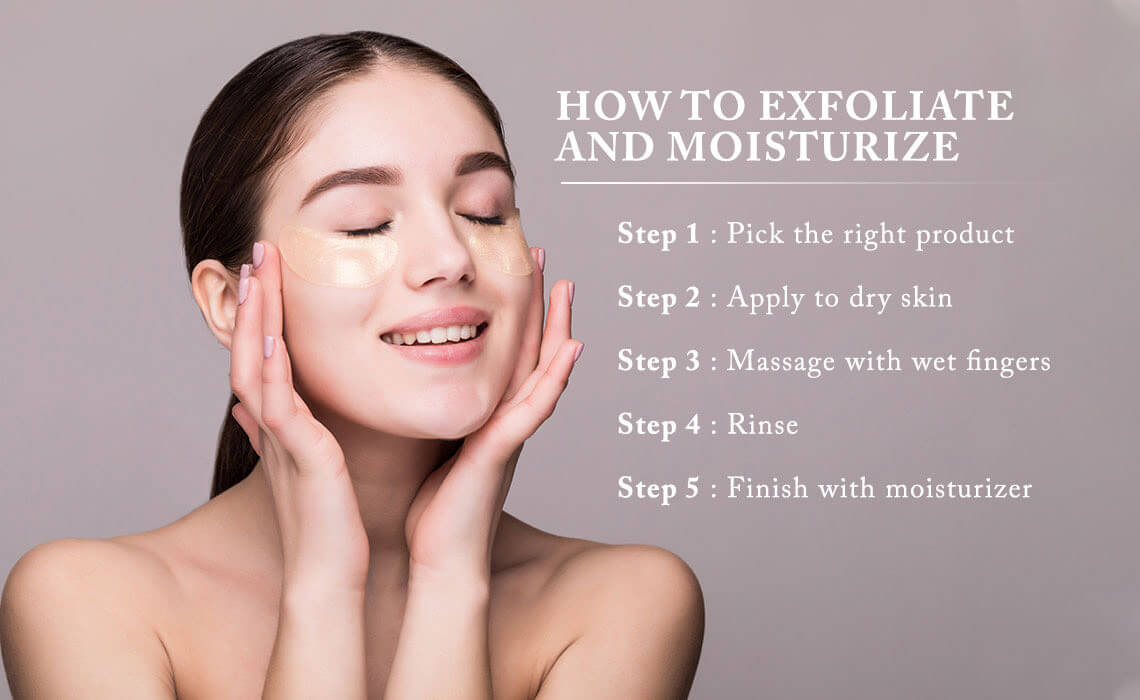 Prepping for your D-day, Ayurveda-style
An Ayurvedic skincare regimen advocates three daily steps for flawless skin: cleanse, exfoliate, and moisturize.
Start your morning everyday with a good CEM routine that will remove dead skin buildup and gently remove all impurities and pollutants from your skin, while moisturising it to bring out the very best in you.
1. Cleanse
Cleaning your face twice a day will help you get rid of any residual dirt, make-up, and oil from your face. Cleanse your face with warm water just after you wake up to clear the overnight build-up of sebum and once before you sleep to remove the pollutants and dirt. It is also recommended that you increase the frequency if you are stepping out, or the weather is humid and sticky and if you have worn a mask to prevent maskne. The best and most natural way to do this is with a chemical-free face cleanser to avoid dryness or breakouts.
The Coco Soul Revitalising Face Wash, infused with virgin coconut oil and natural herbs, can be your best buddy in this part of the exercise. Created with Ayurvedic wisdom and organic virgin coconut oil in its core, this face wash is like a splash of freshness on your face. With herbs like gotukola and neem, it gently cleans your face and provides adequate nourishment without any lingering dryness.
Virgin coconut oil: Revered as an elixir in Ayurvedic wisdom, virgin coconut oil hydrates your skin and stimulates cellular repair.
Gotukola: An organic herb, it fights cellulite and sagging skin to give you a younger appearance.
Neem: Rife with antibacterial properties and vitamin E, it gives you blemish-free and younger-looking skin.
This au naturel cleanser will help you get a renewed and revitalised look by the time your wedding day arrives.
2. Exfoliate
For flawless and radiant skin, exfoliation is an indispensable part of a good skincare routine. Exfoliating your skin regularly clears dead skin cells and unclogs pores and impurities that conceal your natural glow.
It is recommended that you use a natural and mild exfoliator that is free from chemicals like sulphates, silicones, paraben, mineral oil, sodium chloride, etc, as they can strip off the natural oils from your skin, causing dryness and itchiness. Instead, you should choose products that are certified to be safe on the skin and the environment.
The Coco Soul Face Scrub is one such product that is MadeSafeâ"¢-certified as well as 100% vegan. This natural face scrub, created using 100% organic virgin coconut oil and Ayurvedic herbs, works like a charm to give you clear and radiant skin.
Virgin coconut oil: Rich in fatty acids and skin-nurturing compounds, it hydrates and nourishes your skin from within.
Sandalwood: An exotic ingredient, it reverses sun damage and minimises age spots to give you a blemish-free glow.
Venivel: A lesser-known but equally exotic ingredient, it removes excess oil and exfoliates the skin to give you a rejuvenated look.
This luxurious face scrub purges surface impurities and works like magic to give you clearer, softer, and even-toned skin.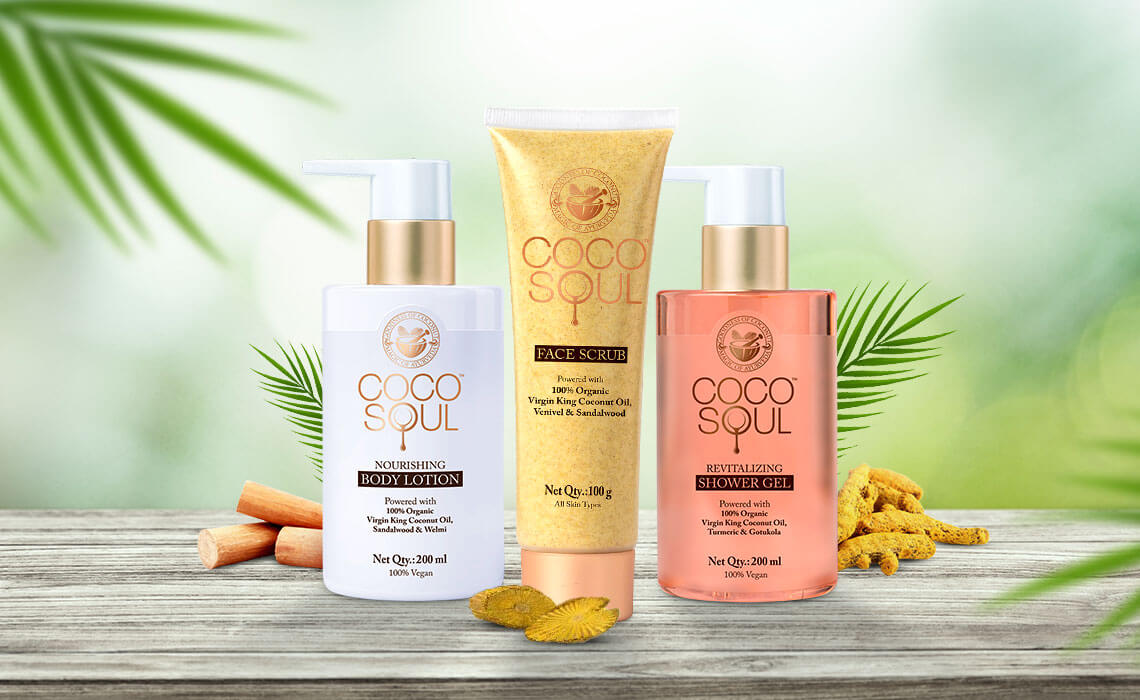 3. Moisturize
Come rain or shine, moisturization is a must. Moisturization softens dry skin and makes it supple by locking the moisture in your skin cells, thus reducing fine lines and wrinkles. Moreover, nourished skin is a better receptor of facials, face masks, and other skincare treatments that you may go for before your D-day. For best results, you must choose a moisturiser that is free from DEA, parabens, sulphates, silicones, sodium chloride, mineral oils, etc.
Look for products that list natural ingredients in their label and are infused with the magical properties of Ayurveda, like the all-natural Coco Soul Nourishing Body Lotion. Made with 100% organic virgin coconut oil and Ayurvedic herbs and spices, its lightweight consistency makes it ideal for oily skin and can soften even the driest skin. It is a genie of a lotion that melts on your skin to give you a nourished-from-within glow. Its exotic ingredients start working right off the bat to visibly moisturize and tighten your skin.
Sandalwood: Reverses sun damage, minimises age spots, and gives you moisturised glowing skin.
Welmi: A rich source of vitamin C, welmi fights dullness to reveal radiant and beautiful skin.
This Ayurvedic moisturizer will cater to your sensorial luxuries and start a whole new love affair with your skin.
Quick skincare tips for brides-to-be
Whether your wedding is a month away or a year, ensure that you cleanse, exfoliate, and nourish your face regularly.
Avoid going for any new, chemical-based treatments before your D-day as it can cause irritation or breakouts on your skin.
Pay attention to your hands and feet too. Get manicures and pedicures and start using moisturising creams to nourish your limbs. You can try the Coco Soul Hand Cream and Foot Cream Combo so that your hands and feet are rejuvenated for your special day too.
Avoid using harsh soaps; instead, opt for a mild shower gel that gently cleans your skin, like the Coco Soul Revitalising Shower Gel.
Another pro healthy skin tip: Revisit your lifestyle; ensure that you intake a balanced diet, get adequate sleep, and drink ample amounts of water. Meditate, do yoga, and stay stress-free to avoid getting dark circles before the wedding. Also, it is recommended that you visit your dermat to know more about your skin and the products that suit it. If you wish to get healthy and glowing skin then check out our blog on ayurvedic tips for glowing skin.
While you stay both nervous and excited for your D-day, which is understandable, with these skincare tips, you can be assured that your skin is ready to radiate absolute brilliance. As you switch to a healthy diet to get the perfect figure, switch to an au naturel skincare routine to find your inner glow. Head on over to our skincare section and shop for all-natural skincare products today. Now that you know about the skincare routine for brides,, you must also check out our blog on daily skincare routine for working women.