Does your morning routine take longer than usual due to the excess care your skin demands? Is it because you need time to lather creams and foundation to hide blemishes or acne before you leave home for the day? If your answer is yes, you might need to revisit your skincare habits.
Stress, improper working hours, and pollution can play havoc on your skin. Hence, it is essential to take time for yourself too, starting with skincare. A personalised skincare routine can help you alleviate your stress and feel good about yourself. It will not only work to treat your skin issues, but will also ensure that your skin remains healthy and radiant.
Here is a quick daily skincare routine along with some tips to get that flawless skin.
What is the best skincare schedule?
A regular skincare schedule not only keeps your skin healthy and beautiful but also keeps problems like acne and dark circles at bay. However, the best skincare routine is one that heals your skin without the risk of any side-effects, and the centuries-old Ayurvedic wisdom is worth your attention due to the same reason. While Ayurvedic ingredients are rife with antioxidants and antibacterial properties, they also have healing properties. So go for a brand that envisions Ayurveda as the future of skincare, just like Coco Soul.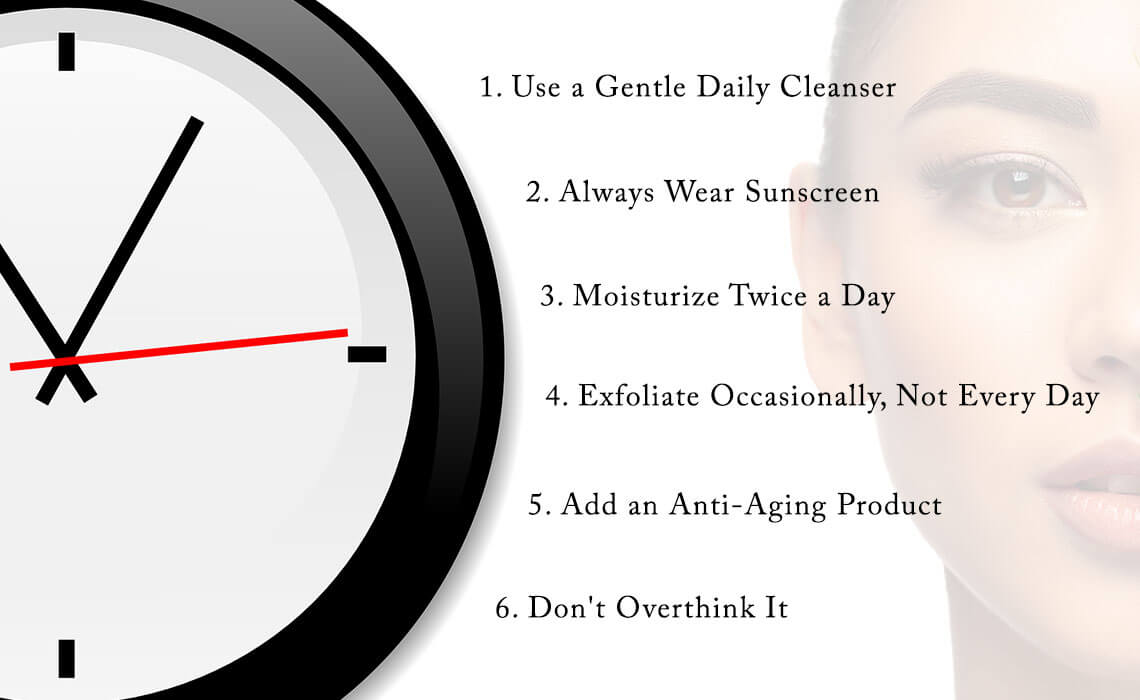 Daily skincare routine
Ayurvedic skincare regimens suggest that you follow the basic morning skincare routine of C-E-M: cleansing, exfoliating, and moisturising religiously.
1. Cleansing
Clean your face once or twice a day with warm water and a gentle cleanser to remove oil and dust residue. If you have normal to dry skin, opting for a cream-based cleanser would help; but for oily skin, it is better to use a lightweight face wash as anything else could clog your pores. Also, avoid using chemical-based face washes as they tend to dry your face excessively, leading to breakouts and irritation. Face cleansers infused with natural ingredients gently cleanse your skin while also providing adequate nourishment and moisturisation. Coco Soul's Revitalizing Face Wash is one such chemical-free cleanser that your skin needs. Enriched with pure virgin coconut oil and Ayurvedic herbs like gotukola and neem, this cleansing fluid is your skin's best friend. It contains:
Virgin coconut oil: Referred to as an elixir in Ayurveda, virgin coconut oil provides intense hydration and promotes cellular repair to make your skin soft and nourished.
Gotukola: An organic hero, it fights skin sagging, promotes collagen production, and gives you younger-looking skin.
Neem: It removes pigmentation to give you smooth and blemish-free skin.
2. Exfoliate
Exfoliation should be an indispensable part of your daily skincare routine for radiant, smooth, and healthy skin. Exfoliating your skin helps remove the dead skin and reveal your natural glow. Regular exfoliation also helps skincare products to work better and reduces the formation of wrinkles, fine lines, acne, and marks. However, using harsh chemical-based scrub or exfoliating more often than required can be harmful for your skin. For sensitive skin, you can use a mild scrub that gently removes the dead layer of cells from the skin. It should have negligible or no granules to avoid irritation or bumps and rashes. For oily skin, you would need to deep cleanse with an exfoliator that effectively tackles sebum accumulation and removes oil and dirt from the skin. Similarly, for dry skin, look for a moisturizing, cream-based face scrub that is soft on the skin to prevent further dryness.
Most importantly, ensure that your face scrub is au naturel, i.e. completely devoid of harsh chemicals, regardless of your skin type. In Ayurveda, you can find many wonderful secrets that gently work on your skin to make it clear and flawless. With an Ayurvedic face scrub, even if you exfoliate daily, it won't irritate your skin, rather make it clear and radiant.
Presenting the Coco Soul Face Scrub, which is infused with the goodness of virgin coconut oil, venivel, and sandalwood. This nature-inspired face scrub works like a charm on your skin and gently unclogs pores, purges surface impurities, and leaves your skin soft and moisturised. It contains:
Virgin coconut oil: Enriched with skin-nurturing compounds, it hydrates the skin and promotes cellular repair.
Venivel: An exotic ingredient, it exfoliates dead skin, removes excess oil, and renews the skin.
Sandalwood: Revered in eastern cultures, it reverses sun damage and reduces age spots.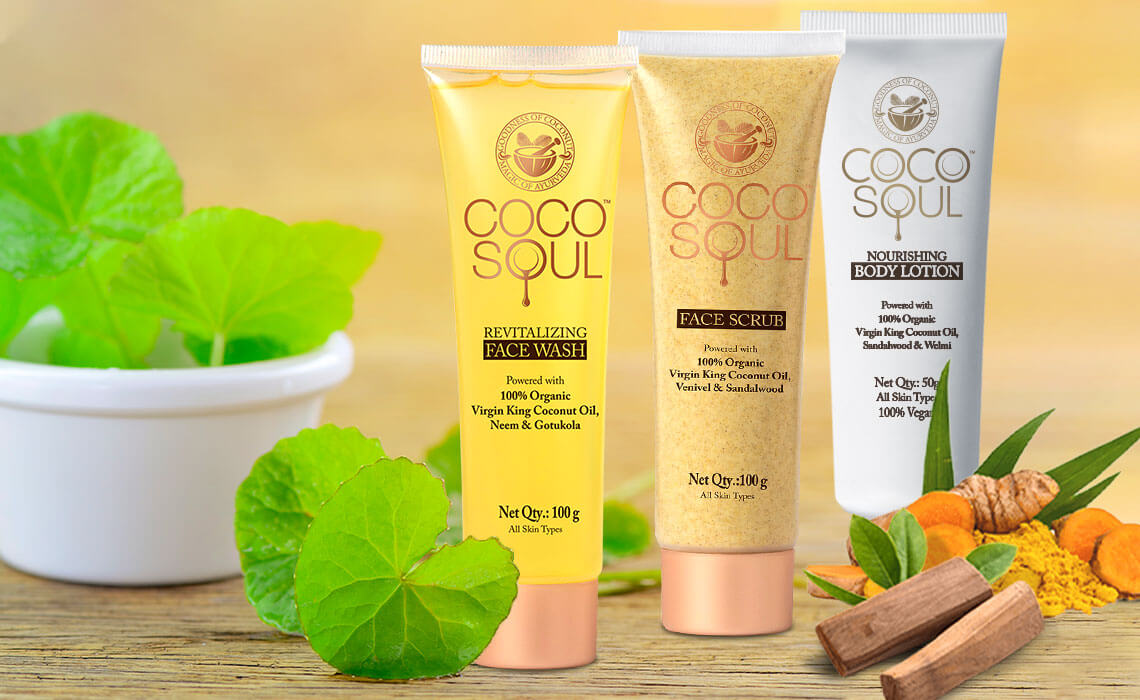 3. Moisturising
Your daily skincare routine is incomplete without moisturisation. A moisturiser creates a protective layer between your skin and the outside atmosphere and helps lock moisture in the skin cells. It is important that you choose a moisturiser carefully. If your skin is oily, you should choose a light, oil-free moisturiser. On the other hand, for normal to dry skin, using a creamy moisturiser is recommended. Usually, organic and natural moisturisers work for both skin types: just like the Coco Soul Nourishing Body Lotion. This lightweight moisturiser melts on your skin to give you a nourished-from-within glow. Its luxuriously silky consistency penetrates deep into your skin and visibly moisturises and firms your skin. Apart from virgin coconut oil, it contains:
Sandalwood: This Ayurvedic ingredient reduces the oxidative stress in the skin and reverses age spots and skin damage.
Welmi: Rich in vitamin C, it fights dullness to reveal beautiful and radiant skin.
The best part of Coco Soul products is they are free from all harmful chemicals such as parabens, silicones, sulphates, DEA, mineral oil, etc., making them 100% safe for use. Moreover, they are 100% vegan, are MadeSafeâ"¢-certified, and are also not tested on animals.
Natural skincare tips
When shuffling between work and home, your lifestyle and eating habits can really go for a toss, which can negate the effects of any external products you use. So as you are following the daily skincare routine, it is important to work on other factors that determine your skin health too. Therefore, it is necessary to adopt a healthy lifestyle to heal your skin from within. These are some natural skincare tips that will aid your perfect skincare routine for beautiful skin.
Ensure maximum hydration: No amount of skincare products will work on your skin if it remains dry and dehydrated from within. At least eight glasses of water is not only necessary for your body, but also for your skin. Hydration is essential to flush out the toxins from your body and remove impurities. Remember, a well-hydrated skin is soft, supple, and glowing.
Allow your skin to repair itself: Dermats emphasize on the fact that a good night skincare routine is equally important for your skin as is a morning skincare routine. When you sleep, your skin gets the much-needed time to heal and breathe. As such, you can follow these basic night skincare routine steps to wake up to beautiful skin. Applying a night cream to your skin will help it repair overnight. Also, including a good under eye cream in your night skincare routine will help you get rid of dark circles.
Maintain a healthy lifestyle: The fundamental requirements for a healthy body - balanced diet, exercise, and a stress-free mind - are equally necessary for glowing skin too. It is often observed that indulging in oily, spicy, and fatty foods leads to acne and pimples. Also, excess alcohol consumption can make your skin dull. Therefore, to get flawless, radiant skin, you should have a balanced diet that is rich in fruits and vegetables. Similarly, stress can damage your skin cells and reduce your immunity. So de-stress yourself often through meditation and yoga. Moreover, an office schedule could be tiring and stressful, so you should include exercising in your routine too. Work can cause a lot of stress leading to skin problems. Check out our blog on effects of stress on skin to learn more about it.
Conclusion
It could be challenging to maintain the perfect skincare routine while you are struggling to manage both office and home. While a hectic schedule makes you busy, it also increases stress and disturbs your dietary habits, the biggest enemies of perfect skin. So, if you take out a few minutes every day and use the best quality skincare products and take care of your lifestyle, glowing and flawless skin is not far away. Shop for 100% natural and organic skincare products from Coco Soul today and introduce your skin to nature's goodness. Now that you know about the daily skincare routine for working women, you must also check out our blog on daily skincare routine for brides.