On the festival of lights, when everything around you is dazzling, you wouldn't want to dim your glow. With the onset of the festive season, most of us are now busy blocking our calendars for social gatherings and all the parties in town. While you're at it, how about blocking some time for skin care as well? While the Diwali festival is the perfect time to get together with your family and click some of the gorgeous gram-worthy selfies, you may not get enoughme-time to look your festive best. It is also the season when you'll gorge on loads of sweets and fried snacks. You may enjoy them to your heart's content, but your skin isn't a big fan of them and will start acting up to warn you for the same. Add to it wearing makeup for long hours and you will have the perfect recipe on how to ruin your skin health. But don't just focus on skincare, give an extra dose of TLC to your hair care needs as well.
It is always advised to begin a skincare or haircare routine at least six months before so that it shows results effectively. But if you are reading this with no time in hand, we have the perfect skin and hair tips to get you glowing at this Diwali festival.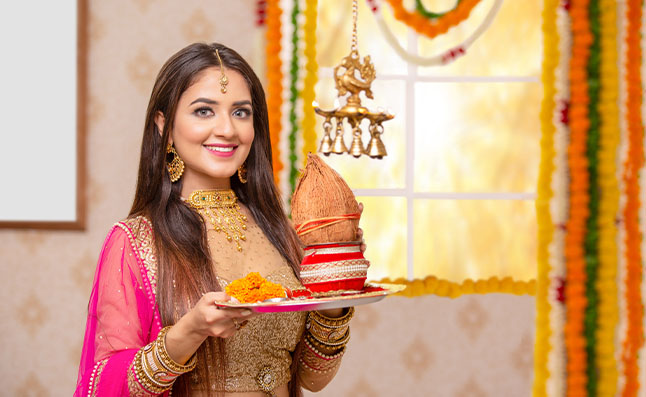 How to take care of skin for the festive season
Skincare Tips for Diwali 2021
Before starting a routine, take a good look at your skin and the problems you want to tackle. The most common skin problems are acne, breakouts, dullness, tan etc. Knowing your skin woes will help you choose the right products that can help you retain your glow. Additionally, here are some tips on how to take care of skin for a festive season.
You can find a full festival season skincare routine here.
Fuss-free skincare: Now isn't the most ideal time to indulge in a multiple-step skincare routine. A simple and effective routine that includes a cleanser, toner, and moisturiser will leave you with soft, well-hydrated skin. Exfoliating your face at least twice a week will scrub off any product buildup, dirt, impurities, and dead skin cells effectively.To learn how to deep cleanse your face, visit our blog on the topic. This will not only keep your skin radiant but prep it for a flawless makeup finish. And finally, add a sunblock with at least SPF 30 to prevent your skin from sun damage.
Bed-time routine: Please trust the skincare gods, AKA your dermats, when they ask you to wash off your makeup before calling it a night. Your skin needs to breathe, but sleeping with layers of makeup can make things worse and lead to you waking up to a tired-looking face and acne-prone skin. Start with micellar water, which not only cleanses the skin but also moisturises it. Follow it up with an overnight face pack to wake up to radiant and glowing skin.
How to take care of hair for festive season
Hair Care Tips for Diwali 2021
Your Diwali festival look is incomplete without accomplishing your hair goals. But we all know how hard it is to get your hair to comply with you. Thus, for most of us, the only resort left is to do a quick fix that includes loads of styling products and heat styling tools. You don't need to nearly fry your hair to get that perfect look if you set your hair care regimen right. Here are some tips for you to remember how to take care of hair.
Avoid using heat on your hair: You will probably have to delete those Pinterest-inspired curls from your bookmarks because we recommend avoiding heating tools if you want to follow any hair care tips. While heat styling tools do add an element of style and fun to your hair, it ends up doing more harm than good in the long run. Constant use of curling irons and straighteners can leave your hair brittle, dry, and lifeless. Instead, opt for hairstyles that do not need heat styling or require minimal use of such tools. Beautiful braids and elegant hair buns are some of the classic, easy, and seamless hairstyles you can follow. But if you need to use a heat styling tool, please remember to use a heat-protectant spray before going for it.
Hair Detox: If you use hair mousse or hair spray, ensure you wash it all off on the same day. Invest in natural and organic shampoos and conditioners to clean your scalp and nourish all your strands. Natural shampoos are free of any chemicals and that is extremely useful when you are dealing with heat, humidity, and pollution.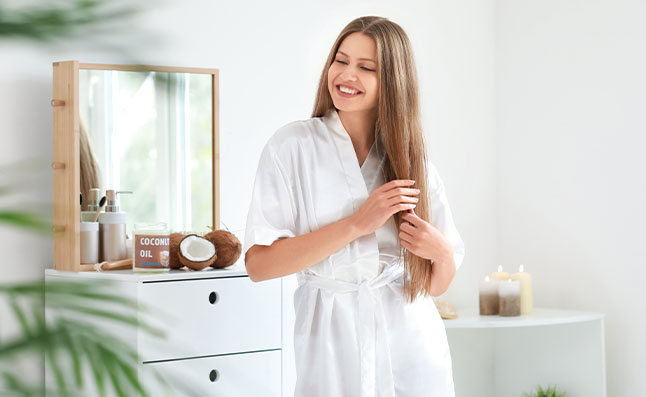 Try Coco Soul
This Diwali, turn to Indian roots when it comes to natural skincare and haircare solutions. Try the Coco Soul haircare and skincare range that is infused with the goodness of Ayurvedic herbs and virgin coconut oil.
Coco Soul for Face Care:
Coco Soul's revitalising face wash uses ingredients such as neem and Gotu kola that are derived from Ayurvedic expertise and are nature's most potent herbs. Being a natural cleanser, it cleanses the dirt from your face and retains hydration in your skin, leaving it moisturised and supple. Follow it with a gentle exfoliation by using Coco Soul's coconut oil face scrub that is packed with the goodness of venivel, sandalwood, and virgin king coconut oil. This face scrub is made of natural exfoliating agents to deep clean your pores and give you clearer skin.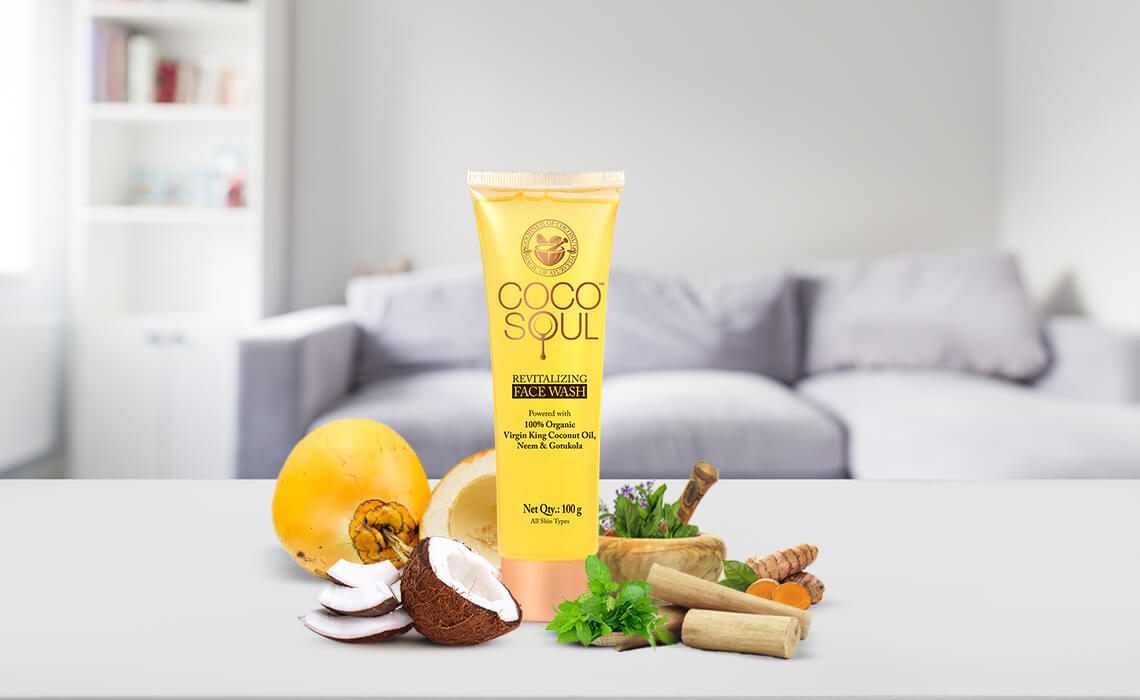 Coco Soul for Hair Care:
The Coco Soul hair cleanser is a combination of organic virgin king coconut oil and Ayurvedic herbs. This natural hair cleanser effectively unclogs your hair follicles without stripping the natural oils from your scalp. Using a Coco Soul shampoo will leave your tresses bouncy, manageable and extremely soft.
Finish off your hair care routine with the Coco Soul organic conditioner that is enriched with the goodness of hibiscus, lunuwila, and virgin coconut oil. This conditioner results in frizz-free, voluminous, and stronger hair.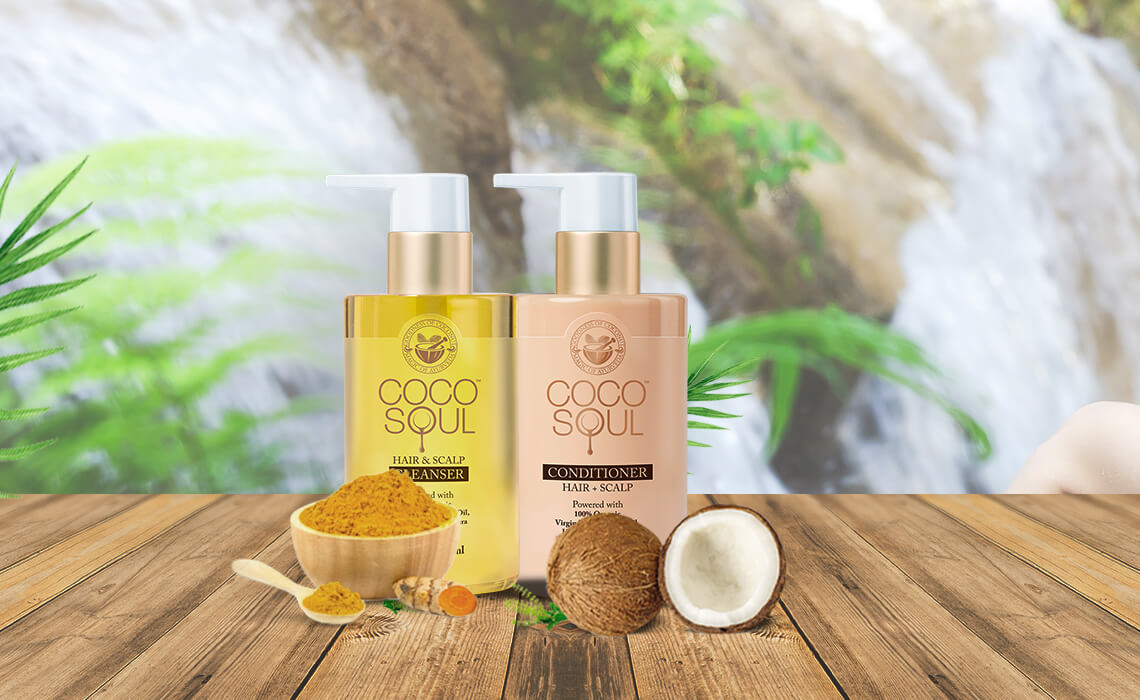 Takeaways:
Indulge in your Diwali festivities guilt-free by prepping your hair and skin with the goodness of natural ingredients. Stay hydrated at all times and follow skincare and haircare routines religiously. And lastly, maintain a healthy diet because what goes into your body reflects on your skin and hair as well.
Frequently Asked Questions on skincare and hair care tips for Diwali 2021
1.How can I take care of my skin and hair naturally during Diwali?
Avoid applying harsh chemicals to your hair and skin. Use natural products infused with organic ingredients such as coconut oil, neem, turmeric etc.
2.Can firecrackers harm your skin?
It is advised to stay away from firecrackers to prevent fire hazards. Firecrackers contain toxic ingredients that are unsafe for your skin and environment too. Using Diyas or kandils is a safer way to celebrate the festival of lights.
3.Can firecrackers damage your hair?
The air pollution caused by firecrackers does damage your hair to an extent. Detox your hair using natural ingredients and avoid stepping out when the pollution levels are high.