Navratri is around the corner, and the countdown for the festive nights is beginning soon. While most of us have already gotten our hands on some of the best and colourful ghagras and cholis, others are probably busy brushing up their dandiya routine. Binge-watching the gram-worthy makeup looks and the perfect hairdo to sustain the night is fine, but we sincerely hope you haven't sidelined the most important thing on the list - skincare. In case you did, do not fret! You still have enough time to curate a simple yet effective skincare routine and find the perfect festive season haircare routine to prep yourself for Navratri nights.
Festive skincare tips for glowing skin for Navratri:
First thing first, no matter what you topically apply to your skin, ensure that you follow a proper diet. If you aren't treating yourself to healthy and nutritious meals or drinking enough water, and know tips on how to get glowing skin naturally you won't see effective results. If your skin feels healthy and happy from within, trust us, it is going to reflect on your skin. Additionally, try these skincare tips If you wish to flaunt a healthy and unparalleled glow.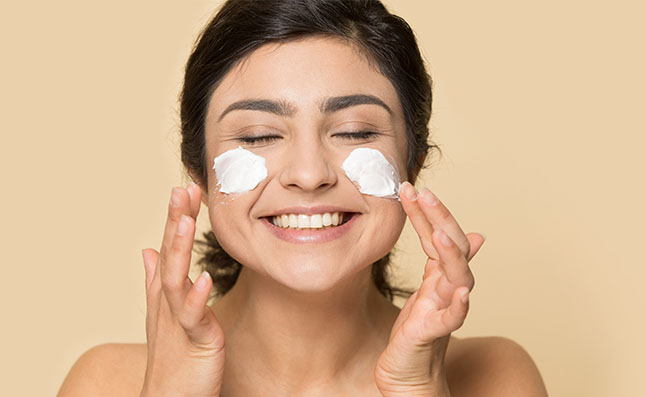 1.Eat enough of Vitamin C:
Vitamin C is a superfood filled with antioxidants. It supports your immune system and promotes healthy skin from within. Oranges, strawberries, kiwi, papaya, and sweet potatoes are some of the Vitamin C-enriched fruits and veggies that you can binge on to get your daily dose of vitamin C.
2.Add in the greens:
Even if it isn't one of your favourites, adding greens like spinach to your diet is amazingly beneficial. Besides being super healthy, spinach is loaded with anti-ageing benefits. So pack your salads with lots of spinach to get that youthful glow.
3.Avoid processed foods:
A lot of food prepared during the festive season can wreak havoc on your skin. We understand that it's hard to not get tempted by the lip-smacking festive foods, but cutting down on processed foods will bless your skin more than you can imagine. Avoid fried fast food, processed sugar, dairy products, and refined grains.
4.Eat without expectations:
Obsessing over a clear face and expecting an overnight miracle is simply unrealistic. Any form of diet or healthy eating habits will show after about six weeks. Healthy eating does not always guarantee results, especially for severe conditions. So, it is always recommended to fix an appointment with your dermat and seek professional help.
Navratri Special Skincare Routine- how to get glowing skin naturally
Before you contour your face like a pro and glaze yourself with the highlighter, prep your skin by following some skincare tips as it will go a really long way. Follow a skincare regimen that is easy to follow, which you can stick through for nine days. Enlisted is our simple 4-step skincare routine to keep you glowing this Navratri.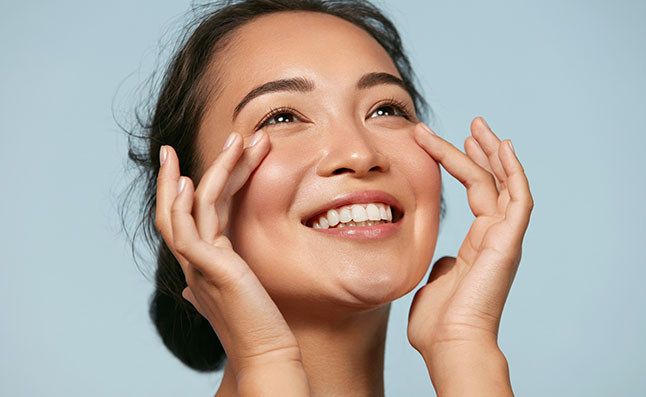 We know dancing through the night can be tiring, and the only thing you want to do once you are home is to pass out. Even if you do not have the will to complete your skincare routine, at least wash the makeup off your face and clean it thoroughly to get rid of all the gunk and impurities.
If you are willing to go the extra mile, here's a guide on how to deep cleanse your face after a long day of festivities.
Although it is often deemed as a dispensable part of the routine, toning is an essential after-cleanse step to wipe off every last bit of dirt and makeup residue off your face. Toner also soothes your skin and maintains its pH balance.
Dead skin cells, sweat, and dirt accumulated on your face can make your skin look dull and dry. Using an exfoliator can help get rid of the flaky texture of your skin and reveal radiant skin.
Make your skincare regimen work much effectively by sealing the moisture and nourishment with a lightweight moisturiser. Using a moisturiser with SPF is the best when the sun is out. Moisturisers keep your skin glowing and leave it hydrated all day long.
Try Coco Soul For a Navratri Special Skincare Routine
Festive season calls for a simple skincare routine that does not take hours to follow. And if you get one that is enriched with the goodness of Ayurveda, then things will only get better for your skin. If you are looking for one that serves both purposes, try the face care range from Coco Soul. The face care range includes a revitalising face wash and face scrub filled with the goodness of natural ingredients.
Coco Soul Face Wash:
Powered with the goodness of virgin coconut oil, gotu kola, and neem, Coco Soul's revitalising face wash helps rejuvenate your skin and repair dry and damaged skin cells. Let's understand in detail the benefits of each ingredient.
Virgin King Coconut oil: Penetrating ten layers deep into your skin, skincare helps retain its lost moisture.
Gotukula: Infused with anti-ageing properties, Gotu Kola helps reduce the appearance of fine lines and wrinkles.
Neem: Known for its antibacterial properties, neem helps prevent pimple-causing germs.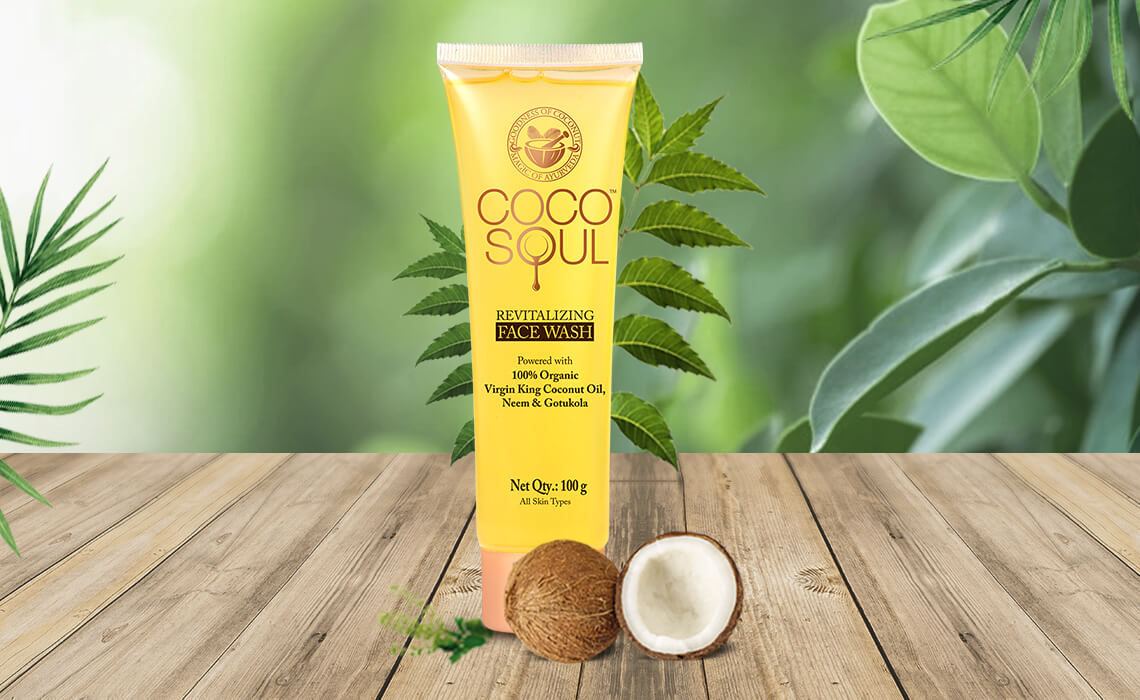 Coco Soul Face Scrub:
Filled with the goodness of Ayurvedic herbs, Coco Soul's natural face scrub is beneficial in unclogging your pores and purging your skin of impurities. Using a natural exfoliator results in clearer and softer skin every day. This face scrub contains ingredients like coconut oil, venivel and sandalwood.
Venivel: A natural exfoliator, it helps clean your skin through the pores and leaves a radiant glow on your skin.
Sandalwood: Filled with emollient properties, sandalwood helps minimise age spots and sun damage.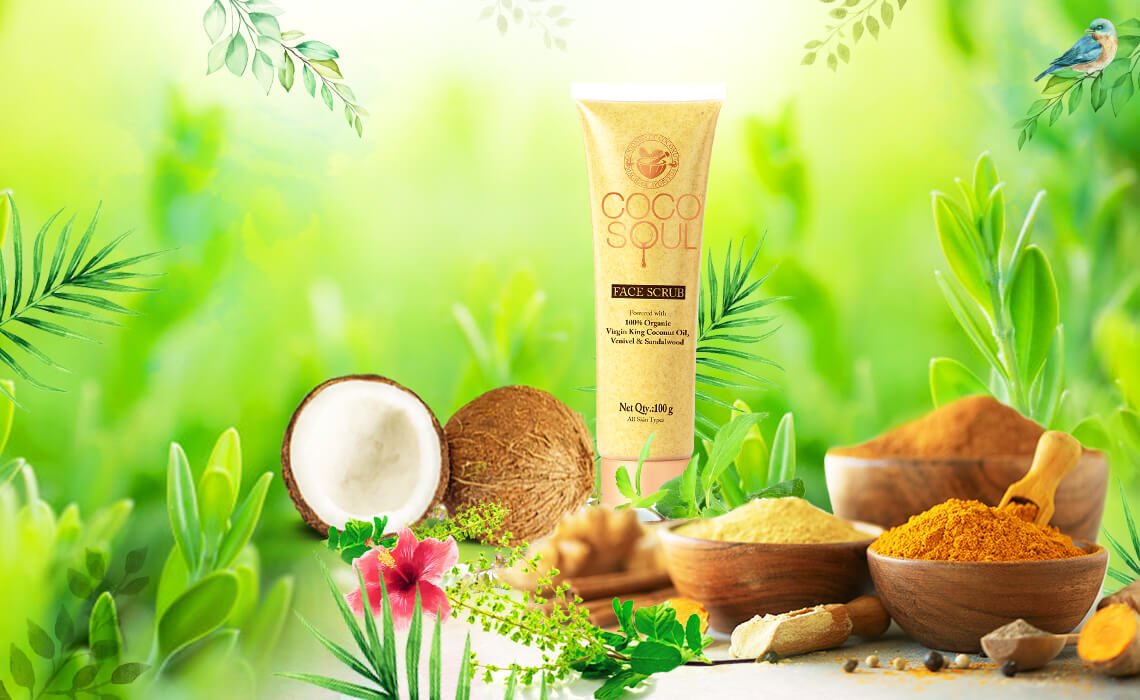 Frequently Asked Questions on how to make your skin glow?
How to get glowing skin for Navratri?


Stay hydrated, eat healthy meals, follow a good skincare routine, and keep yourself well-rested. These are a few tips to get glowing skin naturally.



What is a good skincare routine for Navratri?


Follow a simple, fuss-free routine that includes cleansing, toning, exfoliating, and moisturising to get glowing skin this Navratri.