It's that time of the year when the decorations are out of the boxes, your social calendar is filling up and party invitations have started pouring in. Sure, your closet might be packed with the best of party outfits with matching stiletto and accessories, enough to make you the centre of attraction. But what about your skin and hair? Are they prepped to bear all the party strain?
Party season means bouts of drinking, eating junk, sleeping late and treating your skin and hair to heavy makeup and treatments. While the winters are enough to cause havoc in your skin and hair, these back to back parties can further bring a host of beauty woes. Which is why before the party madness begins, it's crucial to prep yourself well. Whether you are planning house parties or fun nights in a club, a little prep would preserve your skin's health and help you look gorgeous naturally.
Here are some skincare tips and natural hair care tips to help you prep yourself for the party season.
Clean skin = Beautiful skin
Sure, layers of makeup can make you look flawless and elegant. But makeup often traps dirt and oil, which can deteriorate your skin's health leading to several annoying skin problems. It is crucial that before the party season, your skin is healthy and ready for all the sweat and makeup. Clear skin is the first step to healthy skin. One of the best clear skin tips is to exfoliate your skin efficiently to get rid of all the dead cells and accumulated dirt. Exfoliation will clear your skin and help the skincare products to penetrate better and the makeup to stay longer.
However, ensure that you do not risk your skin by using harsh chemical-based exfoliators. Instead, opt for a natural face scrub that is made with the goodness of nature and is mild on your skin. Just like the Coco Soul Face Scrub. Made with the secrets of centuries-old Ayurveda, this natural face scrub gently cleanses your face of dirt and oil without making it dry or irritated. Made with pure virgin coconut oil and Ayurvedic herbs, this natural face scrub is like a kiss on your skin that gently unclogs your pores and purges your skin impurities to give you a soft, clearer and smoother skin. It contains -
Virgin coconut oil - Called theelixir' in Ayurveda, it contains good fats that hydrate your skin and promotes cellular repair.
Venivel - The magical ingredient for exfoliation, venivel removes excess oil, exfoliates dead skin and renews the skin.
Sandalwood - It reduces the oxidative stress in the skin, minimises age spots and reverses sun damage.
Exfoliating should be a must in your skincare regimen, as it clears your skin of the accumulated debris and prepares it for make- up application.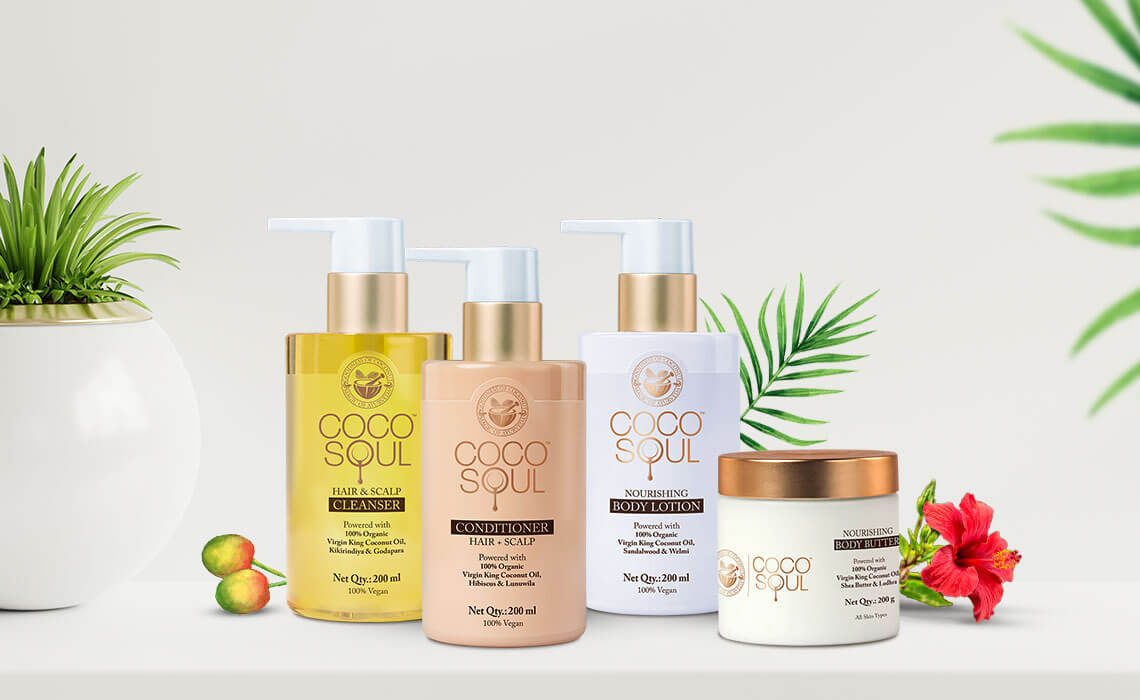 Nourish your hair well
In the upcoming days, your hair might go through a lot of heat styling, hair treatments and chemical-based products. Needless to say, if they remain undernourished or dry, the various hairstyles and hair updos would further cause hair damage. Which is why ensure that you strengthen and prep your hair with adequate nourishment.
While party stress and hair treatments can cause hair fall, using chemical-based hair products can further lead to split ends, dry scalp and rough hair. We suggest you to replace your usual chemical-based hair cleansers with natural and pure ingredients that nourish your hair roots and make your hair stronger and healthier. Coco soul believes that nature has the secrets to all your hair and skin woes and so we bring to you Coco Soul Hair and Scalp Cleanser created with pure virgin coconut oil and choicest Ayurvedic herbs. This hair cleanser gently washes your hair, unclogs hair follicles and strengthens roots making your hair soft, bouncy and manageable. It contains -
Virgin coconut oil - Revered in Ayurveda, virgin coconut oil moisturizes the scalp and nurtures the roots.
Godapara - A potent herb, Godapara soothes itchy scalp and helps your hair grow naturally.
Kikirindiya - A wonder herb, kikirindiya boosts blood circulation in the scalp and promotes hair growth.
Used along with the Coco Soul Hair & Scalp Conditioner, this shampoo/cleanser would prep your hair to withstand the party stress while keeping your hair looking gorgeous.
Try deep conditioning
If you are looking for hair care tips at home for a nourished scalp and healthy hair, opt for a deep conditioning treatment like a hot oil massage. Hot oil massage allows the goodness of oil to penetrate in your hair follicles and deeply nourishes your roots. For a hot oil massage, take natural oils like almond, coconut or amla oil. Heat the oil and massage it gently in your scalp with your fingertips in a circular motion.
Pay attention to your hands too
Sometimes even a small mistake can ruin the whole party look. Like strands of white hair, patchy skin or something as simple as dry hands and pale nails. While following skincare routine in winter, ensure that your fingers and nails are nourished well too. Peeled off cuticles or brittle nails can spoil your nail art and so your look. One of the best nail care tips is to moisturize your nails and hands well with a manicure or simply with a good hand cream that keeps your nails moist and soft.
Looking for healthy nails tips? Try the Coco Soul Hand & Nail Cream that is made with pure ayurvedic herbs and is enriched with healing and moisturizing benefits.it contains -
Indian Rose Chestnut - A rare Ayurvedic herb, it reverses sun tanning and improves skin's brightness.
Vetiver - It protects your skin against environmental stressor, reduces dark spots and gives you a balanced skin tone.
Virgin coconut oil - It is loaded with antioxidants and good fats that moisturizes your skin and makes it soft and smooth.
The best way to prep yourself for parties and days of fun and frolic is to use the right products and follow natural skincare tips and hair care tips at home. Also, to enjoy to the fullest in the party season, keep yourself hydrated, intake a balanced diet and and stay away from chemicals. Head over to the Coco Soul website to shop for natural friendly products here.
Check out our blog on the benefits of organic skin care products to learn more about Coco Soul's organic and natural products.
Frequently Asked Questions Beauty Tips for Parties
1. How do I prepare my skin for a party?
Cleanse your skin of all the dead skin, moisturize it well and stay hydrated
2. How can I make my skin look better instantly?
Cleansing, exfoliating and moisturizing is one of the best skincare tips. Using a natural cleanser and following it with a lightweight moisturizer makes the skin look better instantly.
3. How can I look attractive without makeup?
Healthy skin looks attractive without makeup. Always rely on homemade skincare routine. Follow a healthy and natural skincare regimen, adopt a healthy lifestyle, keep your body and skin hydrated and avoid using chemical-based products.
4. How do you prepare your skin for a big event?
Keep your skin clean and nourished to prepare it for a big event. Start with using a mild facial cleanser, follow it with an exfoliator to remove dead skin and then use a moisturizer before starting your make-up
5. How do I prepare my hair for a party?
Use natural hair care tips like a hot oil treatment a night before to strengthen the roots, wash off with a mild natural shampoo and dry your hair naturally. You can also use hair sprays and serum to avoid frizz and dryness.