Let's admit it. The life of a working woman looks like a scene straight out of a busy newsroom floor, always on fire with deadlines, phone calls and an endless list of chores and to-do lists. Be it work-related tasks or the innumerable household chores to complete, you are always juggling a thousand things to get through your day. While it does have its positives that it keeps you fit, alert and active at all times. Sometimes it can lead to stress build-up and while impacting your health, it can also leave its mark on your flawless skin by making it appear dull, dehydrated, dark and damaged.
While living stress-free entirely may seem like an impossible dream, it is important to understand what stress can do to your body, so that you take steps to manage it.
Stress triggers the release of a hormone called cortisol in your body. Also known as the stress hormone, high levels of cortisol in your bloodstream can have both mild and chronic repercussions for your health. Hence, it is important to keep a tab on your stress levels and not let it affect your health and skin. Below are some common skin problems caused due to stress and ways to deal with it.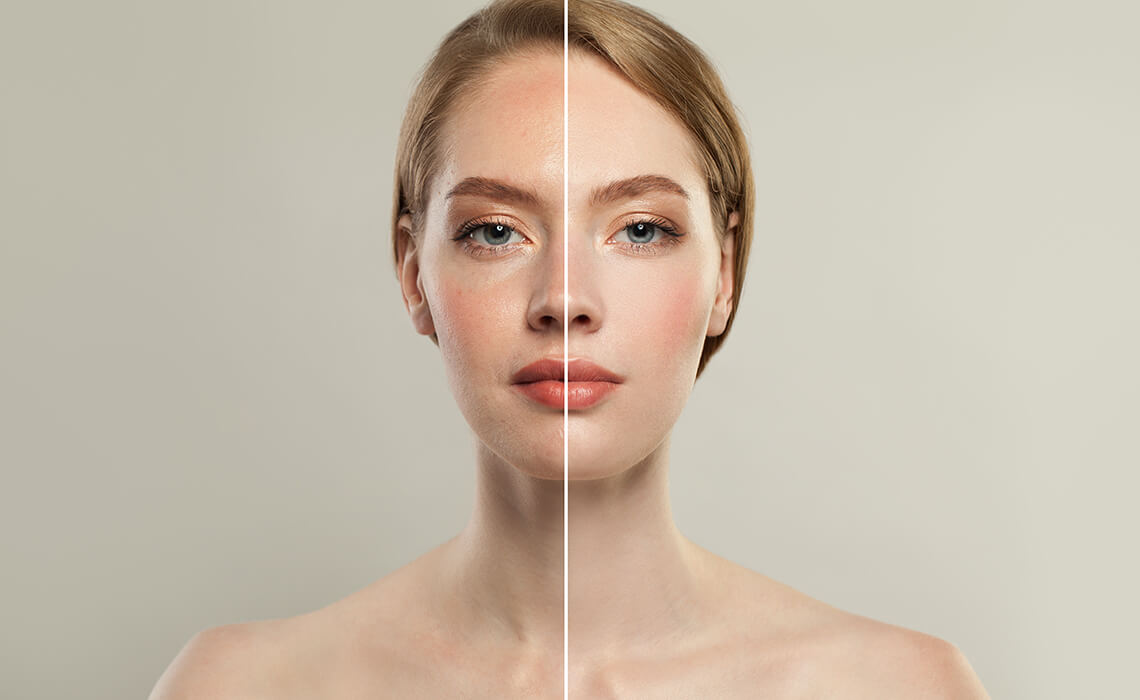 Side-effects of stress on the skin
Experts believe that there is a direct relationship between stress and skin issues. The more stressed you are, the more dull and dry your skin will look. So, if you are someone who continuously battles skin problems, it might behove you to watch out for the constant stress lines on your forehead.
Stress can reflect on your skin through many different skin problems, from mild acne to chronic ailments like eczema and psoriasis. To fight these stress-induced skin reactions, you must know what they are.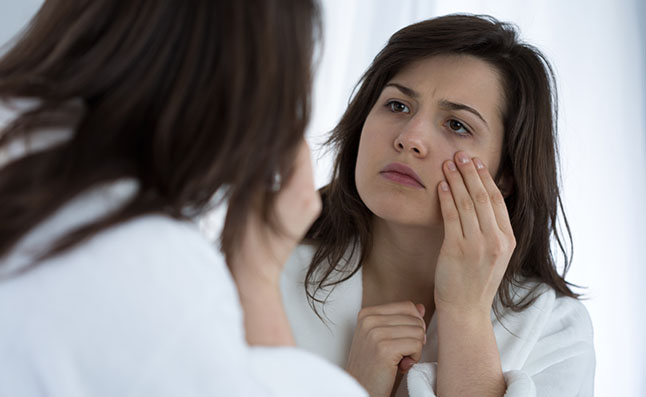 Acne
One of the worst stress-induced skin reactions is acne. The increase in cortisol induces excess oil to be released from the sebaceous glands around your hair follicles. This oil and sebum secretion clogs the pores, leading to acne and blackheads.
Dullness and dryness
One of the main stress-induced side-effects on the skin is dullness and dryness. When you have stress building up in your mind, you tend to compromise on healthy lifestyle habits; you might sleep less, forgo a balanced diet, and even reduce your water intake. The result is dull and dehydrated skin. Scientifically speaking, your skin gets dry and itchy when the functioning of the stratum corneum, the outer layer of the skin that is responsible for skin hydration, is disrupted due to stress.
Signs of ageing
Stress can double the speed of ageing, making you look older than you are. It is because the secretion of cortisol is known to break down collagen in the skin and reduce its elasticity. According to dermats, chronic stress can also lead to skin inflammation, increasing the speed at which your skin ages and leaving it wrinkled and saggy. Moreover, stress can also cause puffiness, wrinkles, and dark circles under your eyes in addition to disturbing the working of your internal organs.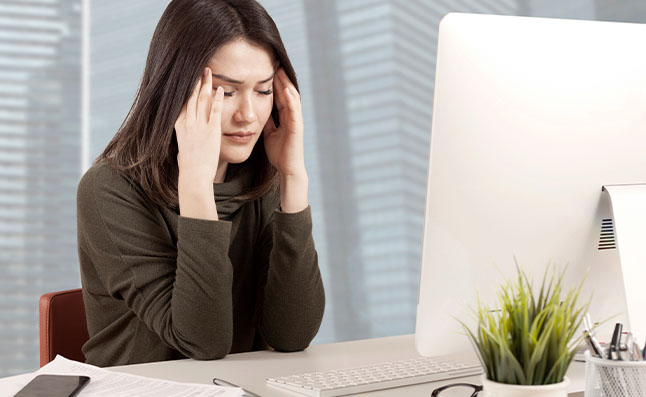 Rashes
Did you know that one of the many effects of stress on the skin is skin rash? Stress-induced skin rashes can occur due to increased body heat, an outcome of unhealthy lifestyle habits. The scientific reason for skin rashes due to stress is linked to your immune system. Chronic stress directly hits your immune system and weakens it. A weakened immunity then causes an imbalance in your stomach, which can lead to redness, heat boils, and even skin rashes. Moreover, many other chronic skin problems like psoriasis, eczema, contact dermatitis, and rosacea have also reported stress-induced skin rashes.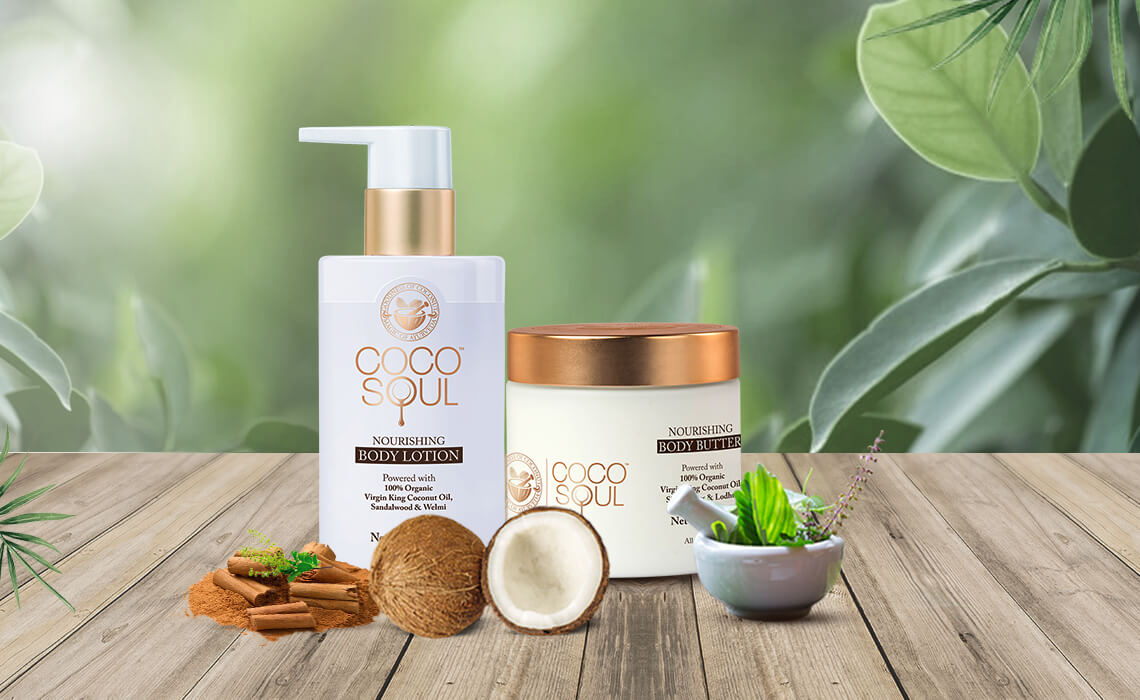 How to deal with side-effects of stress on the skin?
While stress is already playing with your skin, it is crucial that you save it from harsh, harmful chemicals at least. These chemicals can make your skin irritated, dry, and lifeless. Hence, dermats recommend that you opt for natural products made with plant-based ingredients. Skincare products that have moisture-laden ingredients in their core can help reduce the side-effects of stress on the skin.
Ayurveda contains thousands of centuries-old secrets for beautiful skin that can help you get flawless and radiant skin despite your stressed lifestyle.
Yes, we agree that procuring Ayurvedic secrets can sound like going on an expedition, but what if you seek a brand that envisions borrowing these secrets and bringing them to your door? Enter, Coco Soul. With the belief that Mother Nature has the solution to all our skincare problems, Coco Soul harnesses the magic and goodness of nature in a tube.
Infused with virgin coconut oil in its core and other exotic ingredients, Coco Soul's natural skincare products will gently work to eliminate your concerns and give you soft, radiant skin in no time.
Coco Soul Nourishing Body Butter Cream
This rich body butter cream is like a superfood for your skin. While it smells like heaven, it works like magic to give you glowing and nourished skin. This luxurious body butter cream contains:
Virgin coconut oil: An Ayurvedic elixir, it hydrates your skin and promotes cellular repair.
Shea butter: Rich in vitamin E, it helps reverse ageing by lifting sagging skin and keeping your skin youthful and soft.
Lodhra: It nourishes and purifies your skin and delays the signs of ageing.
Virgin coconut oil: Packed with nurturing compounds, it hydrates and moisturises your skin and promotes cellular repair.
Sandalwood: Revered in eastern cultures for centuries, it reduces oxidative stress from the skin, reverses skin damage, and minimises age spots.
Welmi: Packed with vitamin C, it fights skin dullness to reveal radiant and beautiful skin.
Maintain a healthy lifestyle
Take efforts to maintain a healthy lifestyle even amid your busy schedule. Get adequate sleep, drink ample water, and ensure a balanced diet rich in vitamins and proteins. These changes will not only reduce your stress levels but will also help you get healthy and glowing skin.
Exercise and meditate
Meditation is one of the best ways to reduce stress-induced skin reactions. Meditation calms your mind and helps you relax. It also increases the level of oxygen in your skin, which slows down the ageing process. Similarly, with exercise, you can reduce the effect of stress on your body and the skin. Exercising can reduce cortisol levels in the body, which dials back the oil secretion.
Practise mindfulness
You get stressed when you worry about things excessively. Mindfulness will make you more aware of your thoughts and emotions and help you let go of things you cannot control. Mindfulness will also help you have a positive attitude towards life, thereby helping reduce stress.
When you're already struggling to heal the side-effects of stress on your skin, ensure that you say "no" to chemical-based products. All Coco Soul products are free from parabens, sulphates, DEA, silicones, and other harmful chemicals. The best part about these products is that they are not tested on animals, are 100% vegan, MadeSafe™-certified, and made with natural plant-based ingredients. So dive into the magic of organic products, spend some time amid nature, and say "no" to stress to get glowing skin. You must also check out our blog on skincare during pregnancy to learn about the products and ingredients to avoid during pregnancy.
Shop for more nature-inspired Coco Soul products here.