With snowflakes, bonfires and trendy woollens, the best of all seasons, winter is here. While winters allow you to snuggle under the warm blankets with a cup of coffee and your favourite read, they also bring with them a host of beauty woes. Dryness in skin and scalp, frizz and static hair, crack in heels, chapped lips, etc. are just a few to name. Ugh! But do not worry, looking gorgeous in winters might seem difficult, but it is not, when you are equipped with winter beauty tips to help you look as beautiful and glowing as ever.
Here are some winter hair care and winter skincare ideas to help you say goodbye to beauty woes and stay gorgeous.
Winter skincare tips
1. Feed your skin adequately
Moisturisation is one of the crucial winter skincare tips. Harsh winter winds strip off the natural oils from your skin that lead to cracked, dry and flaky skin. You should moisturize your skin several times a day with natural oils like pure coconut oil, almond oil or olive oil, or use a moisturizer infused with them. However, ensure that you do not use a thick or sticky moisturizer as it can clog the pores in your skin and cause acne and blackheads. Look for a lightweight yet nourishing body lotion that can remove dryness and smoothen your skin.
Using a chemical-free moisturizer which is infused with Ayurvedic and natural ingredients is enriching and safe for your skin. However, it might be difficult to procure pure natural ingredients for your winter skincare. In such a situation, you can rely on brands that bring to you, the secrets of Ayurveda and nature at your doorstep. Coco Soul is one such brand which believes that mother nature has a solution to all your beauty woes and so, all its products are infused with centuries-old Ayurvedic secrets. With that we present to you the Coco Soul Nourishing Body lotion for the best winter skincare.
Infused with virgin coconut oil and choicest Ayurvedic herbs, this delicious smelling body lotion is a genie in a bottle. Its lightweight texture melts easily and penetrates deep into skin layers. It is the ideal nourishment for winter skincare as it moisturizes dry skin as well as brightens it for a soft glow. This body lotion contains -
Sandalwood - Revered in eastern culture, it encourages the reduction of oxidative stress in the skin, minimises age spots and reverses sun damage.
Welmi - Loaded with Vitamin C, it reduces skin dullness and gives radiant and glowing skin.
Virgin coconut oil - Enriched with skin nurturing compounds, antioxidants and fatty acids, it deeply nourishes the skin and fights dryness.
An ideal moisturizer for dry skincare in winter, it will help you face the chilly winter winds and get a moisturized glow.
2. Adopt a night skincare routine
When you sleep, your skin heals and repairs itself. A nourishing night skincare routine helps the skin to replenish itself so that you wake up with a softer and supple skin, the next morning. Before you hit the head, coat your dry skin with hydrating creams and lotions to soften and nourish them. You can try the all-natural Coco Soul Nourishing Body Butter that is enriched with virgin coconut oil, shea butter and lodhra, a potent mix to repair dry and damaged skin. Do not forget your hands and feet who bear the maximum winter stress. Include a nourishing cream for your feet in your winter skincare too. The Coco Soul Foot Cream enriched with Virgin coconut oil, neem and peppermint restore lost moisture from your feet and keep them smooth and soft.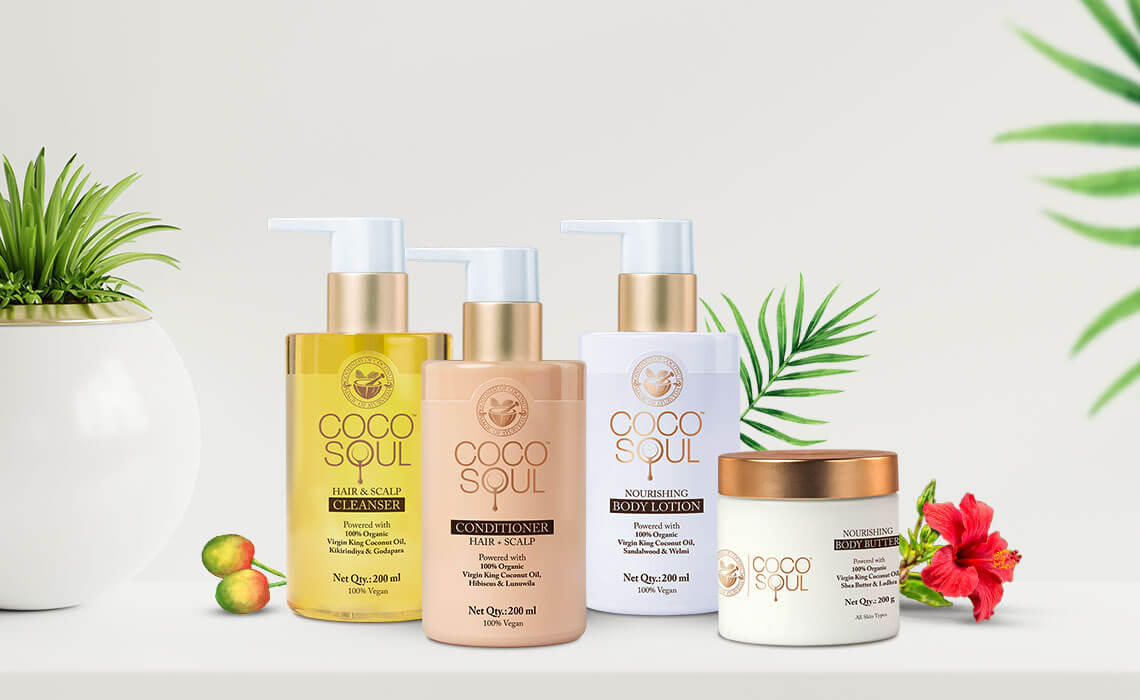 Winter hair care tips
1. Recheck your hair products
Winter winds coupled with artificial heat can play havoc with your hair. The cold winds bring with them loads of hair issues like dandruff, flaky scalp and frizz. Which is why especially during winters, you should use hair products that nourish your scalp and not dry them more. Along with the cold weather, chemical infused hair products further aggravate the hair problems making your hair dull and lifeless. Dermats recommend using nature-friendly hair products that are devoid of harsh chemicals for beautiful hair.
For hair care in the winter season, you can try the Coco Soul Hair & Scalp Cleanser. A potent concoction of purest ingredients, this scalp cleanser gently removes dirt and oil from your hair while moisturising your scalp. Infused with virgin coconut oil and Ayurvedic herbs, this hair cleanser gently washes your hair and removes dirt and oil, unclogs hair follicles, balances scalp oils and strengthens hair roots. It contains -
Virgin coconut oil - It is rich in fatty acids and skin-nurturing compounds that nourish and moisturize your scalp while nurturing the roots.
Godapara - This Ayurvedic herb soothes the itchy and flaky scalp and strengthens the hair.
Kikirindiya - It boosts blood circulation in the scalp, treats dandruff and promotes hair growth.
For best winter hair care, pair this hair cleanser with Coco Soul Hair & Scalp Conditioner and get soft, bouncy and manageable hair.
2. Be easy on your hair
Avoid heat styling products and hair treatments on your hair. They can weaken your roots, cause breakage, hair fall and can draw moisture from your hair making it rough and frizzy. Similarly, avoid exposing your hair to direct sunlight and hot air of heaters as it can further dry your hair. Wear a hat while you step out and protect your hair from harsh cold winds.
3. Give your hair a deep conditioning treatment
Just like the skin, your hair demands nourishment too. For winter hair care, you must treat your hair with a deep conditioning treatment such as a hot oil massage at least once a week. Virgin coconut oil is considered as one of the best oils for hair massage. Heat the oil and gently massage it on your scalp and hair in a circular motion. Cover your hair with a towel for maximum absorption. This hot oil treatment will prevent dry, flaky scalp and dandruff and reduce the problem of static hair.
Conclusion
Cozy woollens and hot water are the comforts everyone loves during winters. However, while the friction from woollens causes static hair, hot showers can further make the scalp and skin dry leading to flaky skin and roughness. Therefore, for skincare in the winter season, avoid taking hot showers, and use lukewarm water for baths. Ensure that you have an intake of a healthy diet enriched with fruits and vegetables and drink adequate water to replenish your body of all lost moisture and nutrients. You must also check out our blog on how to get rid of acne from our skincare blog section.
Use these winter beauty tips and head over to Coco Soul website to buy nature-friendly products here. Happy winters!
Frequently Asked Questions on Winter Beauty Tips

1. How can I get a glow on my face in winter?
It is easy to get a glow on your face in winters by keeping your skin clean and nourished.
2. What should you apply on your face in winter?
You can apply a lightweight moisturizer or non-sticky cream on the face in winters.
3. How do I get rid of winter dryness on my face?
To remove winter dryness, nourish your face adequately. Ensure to moisturize it with a nourishing lightweight moisturizer at least twice a day and avoid using hot water for showers.
4. What are the home remedies for skin in winter?
Massaging your skin with virgin coconut oil is one of the best winter skincare homemade tips. Drink adequate water, exfoliate dead and flaky skin and regularly apply moisturizer on the skin to keep it nourished. You can also apply homemade masks.
5. How can you get smooth skin in winter?
Keep your body and skin hydrated. Use a nourishing moisturizer and stay away from hot showers and chilly winds.