Agreed, you love your hair on days when you wash them. Your hair is silky, soft, manageable, and shiny. After all, it is what shampoos are supposed to do, isn't it? But what if we tell you that the same hair products which give you beautiful hair can be responsible for degrading your hair quality and sometimes harming your health too. Surprised?
Your shampoo and conditioners often contain several ingredients that are harmful to you and should be avoided at all costs. These harmful chemicals in shampoos are made in laboratories and unsafe for your scalp and hair and sometimes health too.
Here we tell you about 5 such toxic ingredients that you should watch out while using hair products.
1. Sulphates
One of the most notorious and harmful chemicals found in shampoo are sulphates. While there are many variants of sulphates, the most common variants found in beauty products are Sodium Lauryl Sulfate (SLS) and Sodium Laureth Sulfate (SLES). Sulphates are cost-effective cleaning agents that are used to lather up in rich foam and effectively clean oil and dirt from your hair and scalp. However, while they are believed to carry harmful hormone-disrupting agents that can be cancerogenic, sulphates can be harsh on your scalp and hair stripping off your natural oils and making your hair dull, dry, and rough.
2. Synthetic fragrance
Fragrances found in your hair products are good for an aromatic bathing experience, but you should know that it can cause inflammation in your scalp. Synthetic fragrances found in hair products can cause a series of allergic reactions like irritation, redness, itchiness, hives, or dermatitis. It is mentioned in the label as a fragrance or a perfume. Ensure to read the label carefully and try looking for products that are free from artificial fragrances.
3. Polyethylene Glycol (PEG)
A derivative of petroleum, polyethylene glycol can interfere with bodily functions. While it is mostly found in conditioners, it is known to contain dangerous dioxin levels that can pose a risk of cancer and lead to organ system toxicity.
4. Parabens
Parabens are used in shampoos and conditioners as preservatives to increase their shelf life by preventing the growth of bacteria and fungus in them. However, dermats suggests not using products containing parabens. Parabens are known to mimic the estrogen hormones in the body and pose a risk of breast cancer and reproductive disorders.
5. Silicones
Silicones are used in hair products to make your hair shiny and glossy. It forms a protective layer on your hair and seals moisture inside. However, this is one of the widely used chemicals to avoid in shampoos and is found in the form of Dimethicone, Cyclomethicone, Phenyl trimethicone, Cyclopentasiloxane, Cyclohexasiloxane in hair products. Build-up of silicone on your hair can weigh your hair down and prevent nutrients and vitamins from penetrating the hair cuticles. Over time it can also cause dryness and hair damage.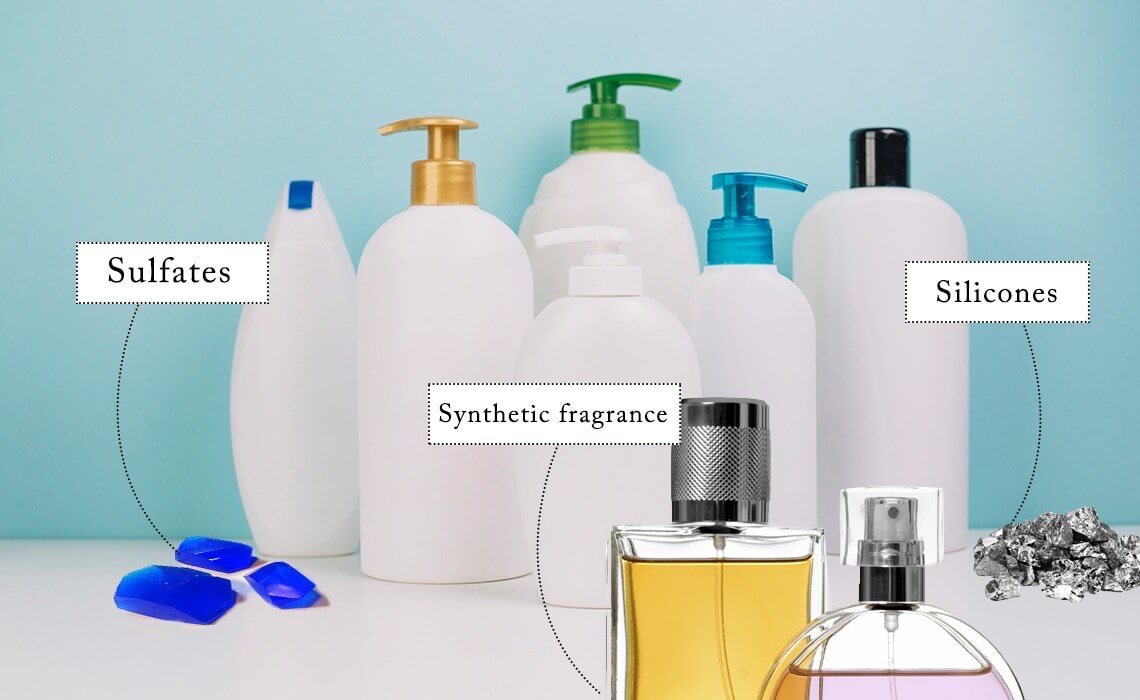 Now that you know the harmful effects of chemicals in shampoos and conditioners, it would be easier for you to switch to natural hair care. And believe us, it is no big task to find a shampoo without harmful chemicals. All you need to do is to look for brands that practice what they preach and make their products with 100% natural and Ayurvedic ingredients. One of the best natural brands is Coco Soul. Coco Soul envisions bringing the goodness of nature to your doorstep. It believes that mother nature has the solution to all your hair woes and one should seek the secrets of Ayurveda and nature for beautiful and gorgeous hair. The products are free of chemicals, and gentle on your scalp.
Try Coco Soul
You can try the Coco Soul chemical-free shampoo and conditioner for gorgeous hair. Coco Soul Hair & Scalp Cleanser Made with the purest of Ayurvedic ingredients, this hair cleanser gently washes off the dirt and pollution, balances scalp oil, unclogs hair follicles, and strengthens hair roots. Its natural ingredients gently cleanse your hair and help you get soft, bouncy, and manageable hair. This natural hair shampoo contains -
Virgin coconut oil Loaded with good fats and antioxidants, it nourishes the scalp and nurtures the roots.
Godapara - An organic herb, it soothes the itchy and flaky scalp and strengthens the hair.
Kikirindiya - It boosts blood circulation in the scalp promoting hair growth and treats dandruff and hair fall.
Coco Soul Hair & Scalp Conditioner A perfect pair to your hair cleansers, this natural hair conditioner strengthens, nourishes, and softens your hair shafts and makes it silky and smooth. It also seals moisture in your hair, while preventing frizz and split ends, leaving you with bouncy and envy-inducing manageable hair. It contains:
Virgin coconut oil - Known as a elixir in Ayurveda, it nurtures the hair strands and repairs hair damage.
Hibiscus - A remedy for hair fall, it strengthens hair roots, and encourages natural hair growth.
Lunuwila - A rare herb, it repairs hair damage, prevents premature greying, and reduces split ends.
This toxin free shampoo and conditioner is made with natural ingredients and is free from sulphates, silicones, sodium chloride, petroleum, DEA, mineral oils, phthalates, propylene glycol, parabens, or any other chemical compounds. It is also 100% vegan, has not been tested on animals, and is certified by Madesafe.
If you do not consider the ingredients listed on the labels while shopping for your hair products, you might be risking your hair and health too. These harmful ingredients in shampoo and conditioner can not only harm your scalp but also cause hair damage, breaking your dream of having long gorgeous hair. So, ditch these chemicals and head over to the hair care section of Coco Soul to shop for toxin free shampoo today.
Also, now that you know why you must must avoid chemical based products, check out our blog on the secrets of healthy hair care routine from our hair care blog section.
Frequently Asked Questions on Harmful Chemicals in Shampoo
1. Which are the most harmful ingredients in a shampoo?
Sulphates, parabens, formaldehyde, silicones, etc are harmful ingredients found in a shampoo.
2. Which ingredients should you avoid in a conditioner?
You should avoid chemicals like parabens, Polyethylene Glycol, silicones, etc., in conditioners as they can harm your hair.
3. Which ingredients make your hair fall out?
All chemical-based ingredients that can harm your scalp can lead to hair fall. Even chemicals used in conditioners can indirectly cause hair fall by causing hair damage. Chemical ingredients like sulphates, etc., found in hair products can make your hair fall out.
4. How do you choose a good shampoo?
While you shop for shampoo, look at their ingredients. Ensure that they are suitable for your hair type and include no chemical ingredients. They should not include any harmful chemical compounds or synthetic fragrances and materials.