Congratulations! If you are reading this, you are either pregnant or planning to conceive. While pregnancy is an exciting phase, it can get overwhelming as your body undergoes a lot of changes, not to forget the transformation your skin and hair will go through, i.e. a change in the texture, or worse, hair fall. Hence, it is recommended that along with caring for your health and diet during this time, you adopt a natural haircare routine too.
Here, we have suggested some of the best natural haircare tips to follow during pregnancy to overcome your hair fall scares. But before that, let's start with understanding the changes in your hair during pregnancy.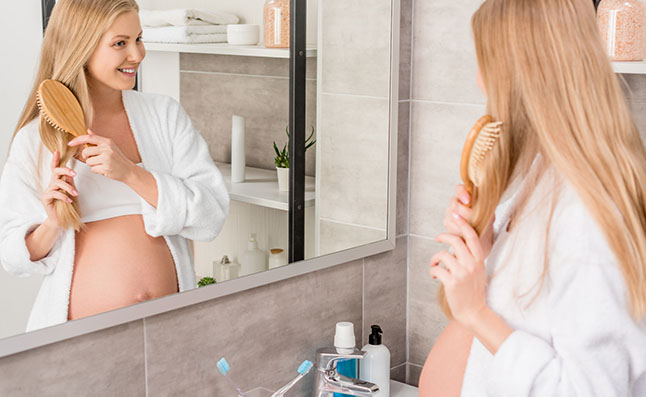 Why does your hair change during pregnancy?
Hormones are responsible for the changes in your body during pregnancy, including your hair. While these hormonal changes are meant to create a safe space for your baby, they also alter the growth and look of your hair. For most women, their hair tends to thicken and become fuller, while for others, they start thinning or even falling.
Thankfully, with a pregnancy-safe haircare routine, your hair is restored back to its normal health within six months of delivery.
Natural haircare products for pregnant women
When you are pregnant, everything you eat is scrutinised to ensure that it is safe for both you and the baby. Then why not follow the same rule when choosing external products too?
Almost all chemical-based haircare products contain ingredients that can be harmful for your skin and health, and especially for the baby. The Food and Drug Association (FDA) also lists down several ingredients found in haircare and skincare products that are detrimental to the health of pregnant women.
Hence, it is always better to switch to natural haircare products and choose the magic of exotic, Indian Ayurveda over chemicals.
Ayurveda, known as the science of life, has the remedies to all your hair-related woes; and with brands like Coco Soul, these secrets are yours to benefit from. With Coco Soul, we bring to you the best of nature's goodness and Ayurvedic wisdom in easy bottles and tubes. If you are looking to adopt a nature-based haircare routine, we present au naturel products infused with the all-powerful virgin king coconut oil and plant-based herbs.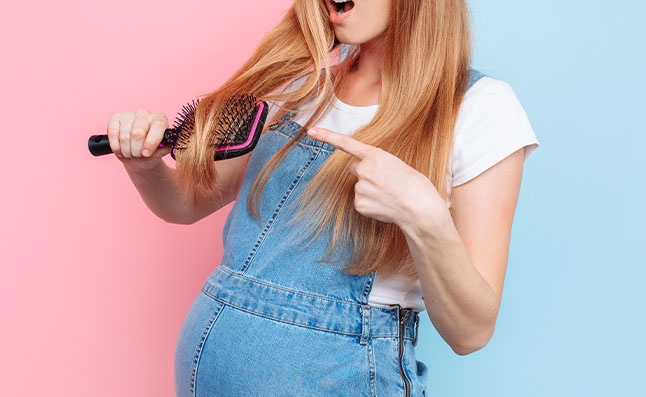 Coco Soul Hair & Scalp Cleanser
This luxurious hair cleanser is a potent mix of the purest natural ingredients. Packed with virgin coconut oil and herbs like godapara and kikirindiya, it gently cleans your scalp, balances scalp oils, and unclogs hair follicles.
Virgin coconut oil: Promotes cellular repair and makes your scalp and hair shafts soft and smooth.
Kikirindiya: Boosts blood circulation and treats hair issues like dandruff and hair fall.
Godapara: Soothes flaky and itchy scalps while strengthening the hair to promote growth.
This exotic herbs-infused cleanser will transform your bath into a luxurious experience and give you bouncy, manageable, and soft hair in no time.
Coco Soul Hair & Scalp Conditioner
Created with the healing properties of virgin coconut oil and Ayurvedic herbs like hibiscus and lunuwila, this hair conditioner is a magic potion that will help you get closer to envy-inducing hair.
Virgin coconut oil: Hydrates and moisturises your scalp to provide lasting nourishment.
Lunuwila: Prevents premature greying, reduces split ends, and promotes healthy hair growth.
Hibiscus: Known to be an ancient remedy for all hair woes, hibiscus strengthens the hair roots and encourages growth.
This hair conditioner is bound to make your hair stronger, manageable, and aromatic.
Pregnancy do's to get amazing hair
Following are some natural pregnancy haircare tips you can follow to get lustrous locks.
1. Oil massage
The best haircare routine is one that includes an oil massage. A good oil massage nourishes your hair strands and stimulates blood circulation to improve growth and texture. For effective haircare during pregnancy, you should massage your hair with oil at least twice or thrice a week or before each shampoo. You can use natural hair oils like coconut, olive, jojoba, sesame, or almond. For a healthy haircare routine, warm the hair oil and gently massage it into your scalp with the fingertips. Do not be harsh or pull at the roots unnecessarily.
2. Adopt a balanced diet and stay hydrated
All haircare tips could fail you if you do not consume a balanced diet. Ensure that your diet contains ample fruits, vegetables, seeds, nuts, and protein-rich foods. Additionally, consume at least 3-4 litres of water every day and stay hydrated.
3. Trim your hair regularly
An important aspect of a healthy hair routine is regular trimming. A quick trim every trimester will help balance the natural bounce of your hair while avoiding split ends and roughness. You can also get a new haircut once in a while to keep things fresh. To learn how to get rid of split ends, head over to our blog on split end remedies.
4. Pick the right products
Adopting the best haircare routine would be easier if you choose the right products. Identify your hair issues and choose the products accordingly. It would be best if you pick safe and nourishing Ayurveda-based products, such as those from Coco Soul. They are free from parabens, sulphates, sodium chloride, silicones, DEA, mineral oil, and any other chemicals. They are also 100% vegan and MadeSafeâ"¢-certified, which makes them completely safe for the skin and the environment.
Pregnancy don'ts to get amazing hair
1. Avoid stress
To allow the best haircare tips to work on your hair, you need to de-stress and relax. Stress during pregnancy often weakens the hair follicles and induces hair fall. Meditate, do yoga, and listen to soothing music whenever you feel stressed and/or anxious.
2. Avoid chemicals and hair treatments
It is suggested that you should avoid any hair treatments during pregnancy. The heat and chemicals from bleaching, perming, and colouring can damage your hair roots and can result in roughness and hair fall.
3. Don't be too harsh with your hair
Apart from opting for natural pregnancy hair treatments, also be gentle with your haircare routine. Do not comb your wet hair as it can break easily. Similarly, avoid tight hairstyles like buns or ponytails.
Having to deal with hair fall during pregnancy can be alarming and stressful. However, with the right pregnancy haircare routine, you can get over these concerns in no time. These at-home haircare tips will help you restore the health of your hair naturally. Always ensure that you invest in natural products to protect yourself and the baby from the harmful side-effects of chemical-based products. Shop for organic hair products from Coco Soul here and gift yourself with the magic of nature. You must also take a look at the other causes of hair fall.