You know winters have arrived when your hair starts getting frizzy. You step out of the house with smooth and silky tresses, but as soon as the winter winds welcome you, your hair swells into a large cloud of frizz. Ugh!. Add to it, the indoor heating and hot showers, and you are ready with tresses you have no control over.
If you can resonate with what we say, you have come to the right place. We understand that frizzy hair can be a nightmare and so here are some tips to get rid of them this winter. Continue reading to know more.
What is frizzy hair?
Your hair gets frizzy when the cuticle of the hair curls upwards, exposing the inner cortex to the humidity leading to swelling and dryness. Frizzy hair tends to get rough and dry which leads to breakage. Your hair gets frizzy due to dryness, hair damage and excessive humidity. It is more prone to frizz in the winter season as the harsh winds, coupled with the varying temperature from the indoor heating increase the dryness of hair.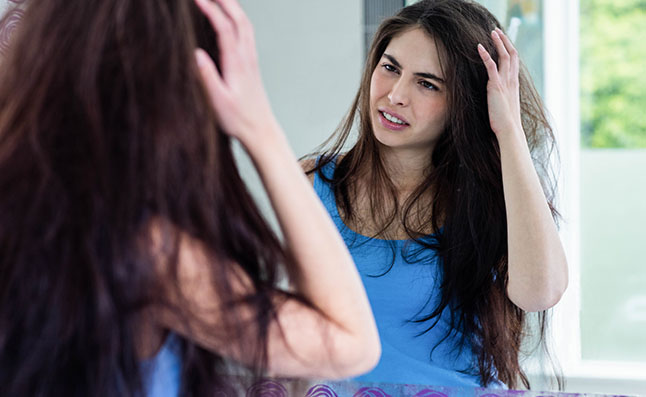 What is the treatment for frizzy hair?
Frizzy hair can be a nightmare not only in the winters but in all seasons. While nourishing your hair is the best way to keep it frizz-free, there are few other ways to avoid frizzy hair. Read on.
1. Use good hair products
Apart from the environmental factors, the products you use have a significant impact on your hair's health. While the hair cleanser you use should be mild and nourishing, it should be safe for your scalp too. Most cleansers you find in the market are made with chemicals that can cause irritation, dryness and even hair loss. Which is why you need to rely on natural products that have an infusion of plant-based ingredients at its core and are healthy for your hair. For example the hair care products of Coco Soul. Coco Soul is a brand that believes that nature has the answer to all your hair woes. Its products are crafted with the secret concoctions of ancient old Ayurveda and natural ingredients and are free from chemicals.
For winters when your scalp and hair is already irritated and dry, avoid chemicals and switch to natural products which nourish your scalp and seal moisture in the hair strands. You can try the Coco Soul Hair & Scalp Cleanser. This hair cleanser is made with pure virgin coconut oil, an ultra-hydrating ingredient along with other Ayurvedic herbs that gently cleans the dirt, balances scalp oil unclogs hair follicles and strengthens hair roots. Its natural properties leave your hair soft, smooth and manageable. It contains -
Virgin coconut oil - Loaded with good fats and antioxidants, it nurtures the scalp and moisturizes your hair strand.
Godapara - An organic herb, it soothes itchy scalp and strengthens the hair
Kikirindiya - It boosts blood circulation in the scalp promoting hair growth while treating dandruff and hair fall.
Virgin coconut oil - It penetrates hair strands and repairs hair damage
Hibiscus - It strengthens hair roots and encourages natural hair growth
Lunuwila - It repairs hair damage, prevents premature greying and reduces split ends
2. Oil massage
A hot oil massage in the winters provides the much-needed nourishment to the hair. Take a cup of natural oils like coconut oil, almond oil or olive oil and heat it till it becomes warm. Pour a few drops in your palms and massage the warm oil in your scalp gently in a circular motion. For dryness in hair, it would help if you can massage your hair at least twice in a week to prevent frizzy hair.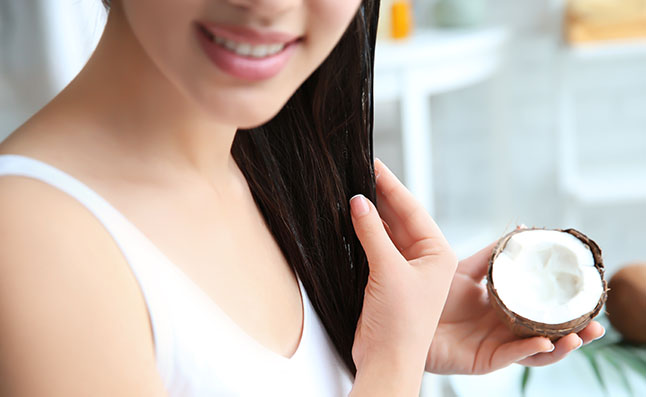 3. Protect your hair
The main cause of frizzy hair in winters is the exposure to harsh winds and sudden change in the temperature when you step inside and get in contact with the indoor heating. To avoid frizzy hair, protect your hair against environmental factors. Cover your hair when you step out in the open to avoid direct exposure to dry cold winds. Do not over-wash your hair or dry it with rough towels. Do not make tight updos and avoid styling your hair when it is wet. Also, protect your hair against the friction of woollens that further makes your hair frizzy.
4. Say no to heat products
It is natural if you are tempted to use heat styling products and hair treatments to make your hair silky and smooth. But unfortunately, it will only increase your problems. Heat styling products like a hairdryer, straightener or curler draw the moisture from the scalp and hair strands making it dryer and prone to breakage, split ends and frizz.
5. No hot showers
We are sorry to break the news that the hot showers that give you the best comfort in winters are an invitation to frizzy hair. So if you are wondering how to treat dry and frizzy hair, the first step you need to do is; say no to hot showers. Bathing with hot water not only makes your skin dry but also draws the moisture from your scalp and hair making them irritating and frizzy. During winters, when your hair is already going haywire, turn your faucet to the colder side and go for lukewarm water for the bath.
6. Apply a nourishing mask
If your scalp and hair are giving you a hard time this winter, try a nourishing mask. You can make a nourishing mask easily with the ingredients found in your kitchen. There are many natural ingredients like coconut oil, egg, honey, avocado, hibiscus that do magic on your hair and make it super silky and soft. Mix one ripe avocado, honey and egg yolk and apply this mixture on your hair. Keep it for 20 minutes and wash it off with mild shampoo and warm water to treat frizzy hair at home.
Dealing with frizzy hair can be a pain if you do not handle it well. While frizz deteriorates the quality of your hair, it also makes them more susceptible to many other problems like split ends, breakage and flat hair. But not anymore!. Use high-quality natural products and follow these tips to treat frizzy hair naturally. Check out our blog on how to treat winter hair problems to say goodbye to all the winter hair issues.
Head over to Coco Soul website to shop for more winter-friendly hair products today. Also, if you're suffering from hair loss then head over to our blog on the solution for hair loss to get rid rid of hair loss naturally.
Frequently Asked Questions on Frizzy Hair in Winter
1. How do I keep my hair from getting frizzy outside?
Cover your hair when you step out, keep it nourished with good products and hair masks and avoid keeping your hair open in harsh winter winds.
2. How can I stop my hair from getting frizzy?
Use natural products that are free from chemicals, reduce the exposure of hot water and indoor heating on your scalp and use a nourishing mask to avoid dryness in hair.
3. Why does my hair get frizzy in cold weather?
The cold weather draws moisture from your hair making it dry and frizzy.
4. How can I make my hair frizz-free naturally?
You can cure frizzy hair naturally by keeping them nourished. Avoid using heat treatments and hot showers, protect your hair against cold harsh winds and use hydrating hair products.
5. Why is my hair so frizzy and poofy?
Your hair is frizzy and poofy because it is dry and lacks nourishment. Your cuticles lift to take in moisture from the air and create more frizz.