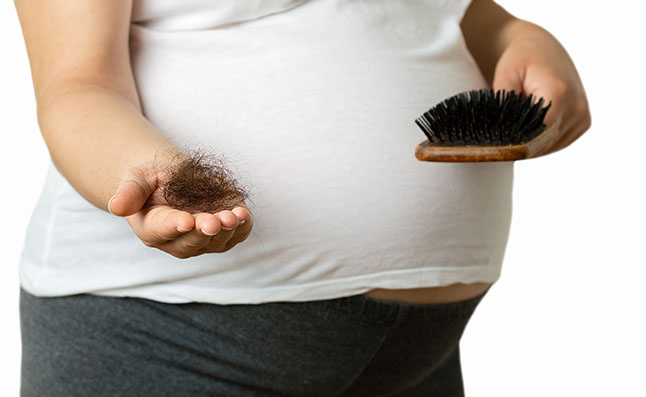 Agreed, your pregnancy might have prepared you for many post-delivery challenges, viz. mood swings, fatigue, pigmentations and lack of sleep, to name a few; but one change that might come as a surprise to you post-delivery is hair fall. Most women tend to panic after witnessing hair fall around this time. And seriously we don't blame you, because hair loss after delivery can be difficult to handle.
But believe us when we say, you do not need to panic. It's just your body trying to adjust from the hormones raging inside you and not something that you should lose your mind over. It's a temporary phase and your good hair days will return soon. So why worry? Instead, it would help if you knew why women suffer from hair fall after pregnancy and how they can deal with it. Read on to know more.
Why do you face postpartum hair fall?
At the risk of sounding like a broken record, hair loss after delivery is completely normal. Medically called telogen effluvium, hair fall post-pregnancy is due to the sudden shift in the hormones in your body.
The estrogen levels in your body rise significantly when you are pregnant, leaving your hair in a perpetual growth stage. Hence, there is typically no shedding at this stage, which is why you enjoy long, lustrous hair during those nine months. However, after delivery, the estrogen levels gradually decline to normal and your hair suddenly starts shedding, resulting in increased hair fall. Moreover, a post-delivery rise in the stress hormone cortisol also plays a part in causing postpartum hair fall.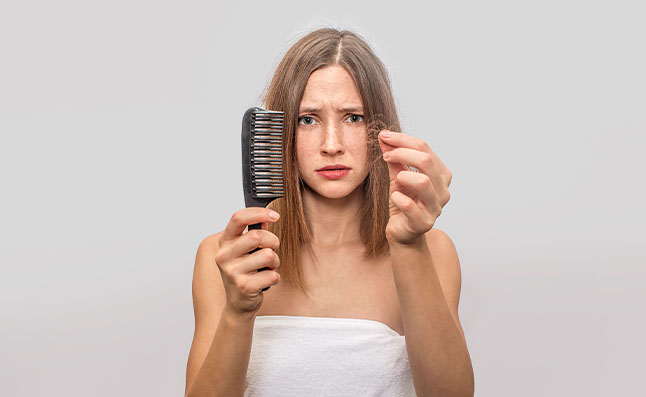 How to deal with post-delivery hair fall
1. Use natural products
Since there has recently been an influx of hormonal changes in your body, it would be best if you avoid chemical products and embrace the magic of Ayurveda and Mother Nature. While natural ingredients and herbs nourish your locks, they also cure hair-related issues gently without any side-effects.
We suggest trying Ayurveda and looking for hair products that are devoid of chemicals or artificial compounds. Ayurveda contains ancient secrets for flawless skin and hair. Its ingredients and remedies not only help fight issues like hair fall and breakage, but also impart strength for healthy growth.
We, at Coco Soul, believe that nature has the solution to all your hair and skin issues. Created with the wisdom of Ayurveda and nature itself, Coco Soul's haircare range contains pure, 100% organic virgin coconut oil in addition to the most potent herbs and spices. Now, treat your hair with the goodness of nature and Ayurveda with these Coco Soul products:
2. Coco Soul Hair & Scalp Cleanser:
Crafted with ancient Ayurvedic wisdom, this hair cleanser is nature's goodness captured in a bottle. Infused with virgin coconut oil and the magic of kikirindiya and godapara, it gently cleanses dirt, oil, and other impurities from your scalp and unclogs the hair follicles, while strengthening the roots and balancing the scalp oil. It contains:
Virgin coconut oil: Rich in skin-nurturing compounds, it nourishes the scalp and hair shafts to give you strong, beautiful hair.
Kikirindiya: Known to boost blood circulation in the scalp, it treats dandruff and hair fall to give you beautiful hair.
Godapara: A potent herb, it soothes itchy and flaky scalps, helping your hair to grow naturally and beautifully.
3. Coco Soul Hair & Scalp Conditioner:
Infused with virgin king coconut oil and the goodness of Ayurvedic herbs like hibiscus and lunuwila, this hair conditioner is specifically formulated to give you soft, manageable hair. It gently untangles your hair strands to make them soft and smooth. It has:
Virgin coconut oil: Widely known to facilitate healthy hair growth, it moisturises the scalp and hair shafts.
Hibiscus: It strengthens the roots, encourages re-growth, and adds volume to your hair.
Lunuwila: It is known to prevent premature greying, reduce split ends, and promote healthy hair growth.
To learn more about natural products for hair care, check out our blog on prodcuts made with natural ingredients for hair.
4. Eat a healthy and balanced diet
Along with external nourishment, it is crucial that you eat a balanced diet to fight post-delivery hair loss. Consume a healthy and nutrition-rich diet that includes fruits, vegetables, nuts, eggs, beans, pulses, dairy products, sweet potatoes, carrots, etc. Also, include light exercises in your schedule and drink ample water to replenish the lost nutrients and minerals.
5. Hair massage
A hot oil massage will not only help you relax but also nourish the hair follicles, promoting growth and reducing post-delivery hair loss. Warm up a nourishing hair oil, like coconut or olive, and gently massage it into your scalp using your fingertips. Now, wrap a hot towel around your head and let it stay for a while. This will help your scalp absorb the oil better. A hot hair massage nourishes your hair, strengthens the roots, and reduces postpartum hair fall.
6. Be gentle with your hair
As your estrogen levels return to normal, ensure that you exert no external pressure on your hair. Do not use any heat styling tools or chemical-based treatments. Towel dry your hair instead of using a hair dryer and ditch pony tails or tight hairstyles for a few months. Moreover, your hair can tend to get brittle and weak during this time. So do not brush your hair roughly as it can weaken the roots and lead to breakage.
7. Sit back and relax!
Sure, you have witnessed sudden hair fall after delivery, but stressing about it will only aggravate it. Instead, include meditation and yoga in your routine to calm your senses and relax. You need to remember that it is just a phase and your hair will be back to normal in no time.
While you bask in the glory of the new life growing in front of you, do not let the worry of hair loss diminish your happiness. Manage your pregnancy hair loss with Coco Soul's natural haircare range. It is free from silicones, sulphates, sodium chloride, DEA, petroleum, parabens, or any other chemicals. Moreover, it is 100% vegan and also MadeSafeâ"¢-certified, i.e. completely safe to use on your skin.
So what are you waiting for? Shop for our hair products here today.