Split ends can be a vicious enemy because it might not be as evident as hair fall, but if you don'tnip it in the bud', it can go on to worsen your haircare woes. Yes, trimming your hair can help you get rid of split ends, but if you have mid- or short-length tresses, it might become difficult for you to don different hairstyles.
But we are here for you, aren't we? Here, we've explained the ways to prevent and get rid of split ends without cutting your hair. But before that, let us tell you what causes split ends and its types.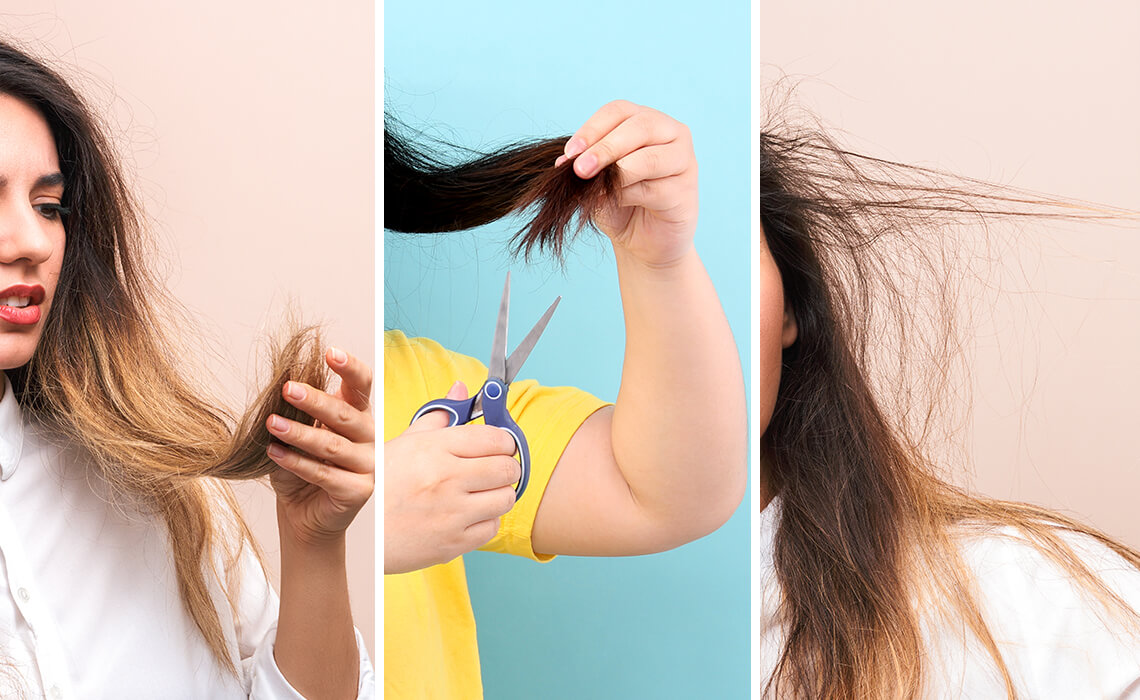 What are split ends?
Split ends are usually the first signs of hair damage. If you witness your hair strands dividing into two, either at the ends or in-between shafts, know that you've got split ends. Medically speaking, split ends usually occur when the hair cuticles split away from the shafts, exposing the inner cortex.
Initially, split ends might look like a white dot at the tips of your hair strands, but gradually the ends split completely in half. If timely steps are not taken for split end removal, it can hamper growth and make your hair dry, dehydrated, and brittle.
What causes split ends?
In addition to the daily wear and tear of your hair cuticles, the main cause of split ends is inadequate nourishment, which makes our hair weak and rough. However, dermats believe that there are a few other reason for split ends too, such as:
Taking hot showers and hot shampoos too often
Exposing the hair to heat and dry air
Brushing your hair harshly
Keeping tight hairstyles/tying your hair while sleeping
Getting frequent hair treatments
Excessive use of heat styling products like straighteners, curlers, etc.
Lack of moisture and humidity
Improper use of hair products, like harsh shampoos
Poor diet and lifestyle
Split ends and hair fall can often be interrelated, so, you must also check out the causes of hair fall.
Do split ends have types?
Yes, they do. Based on the shape they take, following are the types of split ends:
The basic split: This is the beginning stage where the tightly packed cortical cells at the ends of your hair strands start getting separated. This is also the easiest to repair with deep nourishment.
The mini-split: It is the same as the basic split, only milder. The hair strands have just started dividing and are easy to repair. Good nourishment, both diet-wise and haircare routine-wise, can help cure and prevent this type of hair splits.
Fork in the road: As the name suggests, the hair starts dividing halfway along the strand. It is a sign of significant deterioration and needs to be addressed immediately.
The tree: The hair starts ripping off and splitting on one side, looking like a tree. You will need a haircut to get rid of split ends.
The candle: It happens when you lose the outer cuticle of your hair without any split ends. While trimming is always the best solution, tending your hair with nourishing oils and chemical-free products can also help fix this problem.
The knot: This problem is most evident in curly hair, where the hair ends curl up to form a knot at the ends. These knots then lead to breakage.
How to remove split ends without cutting them?
If you are looking for the best, at-home split end removal techniques, there are other remedies for split ends too.
1. Hair dusting
This technique is quite popular for split end removals if you are looking for answers tohow to get rid of split ends without cutting the hair'. With this technique, parts of your hair is combed and the ends are carefully snipped (dusted), removing the split ends. This does not affect the length of your hair and, at the same time, addresses those nasty split ends.
2. Hair nourishment
If you absolutely do not want a scissor anywhere near your hair, then proper nourishment is the only way for you. Primarily, your hair tends to lose its shine and lustre when it is malnourished. Get this, like a strong body can weather any challenges; similarly, strong, well-nourished hair can endure and heal from any complications caused due to daily wear and tear. Now, you can cure split ends simply by eating the right things and using the right products. To begin with, applying virgin coconut oil on the ends will remove the roughness and make your hair tips appear smoother. You can also use a strengthening conditioner that fuses the strands together.
Moreover, you should take preemptive measures instead of waiting to look for a split ends remedy. You can prevent split ends using either of these ways.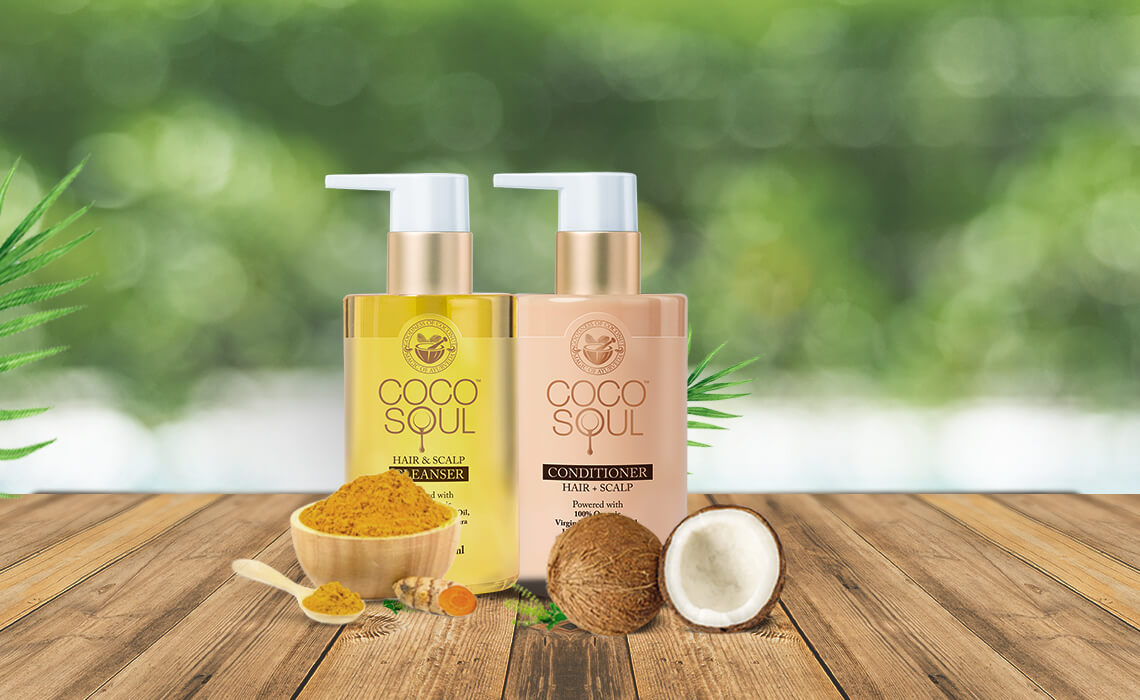 3. Choosing organic, nourishing shampoos and conditioners
Harsh, chemical-based shampoos can make your hair dry and brittle, giving an open invitation to split ends. Instead, use nourishing shampoo that is rich in natural oils are great to hydrate your hair and prevent this horrible menace. We, thus, recommend seeking the secrets of Ayurveda to get soft and lustrous hair and avoid split ends.
We, at Coco Soul, believe that nature has the best solutions for all your skin and haircare problems. Which is why we bring the magical blend of virgin king coconut oil, a native of Sri Lanka, combined with the potency of exotic, Ayurvedic herbs for your hair. Our haircare products are not only free from parabens, sulphates, silicones, DEA, mineral oils, and other harmful chemicals, they are also MadeSafeâ"¢-certified, i.e. safe for human use. They are infused with pure, exotic ingredients so that you get beautiful hair and a luxurious bathing experience today and forever.
With the au naturel Coco Soul Hair & Scalp Conditioner, you can prevent split ends by sealing the moisture in your hair strands to make your locks softer, smoother, and manageable. This stunning hair formula in a bottle is infused with virgin king coconut oil, a known Ayurvedic elixir. It nourishes your hair shafts from within and makes it smooth and soft. It also contains potent herbs like:
Hibiscus: It encourages hair growth and adds a natural volume to your tresses.
Lunuwila: It reduces split ends by promoting healthy hair growth.
Kikirindiya: It treats dandruff and hairfall and also boosts blood circulation in the scalp
Godapara: It soothes itchy and flaky scalps and strengthens the hair roots.
4. Being gentle with your hair
Everyday habits like tying your hair too tight and/or using too many heat styling products can make your hair dry and rough, making an open invitation to split ends. Instead, towel dry your hair and brush it gently while avoiding hair dryers, etc.
5. Opting for deep conditioning
Deep conditioning treatments provide intense moisturization to the hair and soften the cuticles to treat brittleness, avoiding split ends altogether. Treat your hair with a hot oil massage at least once a week or indulge in hair spas for nourishing lifeless hair and treating hair damage.
6. Going for occasional trims
We know, you want to avoid this, but trimming the edges of your hair every 6-8 weeks will not only keep your hair healthy and free from split ends, but also boost its growth rate.
Conclusion
Along with a healthy haircare routine, it is also essential that you consume a balanced diet; include foods rich in folic acid and protein like leafy vegetables and lentils in your diet. Also, avoid using tight accessories on your hair and keep your hair loose and covered while stepping out in harsh weather conditions. To know more about other such natural, skin-friendly products, head to Coco Soul's haircare section, now. Nowadays stress is causes a lot of hair concerns like split ends and hair loss. Now that we saw how to get rid of split ends, head over to our blog on how to stop hair loss due to stress to leran how to treat stress related hair loss.