Imagine a day where you have no frizz or hairfall to deal with and your hair falls smooth as silk over your shoulders. Now, isn't that a dream come true? What if we told you that day can be everyday? Yes, You heard it right. A poor haircare routine can lead to issues like thinning and hairfall. The changing season and the environmental factors further make it difficult to maintain your hair. This is where following a good haircare routine will help turn things around. A healthy diet is important to keep you fit, and so is following a healthy haircare routine for beautiful, strong and shiny hair.
A good haircare routine should be specific to your unique needs. But before we jump to that, here is a guide on identifying your hair type.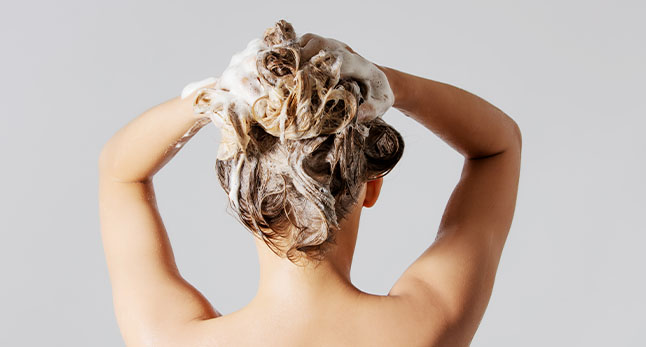 So, what's your hair type?
Like your skin, every hair type is unique and has different needs. Unless you learn how to identify your hair type, any haircare routine will be ineffective.
There are primarily four hair types: straight, curly, wavy, and coily and you make the difference by observing the hair strands closely.
This hair type has a soft and smooth texture that's devoid of dents, curls, or turns. Due to the absence of any texture or curl, straight hair tends to get greasy as the natural oil from the scalp travels fast from the roots to hair shafts.
Curly hair has loose hoops, typically in anS-shaped' pattern. It is further categorised as loose, medium, or tight curls. Usually, curly hair is prone to frizz and dryness due to its texture, which can increase with the use of chemical-based products.
Halfway between curly and straight hair, this hair type is curled at the bottom. If your hair is straight from the roots but curls halfway, you have wavy hair. As it falls between straight and curly hair, it is neither too oily, nor too dry and, hence, not too stressful to maintain.
Coily hair, meanwhile, is voluminous and has tight-wound loops from the roots. Usually, coily hair has low porosity and tends to dry and frizz easily. It is typically coarse and rough and hence, requires extra care and attention than other hair types.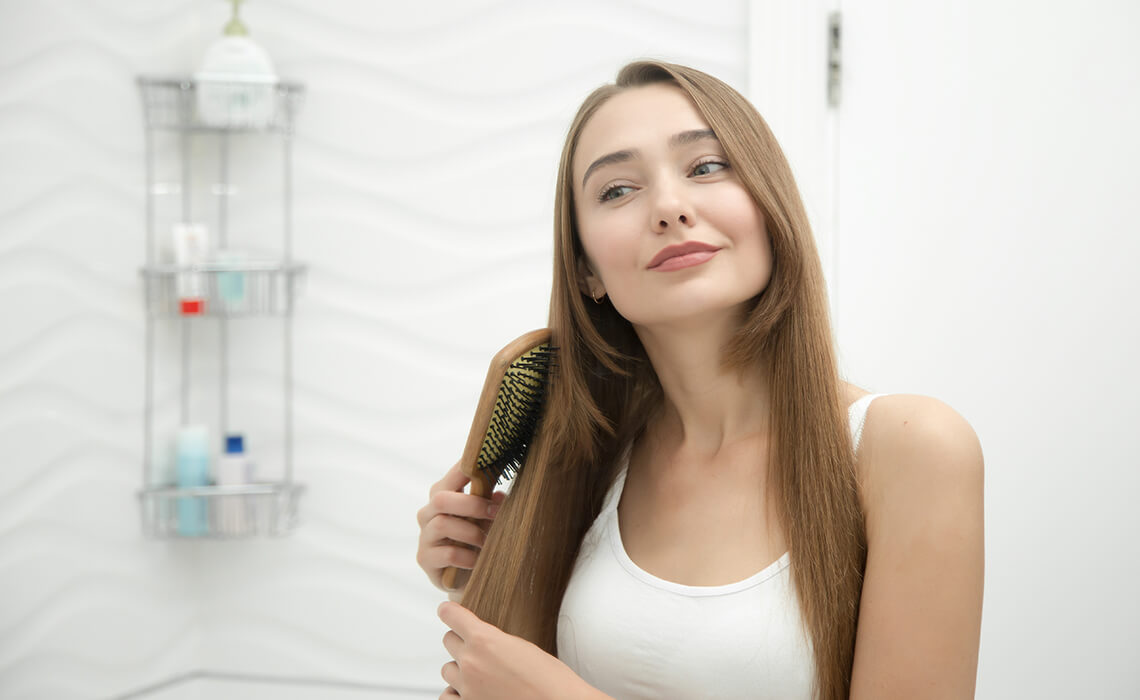 Haircare routine for your hair type
We can't stress on this enough: every hair type demands a unique and healthy haircare routine. Hence, it is advised to adopt a healthy hair routine that suits your hair type. Following are some of the best haircare routines for each hair type.
Contrary to what people believe, it is not effortless to manage straight hair. As it tends to get greasier, the best haircare routine for straight hair begins with washing your hair at least three times a week with a mild/natural shampoo and conditioner. If your hair is thin and lacks lustre, avoid using silicone-based products or products that are too heavy as they can weigh your hair down. Instead, to bring some life to your hair, opt for volumising shampoo and conditioners that helps you pump up the bounce of your hair.
Falling between the extremes of hair types, wavy hair is comparatively easier to manage. You should wash your wavy hair twice a week and not more than that (unless you engage in a lot of perspiring activities). Remember to always follow it up with a natural conditioner. Apply conditioner generously on the tips to treat dry ends and keep them hydrated. Moreover, use a soft brush to remove the tangles and avoid using too much heat on the hair to maintain its natural texture.
It does look undeniably cute, but when it comes to a haircare routine for curly hair, you have to pay extra attention. Due to the absence of adequate natural moisturisation, curly hair can get dry at the roots, resulting in rough, frizzy hair. Therefore, you should limit washing it to once or twice a week and with a mild, natural shampoo and conditioner. Also, remember to stick with products that focus on providing deep moisturisation and nourishment and are specifically designed for curly hair.
If not done right, coily hair could become a nightmare to maintain as its highly textured nature makes it prone to drying out. Now, listen close! However gross it might feel to hear this, but restrict shampooing coily hair to once a week and only on the scalp area. Shampooing coily hair shafts can further increase its dryness. Follow deep conditioning once a week to keep the hair nourished and hydrated. Also, avoid using harsh styling products on this hair type and always give the scalp a warm oil massage before washing it.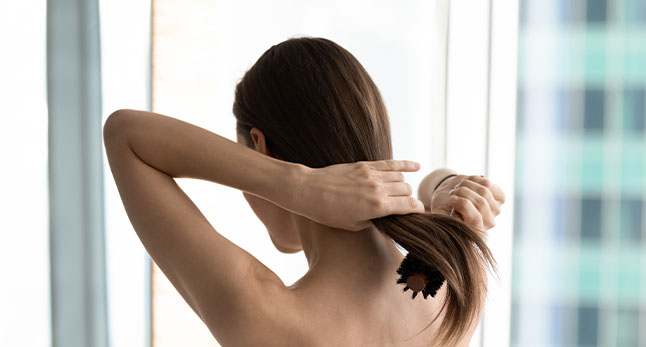 Dealing with hair issues? Try Ayurveda
Despite a healthy haircare routine, if you are still dealing with a dry, frizzy mane and/or issues like breakage and hairfall, the chemicals in your products are the cause. You may not realise this, but chemical-based products do you more harm than good. So, why put your hair health at risk then?
Embrace the magic of Indian Ayurveda aided with exotic ingredients to nourish your precious hair. The centuries-old wisdom of Ayurveda hides hundreds of secrets for healthy and lustrous hair. So bid adieu to chemical-based products and switch to products that harness the magic of Ayurveda, like those from the house of Coco Soul.
At Coco Soul, we understand the mighty prowess of Ayurvedic wisdom and believe that Mother Nature has the remedies for all our problems. Crafted with virgin coconut oil in its core, Coco Soul's products are infused with Ayurvedic herbs that help you get envy-inducing tresses.
Here are some products made with virgin coconut oil and Ayurvedic herbs you can add to your daily haircare routine for beautiful and lustrous hair.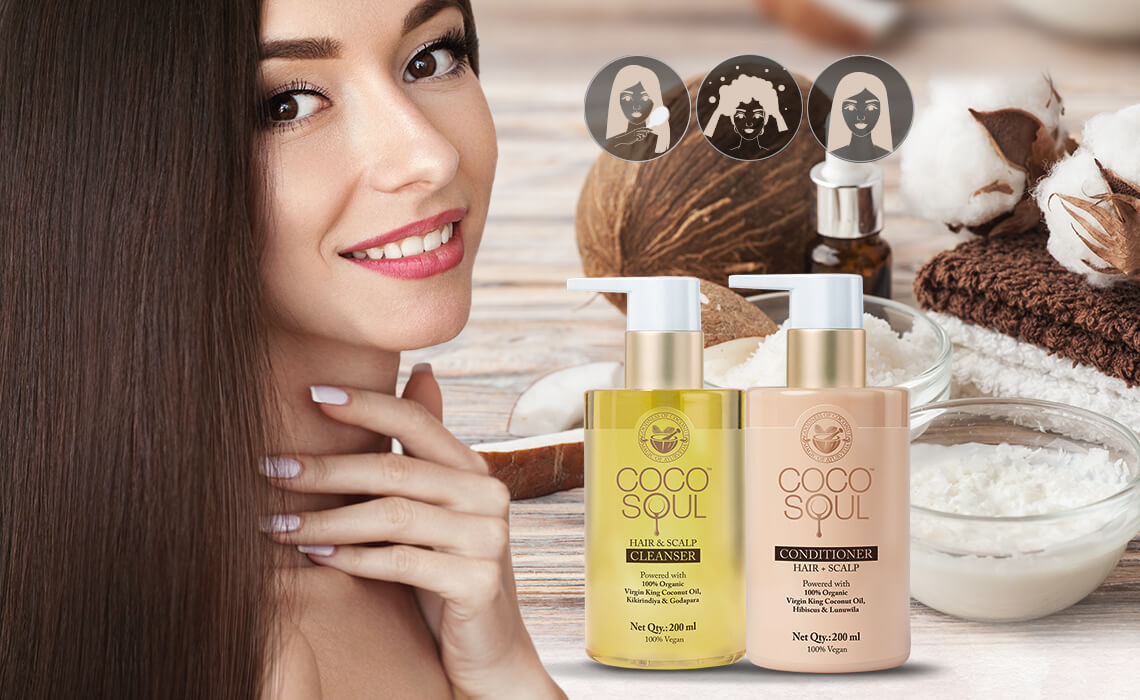 Hair & Scalp Cleanser
The gift of nature in a bottle, the Coco Soul Hair & Scalp Cleanser is the perfect blend of Ayurvedic herbs and virgin king coconut oil.
Virgin coconut oil: Referred to as an elixir, it is an excellent natural cleanser for your hair.
Kikirindiya: A wonder herb, kikirindiya treats dandruff and hair fall and boosts blood circulation in the scalp.
Godapara: It is a potent herb that soothes flaky and itchy scalps and strengthens the hair.
Regular use of this hair cleanser promises you lustrous tresses while avoiding the harmful effects of chemicals like sulphates, silicones, DEA, mineral oil, etc.
Hair & Scalp Conditioner
You now hold the power to revive a dull and frizzy mane with this Ayurveda-inspired hair conditioner, which contains a potent blend of herbs and virgin coconut oil. This hair formula is made with centuries-old wisdom to help you get the beautiful hair you deserve.
Virgin coconut oil: This exotic tropical oil hydrates and moisturises the shafts to nourish the hair from within.
Hibiscus: Strengthens the hair and encourages growth to add volume and bounce.
Lunuwila: Helps prevent split ends, premature ageing, and promotes healthy growth.
At-home haircare tips for healthy locks
Instead of adopting a haircare routine for hair growth, it would benefit you to create your own healthy haircare routine.
You can follow a natural haircare routine, but with wrong dietary choices, it would be insufficient. Make sure that you're on a balanced diet that includes leafy vegetables, dairy products, and fruits and nuts, etc. Also, drink adequate water to nourish your scalp from within. A healthy, balanced diet is the cornerstone for perfect skin and hair health.
Overexposure to the sun and other pollutants can damage your hair quite easily, leading to hairfall and breakage. While using Ayurvedic products and following other haircare tips at home is great, remember to cover your hair when you step out during peak hours.
You should avoid shampooing your hair with hot water as it can steal the moisture and dry up your locks. Instead, use cold or lukewarm water to shampoo your hair with Coco Soul's luxuriously exotic hair cleanser and conditioner. Also, allow your hair to dry naturally after a shampoo and avoid combing as it can lead to breakage.
For a good hair care routine it is important to avoid products having harmful chemicals. Check out our blog on the 5 most harmful chemicals for hair to learn more about them.
To get the most amazing tresses, it is necessary to follow the best haircare routine made for your unique hair and use au naturel products. Using products that are free from chemicals is safe for you as well as the environment. Try Coco Soul products and be assured that you are using MadeSafeâ"¢-certified, 100% vegan products that have not been tested on animals. Shop for the best quality organic hair products here and gift yourself the magic of nature today.