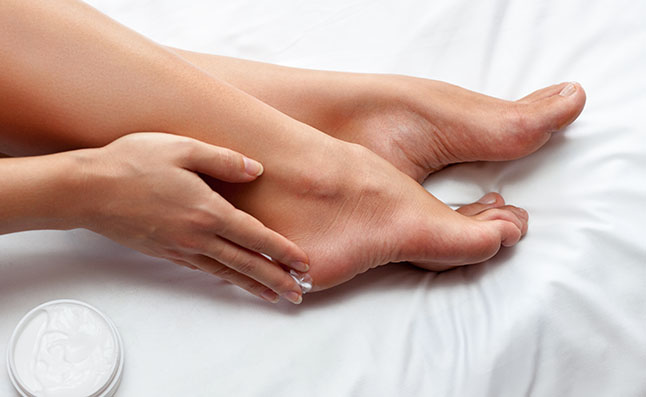 Guess who carries your weight all day long without protest. Yes, it's your feet. Your feet are often the most neglected part of your body, despite the fact that you travel the world (literally), thanks to them.
While you fill your vanity cases with products for your face, lathering creams and lotions to keep them glowing, it is rare that you show love to your feet, unless they scream for attention!
Beauty experts believe that even if you put on the best outfit and get flawless skin, an unkempt and chapped feet can give away your beauty quotient. Which is why it is important to care for your feet in the same way that you look after other parts of your body.
The simplest and fastest way to care for your feet is by investing in a foot cream. A good foot cream keeps your feet moisturised and treats the many skincare issues occurring on your feet.
Here is an easy guide on the benefits of foot cream and the best way to use it.
Benefits of foot cream
Nourishes your feet
A foot cream for dry skin keeps your feet hydrated, nourished and moisturized. It locks in moisture in the layers of your skin and forms a protective layer over your feet to prevent it from getting dry or cracked. It also restores lost moisture and makes your feet soft.
Protects your feet
You can get cracks, cuts and calluses in your feet when they are exposed to harsh winds and sun. Applying a foot cream every day protects your feet from the environmental aggressors and prevents your feet from getting dry and rough revealing soft, silky and smooth feet.
Helps you relax
A cream for feet helps you relax and calms the nerves after a tiring day. Massaging your feet with a heel healing cream also boosts the blood circulation, reduces stress and stimulates good sleep.
Keeps odor away
Always trapped in footwear, your feet can invite bad odour. Natural ingredients present in foot creams help to keep your feet fresh all day long and prevent bad smell and odour.
Makes feet light
Your feet can get irritated and itchy with dryness and flakes. A foot cream helps you get rid of these problems and instead makes your feet lighter. Many natural foot creams contain ingredients like neem and peppermint which provide nourishment to the skin without any heavy or greasy feeling.
Keeps feet pretty
As moisturizing your face is crucial for flawless complexion, so is a foot cream for pretty feet. A cream for feet can act as a foot whitening cream and improve the texture, skin health and complexion of your feet, helping you get prettier, soft and younger-looking feet.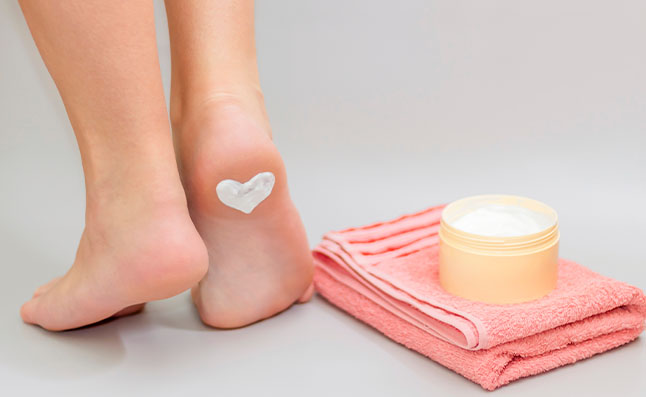 How to use a foot cream?
You can use a foot cream after a shower to moisturize the feet and keep them soft.
You can also use it as nourishing cream after a mini pedicure. Soak your feet in a bowl of warm water for 15-20 minutes. Take a pumice stone and foot scraper and exfoliate your feet to remove all the dead skin and calluses. Dip the foot in the water and wash off all the skin residue. Now remove your feet and pat dry. Take a generous amount of foot moisturizing cream and massage it on your feet all over. Wear a pair of socks to get smooth and soft feet.
Also, you can use foot cream to massage your feet before bed every night. Just wash your feet with cold water, massage the foot cream and wear socks to get soft feet overnight.
While your feet are already exposed to dust, sun and pollution, you should at least protect them from the effects of harsh chemicals. When you choose a cream for your feet, ensure that it is devoid of chemicals. It should not contain any ingredients that can further irritate your skin or cause allergies. The best solution is to use natural ingredients from your kitchen. For example, peppermint, honey, oatmeal etc are some of the best ingredients to soften your feet and keep them nourished. However, considering the fast-paced life, this might not be feasible all the time. For that, you can invest in a foot cream that has natural ingredients at its core. Just like Coco Soul Foot Cream
Nothing short of a miracle in a tube, this foot cream is infused with the secrets of ayurvedic skincare. The natural ingredients and pure virgin coconut oil present in this cream penetrate deep in the skin layers and soothe and repair the dryness and cracks. It also removes calluses, rejuvenates the skin, and leaves your feet with a soothing feel and fragrance. It contains -
Peppermint - This natural coolant, calms and soothes your skin and emits out invigorating fragrance.
Neem - A miracle plant rich in vitamin E, it helps in removing pigmentations and blemishes, and gives you clear and younger-looking skin.
Virgin coconut oil - Loaded with antioxidants and fatty acids, it hydrates the skin, fights dryness, and promotes cellular repair.
This foot cream is au natural and is devoid of sulphates, silicones, parabens, sodium chloride, DEA, mineral oils, petroleum, or any other chemical compounds. It is 100% vegan and has not been tested on animals. Moreover, it is also certified by Madesafe, hence it is completely safe on the skin and environment.
Now that you know everything about foot cream, head over to our blog on ayurvedic skincare routine to learn about the ideal routine for flawless skin.
With the changing weather, and exposure to sun, dust and pollution, your feet can get dry, rough and chapped. Add in it, their state of being stuffed in boots and heels, and they are ready to give you painful cracks and blisters. While pampering your feet with a pedicure once in a month can help you keep them maintained, nourishing it daily is necessary. Regular usage of cracked heel cream can make your feet soft, nourished, glowing and younger naturally. So what are you waiting for? Head over to the skincare section of Coco Soul website and shop for a foot crack cream today.
Frequently Asked Questions on Foot Care Cream
1. What does foot cream do?
Foot cream heals calluses and keeps your feet moisturized, supple and soft.
2. How often should you use foot cream?
You should use foot cream every day. You can apply it after a shower and once before you go to bed.
3. How can I moisturize my feet overnight?
Apply a good foot cream before you sleep and wear a pair of soft socks to moisturize your feet overnight.
4. What home remedy can I use to soften my feet?
You can soften your feet by soaking it in water for a few minutes, removing dead skin and applying a nourishing cream on your feet. A mini pedicure at home would also help.
5. How can you make your feet look younger?
Keep your feet clean and free from dead skin with exfoliation and cleaning. Treat it with a massage and foot mask and keep it thoroughly nourished with a foot cream to make them look younger.
6. Should you moisturize after foot peel?
Yes, you should moisturize your feet after a foot peel.