Are your chemical-based beauty products giving you a run for your money? We understand  that it is easy to get lured into the universe of endless skincare formulas that promise to give you gorgeous, glowing skin. But, let us  tell you that the secret to radiant, healthy skin lies in your own kitchen cabinet. It is none other than the very old exotic virgin coconut oil, an essential Ayurvedic staple found in almost every Indian kitchen shelf. The ancient Ayurvedic science considers virgin coconut oil the ultimate antidote for flawless skin. This is why it has gained worldwide prominence in the space of natural skincare today. Moreover, this oil has therapeutic properties, making it a must to be added to your daily skincare routine. It's a powerhouse of healing properties that can shun away all your skin woes and thoroughly nurture your skin from within. Curious to find the many ways how virgin coconut oil gives you flawless, smooth and radiant skin? Check out our edit to learn more.
Benefits Of Virgin Coconut Oil On Skin
Applying this exotic virgin coconut oil on a daily basis will give you naturally glowing skin at home. Since it is rich in nutrients, this tropical oil will hydrate and heal your skin to make it soft and smooth. Here are some top benefits of virgin coconut oil on skin:
Acts as a sunscreen: Applying virgin based coconut oil before stepping out into the sun will secure your skin by acting as a protective barrier between your skin and the harmful UV rays. It has an SPF which acts as a natural sunscreen when you are out and about for a short period of time.
Fights ageing: Virgin based coconut oil is rich in antioxidants and vitamin A and E. This helps reduce the damage caused by free radicals, leading to premature ageing. Furthermore, it boosts the production of collagen which aids in reducing wrinkles and fine lines. Not only that, but it also helps in tightening your skin and improving its elasticity, thereby fighting wrinkles and giving you a natural glow on face.
Acts as a moisturizer: Looking to deeply moisturize your skin to make it softer and smoother? Use virgin based coconut oil for skin. It is a great way to nourish your skin naturally and heal it from within.
Fights hyperpigmentation and dark circles: Binge-watching series over the weekend or working overnight is enough to let that uninvited guest rest right under your eyes. However, virgin based coconut oil can assist you out of this problem. It can lighten the dark, under-eye hollows and even reduce the spots caused by hyperpigmentation. Furthermore, it diminishes eye puffiness as it contains anti-inflammatory properties.
Heals blemishes: Using virgin based coconut oil for skin helps heal bruises and scratches. This oil contains the superpower to patch up wounds and ease your pain, as it is rich in monolaurin, a fatty acid well-known for its antibacterial properties. It even prevents blemishes and scarring after your skin is restored.
Now that you're privy to the many benefits of using virgin based coconut oil, here are a couple of DIY recipes that will help you attain natural glowing skin at home.
DIY recipes of using coconut oil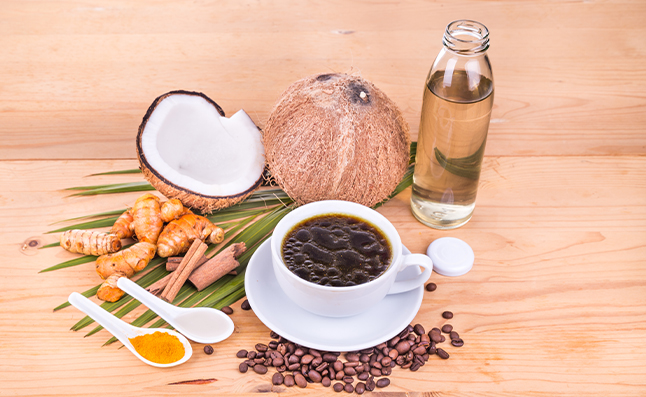 1. Coconut oil and turmeric for glowing skin
Take a teaspoon of turmeric powder and mix it with coconut oil to form a fine paste. Now, apply it all over your face and let it rest for 15 minutes. Rinse well with tepid water and then pat dry using a clean, soft towel.
Benefit: Applying this paste daily will reduce skin inflammation, redness, and flakes. Additionally, it helps eliminate unwanted hair growth on your face.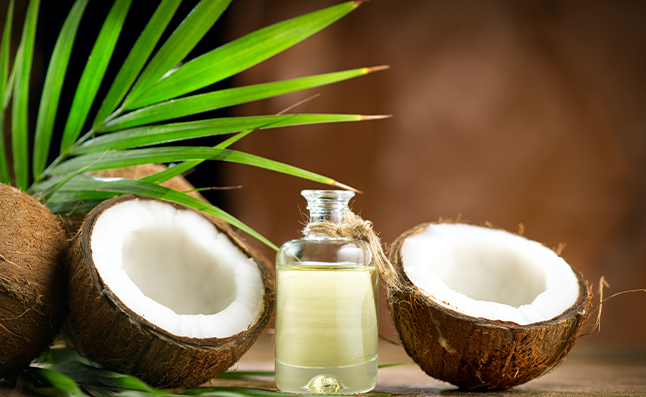 2. Virgin based coconut oil and gram flour for glowing face
Virgin based coconut oil and gram flour make the perfect duo to give you glowing skin at home. All you need to do is mix coconut oil with two tablespoons of gram flour and apply it to your face. Leave the face pack on till it dries and then wash off with lukewarm water.
Benefit: This glowing skin home remedy will give you soft, radiant and fresh-looking skin in just two weeks. Apply it twice a week and keep your skin clear of dirt and oil build-up. Virgin based coconut oil has various other health benefits too. Check out our blog on the health benefits of virgin coconut oil to learn about them.
In addition to these home remedies for face glow, you can also go for Ayurvedic products infused with au-natural qualities of virgin based coconut oil. Presenting the all-natural skincare products from Coco Soul, specifically created using pure virgin based coconut oil along with some exotic herbs and spices from the lap of Ayurveda. All of Coco Soul's products derive its goodness from the king coconut oil from Sri Lanka, which is loaded with fatty acids and antioxidants that intensely hydrate the skin and keep it smooth, supple and silky soft.
The best part is that since all its products are directly derived from mother nature, they are all free from harmful chemicals such as silicones, parabens, sulphates, DEA, mineral oils and more. Moreover, they are nature-friendly and have not been tested on animals. Thus, MadeSafeâ"¢ certified. Few such products are"
Coco Soul Revitalizing Face Wash
Crafted with the goodness of Ayurvedic herbs, this natural face wash cleanses dirt and oil from the face to reveal fresh, glowing and radiant skin. The presence of Ayurvedic herbs combined with the moisturizing properties of king coconut oil, make this face wash a luxurious cleansing solution that revitalizes and rejuvenates your skin.
Virgin coconut oil: It contains nurturing properties that hydrate your skin and help in cell proliferation.
Gotukola: Popularly known as an organic hero, this natural herb encourages collagen production to fight skin sagging and also helps your skin look younger.
Neem: Praised for its antibacterial properties, neem helps remove pigmentation, fights signs of ageing and gives you fresh, clear and acne-free skin.
Coco Soul Face Scrub
This exotic face scrub contains virgin coconut oil in its core that aids in gentle exfoliation and unclogs pores to give a healthy, natural glow on face. The infusion of Ayurvedic herbs and natural ingredients restores your skin's health, thereby eliminating any lingering dirt, dryness or irritation.
Virgin coconut oil: Moisturises the skin cells while boosting cellular repair for a wholesome and radiant glow.
Venivel: Draws out excess oil and exfoliates dead skin cells to give you a clear, blemish-free complexion.
Sandalwood: It has been used in eastern cultures for centuries and helps reverse sun damage and minimises age spots to give you flawless skin tone.
Coco Soul Nourishing Body Lotion
Fortified with virgin coconut oil, this natural body lotion penetrates deep into the skin like a gentle caress to keep dryness and flakes at bay. It is lightweight and aromatic and visibly moisturises your skin to deliver a bright, radiant glow.
Virgin coconut oil: Provides intense hydration to repair as well as soften flaky, dry, and irritated skin.
Welmi: It is a rich source of vitamin C and helps brighten your face, fight dullness and gives you fresh, glowing skin.
Sandalwood: An Ayurvedic powerhouse known to reduce oxidative stress, moisturize the skin cells and give you bright and glowing skin.
Since these products from Coco Soul harness the very power and goodness of nature, they carry the potential to repair damaged skin, heal blemishes and marks, and enhance the internal glow in no time. If you wish to explore more virgin coconut oil-infused skincare products, head over to Coco Soul by clicking here! Now that you know about how virgin coconut oil can give you glowing skin, head over to our blog on the benefits of virgin coconut oil for weight loss.
Frequently Asked Questions on Virgin Coconut Oil for Glowing Skin
1. Is coconut oil good for skin whitening?
Yes! It helps reduce the appearance of dark spots and uneven skin tone, thus enhancing your skin tone with a brighter glow.
2. How long does it take for coconut oil to work on the skin?
Applying virgin based coconut oil on your skin for three to four days in a row will improve your skin health in leaps and bounds.
3. Does coconut oil act like a moisturizer for the skin?
Yes! It helps seal moisture into your skin and in doing so, it acts like a natural moisturizer for your skin.