The onset of winters brings a lot of changes in your lifestyle. You might change your daily schedule, add in more layers to your clothing, forget the diet to gorge on winter delicacies and go easy on your sleeping patterns. But what about the changes needed for your skin? The winter season is an open invitation to a number of dry skin problems that are often irritating and uncomfortable. While you may not be able to stop the chilly winds from kissing your skin, you can tweak your skincare routine to tackle dry skin.
Here is a skincare routine for dry skin and tips to answerhow to keep skin the hydrated'.
Exfoliate
While cleansing is an indisputable part of daily skincare routine for dry skin, exfoliation is important too. Exfoliating your skin removes the layer of dead skin and open clogged pores while making it fresh and clear. Exfoliation is important in winters as it aids in the better absorption of moisturizers and other creams. However, in winters when your skin is already dry, it is important that you exfoliate carefully. Use a mild exfoliator and rub it gently on your skin in a circular motion and wash with lukewarm water.
Sometimes you might feel your skin getting itchy and dry after using a face scrub. This happens when you use a chemical based exfoliator which often causes skin irritation. Therefore, it is crucial that you include a mild and natural face scrub in your dry skincare routine which nourishes the skin. Using a scrub made of kitchen ingredients like brown sugar, honey, sandalwood, oatmeal etc, or trusting brands that use pure natural ingredients for their skincare products is highly recommended for skincare routine for dry skin. Having said that, you can try Coco Soul skincare products. Coco Soul believes that mother nature has the solution to all your skincare woes and one should rely only on natural goodness for their skin. They aim to bring the secrets of ancient Ayurveda and nature's goodness at your doorstep through their skincare and hair care products.
Presenting Coco Soul Face Scrub, infused with pure virgin coconut oil and Ayurvedic herbs. It is like a kiss on your skin that gently removes dead skin, unclogs your pores, purges skin impurities and makes your skin soft and smooth. Moreover, its natural ingredients reveal your inner glow and make your skin even toned and clearer. It contains-
Virgin coconut oil - Called as elixir in Ayurveda, it is loaded with good fats and antioxidants which deeply nourishes and hydrates your skin.
Sandalwood - Revered in traditional beauty culture, it minimises age spots, moisturizes skin and reverses sun damage.
Venivel - Rich in wide ranging properties, it exfoliates dead skin, removes excess oil, and renews the skin for blemish free complexion.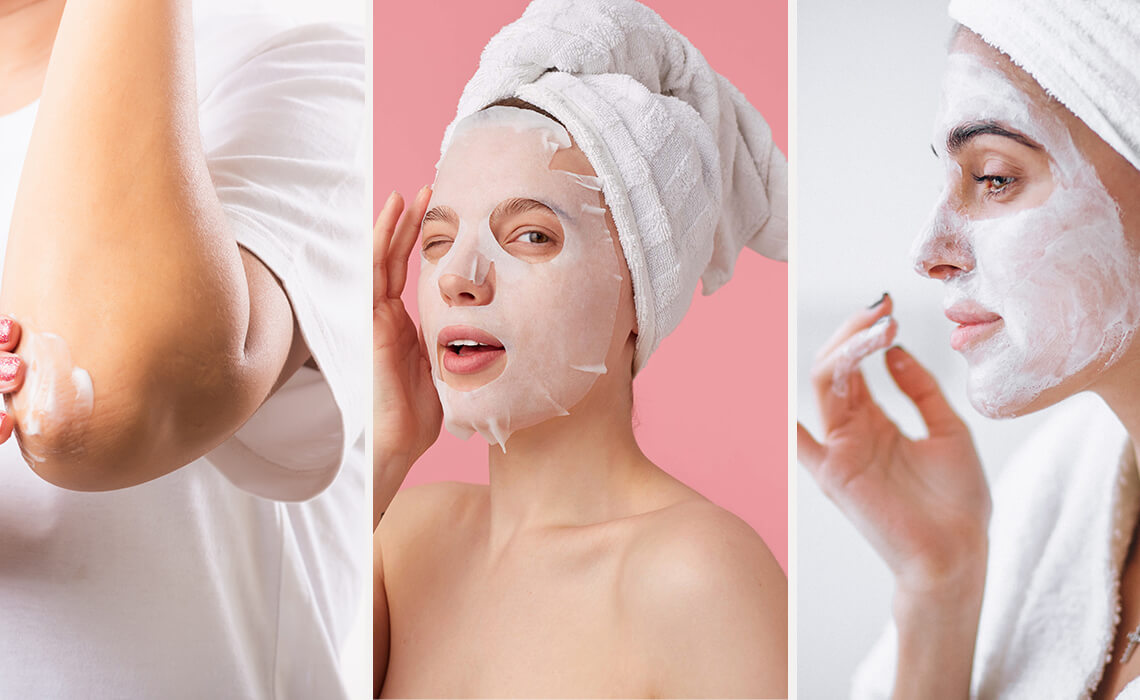 Moisturize
The secret step in skincare routine for dry skin is adequate moisturization. While you tweak your skincare routine for dry skin by including natural skincare products, ensure to prioritize moisturization. A moisturized skin fights winter skin problems effortlessly and helps you look flawless and beautiful even in winters. Look for a lightweight yet nourishing moisturizer or cream that softens your dry skin and seals moisture inside. For a natural alternative to chemical moisturizers, you can use the Coco Soul Nourishing Body Lotion. Just like a genie in a bottle, this delicious smelling body lotion is made with welmi, virgin coconut oil and sandalwood. Its lightweight texture melts easily in your skin penetrating deep into the layers of your skin for a soft and moisturized glow. It's luxurious and lightweight and nourishes your skin deeply, softens the dry and rough patches and helps your winter skin problems. It contains -
Virgin coconut oil - Rich in good fats, it nurtures the skin, fights dryness and leaves your skin soft and smooth
Welmi - Loaded in Vitamin C, it reduces skin dullness and gives you glowing and dewy complexion
Sandalwood - Rich in emollient properties, it reverses sun damage and minimises age spots.
Nourish your arms and feet
Dry skincare routine does not only mean taking care of your face. While you look after your facial skin with the right skincare routine, do not ignore your feet. Bearing the burden of your weight, your feet are often trapped in boots or exposed to chilly winds in sandals which can make them dry, cracked and rough. In your daily skincare routine for dry skin, also include a moisturizing foot cream that takes care of your feet and makes them soft, smooth and beautiful. Your foot cream should be nourishing, refreshing and natural that gives your feet the care it deserves.
Try the Coco Soul Foot Cream. Made with ancient ayurvedic wisdom and natural ingredients, it softens and relaxes your feet and makes it winter ready with ample nourishment and moisturization. Like all other Coco Soul products, it is free from parabens, silicones, sulphates, sodium chloride, DEA, mineral oils and other chemicals. It contains -
Virgin coconut oil - It penetrates 10 layers deep into the skin and helps restore lost moisture and promotes cellular repair
Neem - Neem is rich in vitamin E and has antioxidants and anti-ageing properties which fights odour and keeps infection away
Peppermint - It is rich in cooling properties which calms and soothes the skin with an invigorating fragrance.
Along with adopting a dry skincare routine for winters with nourishing skin care products, keep yourself hydrated from within too. Drink at least 8 glasses of water daily even if you do not feel thirsty. Also, cut down on your hot shower time as it strips off the natural oils from your skin. Use lukewarm water for your bath and use a humidifier to increase the moisture content in the air. Nourish and feed your skin with a natural moisturizer several times a day and say goodbye to dry skin this winter. Check out our blog on home remedies for cracked heels to learn how to take care of your feet during winter.
Shop for more moisturizing and natural skincare products from Coco Soul here. You must also check out our blog on winter beauty tips to keep you skin and hair healthy and beautiful in winter.
Frequently Asked Questions on Skincare Routine To Get Rid Of Dry Skin
1. What helps with dry skin in the winter?
Appropriate and adequate moisturisation is a big help for dry skin in winter.
2. What is the best skin care routine for dry skin?
A natural and nourishing skincare routine is best for dry skin. Clear your skin of all dead skin and excess oil and apply a natural moisturizer several times a day to nourish and soften your dry skin.
3. Does drinking water help dry skin?
Yes, it does. Your skin gets dry due to lack of hydration. When you drink ample amounts of water, your skin gets enough hydration and remains soft and smooth.
4. How do you prevent dry skin?
You can prevent your skin from getting dry by hydrating your skin, avoiding hot showers, adding a humidifier in your home and using heaters in moderate temperature.
5. How do I choose a dry skin cleanser?
While choosing a cleanser for dry skin, ensure that it is mild and free from chemicals. For removing dryness from skin, it would be best to use a cleanser that is cream based and does not cause any lingering dryness in the skin.