As the festive season inches closer, our social calendars are filling up quickly with invites to all the happening parties and pre-events. And while most of our time goes in glaring at the screen looking for the perfect lehenga inspo and running to our tailors for some last-minute alterations, there's one thing most of us are guilty of ignoring - how to get ready for festivals with the right skincare. When you are posing for the gram or drooling over the dishes, it's quite natural for your skincare routine to take a back seat and all the skincare tips at home taking a miss. But once it's all over, the unforgiving humidity coupled with hours of makeup can make washing your face a battle before you hit the bed.
Not washing off the makeup and sleeping with a fresh face will lead to breakouts. But we don't want you worrying about a pimple that might greet you right before you head out like a diva. This is why we have created a quick and effective skincare routine that will help you rock this festive season.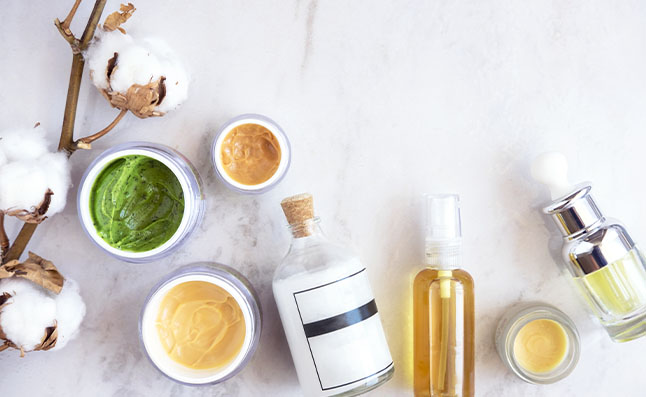 Why do I need a festive skincare routine?
From hectic shopping runs to binging on some lip-smacking street food on the go, our body (and our skin) bears the brunt of the sun, pollution, drying air, and many such environmental stressors. Amidst the jam-packed schedules and excitement over planning for the festive season, the thought of taking care of skin and following a skincare routine goes out of the window. And fixing your dull face with a beauty filter is not a feasible solution. Whether you want to try an elaborate 11-step routine or trust a simple cleanser and moisturiser duo, prepping your skin for the festive season and indulging in festive skincare is extremely important. Following a skincare routine will create a barrier for your skin when it's layered with makeup. The festive season also leads to unhealthy bingeing which can be another reason for skin woes.
But with so many things already taking up your time, we don't want you to spend any extra time planning a skincare routine. Instead, start indulging in one, right now. Listed below is a simple and fuss-free festive beauty routine that won't let you fall astray from following it.
Pre-Event Skincare Routine Steps for Festive Season
Cleanser:

No matter what you do, always begin by doing it right, especially cleansing. The least glamorous of the routine, a face cleanser is an extremely vital step and one of the most accurate skincare tips. Washing your face with a cleanser and taking off all the dirt, impurities and makeup residue will set a clean base to start the routine. Not to mention the relief you get from finally removing the makeup and sweat from your face. Pro skincare tip: Wash your face with cold or lukewarm water to prevent shock and micro-tears to the skin.
Exfoliation:

Ladies and gentlemen, if your skincare doesn't penetrate deep within the layers of your skin, it is meaningless to follow. And over time, your skin gets accumulated with a layer of dead skin cells that create a barrier for any creams and moisturiser to penetrate and work to their full potential. Using a face scrub regularly with a natural exfoliating agent will remove the dead skin cells and reveal the glowing and healthy skin beneath. Use a face scrub at least once a week to get optimal results. Remember less is more with face scrub and excessive scrubbing can do more damage than good for your skin.
Moisturise:

Seal in the goodness of good skincare with a lightweight hydrating moisturiser. No matter what your skin type is, always moisturise your skin to keep your face glowing, hydrated and well moisturised.
Sun Block:

If you think you are better off without sunscreen when it comes to protecting your face from the sun rays, you are totally wrong. Besides being a great barrier from the harmful rays of the sun, which already has an endless list of cons, using an SPF daily also prevents signs of ageing and keeps you ready for the festive beauty.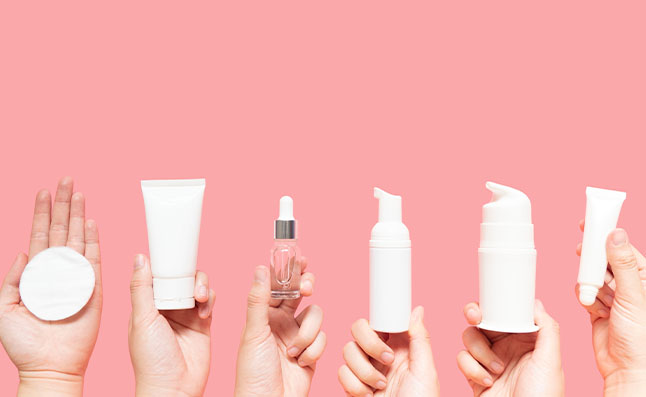 Follow these skincare routine steps to get glowing this festive season.
Now that you know all about how to get festival ready skin, head over to our blog on festive season haircare routines to help you look your best!
This festive season, try coco Soul:
When prepping for the hectic season and trying out some skincare tips at home, the last thing you want for your face is to be bombarded with harsh chemicals. If you want to ditch your chemical-based skincare and switch to natural ingredients, you should try Coco Soul. Infused with the goodness of exotic Ayurvedic herbs and virgin king coconut oil, Coco Soul's products are highly effective for gentle and rewarding skincare. Formulated without harmful chemicals like sulphates, silicones, DEA, propylene glycol, and more, every product is 100% vegan and MadeSafe Certified.
Coco Soul Revitalising Face Wash:
Curated with some highly potent Ayurvedic herbs, this natural face wash cleanses oil, dirt, and impurities from within to reveal radiant skin. With the mix of rich virgin king coconut oil, this face wash doesn't rip your skin off its natural oils and leaves your skin moisturised and well-hydrated.
Virgin King Coconut Oil:

Filled with natural antioxidants and good fats, this ingredient leaves your skin well-moisturised and hydrated at all times. Known for its healing properties, coconut oil also enhances cellular repair.
Gotu Kola:

Aids in skin firming to avoid sagging and encourages collagen production.
Neem:

Known for its antibacterial properties and easy to try skincare tips at home, neem helps fight acne-causing germs, removes pigmentation, and prevents signs of ageing such as fine lines and wrinkles.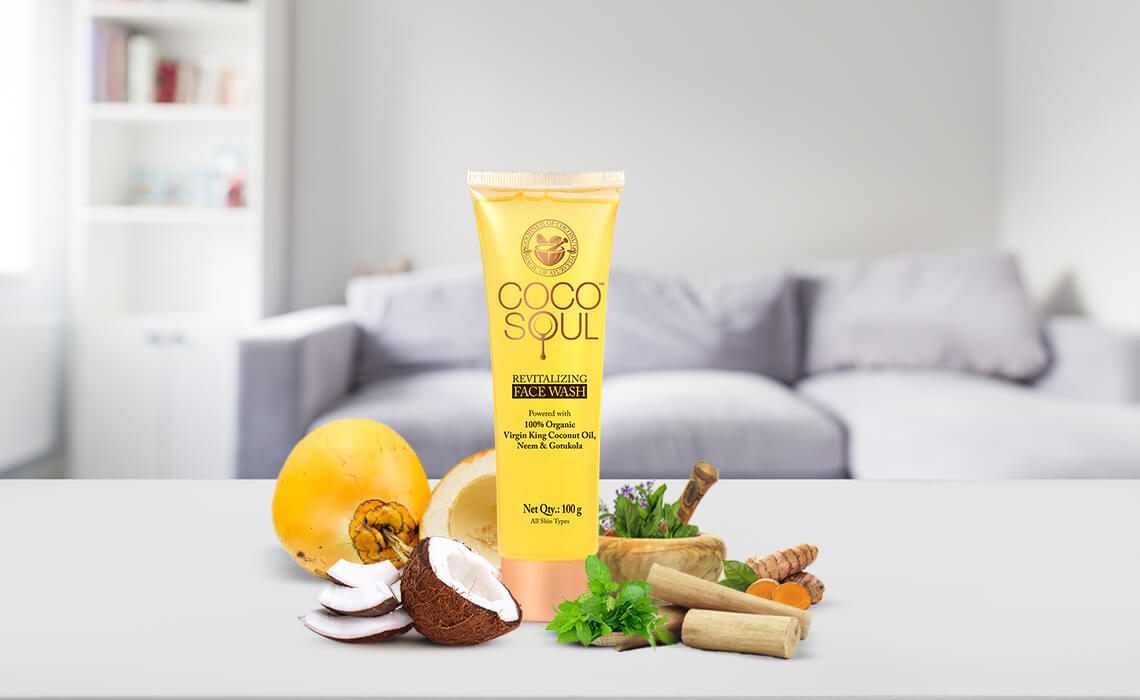 Coco Soul Face Scrub:
Containing virgin coconut oil as its core ingredient, Coco Soul's organic face scrub uses natural exfoliating agents that are gentler on your face and doesn't irritate. Exfoliating with a face scrub will unclog your pores and leave you with naturally glowing skin.
Virgin coconut oil:

Boosts cellular repair and is mild on your skin to keep you moisturised with a radiant glow.
Venivel:

A primary exfoliating agent, venivel exfoliates dead skin cells to reveal clear and blemish-free skin.
Sandalwood:

A soothing ingredient that is well-known for reversing sun damage and reducing dark spots.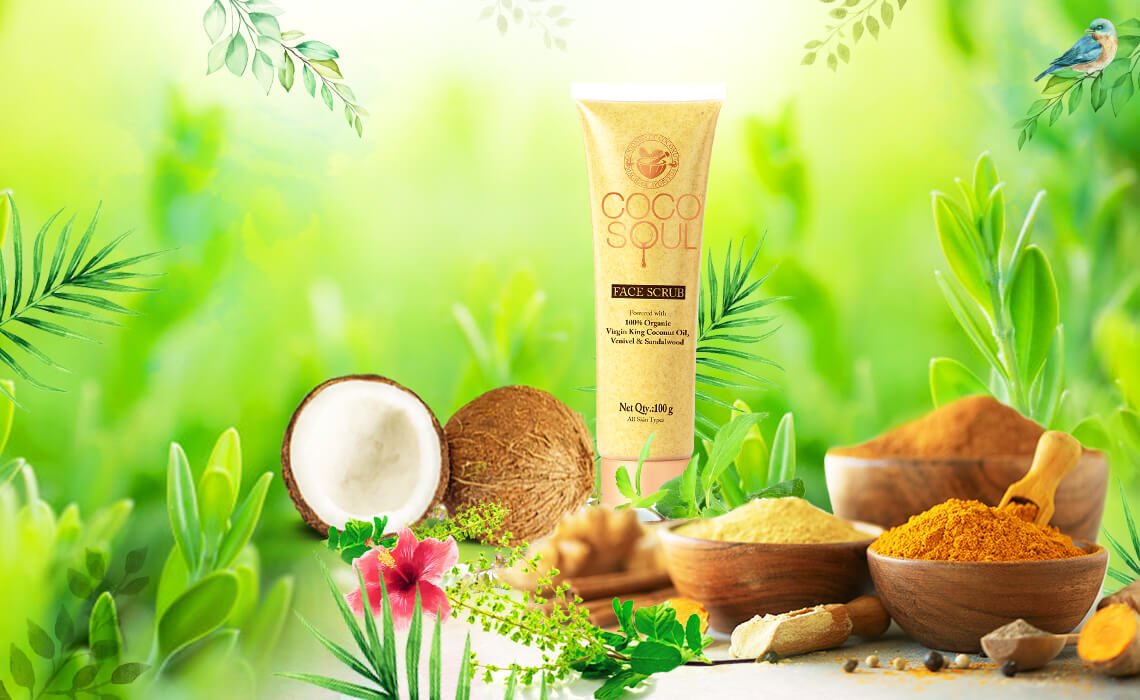 Skincare tips on how to keep skin healthy this festive season:
Less is more:

Following a skincare routine with minimal steps doesn't mean you are depriving your skin of any vital care. Applying more products doesn't always guarantee effective results, applying the right product in the right amount does.
Clean the clutter:

Just like you indulge in the festive cleaning of your rooms, remember to de-clutter your skincare cabinet as well, and get rid of products you don't need or that have exceeded their expiration dates. Using fewer products will help you stay focused on a routine without making the process overwhelming.
Consistency is the key:

If you are easily overwhelmed by a skincare routine on the third day, do not ditch the idea altogether. Start with a simpler and fuss-free routine that will help you achieve your skin goals without much effort. Gradually add products according to your skincare woes to build your routine easily.
You are what you eat:

The skin health on the outside is a direct reflection of your skin on the inside. Make sure to follow a healthy and well-balanced diet that is loaded with vitamins and nutrients to improve the health of your body and skin.
Frequently asked questions on how to keep skin healthy in the festive season:
How do you take care of your skin at a festival?

Remember to cleanse your face before calling it a night. Use a moisturiser and an SPF to keep your skin hydrated and safe from sun damage at all times



What products to include in the festive skincare regimen?

Build a skincare routine that works best for your skin. Build your basic festive skincare routine that includes a face wash, face scrub, and moisturiser



What is the best festive skincare routine?

The best festive skincare routine is one where you cleanse your face regularly, exfoliate your face twice a week, and moisturise it daily.