When you sip on your hot beverage on a chilly morning, you often feel a crusty layer on your lips. This is when the sudden realisation strikes that it is the onset of the season that is quite unpleasant for your skin, especially for your lips. With a dip in temperature, you can feel the moisture in air and your lips depleting. This causes dry skin, flaky scalp, static hair, but worse is the discomfort of chapped lips. We're sure, you know what chapped lips feel like and you may have reached for a chapstick while you read this. But have you ever wondered what causes the chapping of lips, despite slathering lip balms at regular intervals every day? Turns out, the moisture-sucking climate isn't the only culprit, there are many reasons that cause chapped lips. Fortunately, there are more ways to keep your lips supple and hydrated when the weather isn't in your favour.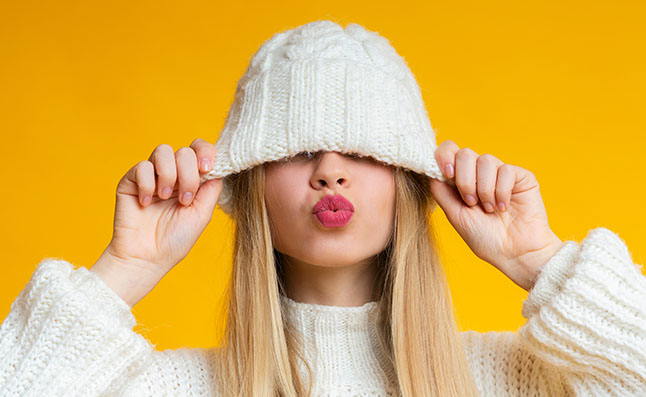 What exactly are chapped lips?
The skin on our lips is amongst the most sensitive layers on the body. It also gets exposed to the environment the most. Our lips do not have the similar mix of oil glands as the rest of our body and the constant exposure to harsh weather, hot or cold beverages, and cosmetic products only make things worse. The barrier of your skin loses moisture and dries out, leading to irritation and flaking that is commonly known as chapped lips. 
Dry lips remedy: Tips to protect your lips in winter
1.Apply a moisturising lip balm:
The cardinal rule of winter lip care is to keep your skin as hydrated as possible. Apply a generous amount of lip balm that also contains SPF. The dry winter air and constant licking of lips causes them to lose the natural moisture, making them dry. So, treat your lips well by adding a boost of hydration. You can also opt for tinted balms as an alternative for lipsticks.
2.Stop licking your lips:
If you have ever wondered how to prevent chapped lips in winter, we all have been through it this winter. The very thought of chapped lips makes you want to lick them in hopes that it will keep them moisturised. This may feel like an instant fix but is worse in the long run. The dry air quickly sucks the moisture your lips received from the saliva, leaving it drier than before. So, whenever you feel the urge to lick your lips, reach for a lip balm instead. Also avoid touching your lips unnecessarily as you may transfer the bacteria from your hands to your lips.
3.Do not pick your lips:
It will take everything in you to resist the urge of plucking the skin off your chapped lips. And we know it's tough even if we go through lists of how to prevent chapped lips but you will have to do exactly that and let your lips heal completely without you intervening and follow lip care in winter. Plucking your skin off will lead to bleeding and blisters, which will leave scars on your lips. If exfoliating the layers of your lips is difficult, use a hot towel and gently wipe the skin off. Apply a balm or oil immediately to create a protective barrier on your lips.
4.Stay hydrated:
You may not feel as thirsty during the winter days but staying hydrated is extremely important. Any amount of lip care in winter won't show results unless your skin is adequately hydrated. You can also get dry lips in winters due to less intake of water or fluids. Drink plenty of water to keep your lips supple and free from chapping.
5.Avoid excessive chemicals in your products:
When your lips are dry and healing, using chemical-laden products is the last thing you would want to do. Avoid using cosmetics such as lip balms and lipsticks that have harmful chemicals in them. Switch to natural and organic products that are filled with the goodness of nature.
When it comes to lip care, it is extremely important to avoid any chemicals such as parabens, silicones, artificial fragrance etc and know how to prevent dry lips. But if ingredients' lists overwhelm you, you can turn to your kitchen cabinets to find the perfect remedy for your chapped lips in winter.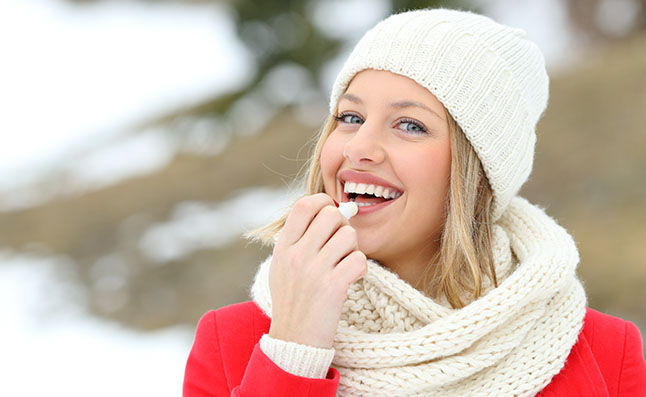 Quick Home Remedies to Treat Dry Lips in Winter
If you are wondering how to prevent dry lips in winter, here are some quick remedies to do so.
1.Coconut oil: Being a natural emollient, coconut oil is great for locking in the moisture and preventing dryness. Its rich anti-inflammatory properties is a dry lips remedy to relieve your lips from any discomfort and inflammation.
Apply it directly onto your clean lips or mix it with castor sugar to form a scrub.
2.Sugar: Whenever a layer of dead skin cells is formed over your lips, exfoliating it with sugar can help remove the dead skin cells and regain its plumpness.
Mix sugar and coconut oil or any oil of your choice in equal quantities, and apply it onto your lips to gently exfoliate your skin.
Wipe off the excess scrub with a cloth and apply a lip balm to lock in the moisture.
3.Honey & ghee: Known for its moisturising properties, honey and ghee can give your lips intense moisturisation and act as an overnight lip mask, a perfect dry lips remedy.
Mix equal amounts of ghee and honey and apply it generously onto your lips.
Leave it overnight and wake up to supple lips, or wipe it off after 30 minutes of application.

You can also take inspiration from our remedies for dry skin in winter blog to find a homemade lip balm that suits you.
Takeaways:
Chapped lips in winter can be extremely painful during the colder days but fortunately preventing them isn't difficult. Follow an easy lip care routine during the winter days and use products that are natural and free from harsh chemicals. If you like experimenting with DIY home remedies, or researching on how to take care of lips in winter, find ingredients in your pantry that are rich in moisturisation and can be used as a lip mask or a lip scrub. Most times, some natural ingredients may not work well for you and have reactions. Always conduct a patch test before using any natural ingredient.
You can also use our winter skincare routine guide to take care of the rest of your skin with ease.
Frequently asked questions on how to prevent chapped lips
1.How can I make my lips pink in winter?
Exfoliate your lips with a lip scrub and get rid of the dead skin cell to reveal the natural colour of your lips. You can also make your own tinted lip balm with beetroot extract and coconut oil with the consistency of a petroleum jelly.
2.How to prevent dry lips in winter?
Do not lick your lips
Use moisturising lip balms
Hydrate yourself
3.What to apply on lips before sleeping?
For lip care in winter, exfoliate your lips with a gentle exfoliator and apply a generous amount of lip balm before going to sleep. When you wake up, wipe your lips with damp cloth.