With the abundance of beauty products in today's market, it is easy to skip the labels and pick out the ones that are most trending. However, if you're someone who diligently reads the labels before buying any beauty products, you must have come across the termphthalates.' This chemical ingredient is commonly found in your fragrant shampoos, cosmetics, personal care as well as in many packaged foods. But, did you know that phthalates can impact your health severely? The worst part is that phthalates can easily penetrate your body through the many cosmetic and hair care products.
So, let us find out what they are and why they are bad for you.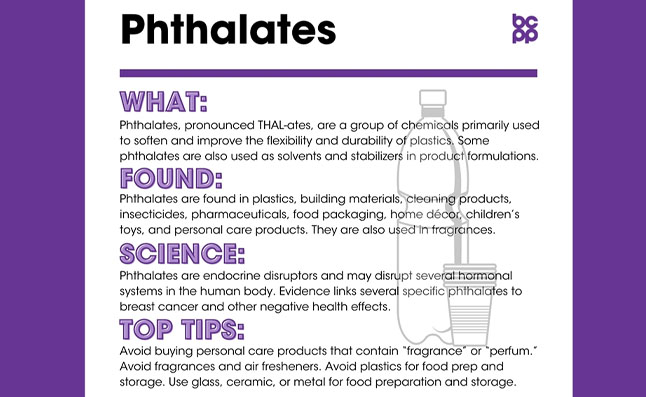 What are phthalates?
Phthalates in cosmetics are those chemical compounds that help your beauty products stick to your skin (a feature we all want). After all, nobody wants their make-up to wear off quickly, right? They are a kind of plasticizers that increase the durability, flexibility and longevity of a product. Now, doesn't this remind you of plastic? Geez! Moreover, they also help a beauty product penetrate better into the skin, like lotion or if it is hair care, then it's your conditioner.
Here are some of the top listed phthalates side effects, you should be wary of.
Leads to birth defects
Causes endocrine disruption
Causes asthma
Obesity
Worsens allergy symptoms
Results in behavioural changes
Increased risk of breast and liver cancers
How to prevent  the use of Phthalates?
In order to stay away from the dangers of phthalates, you must limit your exposure to certain factors. These are the following ways in which you can avoid phthalates: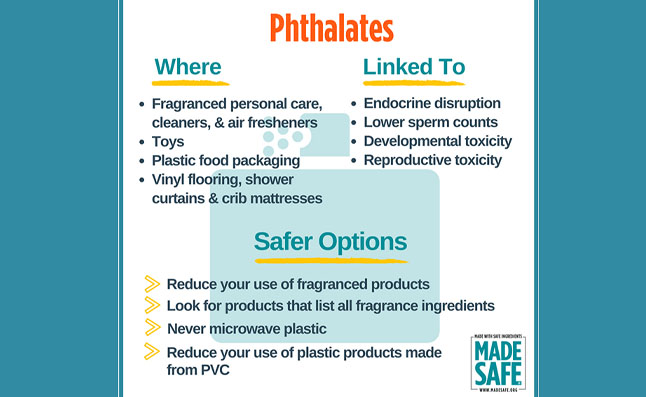 Distance yourself from fragrance: Sadly, you will rarely see phthalates visibly listed on any product label. But, luckily there are some clues. When it comes to your cosmetic products, the usage of the word perfume or fragrance on a label will indicate that it contains phthalates. Thus, if you are unable to find a phthalate free claim on a beauty product, then stay away from it.
Consume organic products as much as possible: Phthalates are mostly used in pesticides and are commonly found in sewage sludge that is often used in conventional agriculture. However, neither pesticides nor phthalates are used in certified organic products. Additionally, pesticide-treated animals are never allowed in organic dairy and meat production.
Learn the codes: Whenever you see products with recycling codes as 3 or 7, know that they may contain either BPA or phthalates. Instead, look for phthalate free products with 1, 2 or 5 as recycling codes.
Ask the manufacturer: Every time you head out to buy a beauty product and do not see the claim phthalate free on its label, then make sure to ask the manufacturer.
Now that you know the various side effects and ways to avoid phthalates, it's time you switched to an organic and safer way of life. So, if you are tired of finding phthalates in skincare, then we recommend you to try Coco Soul. Coco Soul is a natural brand which believes that skincare and hair care solutions of the yesteryears are more effective than that of today. This is why they create products that are made using pure natural ingredients derived from Ayurveda and free from animal testing. Here are some non-phthalates products you can find on Coco Soul.
Try Coco Soul
Hair & Scalp Cleanser: This phthalate free natural shampoo is made from some of the purest natural ingredients. It gently washes the scalp while cleaning the hair follicles and strengthening the roots. Natural ingredients like virgin coconut oil present in this natural hair cleanser nurtures your scalp and nourishes the hair shafts without causing dryness. It contains -
Virgin coconut oil - Loaded with good fatty acids and antioxidants, it hydrates your scalp and makes the hair soft.
Godapara - A potent herb, it aids in soothing itchy and flaky scalp.
Kikirindiya - It boosts blood circulation, treats dandruff and promotes healthy hair growth.
Revitalizing Face Wash: Looking to avoid phthalates in skincare? This natural face wash can be your skin's ally as it is enriched with virgin coconut oil and potent Ayurvedic herbs. It cleanses oil and dirt from the face, revealing radiant skin without any dryness. This luxurious cleansing solution leaves your skin soft and rejuvenated. It contains -
Virgin coconut oil: It penetrates deep into the skin layers, preserves lost moisture and makes the skin soft.
Gotukola: This organic herb fights skin sagging by boosting collagen production and gives you younger-looking skin.
Neem: Rich in vitamin E, its antibacterial properties help remove pigmentation, fight signs of ageing and give you acne-free skin.
All of Coco Soul's products are cruelty and chemical-free. This means that they are devoid of harmful chemicals like sulphates, silicones, parabens, petroleum, mineral oils, sodium chloride, DEA, phthalates etc. Moreover, they are nature-friendly because they are 100% vegan and MadeSafe certified. Now that you know the effects of phthalates, check out the effects of silicones in skincare products on your skin.
Hurry! Clear your vanity off all phthalate products and switch to the au natural world with Coco Soul. For more pure skincare and hair care products, head over to the Coco Soul website now! You must also check out the benefits of organic skincare products.
Frequently Asked Questions on Phthalates in Skincare
1. How can you prevent the exposure to phthalates?
You can prevent the exposure to phthalates by not eating food in a plastic-wrap cover, not consuming nutrition supplements and reducing the use of chemically-loaded cosmetic or personal care products.
2. How long do phthalates stay in your system?
Usually, it takes about two days for phthalates to break down in your system.