If you associate the arrival of winters with skin dryness and roughness, then you are not alone. Whatever your skin type be, everyone has to deal with a host of skin issues, as soon as the winds start getting colder. Add to this the heater warmth and friction from woollens, and your skin is parched, maybe even irritated and begging for some hydration. So it's natural if you want to lather up your skin with layers of moisturizer to get your soft and supple skin back in winters.
Sure, moisturizer and body lotion keeps skin hydrated, but most of them are loaded with chemicals that can be harmful on your skin and can instead cause issues like rashes, itchiness and patches over prolonged use.
Which is why dermats while answering how to moisturize skin, recommend moisturizing your skin with natural ingredients that keeps your skin healthy without any harmful effects. Many natural ingredients like virgin coconut oil, honey, welmi, shea butter, yoghurt, etc. have deep nourishing properties that hydrate your skin and give it a moisturized glow.
However, sometimes finding pure ingredients and applying them directly on the skin can be messy. Instead, you can look for brands that infuse natural goodness in their products. For example, Coco Soul. Coco Soul believes that mother nature has the solution to all your skin woes and so their products are made with centuries-old ayurvedic secrets and natural ingredients without any chemicals.
For a soft, supple and smooth skin even in winters, you can try the Coco Soul Nourishing Body Lotion. Infused with pure virgin coconut oil and choicest ayurvedic herbs, this delicious smelling body lotion is like a genie in a bottle. Its lightweight texture melts easily into your skin, penetrating deep into your skin layers to give you firmer and softer skin with a moisturised glow. It contains -
Virgin coconut oil - Called in theelixir' in Ayurveda, virgin coconut oil contains good fats and antioxidants that hydrate your skin and makes it soft and smooth.
Welmi - Loaded with vitamin C, it reduces skin dullness and gives a dewy and radiant skin
Sandalwood - Known for reducing the oxidative stress in the skin, it reverses sun damage and minimises age spots.
This winter, use this Coco Soul Body Lotion to keep dryness away and repair skin damage. For extreme dry skin you can also try the Coco Soul Nourishing Body Butter enriched with virgin coconut oil shea butter and lodhra.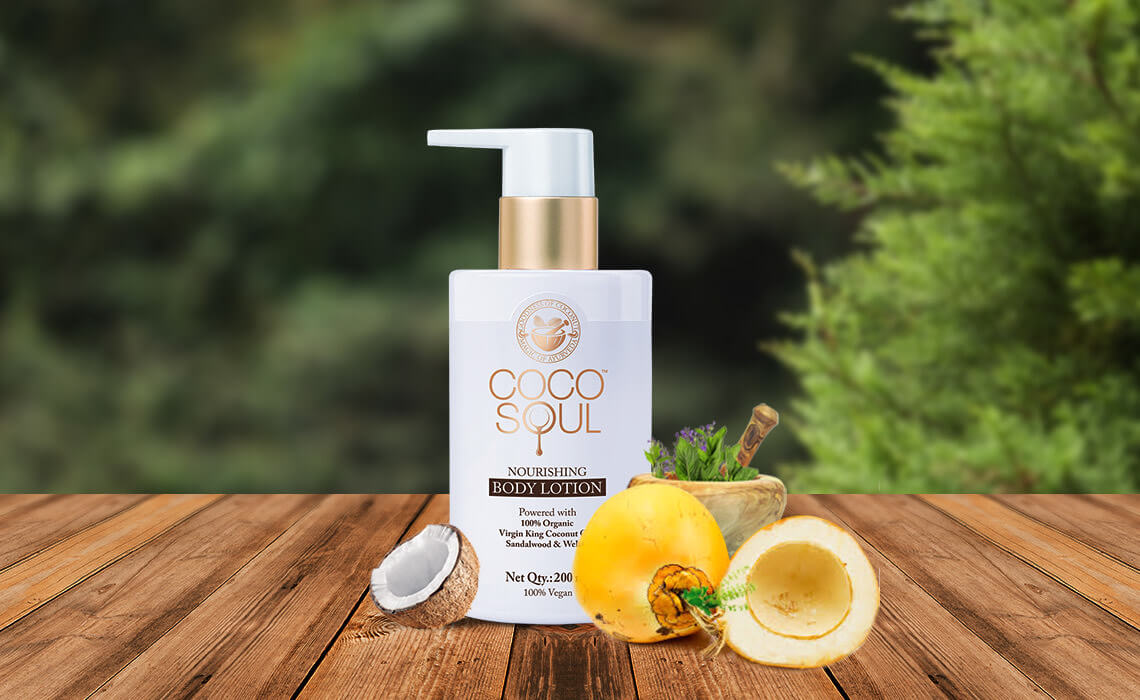 Why use a body lotion
There are various benefits of body lotion which makes it your skin's best friend. To know more, read on.
1. Hydrates your skin
A moisturizer softens the dryness of the skin and hydrates your skin cells from within. A natural body lotion applied after shower or bath seals moisture in the skin layers and replenishes chapped and dehydrated skin.
2. Prevents wrinkles and slows down the ageing
Massaging with a nourishing body lotion boosts the blood circulation on your skin and makes it firmer. It also prevents wrinkles, makes your skin tight and slows down the ageing process. Applying body lotion daily can reduce the skin sagging, make your skin supple and youthful and help you get a glowing face in winter.
3. Makes your skin scented and glowing
Your skin emits an inner glow when it is adequately hydrated. So if you have been wondering how to get glowing skin in winter, search no further and moisturize your skin well. A natural body lotion not only helps to keep skin moisturized, but also leaves a delicate scent on your skin and relaxes your nerves.
4. Softens the skin
A body lotion softens the rough and cracked skin and can be used to soften dry skin of elbows, knees and hands. It also smoothens the dehydrated and flaky skin reducing itchiness, irritation and roughness. You must also check out our blog on winter beauty tips to keep you skin and hair healthy and beautiful in winter.
A body lotion is an essential member of your skincare arsenal for a healthy and glowing skin. A natural body lotion preserves the skin' health and makes it soft, glowing and naturally beautiful. Which is why it is okay to wonder how to moisturize skin, but never why use a body lotion! So, this year, embrace the winter season with open arms and let Coco Soul Nourishing Body Lotion take care of your dry skin. Just like body lotion, there are several other skincare products that must be used in winter. Check out our blog on winter skincare products to learn about them. Shop for more natural Coco Soul natural products here.
Frequently Asked Questions on Body Lotion
1. Is it good to put lotion on every day?
Yes, using lotion every day is not only good but also necessary to seal the moisture in your skin and keep it supple, soft and nourished.
2. Is it good to use body lotion on your face?
If your body lotion is lightweight and non-greasy, you can use body lotion on your face. However, your body lotion must be natural and devoid of chemicals as the skin of the face is sensitive and chemicals can harm it.
3. Does lotion whiten skin? Should I moisturize at night or morning?
Lotions are for nourishments and they do not whiten your skin. Especially in winters, you should moisturize both at night and in the morning, or whenever your skin feels dry and flaky.
4. Should I use cream or lotion on my face?
Creams are thicker as compared to lotion. So if you have a dry to normal skin, you can use creams on your face. But if your skin is oily, you should use a light-weight lotion to hydrate your skin.
5. Can I use hand lotion on my face?
As the skin of your face is thinner and more sensitive than your hand, it is not recommended to use a hand lotion on your face.